Reconciling Manjushri's actions with his status as a bodhisattva we realize that here we see a rare but distinctly significant affirmation in Buddhist thought of an existence composed of normal and 'ordinary' family life rather than that of denial. The carrying out of one's duties is as spiritually fulfilling an activity as any other 'bodhisattvic' deed. Consider for example the activity of cooking. The Bhagvad Gita says that one who cooks for others acquires the highest merit, while that who selfishly cooks food only for his own consumption commits a sin. Likewise the temple cook was engaged in an effort of the highest merit. Indeed for contemporary times this is an ultimate tribute to those women of the house who diligently provide us with sustenance which fulfills not only our physical needs, but also nourishes us spiritually.
Maitreya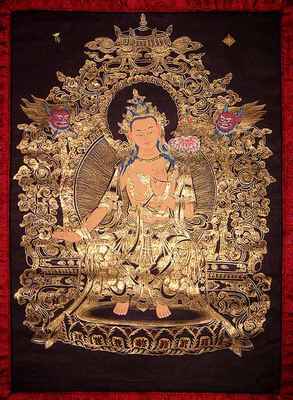 According to some Buddhist traditions, the period of the Buddhist Law is divided into three stages: a first period of 500 years is of the turning of the Wheel of the Law; a second period of 1,000 years is of the deterioration of the Law, and the third period of 3,000 years is the one during which no one practices the Law. After this, Buddhism having disappeared, a new Buddha will appear who will again turn the Wheel of the Law. This future Buddha known as Maitreya is beloved to be still in the Tushita heaven, in the state of a bodhisattva. It is believed that Gautama Buddha himself enthroned him as his successor.
The word 'maitreya' is derived from the Sanskrit word for friendliness. Thus this bodhisattva is fundamentally said to embody the qualities of amiability and an attitude of well-meaning sympathy.
According to a legend there once descended to the earth from Maitreya's Tushita heaven a Chinese layman and teacher named Mahasattva Fu, widely regarded as an incarnation of Maitreya.
Fu attracted many students to his Dharma lectures. Living in a time of great hardships and famines for the peasants, he sold all of his possessions to feed the local villagers, and also fasted to give away his food to the needy. Fu once undertook a long hunger fast to protest against the king's treatment of the poor. He announced that he would finish the fast with a fiery self-immolation, as an offering to benefit all suffering beings. At the culmination of his fast, many of his followers offered to burn themselves in his place, some going to the extent of burning their fingers or cutting off their ears as offerings and engaging in other ascetic extremes. They finally convinced Fu to abandon his plan.
The notion of a bodhisattva sacrificing his complete physical self or at least parts of it conforms to a similar notion expounded in ancient Buddhist texts. For example the 'Shat-sahasrika Prajna-paramita' (5th century AD) says: "Besides wealth and material objects, a bodhisattva should be ready to sacrifice his limbs for the good of others, his hand, foot, eye, flesh, blood, marrow, limbs great and small, and even his head." Indeed in the Jataka tales which are legendary stories about bodhisattvas, there abound numerous instances where they are shown sacrificing parts of their bodies or even their lives to save that of another.
A persistent paradox regarding Maitreya is his visualization as an entity of the future. This presents a contrast to much of Buddhist practice and teaching which emphasizes the importance of the present, the current moment. This is sometimes referred to as the timeless eternal. According to the Buddhist viewpoint time does not exist as some external container, but is the vital expression and enactment of our own being right now. Time does not exist separate from our own presence.
As a bodhisattva associated with the future, as against the fundamental stress Buddhism places on the present moment of time, Maitreya presents a wondrous amalgamation and a complex composite on the plane of time. Buddhist esoteric thought achieves this is in a skillful manner by associating him with children. Children are but the 'present' of our 'future.' A number of stories abound which illustrate his loving-kindness for children:
Once in his incarnation as a spiritual poet, Maitreya was asked by a relative to help in dealing with his son, who was becoming a delinquent. The poet (Maitreya) visited the family and stayed the night without saying anything to the son. The next morning as he prepared to depart, he asked the boy's help in tying up his sandals. As the lad looked up from doing so, he saw a tear roll down the poet's cheek. Nothing was said, but from that time the boy completely reformed. The easy camaraderie with children and attention to young people shown by Maitreyan figures amply justifies the 'friendly' origin of his name as described above.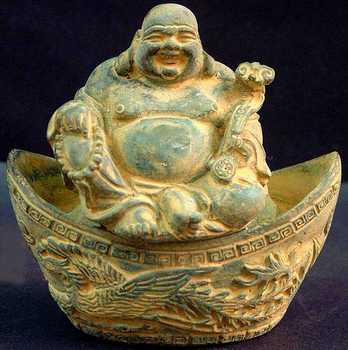 In China too, Maitreya is synonymous with his supposed incarnation as the tenth-century Chinese Zen monk Hotei, popularly known as the Laughing Buddha. Hotei is legendary as a wandering sage with supernatural powers who spent his time in village streets rather than the security of temples. His image is recognizable as the fat, jolly Buddha, whose statue can be seen in all Chinese Buddhist temples.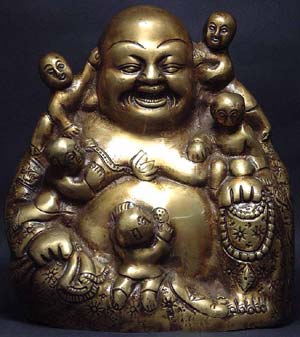 Hotei's name means "cloth bag," and he is believed to have carried a sack full of candies and toys to give to children with whom he is often depicted in play.
This scruffy, disheveled Buddha adds to our understanding of Maitreya's warmth and loving-kindness. Hotei's fat belly and affinity with children reflects yet another aspect of Maitreya in popular folk religion, that of a fertility deity. He indeed is worshipped by those wanting to have children, This ritual is especially popular in Korea.

Conclusion
The Samadhiraja-sutra (4th century) explains why a bodhisattva does not feel any pain, even when he mutilates himself for the good of others. When Buddha was asked how a bodhisattva could cheerfully suffer the loss of his hands, feet, ears, nose, eyes and head, he explained that pity for mankind and the love of bodhi sustain and inspire a bodhisattva in his heroism, just as worldly men are ready to enjoy the five kinds of sensual pleasure, even when their bodies are burning with fever.
A bodhisattva should regard every action and movement of his body as an occasion for the cultivation of friendly thoughts for the good of all creatures. When he sits down he thinks thus: "May I help all beings to sit on the throne of enlightenment." When he lies on his right side, he thinks thus: "May I lead all beings to nirvana." When he washes his hands, he thinks thus: May I remove the sinful propensities of all creatures." When he washes his feet, he thinks thus: "May I take away the dirt of sins and passion from all creatures." In this way the body can be converted into a holy vessel of benediction. Blessed indeed is he who loses his physical existence in doing good to others. A bodhisattva can never love the body for its own sake, if he cherishes it, he does so only because he will gird himself up to save someone sometime somewhere on some occasion in the moment of tribulation.
By conceptualizing the lofty ideal of a bodhisattva, Buddhism sets a high standard of virtuous conduct for us ordinary mortals to emulate, thus striving for a spiritually enriched life radiant with the glow of selflessness, indeed the foundation for a meaningful and fulfilling existence, both for the individual and for the world around him, of which he is but a microcosm.
---
References and Further Reading
Dayal, Har. The Bodhisattva Doctrine in Buddhist Sanskrit Literature: Delhi, 1999.

Frederic, Louis. Buddhism (Flammarion Iconographic Guides): Paris, 1995.

Leighton, Taigen Daniel. Bodhisattva Archetypes: New York, 1998.

Meulenbeld, Ben. Buddhist Symbolism in Tibetan Thangkas: Holland, 2001.

Pal, Pratapaditya. Art of Tibet. Los Angeles: The Los Angeles County Museum of Art, 1990