The Search for Krishna:

When the lord suddenly disappeared, the damsels of Vraja were filled with a pain similar to the she-elephant who has lost her mate. Overwhelmed by his remembrance, obsessed with the glorious actions he had performed, the gopis then, in his absence, began to emulate his various acts and sports. Due to their total absorption in his personality, their bodies started imitating his manner of movement, smile and speech. Maddened with desire they declared to each other: "I am Krishna" (Bhagavata Purana 10.30.3), much like the great Upanishad sentence (Mahavakya): "I am the Supreme Soul" (Aham Brhamsami) (Brhadaranyaka Upanishad 1.4.10).
Singing aloud his glory in a chorus, the gopis sought him out, wandering distraught in the forests. They enquired of the various trees and plants regarding the whereabouts of Krishna (the Supreme Soul) who like ether (akasha), pervades all creatures from within and without.
Receiving no reply from the vegetation, they then turned to the earth:
"O Mother Earth, what austere penances have you performed that due to the thrill experienced at the touch of the lord's feet, your bodily hair is standing on its end (in the form of grass and trees)?"
Finally the gopis, due to their intense exasperation and desperation, became one with the Supreme Soul (tat-atmika), and began to emulate the divine sports of the lord. Totally engrossed in him, the damsels of Vraja first recreated the episode where the infant Krishna had killed the ogress Putana who had attempted to feed him her poisoned breast. Thus one gopi, acting the demoness, suckled another, who played the role of Krishna.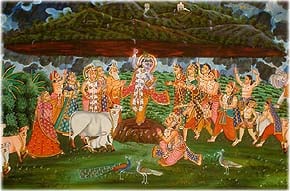 Krishna Lifts Mount Goverdhan
A second group replayed the instance of a demon who had tried to carry away the baby Krishna, even as some visualized themselves to be the latter playing upon an imaginary flute, or walking on all fours, like Krishna did in his infancy or held up a part of their garment, imitating his lifting of mount Goverdhana.
One ecstatic gopi climbed on the head of another and declared herself to be Krishna subjugating the serpent Kaliya.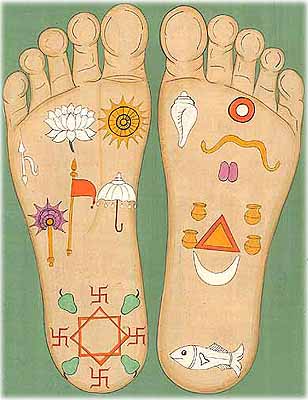 The Lotus Footprints of Lord Krsna
While thus engaged, they noticed, in a certain part of the forest, a pair of footprints, definitely those of Krishna, since they were inscribed with various auspicious symbols including a flag, thunderbolt and the lotus.
Following them, they were sorely distressed to find that further on, another pair accompanied Krishna's. The perplexed women wondered: "Certainly these new feet belong to a gopi who has devoutly worshipped (aradhita) the lord, who was so pleased with her that he abandoned the rest of us and took her to a secluded spot. These footprints distress us, inasmuch as only she (out of all of us) has stolen away Krishna and is now enjoying his lips in their secret rendezvous. Look, this is probably the place where that lusty Krishna sat down and then dressed the hair of his ladylove, braiding her tresses with flowers." (Bhagavata Purana 10.30.24 - 33)
Meanwhile, the lucky girl who had accompanied Krishna, reflecting on her exclusive status, too became infected with pride, and thought herself to be superior to the other gopis since Krishna had chosen to be with her over all of them. This is how the vain damsel addressed him (who is the ruler of all):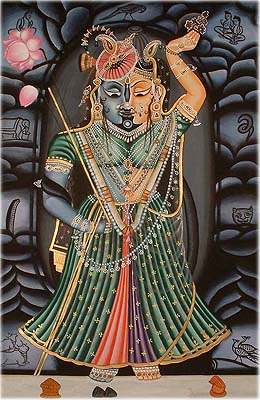 The Merger of Radha and Krishna
"I am not able to walk any further. Therefore (lift me and) take me wherever you want to."
When requested thus, the lord said: "Mount my shoulder." No sooner had she done so than he vanished, leaving her hanging as it is, to fall on the ground. This is perhaps the destiny of those prone to pride. The girl, realizing her folly, lamented Krishna's absence, but to no avail. In the meantime, her friends, tracing the path of the duo, noticed the distressed gopi and listened to her tale with astonishment. All of them together then probed the forest, searching for their beloved as long as the moonlight aided them, retreating when the darkness set in.
With their minds, speech, and actions, all absorbed completely in him, the gopis became one with Krishna, negating their individual personalities.
The Gopis' Song of Separation:
Wandering maddened, the female cowherds now collectively sang:
"O Bull among men (Rishabha), you have saved us again and again, protecting us from the poisoned waters of Yamuna, from the demon who disguised himself as a venomous serpent, from torrential rains; stormy winds and lightening. Indeed, you are not merely the son of a cowherd woman, but the innermost seer and self (atman) of all embodied beings."
"Be pleased to accept us, who are but your bonded servants, show unto us your charming lotus-like countenance. Place your lotus like feet (pad ambuja), which follow the cows and dissipate the sins of your devotees, on our breasts, and pacify the fire in our hearts. We assure you that our bosoms are infinitely softer than the serpent Kaliya, whose deadly hoods you once graced with your feet."
"Revive us with the nectar of your lips which enhances amorous pleasure, destroys all grief and is enjoyed in full measure by the flute kissing them (chumbitah), making people forget all other passions and attachments."
"Beloved darling, in the mornings, when you go out to graze the cattle, our hearts get agitated thinking that your delicate feet will be pricked and pained by the gravel and stubs of grass. Indeed, they are so soft that we are afraid that you may even injure them when you place them on our hard breasts."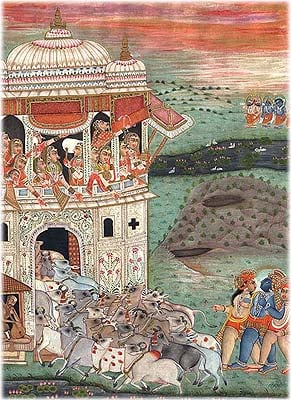 Krishna and Gopas Back with Cows
"At the end of the day, when you return from the forests, your face, overhung as it is with dark-blue curly locks, soiled with the dust raised by the hoofs of the cows, resembling a lotus surrounded by black bees and over strewn with pollen, provokes passion in our hearts. At that moment, we curse even Lord Brahma, who gave us eyelashes, which, while falling over our eyes, deprive us of the constant pleasure of viewing you."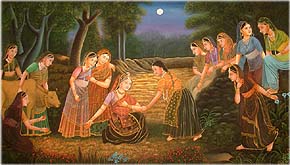 The Women of Vrindavana Lament for Krishna
"Enchanted by your melody, we have left behind our husbands, sons, relatives and clans. O crafty deceiver, who would abandon women like us in middle of the night. Do impart to our hearts, over brimming with desire for you, the soothing balm of your company, which will forever remove our anguish."
The Return of Krishna:
Satisfied that the gopis were now fully absorbed in him, and there was left in them no trace of ego or pride, a smiling Lord Krishna, wearing his trademark yellow (pitambara) again manifested himself in their midst, sporting a garland of flowers. His countenance was charming enough to enchant even Kamadeva, the god of love who himself is the enchanter of the world.
Though emaciated, the gopis, on seeing their most beloved darling, at once sprang to their feet, just like limbs, which start moving as soon as the life-principle (prana) is infused into an otherwise lifeless body. One of them affectionately took hold of his hand; another placed one of his arms on her shoulder; a third received a betel leaf already chewed by the lord even as he placed his feet on the feverish bosom of a fourth gopi.
One virtuous lady, beside herself with the agitation of unrequited love, knitted her brows and continued to view him with sharp side-glances. Another gazed at him unblinkingly, drinking his nectar-like countenance with her eyes. She did not feel consummated however, much like the saints who are never satiated worshipping the lord's feet. A seventh girl established him in her heart through the path of the eyes, and closed them to prevent his exit. The thrill of embracing him (mentally) enabled her to enter the spiritual bliss experienced only by the highest of yogis.
Krishna, along with the gopis, now shone brilliantly, like the Supreme Person (Purusha) endowed with his Shaktis (powers). With their anguish completely dissipated by the extreme joy of seeing him, the gopis' accomplished their heart's content, just as the divine word of the Vedas (shruti), after first propounding a code of conduct (karma kanda), find their culmination only in spiritual knowledge (jnana kanda, also known as Vedanta).
The gopis then lovingly spread out as a seat for the lord, their upper garments smeared with the sandal-paste of their breasts. Making him comfortable, they then enquired of the reason why he subjected them to this tormenting ordeal. Krishna answered:
"Wishing to intensify their devotion, I do not reciprocate immediately the affection of those who worship me. You too lost me, like a poor man who gains some enormous wealth only to lose it, and thus becomes totally absorbed in his anxiety regarding it, meditating on it continuously. Now that you have you renounced for me all aspects of your worldly life – social decorum, the righteous code of the Vedas and your kith and kin, it was with the intention of intensifying the constancy of your commitment towards me that I removed myself from your sight, even though all the while listening to your expressions of affection. Thus my love for you is beyond reproach and you are my darlings as I am your beloved. Dear gopis, the debt I owe to you, who have broken the strong fetters binding you to your homes in order to serve me with devotion, cannot be repaid, even if I am given several lives of gods (one god life = 36,000 human years)."
The Rasa Dance:
Listening to these soft, healing words of Krishna, the gopis forgot their agony of separation (viraha), and on physical contact with him (anga sanga) felt all their desires fulfilled. Then, on the banks of the river Yamuna, Krishna inaugurated the rasa game (krida), with those jewels among women (stri-ratna), who, with their arms interlocked, were eager to do his bidding.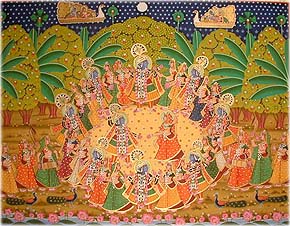 The Rasa Lila Watched Over by Celestials
Splendidly beautified (mandita) by the circle (mandala) of gopis, Krishna then assumed as many forms as there were women and entered in between every two of them, placing his arm around the neck of the adjacent female. No sooner had he done so than there thronged in the sky, hundreds of heavenly chariots, carrying celestial couples eager to view the rasa dance.
Then there arose from within the ring of dancers, the din of jingling bangles and anklets, along with the tinkling of the small bells attached to the girdles of the gopis. The lord shone splendidly like a brilliant sapphire set in gold. With waists bending and breasts heaving due to the vigorousness of movement, perspiration trickling down faces, braided hair and girdles loosening in consequence of the dance, it seemed as if flashes of lightening (the gopis) were illuminating a circle of clouds (formed by the numerous Krishnas).
The gopis, their voices sweetened with melodious ragas, sang at a high pitch, the reverberations of which still resound in the world. One sang in chorus with Krishna in a higher pitch, and the latter applauded her performance with the words "Well done." When another of her friends rendered the same piece in raga Dhrupada, she too was honored by the lord.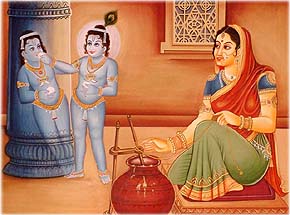 Krishna Revels in His Own Self
One kissed Krishna's hand resting on her shoulders, and another fatigued gopi pressed his blissful (shivam) lotus-hand to her two breasts. Even as a child would play with his own reflection (sva pratibimba) in a mirror, so did the lord sport with the beauties of Vraja, who, beyond themselves with joy, forgot even to re-adjust their disheveled hair, or arrange their garments and brassieres in disarray.
Krishna, ever full of compassion (karuna), then proceeded to wipe off affectionately with his own comforting hands, the sweat off their exhausted faces. Becoming enraptured at the light touch of his fingernails, the gopis burst out in a song celebrating his glory. Then, to dispel their fatigue, Krishna along with the women, entered the river Yamuna. He appeared like a lordly elephant relaxing with his consorts in water. Indeed, as an elephant breaks off all barriers before entering into the waters of a river, Krishna too had broken through the layers of worldly morality and codes of conduct, without transcending which, one can never escape the ever-recurring cycle of birth and death.
References and Further Reading:
Bharati, Swami Veda. Yoga Sutras of Patanjali with the Exposition of Vyasa - A Translation and Commentary (Sadhana Pada) (2nd ed.): Delhi, 2004.

Brhadaranyaka Upanishad with Shankaracharyaji's Commentary: Gorakhpur, 2005.

Date, V.H. Upanisads Retold (2 Volumes): New Delhi, 1999.

Date, V.H. Vedanta Explained (Samkara's Commentary on the Brahma-sutras) 2 vols: New Delhi, 1973.

Dehejia, Harsha V. A Celebration of Love The Romantic Heroine in Indian Arts: New Delhi, 2004.

Devi, Shrimati Dayakanti. Shrimad Bhagavata Mahapurana (With Word to Word Meaning in 8 Volumes): Allahbad, 1993.

Dogre, Shri Ramachandra Keshav. Shrimad Bhagavat Rahasya (Collection of Discourses):Delhi.

Grimes, John. The Vivekacudamani of Sankaracarya Bhagavatpada (An Introduction and Translation): Delhi, 2004.

Gupta, Som Raj. The Word Speaks to the Faustian Man:(A translation and interpretation of the Prasthanatrayi and Sankara's Bhasya for the Participation of Contemporary Man) Four Volumes,: Delhi, 1991.

Mahaprabhu Shri Vallabhacharya: Sri Subodhini: Commentary on Xth Canto of Srimad Bhagavata Purana (English Translation in Ten Volumes): Delhi, 2004.

Prabhupada, A.C.Bhaktivedanta Swami Prabhupada. Krsna The Supreme Personality of Godhead: Mumbai, 1999.

Redington, James. D. Vallabhacharya on the Love Games of Krishna: Delhi, 1990.

Sanyal, J.M. The Srimad Bhagavatam (2 Volumes with an Exhaustive Index): New Delhi, 2000.

Saraswati, Swami Akhandananda. Discourses on the Rasa Panchadhyayi: Vrindavana, 2004.

Saraswati, Swami Akhandananda (tr). Shrimad Bhagavata Purana (2 Volumes): Gorakhpur, 2004.

Sivananda, Swami. Yoga Vedanta Dictionary: Uttaranchal, 2004.

Swami, Bhanu (tr). Sarartha Darsini (Commentary on the Tenth Canto of the Bhagavata Purana): by Srila Visvanatha Cakravarti Thakura, Vrindavana, 2004.

Tagare, G.V. (tr). The Bhagavata Purana (5 Volumes (Annotated)): Delhi, 2002.

Tejomayananda, Swami. Discourses on the Bhagavata Purana (Set of 22 Audio Tapes): Bombay.

Vasu, Fateh Chand. Hindi Translation of Shri Subhodini (13 Volumes): Jodhpur, 1971.

Sharma, R.N. (tr). Manusmrti: Varanasi, 2003.