Kubera or Vaisravana, the God of Wealth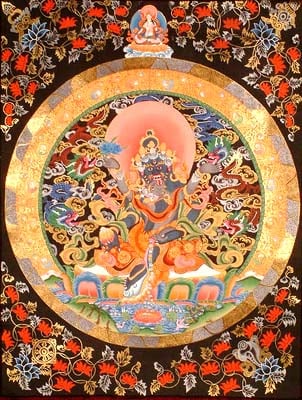 According to Hindu mythology, Kubera was the son of a sage called 'Visravas', hence his patronymic Vaisravana. He is said to have performed austerities for a thousand years, in reward for which Brahma, the Creator, gave him immortality and made him god of wealth, guardian of all the treasures of the earth, which he was to give out to whom they were destined.
Kubera's abode was said to be mount Kailash; but when Brahma appointed him God of Riches, he gave him Lanka (Ceylon) as his capital, and presented him, according to the Mahabharata, with the car pushpaka, which was of immense size and 'moved at the owner's will at marvellous speed'.
Kubera is also worshipped by the Buddhists, where he is looked upon as the guardian of the North. His characteristic symbol is the mongoose, often shown vomiting jewels. In the Buddhist pantheon he is also known as Jambhala, probably from the jambhara (lemon) he carries in his hand. He is always represented corpulent and covered with jewels. His right foot is generally pendant and supported by a lotus-flower on which is a conch shell.
Hayagriva: The Horse-necked one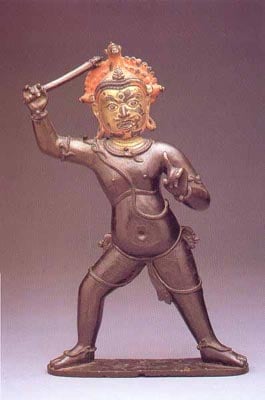 Hayagriva is worshipped in Tibet principally by horse-dealers because he is believed to frighten away demons by neighing like a horse. When invoked, he is said to announce his coming by neighing, which accounts for the presence of a horse's head, his distinctive mark, in his head-dress. The horse's head neighs loudly, and the sound is said to pierce all false appearances of substantiality, revealing the shining reality of freedom. His mantra contains the following verse:
"I request that you protect all horses. Increase the number of mares. For from the mother of the horse many supreme horses will be born. Please disperse the obstacles on the Path and reveal the right direction."
Hayagriva is a wrathful manifestation of Avalokiteshvara. There are believed to be 108 forms of Hayagriva. His special ability is to cure diseases, especially skin diseases even as serious as leprosy, which is said to be caused by the Nagas (malignant water spirits with serpent bodies).
In his simplest form he is depicted with one face, two arms and two legs. Everything about him is terrific-his scowling face with three glaring eyes, his roaring mouth with protruding fangs, his pose of warrior's aggressiveness, his broad belly bulging with inner energy, his sword raised threateningly in his right hand, his left hand raised in a threatening gesture and his snake ornaments. His beautiful, terrific aspect expresses compassion's fierce determination to help us overcome inner egotistic addictions and outer obstructions.
Palden Lhamo: The Goddess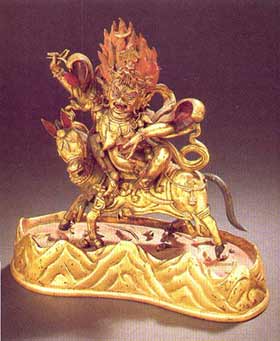 Palden Lhamo is the only female among the eight great dharampalas. She is a protectress of Buddhist governments everywhere, including the Dalai Lamas and their government in Lhasa. She was also a protectress of imperial China from the Yuan dynasty in the thirteenth century to the end of the Qing dynasty in the twentieth century.
In India, Palden Lhamo is also known as Shri Devi. She is considered a wrathful manifestation of Saraswati, the goddess of learning, eloquent speech, and music. Another of her manifestation is Chamundi, the consort of Yama.
Being the only goddess defender of the dharma, she is said to have been armed by the gods themselves. Hevajra gave her two dice to determine the life of men, Brahma gave her a fan of peacock's feathers, and from Vishnu she received two luminous objects, of which she wears one in her headdress., while the other hangs over her navel. Kubera, the god of Wealth, gave her a lion, which she wears in her right ear; and Nanda, the serpent god, gave her a serpent, which hangs from her left ear. From Vajrapani she received a hammer. Other gods gave her a mule, whose covering is the skin of a Yaksha or demon, and the reins are venomous serpents. She is always shown seated sideways on this mule.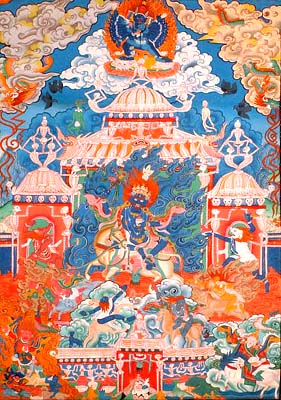 In addition, Lhamo has an extensive retinue of fierce supporters whose portrayal has resulted in some of the most complex, densely composed paintings in the whole of Tibetan art. These grotesque depictions of Lhamo are visions of a kind of compassionate activity, as her story makes clear: She is said to have been married to a bloodthirsty warring king who refused all her entreaties to stop his wanton killing. She finally issued an ultimatum: if he wouldn't stop the killing, she would personally slay their child so the king would experience for himself the pain that his warring caused to others. He did not stop, she carried out her threat, and his loss finally did bring him to a halt. She is often depicted carrying her dead son's body with her on her mule, showing that she will stop at nothing to achieve peace.
Tshangs Pa or 'White Brahma'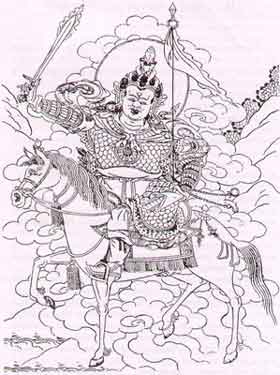 Brahma, one of the most important gods of the Hindu pantheon, occupies only a secondary position in Tibetan Buddhism. His Tibetan name is Tshangs pa, and under this term, the ordinary four-headed and two handed form of Brahma is understood, represented in accordance with Indian iconographic concepts. More frequently, however, one encounters in Tibetan religious art the representation of a white, one headed and two-handed god named Tshangs pa dkar po, "the white Tshangs pa". According to the Sadhanas, this god too is identified with Brahma. He is represented seated on a white horse, brandishing a sword, and sometimes carrying a banner. He is a warrior god, but not so ferocious in aspect. Behind his crown is a turban, in which there is a conch-shell, and he wears flowing garments and long sleeves.
Though the legend behind his origin does not detail his association with Brahma, it nevertheless is an interesting one:
Long time in the past, a couple gave birth to a son whom they named Tshangpa karpo. He grew up endowed with full manly attributes, and rode across the cosmos on a super-horse of golden velocity. In daytime he rode across the sky and at night he descended to the ground.
At one time he went up into heaven. There he seduced a goddess girl named Dhersang, and stole the god's wish-fulfilling jewel. But he was stopped by the guardians of heaven who grabbed him by his tongue and flung him to the ground, took back the jewel in his hand, and also took his life-heart. He was also betrothed to the above goddess girl.
Dissatisfied by his 'defeat', he continued making cosmic journeys on his unique mount. A moment came when he started killing all males he came across and forcibly fornicated with all the females he saw. One day he came across the goddess Ekazati. Intending to disturb her, he started taking liberties. The goddess became angry and struck him with her turquoise ornamented silk breech-cloth. It hit him on his thigh and he became lame. Her striking him thus is fraught with symbolic interpretations since the myth further states that immediately after he was transformed into a protective deity. Her retaliation was not an assault in a physical sense. It was an attack on the negative part of his psyche, which was persuaded to transform itself into unambiguous and affirmative action. Thus his immense energies were channelised into constructive and worthy action, namely guarding the dharma and protection of the faithful. In a historical sense this represents the integration of the uncivilized shamans of the ancient Bon religion of Tibet into the realm of the dharma, by the great master Padmasambhava.
Begtse: The God of War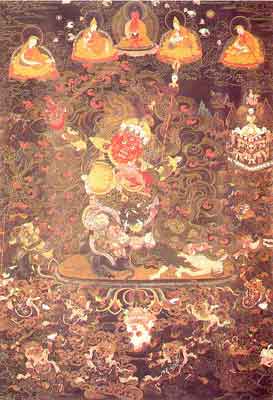 This ferocious warrior, in armour and wearing Mongolian boots appeared in the Tibetan Buddhist pantheon only in the second half of the 16th century, the last one to join the group of the Eight Dharma Protectors.
According to legend, Begtse appeared before the Dalai Lama, who was heading an army of animals. The Dalai Lama had been summoned from Tibet by the powerful Mongol King Altan Khan to convert the Mongols to Buddhism. Finding himself thus confronted, the Dalai Lama transformed himself into the four-armed Avalokiteshvara, the Bodhisattva of compassion, with two of his hands at his breast in the 'prayer' mudra. The footsteps of his horse left the marks of Avalokiteshvara's mantra, 'Om mani padme hum!' on the sands. Witnessing this miracle, Begtse became convinced of the dharma's superiority and submitted himself, converting to Buddhism. This terrible deity is thus said to symbolize the conversion of the Mongols to Buddhism.
He is represented with all the ornaments of the Dharampala, brandishing a sword in his right hand, the handle of which is in the shape of a scorpion. His left hand holds the orange heart of an enemy near his mouth, clutching at the same time a bow and an arrow. He tramples upon the corpse of a man with his left foot and the carcass of a horse with his right foot. His three eyes are full of fury directed at the enemies of the dharma.
The conception and visualization of these ferocious forms represents a landmark in the development of esoteric human thought. A product of fertile and imaginative minds, they represent the pinnacle of creative human endeavor. Indeed in man's eternal search to understand the mysterious force that is nature, these ideas represent a significant step forward.