Description
About the Book:
The aim of the fieldwork, on which this book is based, was to explore the possibility of conducting archaeological excavations in Surat where the Europeans including the British were most likely to have left behind the material traces of their presence between 16th and 18th centuries.
However, before undertaking such excavations, one should have an understanding of the historical framework within which the relevant archaeological issues can be contextualized. The purpose of this book is to put forward this framework and advance the general concept of 'the Archaeology of European Expansion' in South Asian Archaeology.
About the Author:
A University Lecturer since 1965, Dilip K. Chakrabarti currently lectures on South Asian Archaeology and Ancient History in the Department of Archaeology of Cambridge University. He has authored sixteen books and a large number of articles, notes and book reviews. His recent publications include Archaeology in the Third World: A History of Indian Archaeology Since 1947.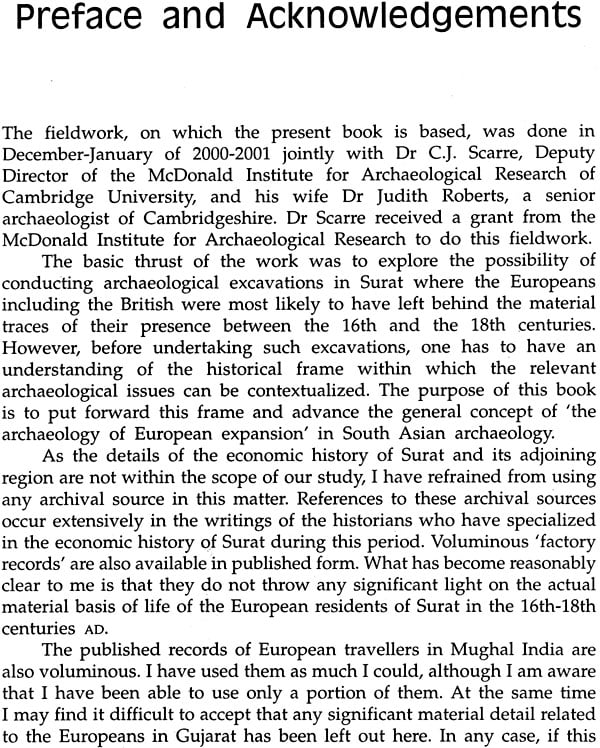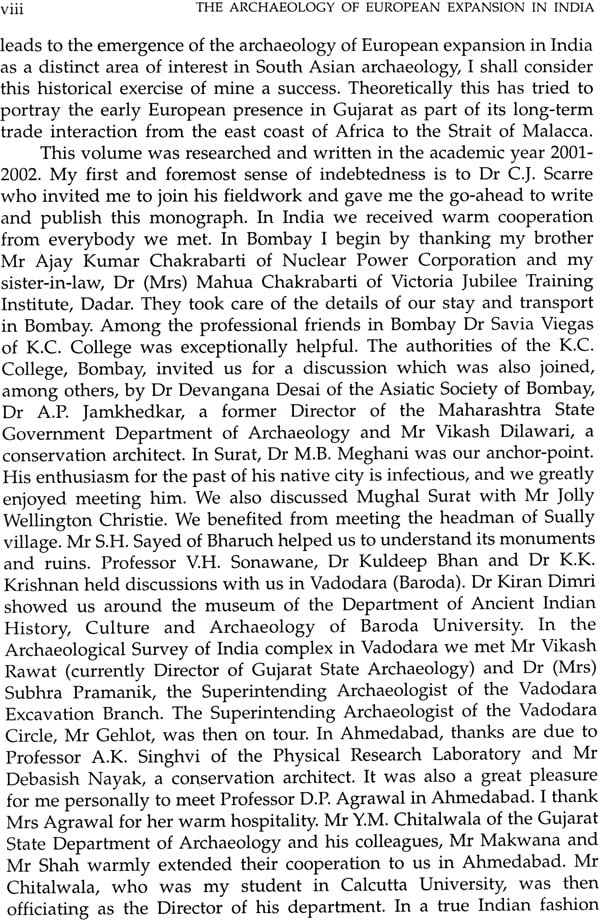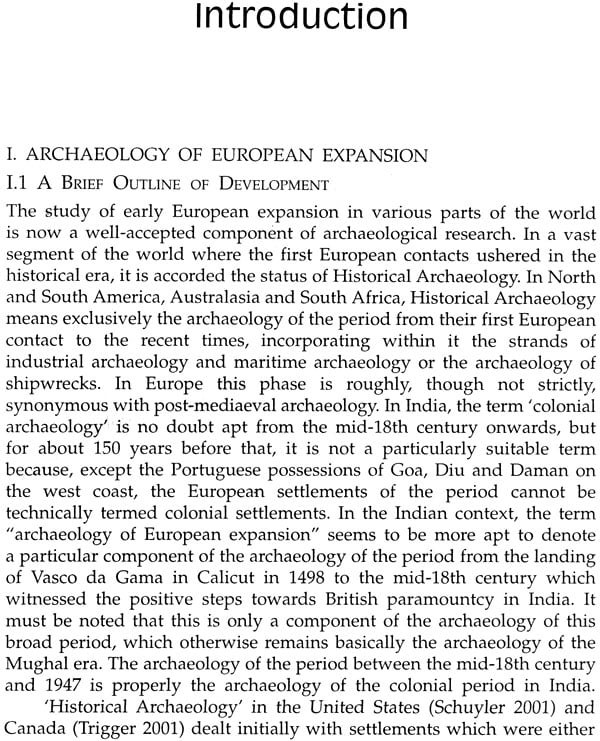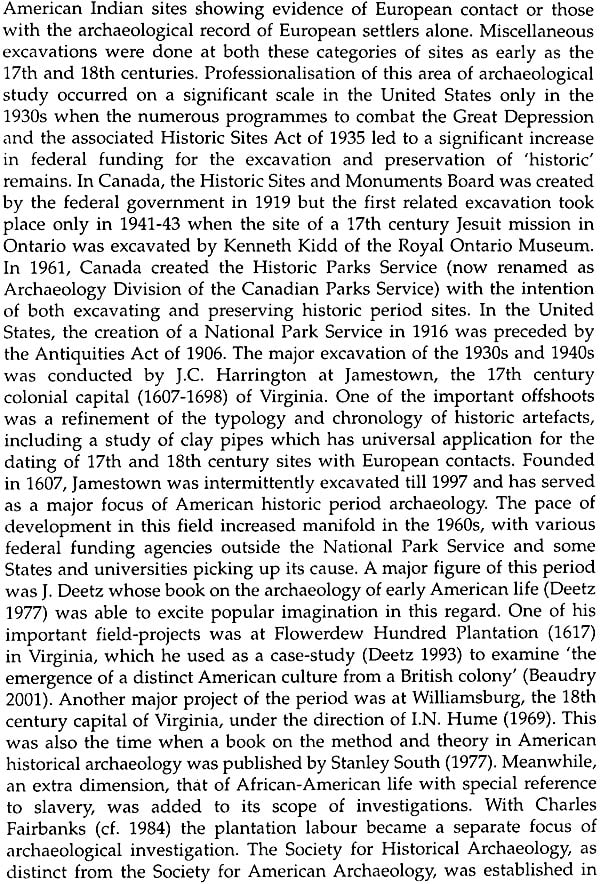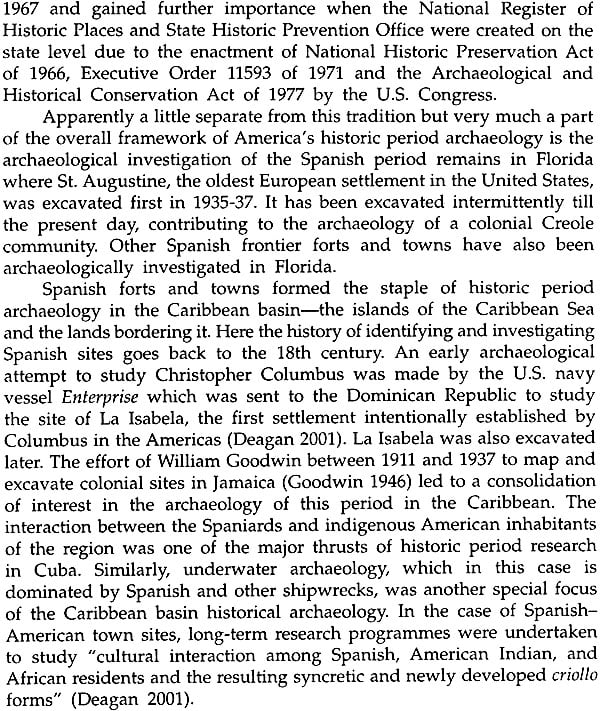 CONTENTS
Preface and Acknowledgements
List of Illustrations
INTRODUCTION

Archaeology of European Expansion

1.1 A Brief Outline of Development
1.2 Research Dimensions

1.2.1 The Americas

1.2.1.1 Chesapeake Bay
1.2.1.2 Elsewhere in the Americas
1.2.1.3 African American Archaeology as a Component of the American Historical Archaeology

1.2.2 Australia
1.2.3 South Africa
1.2.4 Miscellaneous Areas and Themes
1.2.5 An Overview

Scope of Research on the Archaeology of European Expansion in India.

GUJARAT'S MARITIME TRADE TILL c. 1600

Traditional Ports and Trade Links of the Gujarat Coast

1.1 Geographical Prelude
1.2 The 19th- Century Evidence

1.2.1 Kutch

1.2.1.1 Boats
1.2.1.2 Harbours
1.2.1.3 Trade Items

1.2.2 Kathiawar

1.2.2.1 Boats
1.2.2.2 Harbours
1.2.2.3 Trade Items

1.3 Observations on the 19th-Century Evidence

The Sequence of Archaeological and Historical Evidence

II.1 The Indus Civilization
II.2 Early Historic Period: The Evidence of the Periplus
II.3 The Post-Periplus Phase Till c. AD 1300
II.4 AD 1300-1600: Gujarat Under Delhi Sultans, Independent Sultans and the Mughals

Summary of the Argument

SURAT

Introduction: The Purpose of the Chapter and the Sources Used
A Brief Geographical Sketch
The Surat Bar and the Navigability of the Tapti up to Surat
The Communication Lines from Surat to Khandesh, Konkan, Malwa and Rajasthan
History of Surat and the Surat Area

IV.1 Archaeology and Ancient History
IV.2 The Muslim Period Till the Mughal Conquest in 1573
IV.3 The Mughal Period

IV.3.1 Surat in the Mughal Revenue and Administrative Network
IV.3.2 The Maratha Invasions, Plague and the Last Years of Mughal Control

IV.4 1733-1800: The Years Before the Complete

A Brief History of European 'Factories' in Surat

V.1 The Portuguese
V.2 The Dutch
V.3 The French and the Austrians
V.4 The British

Surat's Trade: Transport, Commodities and Network

VI. 1 Comments on the Historical Character of Surat's Trade

Surat as a City: The General Picture
The Details of Some Important Localities and Features in European Records

VIII.1 Swally, Swally Road, Swally Hole, Swally Marine

VIII.1.1 The Problem of Thomas Coryat's Tomb in Swally

VIII.2 The Surat Wharf and the Custom-House
VIII.3 The European Factories

VIII.3.1 The British Factory

VIII.3.1.1 Some Observations on the Life in the Factory
VIII.3.1.2 The Factory Building

VIII.3.2 The Dutch Factory
VIII.3.3 The Portuguese Factory
VIII.3.4 The French Factory

VIII.4 The British and Dutch Burials

Some General Observations

BROACH, AHMEDABAD, CAMBAY, DIU, DAMAN

Broach (Bharuch)
Ahmedabad
Cambay
Diu
Daman

CONCLUSIONS
Bibliography
Index
Sample Page