Description
About the Book
This work of monumental research is a treatise on Ayodhya with utmost authenticity and absolute accuracy. Based on original sources and scientific investigation it propounds a new thesis, which demolishes many popular perceptions. It exonerates the intrepid warrior Babur from the charge of demolishing a temple on the birthplace of Rama and constructing the mosque which has been a source of contention and dissension for long. It further shows how inscriptions in the mosque were factitious and Mir Baqi of inscriptions is a fictitious person different from Baqi Tashkindi/Shegawal of the Babunama.
The book produces incontrovertible evidence which indubitably proves that there existed a Rama temple on the Rama-janmabhumi. The exact birthplace of Rama was earmarked by a rectangular Bedi measuring 18' 9" inches in length and 15' in width, and was located in the inner portion of the disputed shrine. The demolition of the temple and the construction of the mosque did not take place in 1528 A.D. but in c. 1660 A.D. when Fedai Khan was the Governor of Aurangzeb at Ayodhya. IT is a historical fact that until the British takeover of Awadh administration in 1858 both the Hindus and Muslims used to perform puja and offer Namaz respectively inside it.
All Mughal Emperors from Babur to Shah Jahan were magnanimous and liberal rulers and the Bairagis of Ayodhya enjoyed patronage or the first four Nawabs of Awadh. However, during the long rules of Aurangzeb the country was engulfed in the book how an absolutely unfounded rumour in 1855 A.D. that the Hanumangarhi temple was constructed on the site of a mosque created cleavage between the two communities, and the resultant festering wounds have not healed despite best communities.
The book exposes many eminent historians' hypocrisy and their lack of objectivity in writing history and it may be said that their presentation of contrived history on Ayodha has caused irreparable damage to the cause of harmonizing communal relations in the country. In contrast, this text earnestly tries to take away the toxin from the polluted body of Indian political. For the first time a number of unexplored documents have been incorporated in this book as evidence, and it may be proclaimed with pride that this book contains much more information on Ayodhya than available hitherto.
Justice G.B. Patnaik, a former Chief Justice of India, after going through the manuscript, has endorsed the author's thesis in his Foreword. It is hoped that the book will put a quietus to the long-standing dispute.
About the Author
Kishore Kunal started his career as an I.P.S. officer in 1972 his inner urge to pursue academic interest and do philanthropic work in a full-fledged way would not let him remain within the confines of the service and he took voluntary retirement from coveted Indian Police Service almost a decade prior to his due superannuation. During his service career, he held important positions including of Officer-on-Special Duty in the Ministry of Home affairs, Government of India in which capacity he was officially associated with the Ayodhya dispute.
After retirement from I.P.S. in 2001 he was Vice-Chancellor of K.S.D. Sanskrit University, Darbhanga in Bihar. His long association with Bihar Board of Religious Trusts, Patna, as it Administrator and President, has brought about a sea-change in the functioning of temples and mutts in Bihar. Kunal has heralded a new era of harmonious coexistence by appointing a number of dalit priests in temples in the State.
Mahavir Caner SAnsthan, established by him under the aegis of Hanuman Mandir Trust, Pantna, is one of largest cancer hospitals in the country, which is dedicated to the low cost treatment of the poor patients. Similarly, four other charitable hospitals run under his supervision are rendering remarkable service to the people of Bihar. Many other philanthropic projects including the construction of Viraat Ramayan Mandir and the establishment of Ramayana University are in the offing.
Kunal has been a reputed police officer, able administrator, acclaimed academician and social reformer. A diligent and assiduous student of history and Sanskrit he is an avid reader giving a penchant for proof of everything which takes him into every possible detail and depth of the subject. He has written and edited many books. His magnum opus "Dalit-Devo Bhava" demolished many pernicious perceptions and myths concerning caste-discrimination in the Hindu society. This book on Ayodhya, in the words of former Chief Judtice of India Justice G.B. Patnaik, "would be a great asset to the nation at large, which may be helpful in defusing the tension between the two communities".
Foreword
Shri Kishore Kunal, a former IPS Office and Vice Chancellor of a Sanskrit University, gave me a manuscript of Ayodhya Revisited consisting of around 600 pages with a request to write Foreword. Even though I am not a historian, yet the subject is so very interesting and the approach of the writer is so very innovative that I have taken considerable time in going through the manuscript.
Ayodhya has been a centre of controversy for a considerable period and the controversy aggravated after the demolition of Babri Mosque. Ayothya is known not only as a place of pilgrimage, but also as a seat of India's culture. Historians, intellectuals and travellers have visited this place and given scholarly accounts of contemporary history, but Kunal has approached the subject from a different perspective. He has tried to draw his conclusion on objective and independent interpretation of materials and documents. He has tried to throw light on many aspects essentially on the basis of Sanskrit text.
In the very preface of the manuscript he has indicated the method of interpretation he has followed. The method adopted by him for Sanskrit sources prescribes replacing of words appearing in the text in their natural sequence to drive the correct meaning. The method is called 'anvaya' method. Kunal has obtained materials and evidences from reputed sources like National Archives and University Libraries and thus there cannot be any doubt about the authenticity of those materials. Kunal was a student of History and also a student of Sanskrit and this has helped him in giving a vivid account of Ayodhya different from what historians have described.
While in service Mr. Kunal as Officer on Special Duty 'Ayodhya' to the then Minister of Home Affairs had played a leading role and attempted to have a consensus between the leaders of two communities, but ultimately failed. But being Officer on Special Duty (Ayodhya) he got the opportunity of going through various materials and after in-depth. analysis of those materials has ventured to produce his interesting book on the subject, which would be a great asset to the nation at large, which may be helpful in defusing the tension between the two communities. His experience as O.S.D. and playing a vital role to resolve the dispute has come handy in translating several documents and manuscripts and in giving a picture different from what had been given by general historians. His conclusion on several pieces of evidences on the subject and his object in preparation of several materials and documents deserve to be complimented and in my opinion such conclusions throw light on many aspects of Ayodhya, which are different from what we knew in regard to Ayodhya earlier.
It is interesting to note that Mr. Kunal has held the inscriptions on the disputed structure to be fake and has ably proved how the conclusions drawn by historians are wrong. He has brought so many literary works to light such as Sarvadesha- Vrittanta-Sangraha, a text in Sanskrit, composed by Mahesh Thakur, the founder of the erstwhile Khandavala Dynasty of Mithila, on the basis of which he has come to a conclusion about Babar and early years of Akbar's regime. Similarly the Ayodhya-Mahatmya of the Rudra-yamala preserved in Bhandarkar Oriental Research Institute, Pune and Satyopakhyanam are two Sanskrit texts which throw ample light on the importance ofAyodhya. Accounts of Thomas Herbert, Joannes De Laet and C. Mentelle have been produced for the first time, while writing history on Ayodhya.
Mr. Kunal has successfully proved that the common belief that the temple at Ram Janambhoomi was demolished by Babur is erroneous. He has established that the mosque, Babari Masjid, was never built by Babar. According to the writer all this happened during the reign of Aurangzeb some time in 1660 and Babar had no role to play. This book establishes the fact that Babar practised religious tolerance and he was not a fanatic.
In chapter 11 while dealing with the question of existence of temple at the birth place of Rama the author has relied upon the literary sources of foreign travel accounts, the detailed inscription and archaeological excavation report and then has come to the conclusion that there existed a temple at the place in question whereas many historians have indicated that there never existed any temple. The scientific basis and the authentic sources of information on the basis of which the conclusion has been arrived at establishes how the historians were erroneous and it is not merely a belief of Hindus; rather clinching materials establish the fact that there existed a temple.
In its chapter dealing with Inferno of Fanaticism during the reign of Aurangzeb the author has relied upon articles published as early as in 1750's and given a vivid account as to how Aurangzeb tried to demolish several Hindu temples all over the country which is in accord with the opinion expressed by many historians. In chapter 14 he has dealt with the magnanimity of Mughal Rulers and proved the existence of amity between Hindus and Muslims. The author has ultimately come to the conclusion that the Mughal rulers right from Babar to Shahjahan were quite liberal and bestowed patronage to Sanskrit scholars, and India witnessed one of the finest phases of history in prosperity and liberalism which made indelible imprint on the contemporary history .
Kunal's nomenclature of the book is quite apt, since it establishes several facts which are contrary to the common beliefs and also the opinions of several historians.
All said and done, the author has given a new dimension to the history of Ayodhya and his valuable contribution to the subject will be of a great assistance to research scholars as well as the people of India who can have a meaningful debate at a burning subject. I have no doubt that this book will be of great assistance to the research scholars in history, and common man desirous of knowing about Ayodhya and existence of temple there which is believed to be the birth place of Lord Rama. The writer deserves commendation for his in-depth study and scientific analysis on which he has based his conclusions.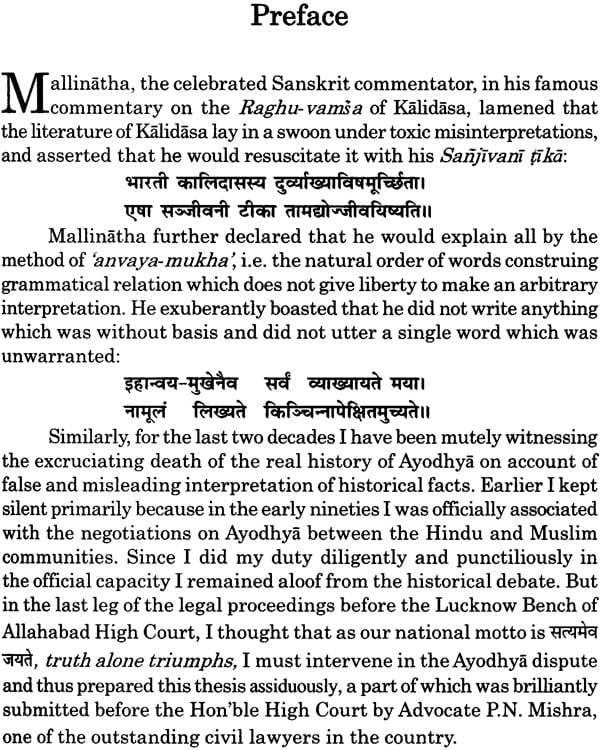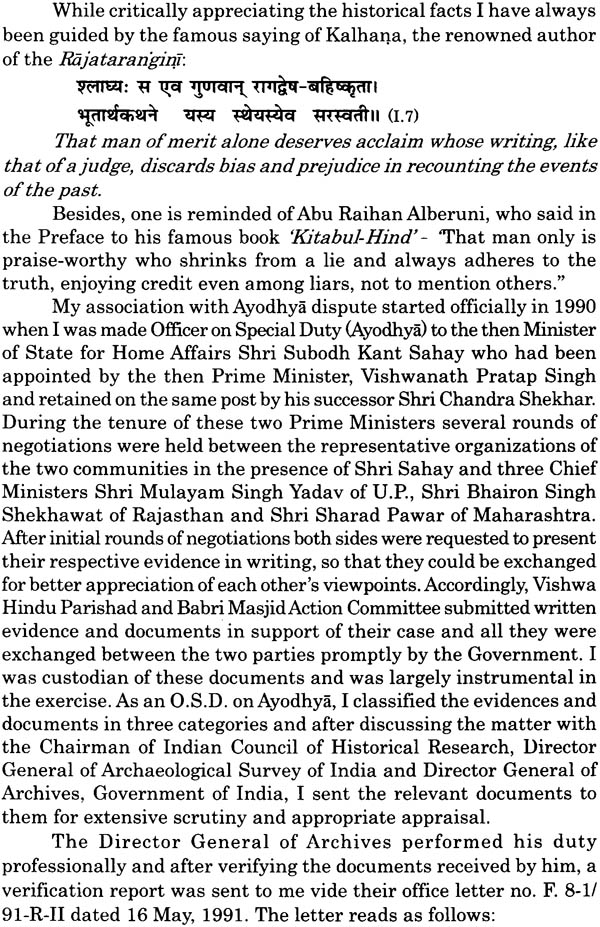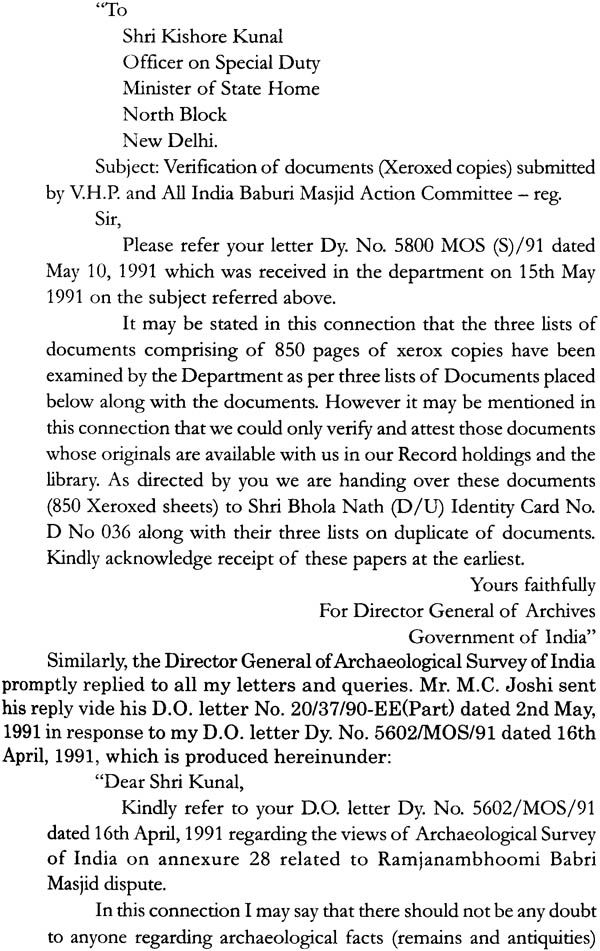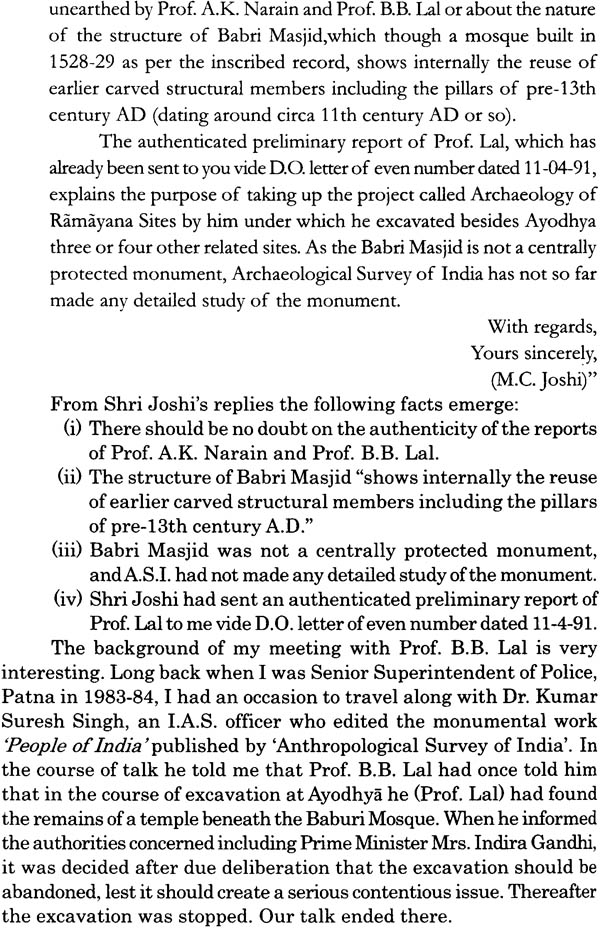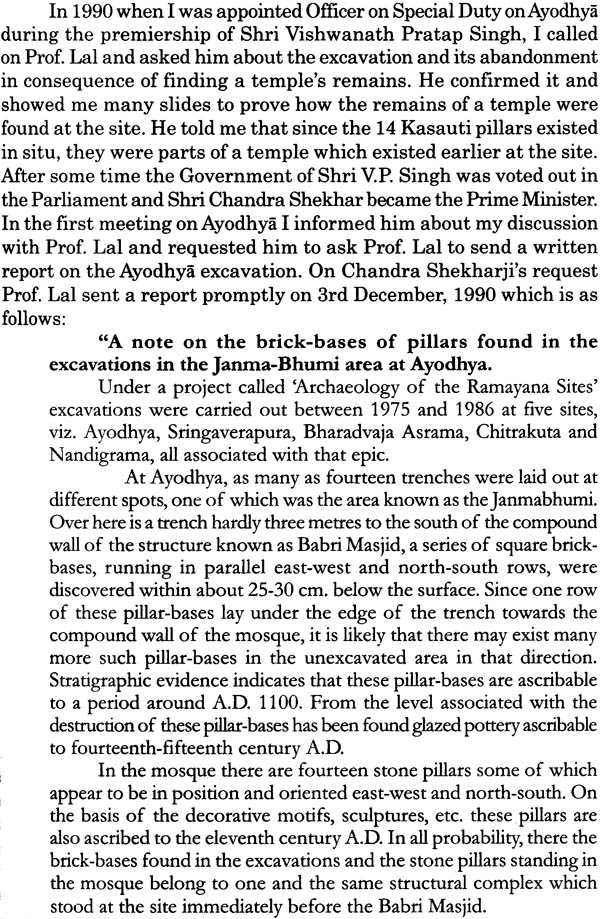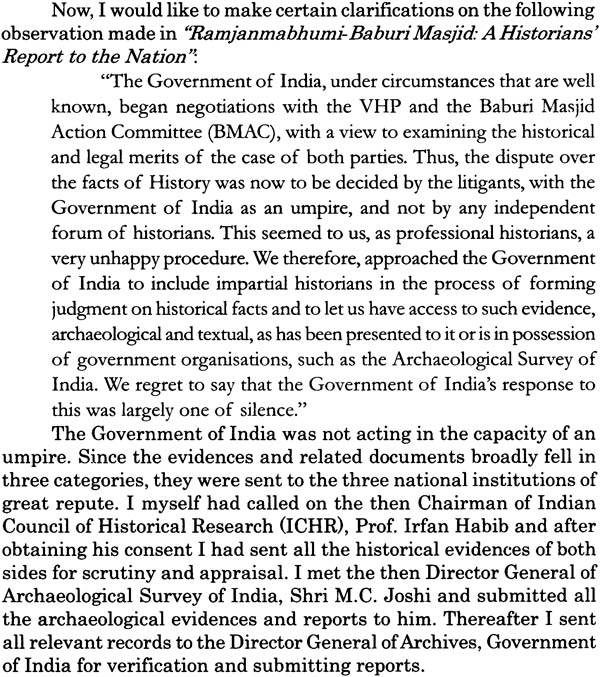 Contents
| | | |
| --- | --- | --- |
| (A) | Important historical events of Ayodhya with religious connotations in the last 1000 years | xxv |
| (B) | Preface | xxxiii |
| 1 | Ayodhya was never an abandoned city | 1 |
| 2 | Janmabhumi-mahatmaya in the Skanda Purana, Rudra-yamala, Satyopakhyana and Avadha-vilasa of Lal Das | 63 |
| 3 | Babur was not a religious fanatic | 97 |
| 4 | Babu had no role either in the demolition of any temple at Ayodhya or in the construction of the mosque | 119 |
| 5 | Inscriptions on the structure were fake and factitious | 143 |
| 6 | Mir Baqi of inscriptions is a fictitious person different from Baqi of Babur-nama | 193 |
| 7 | Babur never visited Ayodhya, nor did he ever issue any sanas in favour of the disputed shrine | 211 |
| 8 | Aurngzeb's ascendancy to the throne led to the demolition of temples at Ayodhya | 239 |
| 9 | How has demolition ghost been haunting Babur? | 277 |
| 10 | A tale of two edicts (Treta Ka Thakura and Vishnu-hari inscriptions) | 299 |
| 11 | The existence of Rama's Janmasthana and a temple thereon is based not on beliefs alone but on unimpeachable evidences also | 335 |
| 12 | The thesis discussed above has found an echo in the recent judgent of the Allahabad High Court and will now put quietus to the disquieting dispute | 415 |
| 13 | Ayodhya rarely witnessed demolition of temples during the Sultanata period | 463 |
| 14 | Many Mughal monarchs were magnanimous rulers | 491 |
| 15 | Inferno of Fanaticism during the reign of Aurangzeb | 535 |
| 16 | Ayodhya under Awadh Nawabs | 589 |
| 17 | How a rumour resulted in the rupture of relations between the two communities in 1855 | 615 |
| 18 | Aligarh Historians' Contumelious Criticism of the Ayodhya Verdict is devoid of substance | 639 |
| Appendix I: | List of Illustrations | 709 |
| Appendix II: | Texts used in this book | 712 |
| | Index | 734 |
Sample Pages