Description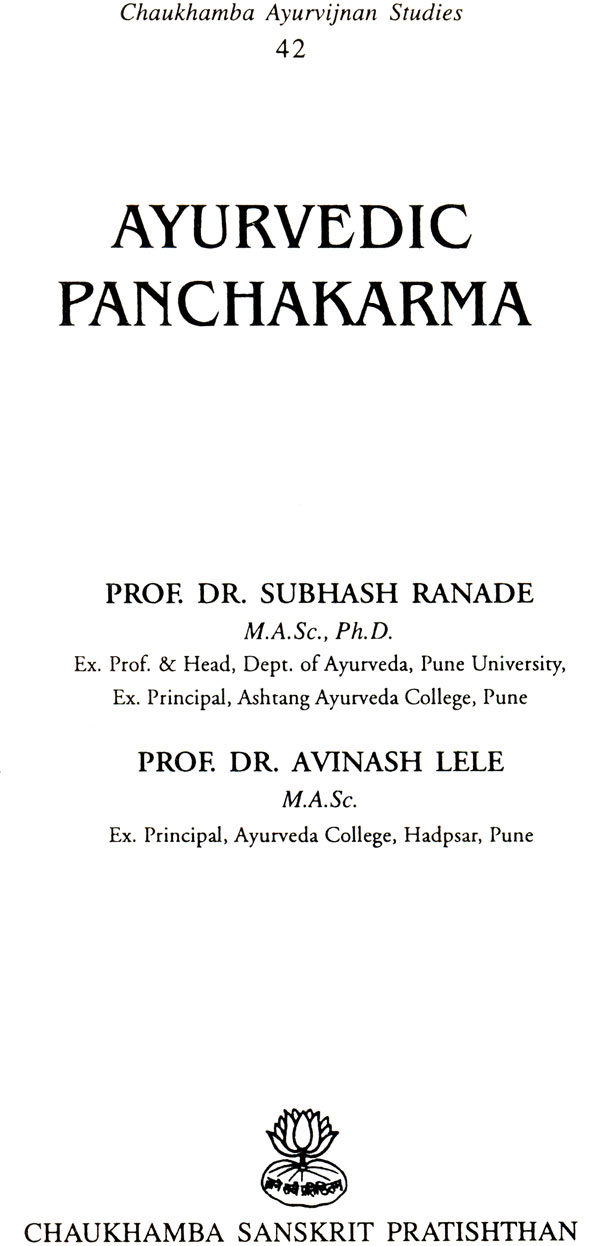 From the Back of the Book
The book Panchakarma by Prof. Subhash Rande and Prof. Avinash Lele has been written as per the syllabus prescribed by C.C.I.M. for 3rd year B.A.M & S, students. This book covers Paper 4 Section (K) in details. The authors have authors have included all the references from various texts and have explained them in lucid manner. This book is also useful to students in foreign Countries, who are interested in this subject.
Prof. Dr. Subhash Ranade has also written Kayachikitsa which deals with Paper 1,2,3, and Section (KH) of Paper 4. A combined study of both the books, cover the entire syllabus of Kayachikitsa.
About the Authors
Prof. Subhash Ranade is one of the foremost experts on Ayurveda, he is a leading academician and physician in the field of Ayurveda and ha authored more than 75 books on Ayurveda and Yoga. He has also published hundreds of articles on Ayurveda and Yoga in various magazines and newspapers. He has worked as Prof. and Head, Dept. of Ayurveda, Pune University and Principal of Ashtang Ayurveda College, Pune, India. He is also Chairman, international Academy of Ayurveda, Pune, India. This Institute imparts Ayurveda courses, Panchakarma and rejuvenative treatment for foreigners and Indian in Pune and Goa. Professor Subhash Ranade has given many television interviews on Ayurveda, not only in India but also in Poland, Italy and Germany as well and has also attended many International and National seminars on Ayurveda and yoga.
He has the honour of being visiting Prof. to many Institutes in the United States like Ayu-Seattle, American Institute of Ayurveda, san Francisco, USA; SEVA Academy, Munich and Veda Klinik, Charlottenhohe, Germany; Ateneo Veda Vyasa Savona and SKA Ayurveda, Milan, Italy; school of Ayurvedic Culture, Barcelona, Spain; Body-Mind-Health, Zurich, Swiss; Ultimate health centre, Athens, Greece; and Foundation for Health in Warszawa, Poland. His pioneering work in the field of CD-ROM'S like Dhancantari, Marma and massage have been whole-heartedly welcomed and highly appreciated by the Ayurvedic World. Since 1981, he has visited and conducted hundreds of Ayurveda courses for medical practitioners in Europe, Canada, USA and Japan.
Dr. Avinash Lele is the director of Internationally Academy of Ayurveda which is imparting education of Ayurveda, both in theory and practicals in Massage, Panchakarma, Marma and other special methods in Ayurveda. In his own private clinic, he has done thousands of Panchakarma procedures since1980. He has his own private Ayurvedic hospital in Pune and is Hon. Physician and Prof. of Surgery at Ashtang Ayurveda College, Pune. He is also working a visiting Prof. to New England Institute of Ayurvedic Medicine in Boston, California College of Ayurveda, Ayurvedic Institute of American in USA and Ateneo Veda Vyasa in Italy.
Foreword
I am glad to know that Ayurvedic Panchakarma a comprehensive book on this subject written by Prof. Dr. Subhash Ranade, and Prof. Dr. Avinash Lele, is being published by Chaukhamba Sanskrit Pratishthan, Delhi.
Authentic book on Panchakarma is always needed for scholars of Panchakarma, Ayurvedic students in various colleges and also for physicians who are in practice. This curiosity is not only limited to India but also seen in all countries of the world - where there is respect for this ancient science of healing system. And it seems that the authors of this book have been able to satisfy their thirst of knowledge.
This book gives us a good brief knowledge of Panchakarma, Classical views and practical approach. There is separate section on Massage, which is included in the tide of the book. Abhyanga or Massage being one kind of external oleation therapy, which could have been included in the same chapter. Still the authors gave a separate section on it, which indicates that there is a special significance of this therapy and it should not be considered only as one part of oleation or preoperative process of Panchakarma, it is able to relieve various kinds of diseases, which are not usually responding to other routine line of treatment.
Chapter on Vamana emesis etc. are short but gives us good practical essential knowledge to proceed in practice. The special boon of this book is chapter 12th; which gives Panchakarma therapy for specific diseases like Asthma, Multiple Sclerosis, Back Pain, Depression etc. For new comers, it would be blessing full guideline to follow in practice.
In the end of the book- Research on this subject is written by the authors, which gives ready references for further detail study if any one wants to proceed.
Panchakarma gives us twofold benefit - one is to relief from diseases, particularly from chronic and acute diseases, which are almost in- curable in other pathies. Second is to prevent the forthcoming diseases and maintain healthy status of the body and mind. Both aspects have been taken into consideration by the learned authors of the book.
I wish them all success in their future programme and hope that they will have to print next edition very shortly.
Preface
There is increasing curiosity and awareness about Ayurveda, and its various branches, not only in India but also throughout the world. However, the Panchakarma branch has attracted more attention than any other branches, and in last decade many Panchakarma centres have opened all over the world.
On one side, man is enjoying the fruits of modernization but he is paying the price for the same also. Foods containing preservatives and toxic colouring and other substances, hybrid foods, frozen foods, changed food habits, stress, pollution all are culminating into accumulation of waste products in the body. This is leading to early ageing, debility, loss of immunity, which in turn is producing more number of diseases like chronic fatigue syndrome, multiple sclerosis, insomnia, depression and many other chronic diseases. More and more medicines are proving ineffective, as they do not reach the site of disease. In such conditions, Panchakarma is proving very much beneficial, because it is removing all the waste materials and free radicals from the body without taxing the body organs and thus is helping the cure of the disease.
The purificatory methods of Panchakarma are also useful for maintaining health. Similarly, if proper purification is done before rejuvenation procedures, the best results are obtained.
Hence, these purificatory procedures are attracting attention from the scientists of all over the world. These procedures are being tested in some research centres. Many scientists believe that they would be useful for increasing immunity.
We the authors, therefore feel that this book explaining the details of all procedures of Panchakarma will be useful not only to the students but to all healing professionals in the world.
CONTENTS
| | | |
| --- | --- | --- |
| 1 | Prologue | 1 |
| 2 | Introduction to Panchakarma | 7 |
| 3 | Basic Principles of Panchakarma | 12 |
| 4 | Snehana- Oleation Therapy | 26 |
| 5 | Swedana- Sudation | 50 |
| 6 | Panchakarma: Their Indications and Contraindications | 71 |
| 7 | Vamana- Virechana | 76 |
| 8 | Basti- Medicated Enema | 92 |
| 9 | Nasya- nasal Medication | 109 |
| 10 | Samsarjana karma-Detox diet | 118 |
| 11 | Raktamokshana- Bloodletting | 120 |
| 12 | Panchakarma Therapy for specific Diseases | 128 |
| 13 | Herbs Index | 159 |
| 14 | Research work on Panchakarma in India | 164 |
| 15 | Glossary of Technical Terms | 189 |
| 16 | Resources | 197 |
| 17 | Bibliography | 198 |
Sample Pages