Description
Foreword
Dr S Ramanathan's service to music is immense. His phenominal contributions to the society as a Scholar, Musician, Researcher, Vainika and Music Guru are globally well-known. His service to Tamil Music is note-worthy. 'Silappatikaraththil Isai', a monumental work of his would stay immortal till history lasts.
Another dimension of his greatness as a Vageyakara (composer) has been revealed by alapana arts, through their forthcoming publication, 'Compositions of Sangita Kalanidhi Dr S Ramanathan'.
Dr S. Ramanathan's musical genius is evident in his compositions. Thirty seven compositions in 3 different formats are given in this book, which include 2 Lakshana Varnams, 8 Tana Varnams, 26 Kritis and a Thillana.
Lakshana Varnam is a novel attempt. This type of composition will be very useful to the students of music in understanding and easily remembering the Raga Lakshanas. The 2 Lakshana Varnams are in Purvikalyani & Gopriya. The verbatim usage of the English words, 'whole tone scale' to describe the beauty of Gopriya's scale illustrates Dr S. Ramanatha's erudition in western music as well.
The 26 Kritis comprise those in Rakthi ragas, Nayaki, Saveri, Dwijavanti, Begada, Surutti, Mohanam, Sriranjani and Mukari, common ragas, Kannadagowla, Megharanjani, Gopriya, Bhavani, Poornachandrika, Desi ragas, Revathi, Behag and Senjurutti, rare ragas, Anantapriya and Japani and Melakarta ragas, Charukesi, Shadvidamargini, Hemavati and Keeravani. All these go to prove his depth of knowledge and musical prowess.
His ability to compose in 3 different languages stands in testimony for his linguistic versatility. His skill in handling Prasam, rhyme and poetic meter is evident in Adidum Arase.
The presence of 2 Charanams in Charukesi Kriti, the Madyama Kalam in Shadvidamargini, Chittai swaram in Revathi, Megharanjani, Nayaki, Poornachandrika, Bhavani & Gopriya enhance the beauty of the compositions.
Varnam and Kriti composed in the same ragam lays the path to understand different approaches to the same raga.
There is a beautiful Thillana in Senjurutti set to Adi Talam Thisra Gati. The Solkattu Swaram appearing in its Charanam adds a special flavour to the Thillana.
Dr S. Ramanathan has set the compositions to Talas such as Adi, Rupakam, Khanda Chapu and Misra Chapu with interesting Eduppus (offbeat) at 3/4 Idam, 1/2 Idam, etc, where ever appropriate. There is a kriti in 2 KaLai Chaukam also. While enriching the compositions with elegant Sangatis and all other intricacies, due care has been taken to keep the natural aesthetics and Raga Bhava intact.
As there is a wide variety of compositions in this the collection, this significant work of the composer provides adequate scope to perform a full-length concert, exclusively with the repertoire contained in this book.
There is no doubt that this book will be highly useful to all the teachers and students of music. My heartfelt congratulations to the composer's daughter, Mrs R. Banumathy, who has compiled, edited competently to get it published as a book.
Following the footsteps of her Guru and father, Dr S. Ramanathan, Mrs R Banumathy is efficiently running 'alapana arts', a music institution of repute in Singapore, for which she deserves my sincere appreciation in addition.
Preface
Compiling my father and Guru, Sangita Kalanidhi Dr S. Ramanathan's compositions is truly as godsend for me. The English version of the compositions was ready about 4 years ago, and I had barely started typing them out in Tamil by then. In the year 2015, I embarked on the commitment to myself that I should bring it out in the shape of a proper book in both Tamil and English on the birth centenary of Appa (my father).
The fact that Appa had great respect for his gurus is evident in the 2 kritis, where he explicitly salutes his gurus, Sri Tiger Varadachari and Sri Sabesa Iyer, the thillana may probably be an implicit dedication to his teacher, Sri Ponniah Pillai. There is an unmistakable alignment to the traditions of Tyagaraja, Dikshitar and Syama Sastri, if we carefully examine his 3/4 Idam Kritis, Rupaka Tala Kritis and Kritis set to Tisra Gati, respectively.
I acknowledge the selfless help extended to me for this book by my family, especially my sister, Latha and my cousin, Bharathi. I thank Vidushi S. Sowmya for the help with the Kriti, Sari Vedalina. I would like to place on record the tireless typing work for this book efficiently accomplished by Mrs T. V. Lakshmi. I am glad that the book could be published by alapana arts, Singapore in a timely manner.
Appa has breathed music and there is no doubt about it. As Tyagaraja pays tributes to his musical predecessors in 'sata -Raga Ratna Malikace .. ', I would also like to pay my humble homage to Appa, by dedicating this book, a compilation of his 37 compositions, to him on his birth centenary.
I am sure that the music world would find this as a useful book for all times to come.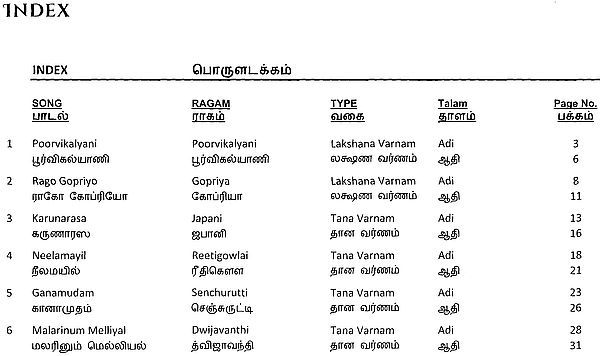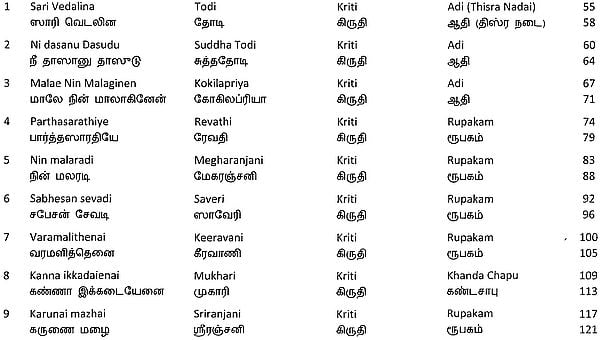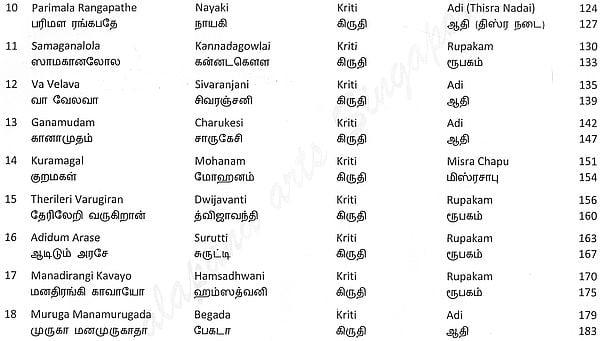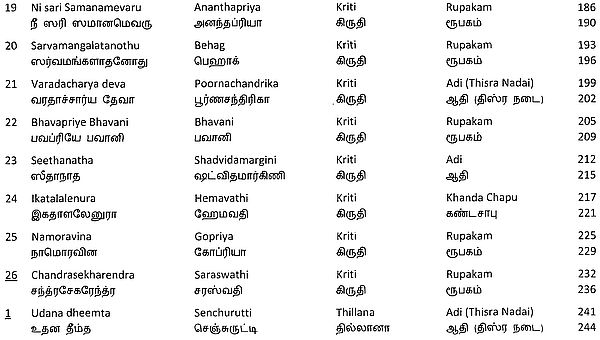 Sample Pages