Description
About The Book
A business premise is much different from a residential building. The door of a residence opens inside while the door of a shop opens outside or upwards. A roller shutter fixed at the entry of any room normally indicates that it is being used for commercial purposes. A shutter, which is larger in size than a common door, makes it lion faced (sher mukhil). On the contrary, a simple small door opening inside makes the premises cow faced (gau mukhi). A larger opening not only invites more clients and more shoppers, it also advertises your goods and services as well. A smaller door, on the contrary, is good for residential premises as it helps in maintaining privacy, safety, security and sanctity of the house and its inhabitants.
Residence is mainly meant for sleeping at night. The second most important activity in the household is cooking and it should be performed only during the daytime. For this purpose, south-east is considered the best direction. Likewise, the daytime activities – the business activities – are best done in the premises facing south-east. This area is called the "wealth Zone" in Feng Shui, the Chinese equivalent of the Indian Vaastu Shastra.
Corporate Vaastu: Applied Indian Architecture for Righteous Earning offer an introduction to the principles of business Vaastu – including the vaastu of offices, shopping malls, factories, educational and religious premises, resorts, housing societies, modern apartments, pents houses, services apartments, agricultural land and farmhouse, hotels and restaurants – virtually all the aspects of public-related vaastu. This book is mainly intended to systematize and standardize the techniques and methodologies of the corporate and office vaastu.
About The Author
Aswini Kumar MA (philosophy), MIE (Civil Engg), LL B, Prabhakar, has deeply studied Civil Engineering , Law, Philosophy, Sanskrit and Sanskrit, Religions and Spiritual Sciences, Astrology, Classical Architecture, Yoga, Naturopathy, Ayurveda and other similar subjects at different levels. He has more than 30 years of academic, working and teaching experience in the field of Building Science.
He was awarded a Gold Medal of Jyotish Acharya in 1997 from Bhartiya Vidhya Bhawan, New Delhi. He started teaching Vaastu Shastra, Palmistry and other allied subjects in 2000 for the first time in New Delhi.
Presently, the author is honorary guide and professor of vaastu Shastra and Palmistry at the Centre of Indology, Bhartiya Vidhya Bhavan, New Delhi. He is engrossed in giving consultancy in Vaastu Shastra and Feng Shui.
His main Field of research s co-relation of Vaastu Shastra with the Modern Architecture, Civil Engineering, Science, Astrology, Psychology, Spirituality and Feng Shui. This is second book on Vaastu Shastra. This book is the outcome of author's study, experimentation and teaching at different stages for a period of more than 30 years.
Foreword
Vaastu – a mystery or a science? The debate is on between the believers and the non-believers. For me it is a MYSTIC SCIENCE. My own experiences with implied Vaastu force me to believe that it is a science but a lot of dedicated and honest research needs to be done to raise the curtain from the Mystic part of Vaastu.
As an Architect, I see Vaastu as a climatic science. It is also a social science and a science that has the potential of altering the behavior of humans. Vaastu is truly a science of living and growing in cohesion with the forces of nature.
Business is one of the most important karma of life. Your work place is sacred. It is from this place you earn name, fame and money. And it is good to earn money and live a life that one desires.
A number of texts have been written on Vaastu of temples, forts, cities and homes but hardly does one find something on vaastu of work places and that too well researched.
I am sure this book will fill in the vacuum of availability of such texts for professionals, researchers, students and anyone who has a fascination for Vaastu. As I read the book, I realized a great effort has been made. An indepth study has been undertaken, references have been taken from various scriptures after a lot of research. Inferences and their implication as explained in the book have been drawn after a thorough analysis.
Truly, a new Vaastu has been evolved- Corporate Vaastu. Apt to the name, 'Corporate Vaastu' deals with various principles of Vaastu for the workplace as researched by Shri Aswini Kumar Bansal. This book, as I understand is the outcome of his research for over two decades.
I have had the privilege of knowing him for over a decade. A great master of Vaastu, he strongly believes that Vaastu if implemented with proper knowledge has the potential of changing our lives and fortunes. A passionate researcher,he writes or speaks with conviction and only after a thorough study and analysis.
I am very sure the readers will find the book very informative and captivating. The principles of Corporate Vaastu have been explained in a very simple, systematic and organized manner.
My heartiest thanks to Shri Ashwini Kumar Bansal to have done this herculean effort of understanding and sharing the mysticism of Vaastu through this book.
Preface
Vaastu Shastra is the Classical art and science of contructing houses, palaces, temples, monuments, wells and step wells, pools, stadiums, and theatres-virtually all types of constructions. Sound knowledge of construction engineering is the first basic requirement for becoming vaastu expert (Mayamatam 5.15a & 5.18a):
"The architect is a man of quality he must know how to establish building and must be well versed in all the science. Of good name and persevering, he must have crossed the ocean of the science of architecture."
Expert having in depth knowledge of building construction, vaastu requires thorough knowledge of Physics (at least laws of magnetism,heat, sound and optics), Astronomy, Astrology, Mythology, History, Geography, Human Psycholoy, local socio-cultural and religious practices, and a deep attunement with the Mother Nature. Knowledge of the Sanskrit language is an added advantage as most of the original classical texts of vaastu shastra are available in Sanskrit only. The available English translations of the classicaltexts of vaastu shastra, even the standard ones like Mayamatam and Samaranganasutradhar, have discrepancies.
It is surprising that in contrast to the above recommendations of Mayamatam, most of the new age vaastu books have been written by the so called Vaastu Shaastris (vasstu experts) who don't even have the basic knowledge of building science, leave aside having formal academic qualification in Civil Engineering or Architecture. Astrologers (Jyotishis), traditional Karmakandi Pandits and translators of Sanskrit texts of vaastu shastra are posing themselves as expert vaastu shastris.
Some architects and interior designers too – without having in depth knowledge of the principles of classical vaastu – claim their clients that they have included " vaastu" in their design. Mere knowledge of the so called auspicious directions for the main door, slope of the floor, flow of water and position of our head while sleeping does not make one a vaastu expert. Such types of claims only bring a bad name to this time-tested classical science.
Talking astrologically, building construction is seen from the fourth bhava (house) of the horoscope. A person desirous of becoming an expert in Vaastu Shastra should have a strong fourth bhava in his / her horoscope. Fouth bhava is considered strong when auspicious classical combinations (yogas) are formed here. It also becomes strong when it is occupied and / or aspected by its own lord and / or benefic planets, when flanked by benefics and when its lord participates in benefic planetary combinations (yogas).p> Saturn, the significator of building material and construction, should also be strongly placed in the horoscope of a person desirous of becoming an expert in Vaastu Shastra. Saturn is considered strong when it forms auspicious combinations in the horoscope (for example Shash, Mahabhagya, Shrikanth, Shridaam, Vairinchi etc), when it is in its own or exaltation sign, or when it is vargottama (the same sign in navamsha as in the natul horoscope) etc. Strong Saturn also gives an acute touching sense.
Mars is the significator of constructions activities. Its overall strength and beneficence also gives active interest in construction and property business. When Mars is also strong in the horoscope and is strongly related with the 4th lord and Saturn, vaastu expert will not only plan the building but will also be actively involved in the construction activities. Strongly placed Mercuury in the horoscope makes one an expert in sketching , drawing and calculation work.
Vaastu, when judged from the 'Time' factor, is of three types – static (sthira), dynamic (chara) and daily (nitya). Static vaastu assumes a static position of vaastu purush throughout the year – head with face down in the north-east and feet in the south-west. As per the dynamic aspect of vaasu, vaastu purush goes on changing his position every three months. North direction is auspicious mainly during the summers. Otherwise; east, south and west are also auspicious during the rainy season, early winters and harsh winters respectively. No direction is completely auspicious or inauspicious for all the seasons. The same rule applies for different people involved in different businesses working from different places on the earth.
We also read about daily vaastu (Nitya Vaastu) in the classical vaastu texts. Vaastu goes on changing on daily basis. The golden rule of daily vasstu is:
(Take sunrays from your back's side and fire from your front side).
Following this classical rule, while sitting in an open area during the mid-day,facing north is best to avoid the scorching sunrays when Sun becomes a fireball in the south direction. On the contrary, keeping head towards south is best during midnight for enjoying the sound sleep.
South, the direction of Yama – though inauspicious during the noontime – becomes auspicious at night. Likewise, south delivers worst results only during the scorching summers, worse during the moderate summers, bad during the rainy season but good during the winters are virtually a party tine. On the contrary, people living in the north or east facing houses (with closed south and west) suffer in winters on account of non-availability of the direct solar heat. Consequently, senior citizens, patients, housewives and children are the main victims.
Now, I will like to discuses application of vaastu in trade, commerce, industry and business – all the activities except the residential one. For residential vaastu, readers are advised to refer my earlier book, Unfolding the Veil of Mystery Vaastu The Art & Science of Living. Here, in the present book, my main concern is on the Vaastu principles regarding earning; may be money, kinds, health, knowledge, power, position, service or reputation. It will be worthwhile to point out here once agin that most of the modern vaastu in the same category i.e., fixed (sthira) vaastu. Principles of fixed vaastu are used for constructing permanent residential buildings which are meant for performing different types of activities.
In Sthira (fixed) vaastu, construction is allowed only on around 50 percent of the total plot area, with offsets all around (paishach-sthan) and in the middle (braham-sthan). Principles of fixed vaastu have been designed to accommodate the needs of movable (chara) vaastu and daily (nitya) vaastu. These principles were carved during the ancient golden era when plenty of land was available free of cost. Even during the reign of Mughal emperor Akbar (1556 to 1605 AD), sufficient land was available free of cost for agriculture and housing purposes in the sixteenth and early seventeenth centuries. N our modern times, at least in the smaller and medium size constructions, it is generally not possible to keep the ideal offsets of one ninth on all the four sides.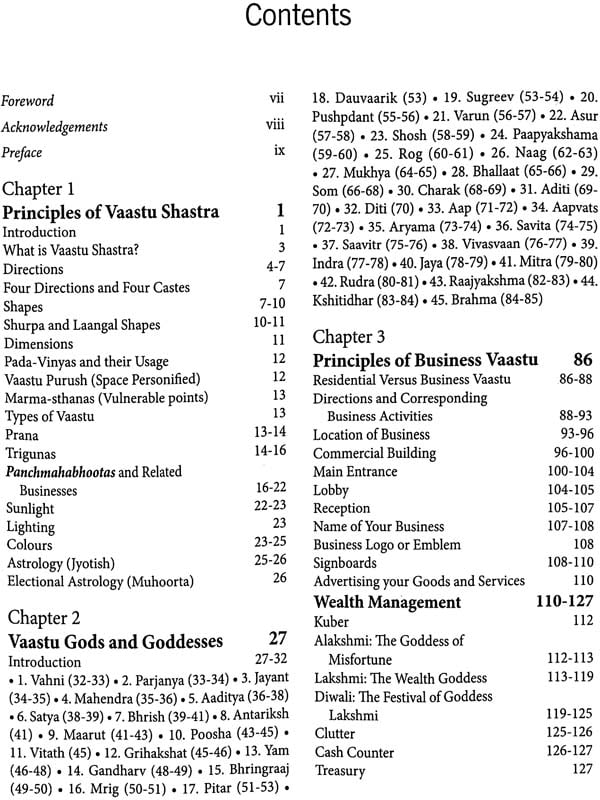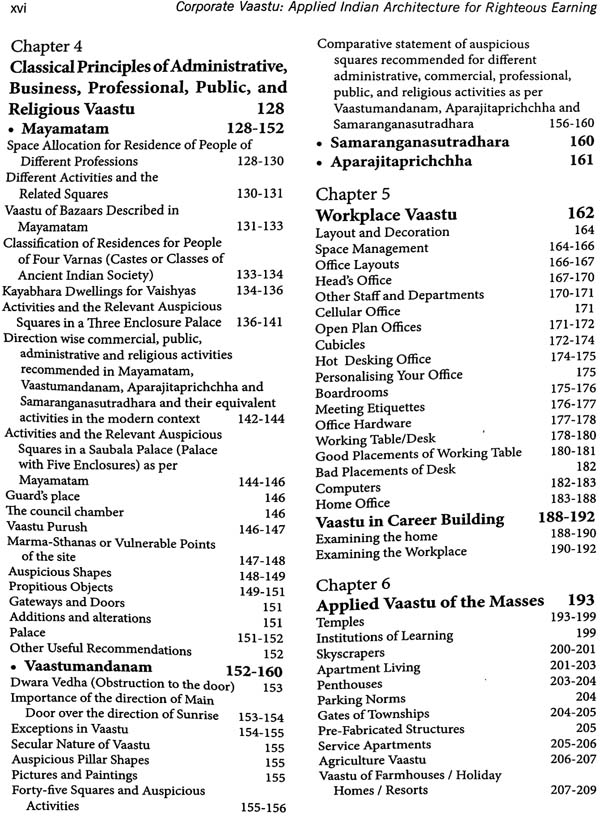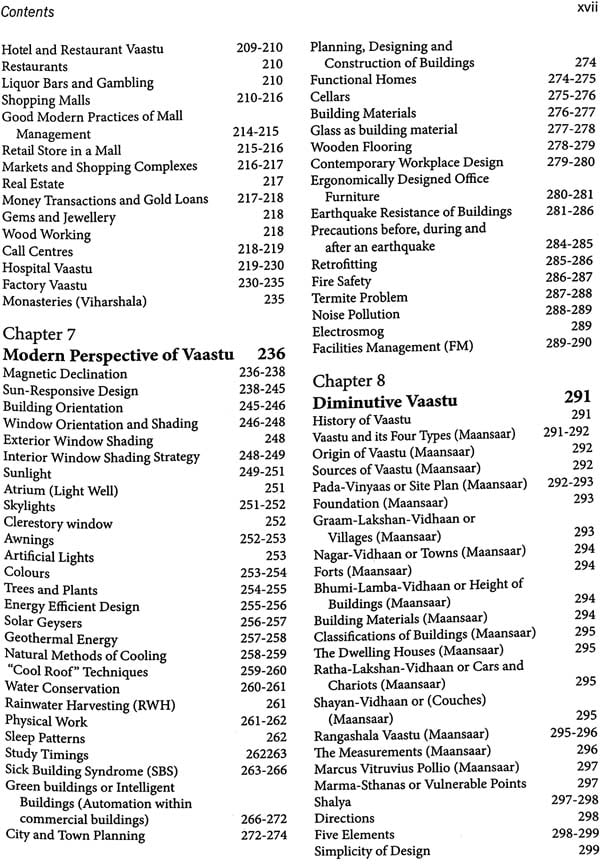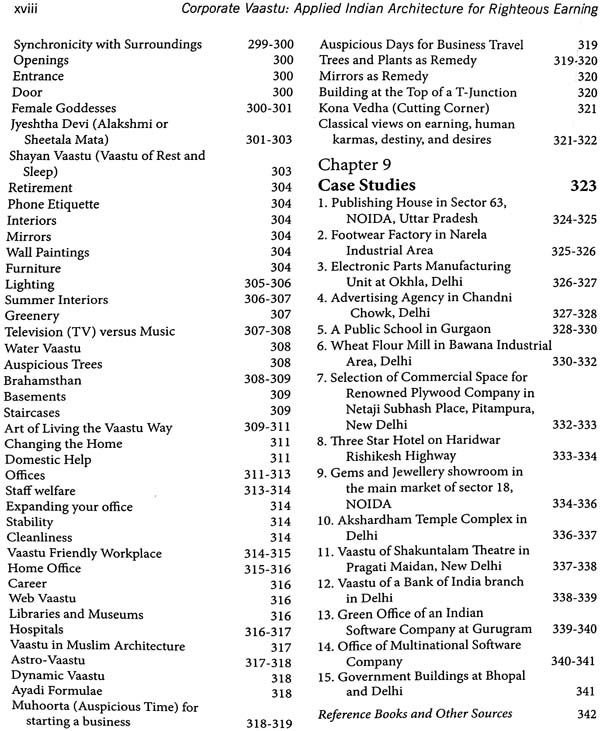 Sample Pages