Description
Preface
The coming out of the commemoration volume of professor Mahesh Tiwary entitled 'Dhammadesana : A Buddhist Perspective' gives us an immense pleasure though it comes out after a long gap, still it is important and valuable for the scholars and students of Buddhist lore. Professor Tiwary was not only known for his wide ranging scholarship but also for his humility and simplicity. His life-sketch is a source of inspiration specially for young generation who is on the path of building his career.
The present volume is a book of collection of 45 (forty-five) papers written by different scholars of their specialized area of Buddhism. Prof. Tiwary's intimate friends, closed disciples and the person directly related to him have also given their inner feelings about him.
It would not be amiss to point out some salient features of the volume divided into three parts. The first part opens with the biography under the heading 'Porf. Mahesh Tiwary : A Source of Inspiration' and reminiscences written by his most intimated and dearest class fellow Prof. N.H. Samtani, his closed disciples and his maternal grandaughter Vishakha Shukla. The second part consists of three sections divided on the basis of the area of papers related to literature, history, and philosophy. The third part contains seven papers written in Hindi, out of which the last two papers 6th and 7th are written by his two daughters. The seventh one is a manual of Abhidhamma authored by an old Burmese monk Acariya Chapada. This was unpublished work in Devanagari script. His eldest daughter Dr. Rama Shukla, Post Doctoral Fellow of ICHR, New Delhi, has transcribed it in Devanagari script from Roman and Burmese because she is acquianted with the fact that her father was devoted for bringing out the unpublished texts in Devanagari script.
Paying homage to our beacon of light 'Prof. Tiwary and saluting his spirit abiding with us to light our path we express our deep sense of gratitude to the scholars and friends who have contributed their papers for the present volume. We are very much thankful to Prof. Tiwary's contemporaries like Prof. C.S. Upasak, Prof. S.K. Pathak, Prof. Dipak Kumar Barua, Prof. B.N. Choudhary, Prof. Angraj Choudhary, Prof. N.H. Samtani, Prof. B.R. Subramanayam, Prof. Sanghasen Singh and others who have inspired us always to bring out the volume at the earliest possible. We can't forget his sincere disciples: Prof. Bhikkhu Satyapal, Dr. Ramesh Prasad, Dr. B.N. Labh and others. We thank them all for their kind co-operation. We are lucky to find here his earliest disciple Dr. Mithileshwar Prasad, former Librarian at Nava Nalanda Mahavihara who has helped us in various ways by giving advice, and valuable suggestions from time to time during the course of making corrections in proof-reading. We feel obliged to express our grateful thank to him. We also thank our departmental colleagues Prof. P. Dubey, Dr. (Mrs.) Priti Kumari Dubey, Dr. Siddharth Singh and Dr. (Mrs.) Rama Shukla, Post Dortoral Fellow of ICHR, New Delhi, for their contribution and co- operation in bringing out the volume. We thank gratefully the authority of the Banaras Hindu University, specially Dr. Vishwanath Pandey, O.S.D., Publicaton Cell and other staff members for their kind co-operation in the publication of this volume. At last but not least we thank all who have helped us directly or indirectly in this regard .
We believe that the scholars and students of Pali and Buddhism as a whole will be benefited through the present volume. Looking forward for their thoughtful comments and observations on the volume.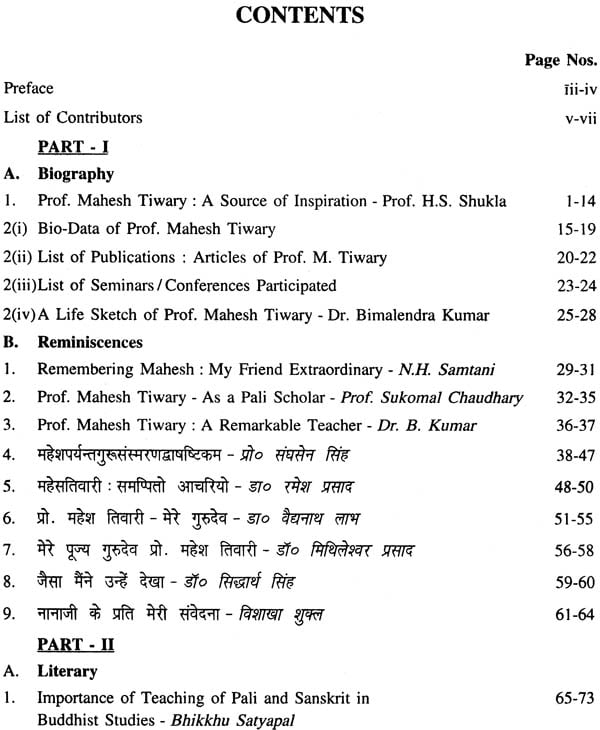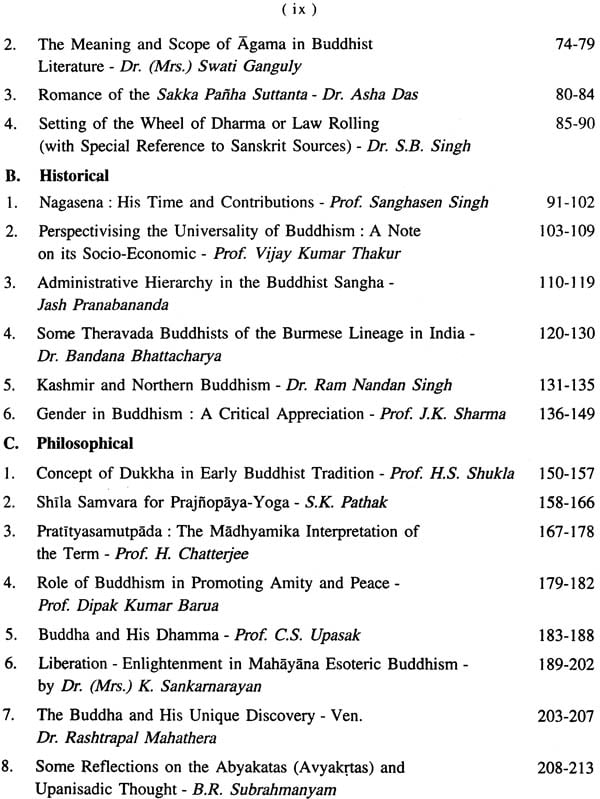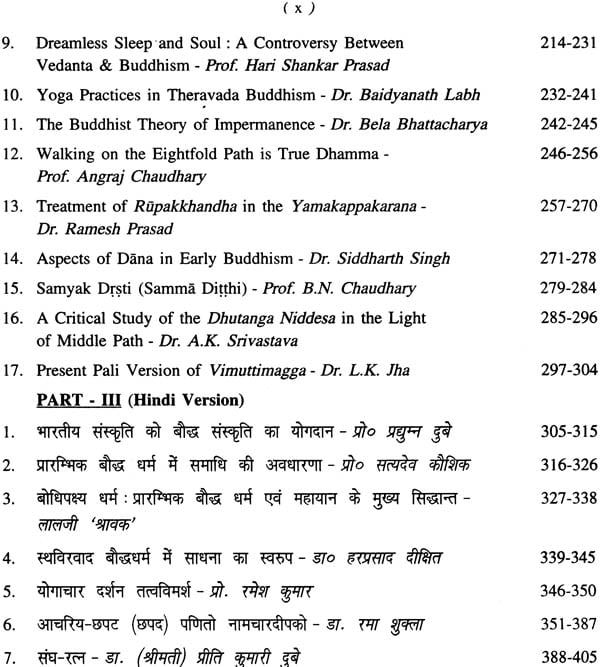 Sample Pages