Description
About the Book
KP Astrology is all about being able to anticipate events using the Natal Chart, Horoscope as the basic starting point and then to apply the concepts of Star Lords and Sub Lords thereon to understand the concepts of Event Analysis. In this volume an effort has been made to explain the rudiments of Horary Astrology, Ruling planets, Rectification of birth time,. Timing of Events and predictions through Sub and Sub-Sub Lord, in a simple way, and with illustrative examples, to enable the reader to comprehend and evaluate the horoscopes by KP methodology.
About the Author
The author of this book, S. Kapur, M.Sc. (Statistics), CAIIB, is a senior retired banker wose passion for learning continued even after retirement. A Diploma in German Language followed by a Diploma in Journalism led further to study in Vedic Astrology at Bhartiya Vidya Bhawan under the able guidance of Sh. K.N. Rao, a distinguished and learned astrologer. A chance reference to KP Astrology during net surfing led to a serious study of this subject under guidance of Sh. C.B. Narnauli, whose able assistance and encouragement gave him the initiative to write this book. This book contains large number of illustrative examples, which will help the readers to understand and evaluate the horoscopes by KP methodology.
Forward
In this book the writer wants to tell us that how the sub lords theory gives us correct result for every type of events. This is called K. P. Stellar Method.
With the help of Steller Theory Method, invented by our Guru K. S. Krishna Murthi, we can predict by the Horary as well as Natal. This is the only system in astrology gives correct predictions with date and time. Mr. Surendra Kapur, the author of this book, has scientifically thrown light on sub lords theory. Krishnamurthi Paddhati is a scientific name of Astrology. Mr Surendra Kapur is well versed in traditional as well as K. P. Astrology. He has found the truth how the planet gives correct results.
Method of Dasa, Bhukti, Antra is also explained in this book. This book is a worth investing as a Treasure in Astrology Book Collection and Professional works. I hope this sincere of Mr. Surendra Kapur will prove a sussessful step in predictions through Scientific Astrology.
I pray lord Shirdi Sai Baba to belss the author for a healthy, long peaceful life for many more years, so that he can write many more books on K. P. Sub Lord Theory for K. P. followers and readers.
Contents
| | | |
| --- | --- | --- |
| | Volume I | |
| | Section 1 | |
| 1.1. | Krishnamurti Padhiti | 1 |
| 1.2. | Order of Significators | 3 |
| 1.3. | Rahu | 7 |
| 1.4. | Significators | 12 |
| 1.5. | Significators and its Sub Lord | 20 |
| | Section 2 | |
| 2.1. | Ist house (Ascendant) or (Ragna) | 22 |
| 2.2. | IInd house (Money matters) | 24 |
| 2.3. | Free from Financial Tenures | 29 |
| 2.4. | Will, Get Money by Way of Will from by Circle | 36 |
| 2.5. | Entangled Money | 40 |
| | Section 3 | |
| 3.1. | The 3rd House (Profession) | 44 |
| 3.2. | The IVth House (Property) | 48 |
| 3.3. | IVth House (Vehicle) | 62 |
| 3.4. | 4th House (Mother) | 71 |
| | Section 4 | |
| 4.1. | Analysiugs 5th House | 73 |
| | Section 5 | |
| 5.1. | Turius | 78 |
| 5.2. | 6th House | 87 |
| 5.3. | Some Serious Illness | 92 |
| 5.4. | Hearth Problem | 95 |
| 5.5. | Breast Cancer | 108 |
| 5.6. | Cancer | 117 |
| 5.7. | Cancer (Leukemic) | 124 |
| 5.8. | Heart Fail | 129 |
| | Section 6 | |
| 6.1. | 7th House | 133 |
| 6.2. | Late Marriage through Court | 141 |
| 6.3. | Divorce and Remarriage | 145 |
| 6.4. | Delayed Marriage | 150 |
| 6.5. | Suicide in Married Life | 153 |
| | Section 7 | |
| 7.1. | 8th House (Longevity) | 157 |
| 7.2. | Longevity, Breath within a Mouth | 162 |
| 7.3. | Longevity | 164 |
| 7.4. | Accident | 167 |
| | Section 8 | |
| 8.1. | 9th House | 172 |
| 8.2. | Education | 174 |
| 8.3. | Education with a Break | 180 |
| 8.4. | The 10th House (Status in Profession) | 183 |
| | Section 9 | |
| 9.1. | Speculation | 192 |
| 9.2. | Speculation as a part time profession | 196 |
| 9.3. | Lottery | 200 |
| 9.4. | Business in Debt: Loan from Banks | 203 |
| 9.5. | When Employment | 207 |
| 9.6. | Service or Business | 209 |
| 9.7. | Transfer of My Wife When | 211 |
| 9.8. | Transfer/Court Case/Reinstatement | 215 |
| 9.9. | Business from When | 219 |
| 9.10. | Partnership Business | 223 |
| 9.11. | Independent Business | 226 |
| 9.12. | Employment | 229 |
| 9.13. | Timings of Employment | 231 |
| 9.14. | Timings of Business or Employment | 236 |
| 9.15. | Service Matter | 240 |
| 9.16. | Industrialist's Chart | 244 |
| 9.17. | Native's Occupation as an Industrialist | 246 |
| | Section 10 | |
| 10.1. | 11th House | 251 |
| | Section 11 | |
| 11.1. | 12th House | 252 |
| | Section 12 | |
| 12.1. | Summary | 260 |
| | Volume II | |
| 1 | Ruling Planets and their and importance of Ruling Planets | 1 |
| 2 | Timing of events, and signification of planets | 28 |
| 3 | Rectification of birth time and birth date based upon approximate/accurate time | 33 |
| 4 | Correction of birth year when doubtful | 72 |
| 5 | Method of prediction with data and time | 76 |
| 6 | Erecting the Horary chart | 85 |
| | (a) Dudging the Horary | |
| | (b) Fulfilment of query | |
| | (c) Timing of marriage | |
| | (d) Recovery fo money chart | |
| | (e) Job chart | |
| | (f) Books Publishing | |
| | (g) Construction of Building Chart | |
| | (h) Romance and marriage chart | |
| 7 | Application of Cuspal lnterlinks theory and Calculation and type significators, and potential of Dasha/Bhukti etc | 116 |
| 8 | Predication based on Sub-Sub Loard Questions related to marriage, business and romance | 121 |
| 9 | Daily Events predictions | 134 |
| 10 | Mahurat | 136 |
| 11 | Horoscopes Matching | 144 |
| 12 | Matching of horoscope through KP Method | 148 |
| 13 | Mudane Astrology | 174 |
Sample Pages
Volume I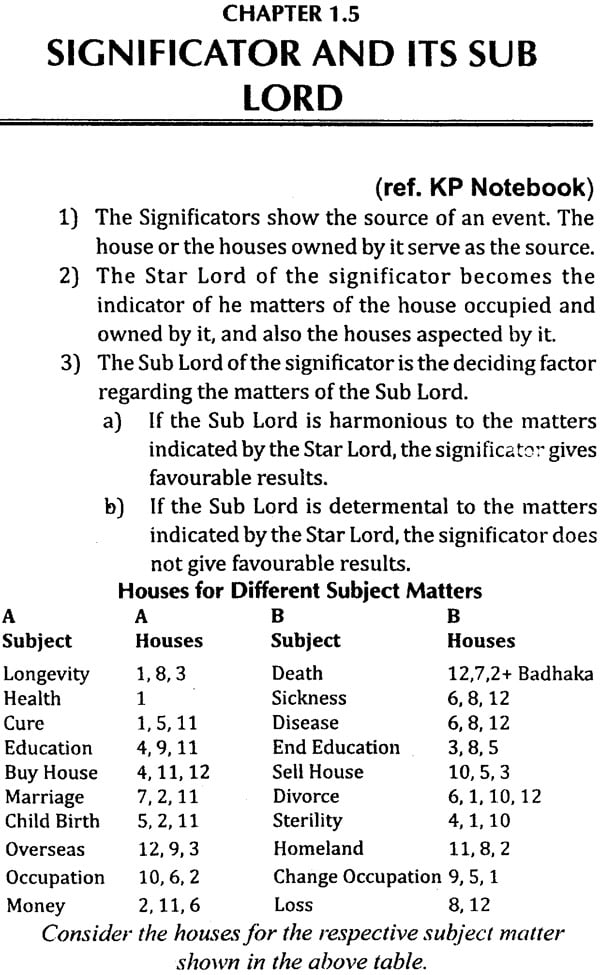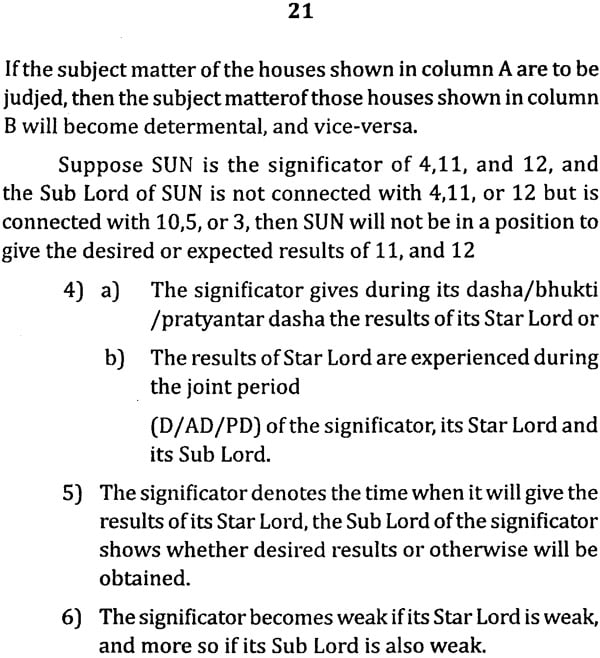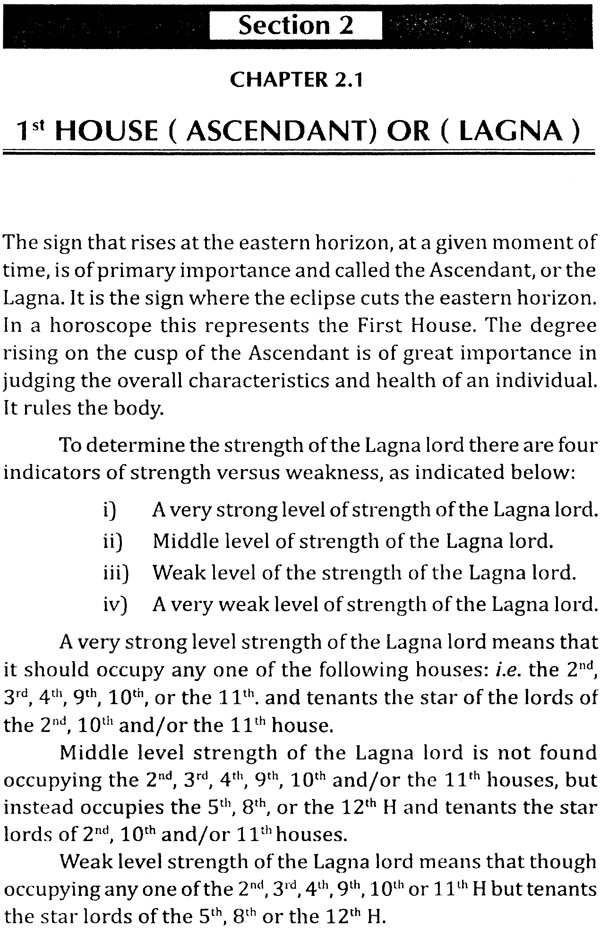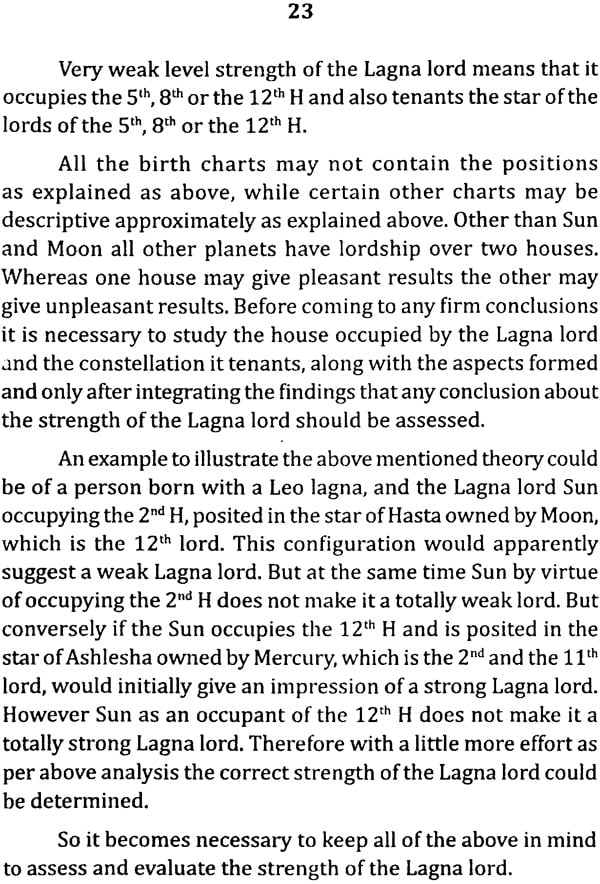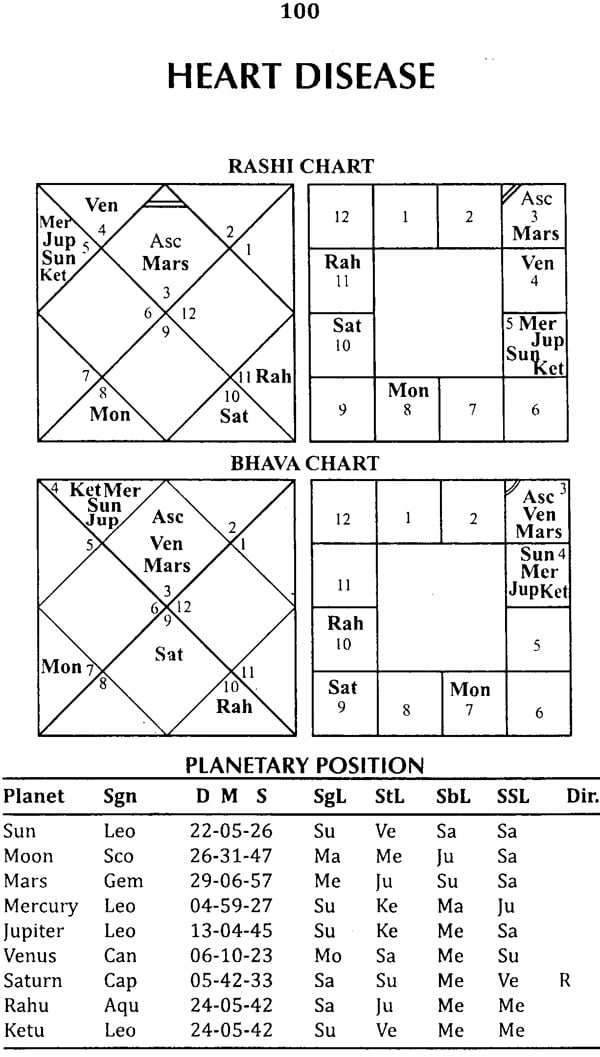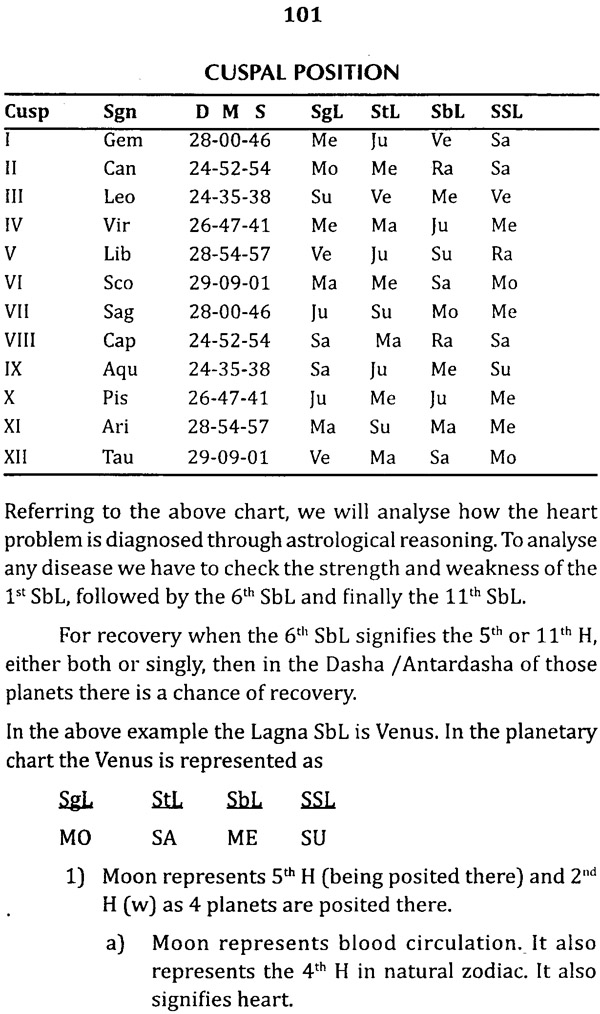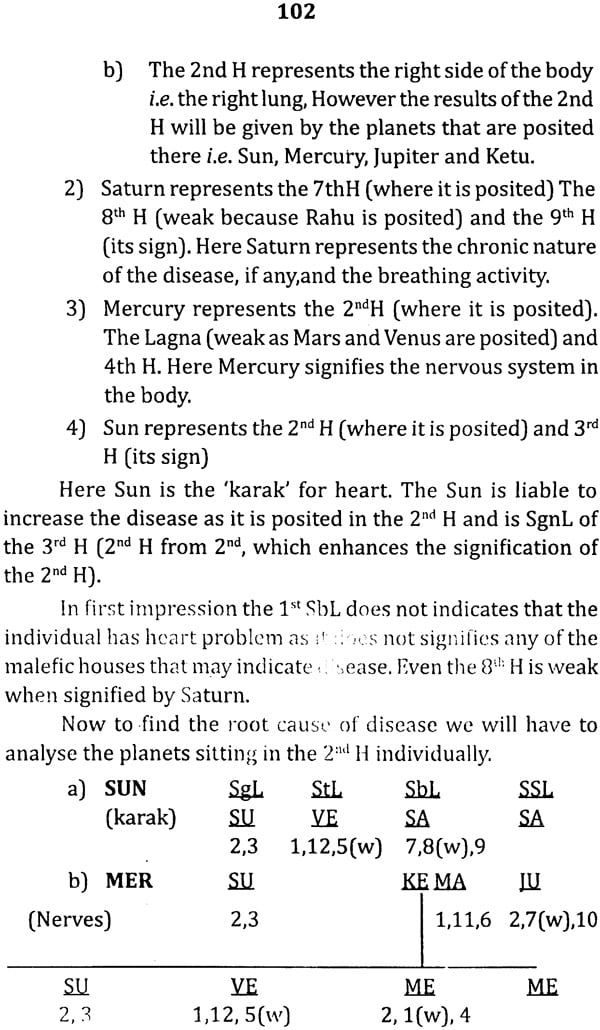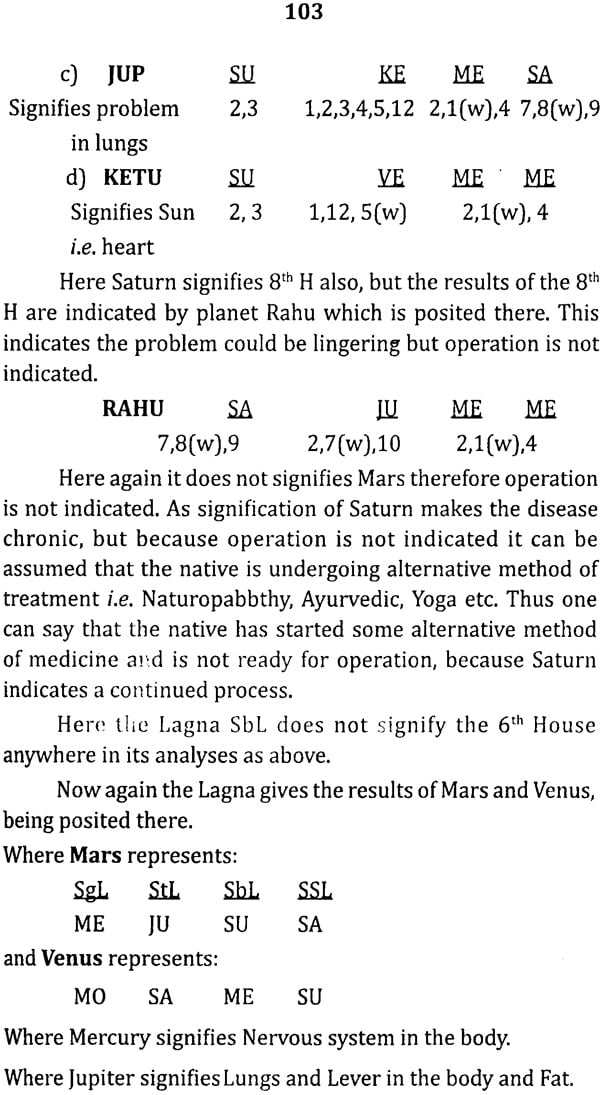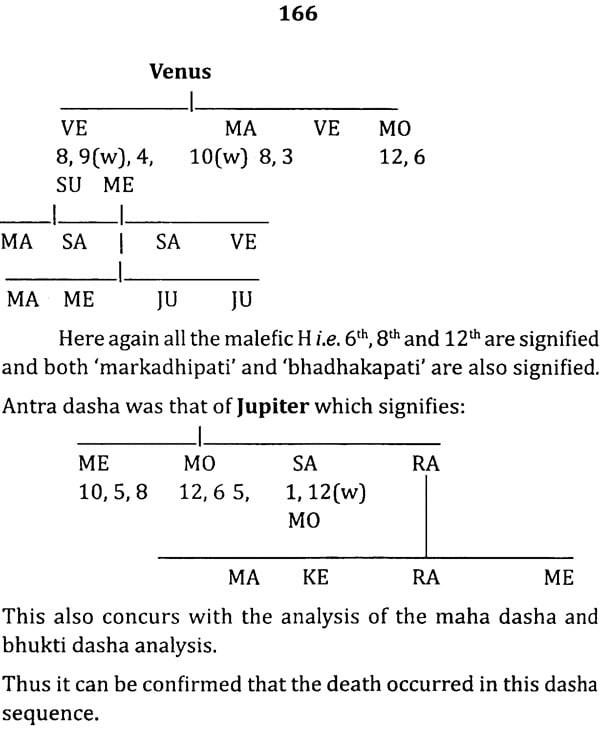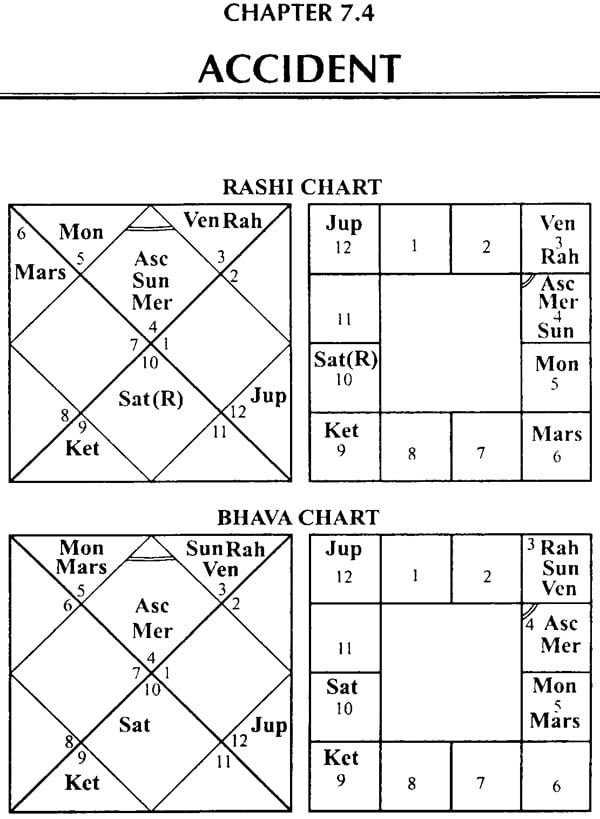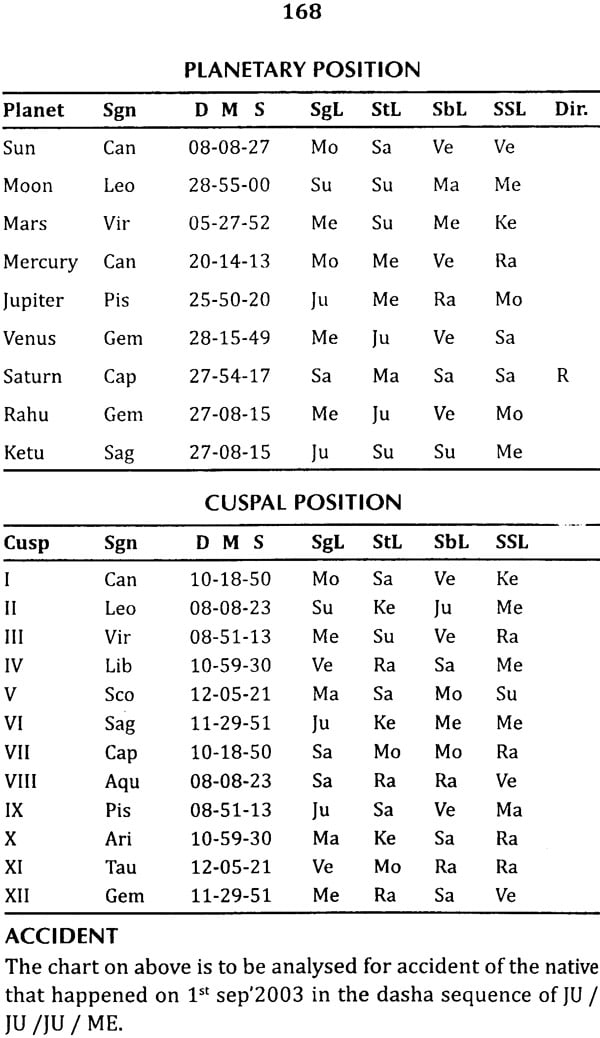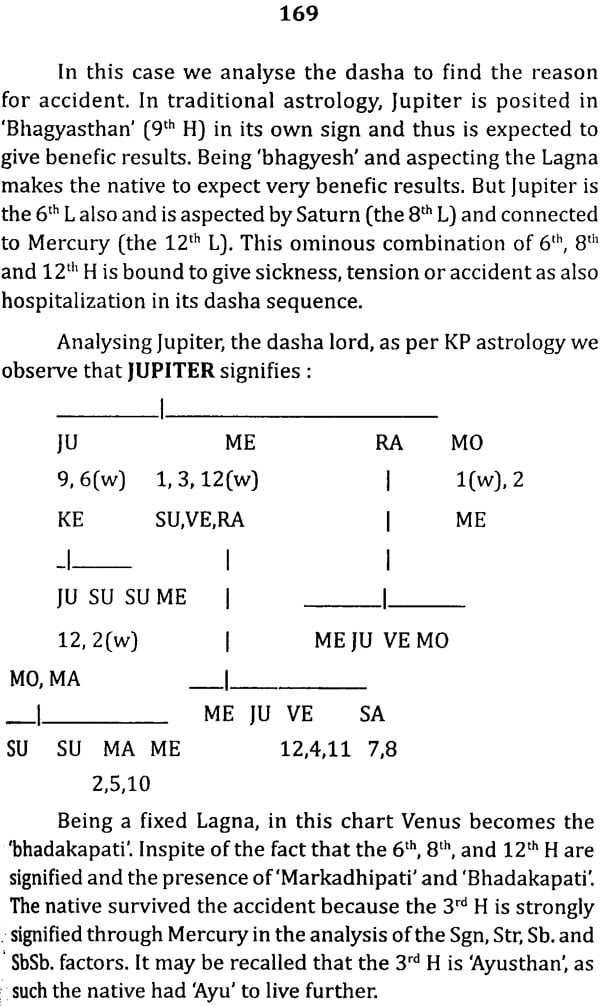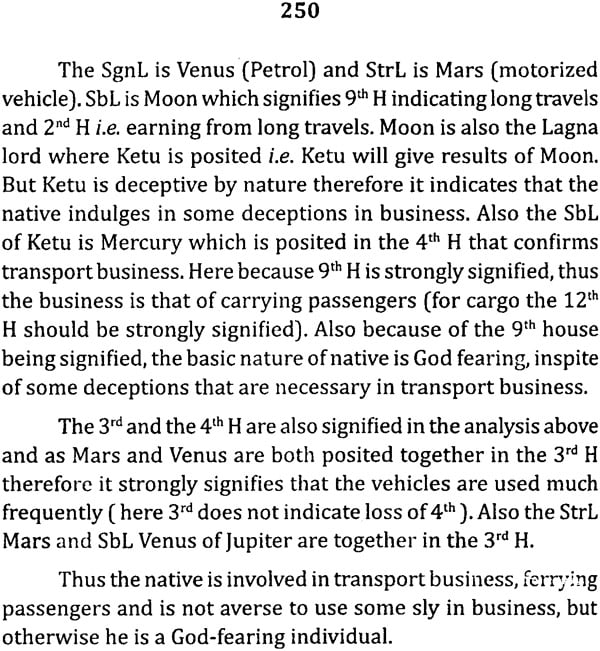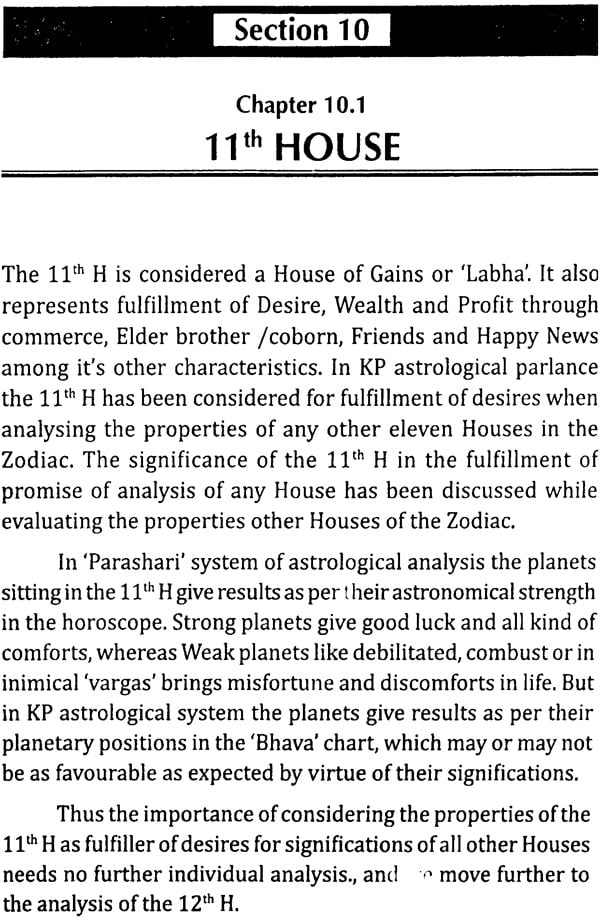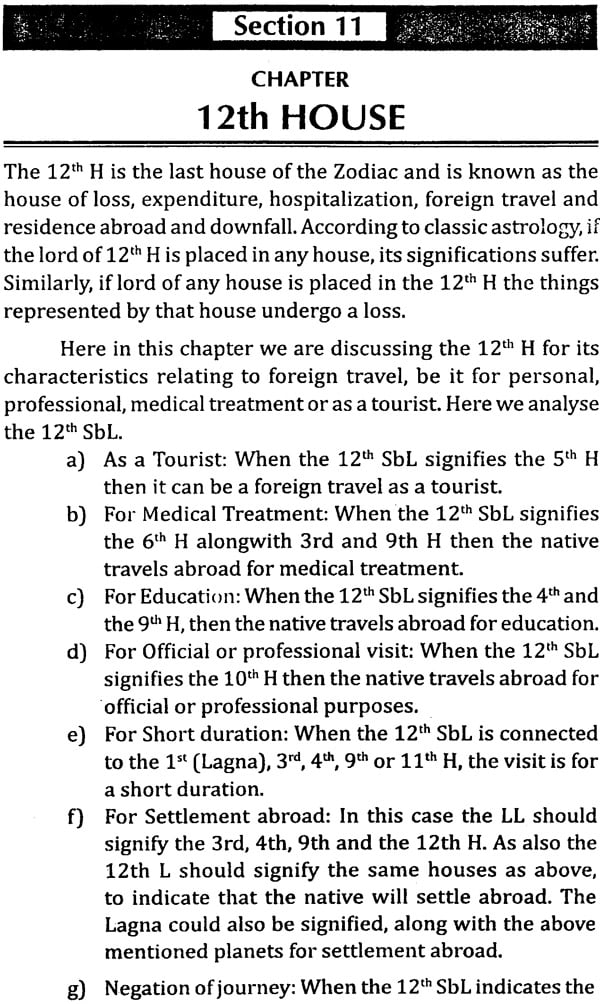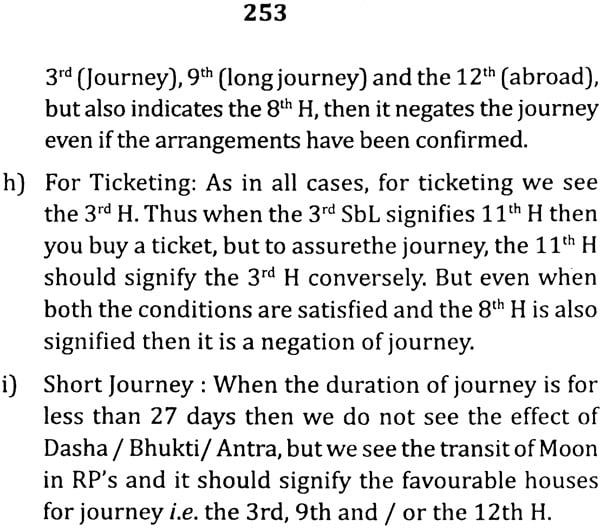 Volume II