Description
About the Book
Rabindranath Tagore (1861-1941) become an international figure when his Gitanjali, an anthology of religious lyrics, originally written in Bengali and translated into English by the poet himself, was warded the Nobel Prize for literature- the first ever to an Asian-in 1913. since then he came to be known not only as a great writer but also as the most able spokesman of modern India. Till today he is the most widely read Indian writer in India and abroad. Although his reputation outside the Bengali-speaking area rests largely if not entirely, on his English writings no attempt has been ever made to put them together. Sahitya Akademi has decided to bring out a complete collection of Tagore's writings in English in three volumes. The corpus of Tagore's English writings is fairly large and diverse. In addition to translations of his own works, his original writings in English, mostly essays, also form a substantial part of his total works. The present volume includes all poetic works translated by Tagore including The Child, the only major poem he wrote in English. These works, distinguished by profundity of thought and beauty of expression, made a great impact on readers belonging to different countries and cultures. Their appeal is still fresh and abiding. For the first time The English Writings of Rabindranath Tagore are presented with detailed annotations and information about the historical context to which they belong.
About the Author
Sisir Kumar Das is the Tagore Professor at the University of Delhi where he teaches Bengali and Comparative Literature. He received the Nehru Prize of the Federal Republic of Germany for his monograph Western Sailors: Eastern Seas (1969), an essay on the German response to Indian culture, and the Tagore Memorial Prize of the West Bengal Government twice for his works The Shadow of the Cross-Hinduism and Christianity in a Colonial Situation (1974) and The Artist in Chains, The Life of Bankim Chandra Chatterjee (1984). A poet, playwright and critic, he has also translated Aristotle's Poetics and several Greek plays into Bengali. His Bengali publications include Gadya Padyer Dwanda (Essays, 1984), Hayto Daroja Ache (verse, 1986), Abalupta Chaturtha Charan (verse, 1986), Socrates-er Jabanbandi (play, 1989) and Bajpakhir Sange Kichuksan (verse, 1992). He is the author of a A History of Indian Literature (1800-1910): Western Impact : Indian Response, published by the Sahitya Akademi.
FOREWORD
Although Rabindranath Tagore's reputation as a writer outside the Bengali speaking world rests almost entirely on English translations, no attempt has been made yet to make his English works available to the interested readers. Sahitya Akademi, therefore, thought it extremely important to bring out a definitive edition of Tagore's works in English to project one of the greatest writers of our times, as a writer in English also.
The corpus of Tagore's writings in English is fairly large and diverse. He translated a large part of his Bengali poems and a few plays into English. He also translated a few part poems of his contemporaries, and religious lyrics of medieval saints written both in Bengali and in Hindi. In addition to these translations, his original writings in English, mostly essays, form a substantial part of his total work. The present scheme is to make all his writings in English available in several volumes.
The first volume includes all books of the poems of Tagore published so far. The second volume will have the plays translated by Tagore and also the books of essays published during his lifetime. The third, and probably the last, volume will contain all other writings of Tagore, scattered in different journals and yet to be collected, and also those lecture and addresses not included in the first two volumes.
It is necessary to point out that the present scheme is to bring out the English writings of Tagore and not translations of Tagore by anyone else. Therefore, several translations of Tagore's works, some with his approval, published by Macmillan, will not be included here. This is not a reflection on the merit of these works: they have a role in the history of Tagore's reception. We are guided by the compulsion of the scheme which aims to collect Tagore's own English writings.
The woks included in the first volume have been presented in four sections. The first section has all the major poetical works of Tagore, arranged in chronological order. Two interesting works of Tagore, Stray Birds and Fireflies, have been arranged in a separate section not only for their structural similarity but more for their linguistic character, as they contain both translations and original writings, and one is not always certain about their real identity. The third section comprises a poem, The Child, it being the only major poem of Tagore written directly in English and published as a separate book. The last section Tagore's translation of the poems of Kabir. The four sections, therefore, represent four different categories of Tagore's poems and translations. The appendices contain The Fugitive and Lekhan (1926), a bilingual work.
The Akademi is grateful to Professor Sisir Kumar Das for preparing this edition of the English writings of Rabindranath Tagore and also for his excellent introduction and annotations.
Introduction
The Beginning of Rabindranath Tagore's career as a writer in English was sudden and without any particular creative compulsions. Till the publication of his first English work Gitanjali (Song Offerings), published by the India Society, London, in 1912, Rabindranath, though a celebrity in Bengal, was an obscure figure outside the Bengali-speaking area in India, and totally unknown in the West. At that time he was fifty-one years old and his place in the history of Bengali literature was firmly assured. The prolific writer that he was, he had already produced more than twenty odd books of verse, nearly a dozen plays, a considerable number of essays and short stories and three major novels. Despite severe criticism from certain groups, which he faced throughout his life for his bold and perceptive experimentation with different literary forms and techniques, and for his ideological orientation, he was regarded as the greatest Bengali writer ever born. Brahmabandhab Upadhyay (1861-1907), a radical political activist of Bengal, described Rabindranath as 'the world-poet of Bengal' in the editorial of his journal Sophia dated 1 September 1900. 'If ever the Bengali language is studied by foreigners,' he wrote prophetically, 'it will be for the sake of Rabindra. He is a world-poet. He is like the Devadaru which has its roots deep down, down the lowlands but which threatens to pierce the sky-such is its loftiness. He will be ranked amongst those seers who have come to know the essence of beauty through pain and anguish.' Upadhyay was not alone in making such claims about Tagore. Ten years later a younger contemporary of Tagore rapturously declared during a public reception given to the poet during his fiftieth birthday: 'jagat kabi sabhay mora tomar kori garba' (We boast of you in the assembly of the poets of the world).
It is interesting, therefore, to know why Tagore did feel obliged to write in English at all at that particular stage of his life. Unlike some of his predecessors and contemporaries, Tagore did not have any ambition for fame as a writer in English. He had visited England twice, responded to European literature and music enthusiastically, he knew the anglicized elite 'of Calcutta quite intimately, but in his choice of language for his literary expression he had no dilemma. He wrote exclusively in Bengali.
Yet his international reputation rests-and in all probability will rest in the foreseeable future-entirely on Gitanjali in English and other works of his in English that followed it. Even in many parts of India, not to speak of the rest of the world, he is known mainly through these English translations or translations of these translations.
The tremendous enthusiasm with which Gitanjali was greeted by many distinguished poets and thinkers in England, including W.B. Yeats who wrote a brilliant introduction to it, prompted Rabindranath to translate more of his writings. During the next ten years he published more than a dozen books of prose, poems and plays in quick succession in response to the growing interest of western readers in his writings. Undoubtedly he is the only major writer in the literary history of any country who decided to translate his own works to reach a larger audience. His decision to become his own translator, and subsequently to write in English, though not entirely beneficial to him, was nonetheless a momentous one. The Nobel Prize in Literature was awarded to him in 1913 for Gitanjali (1912) and The Gardener (1913). The citation of the award praised his 'profoundly sensitive, fresh and beautiful verse by which, with consummate skill, he has made his poetic thought expressed in his own English words, a part of the literature of the West.' Whether he indeed made his poetic thought a part of the literature of the West is a different proposition. But with his English translations his transition from a Bengali writer to a world figure became complete.
It may .not be irrelevant to say a few words about the circumstances that led Tagore to be the most reputed, as well as a controversial, bilingual author of our time. Tagore planned his third visit to England in May 1912. He was due to sail from Calcutta on 19 March, but the voyage had to be postponed because of a sudden illness. Extremely disappointed, he retired to Shelaidah, his estate on the banks of the river Padma, where he had spent many days of his youth and written some of his memorable poems and short stories. There, Tagore started translating the poems of the Bengali Gitanjali (1910) obviously for some readers in England, who might have been aware of his reputation in Bengal. In a letter to his niece Indira Devi, which is worth quoting, Tagore tells the story of the genesis of the translation .of the Gitanjali poems:
You have alluded to the English translation of Gitanjali, I cannot imagine to the day how people came to like it so much. That I cannot write English is such a patent fact that I never had even the vanity to feel ashamed of it. If anybody wrote an English note asking me to tea, I did not feel equal to answering it. Perhaps you think that by now I have got over that delusion. By no means. That I have written in English seems to be the delusion. On the day I was to board the ship, I fainted due to my frantic efforts at leave-taking and the journey itself was postponed. Then I went to Shelaidah to take rest. But unless the brain is fully active, one does not feel strong enough to relax completely; so the only way to keep myself calm was to take up some light work.
It was then the month of Chaitra (March-April), the air was thick with the fragrance of mango-blossoms and all hours of the day were delirious with the song of birds. When a child is full of vigour, he does not think of his mother. It is only when he is tired that he wants to nestle in her lap. That was exactly my position. With all my heart and with all my holiday I seemed to have settled comfortably in the arms of Chaitra, without missing a particle of light, its air, its scene and its song. In such a state one cannot remain idle. It is an odd habit of mine, as you know, that when the air strikes my bones, they tend to respond in music. Yet I had not the energy to sit down and write anything new. So I took up the poems of Gitiinjalr and set myself to translate them one by one. You may wonder why such a crazy ambition should possess one in such a weak state of health. But believe me, I did not undertake this task in a spirit of reckless bravado. I simply felt an urge to recapture through the medium of another language the feelings and sentiments which had created such a feast of joy within me in the days gone by.
The pages of a small exercise book came to be filled gradually, and with it in my pocket I boarded the ship. The idea of keeping it in my pocket was that when my mind became restless on the high seas, I could recline on a deck-chair and set myself to translate one or two poems from time to time. And that is what actually happened. From one exercise book I passed on to another. Rothenstein already had an inkling of my reputation as a poet from another Indian friend. Therefore, when in the course of conversations he expressed a desire to see some of my poems, I handed him my manuscript with some diffidence. I could hardly believe the opinion he expressed after going through it. He then made over the manuscript to Yeats, The story of what followed is known to you. From this explanation of mine you will see that I was not responsible for the offence, which was due mainly to the force of Circumstance.
This account of the genesis of the English Gitanjali recorded with exemplary modesty is certainly of great documentary value. A careful examination of facts available from other sources, however, contradicts some of the statements made by Tagore, and certainly throws more light on a few points not clearly explained in the letter. Although the translations began rather suddenly without any particular reason as suggested by Tagore in this letter, that exercise was really the culmination of efforts started at least a decade earlier.
The history of English translations of Tagore began as early as around 1890 when he himself translated a poem entitled 'Nisphal Kamana' (Fruitless Desire)." This is, however, a stray and solitary example without any follow-up. From the beginning of the twentieth century, however, Tagore gave some thought to the translation of his writings mainly because of the persuasion of his scientist-friend Jagadish Chandra Bose (1859-1937) who become widely known in Europe for his sensational investigations into the response of plants, recorded in his work Responses in the Living and Non-Living (1902). Bose, an ardent admirer of Tagore's stories, wrote towards the end of the year 1900 from London, 'I will not allow you to remain in obscurity in the countryside.' He himself translated three stories of Tagore but failed to get them published in England. It was around this time that a few admirers of Tagore in Bengal, too, showed equal keenness in presenting him to a larger audience outside Bengal. Bipin Chandra Pal (1858-1932), one of the renowned political figures of that time, translated four stories of Tagore, all of which were published n New India, a journal edited by him, between 1901 and 1902. Pramathalal Sen (1866-1930). Nephew of the great Brahmo leader Keshab Chandra Sen (1838-84), also translated a few poems of Tagore. These attempts, however, were notsustained for long and the enthusiasm of his friends was shortlived.
CONTENTS
| | |
| --- | --- |
| Publisher's Note and Acknowledgements | 6 |
| Foreword | 7 |
| Introduction | 9 |
| SECTION I | |
| Gitanjali | 38 |
| The Gardener | 80 |
| The Crescent Moon | 129 |
| Fruit-Gathering | 157/td> |
| Lover's Gift and Grossing | 195 |
| The Fugitive | 245 |
| Collected Poems and Play | 217 |
| Poems | 325 |
| SECTION II | |
| Stray Birds | 397 |
| Fireflies | 439 |
| SECTION III | |
| The Child | 479 |
| One Hundred Poems of Kabir | 488 |
| APPENDICES | |
| The Fugitive (1919?) | 545 |
| Lekhan | 576 |
| Notes | 601 |
| Sources of English Translations | 629 |
| Index of First Words | 655 |
Sample Pages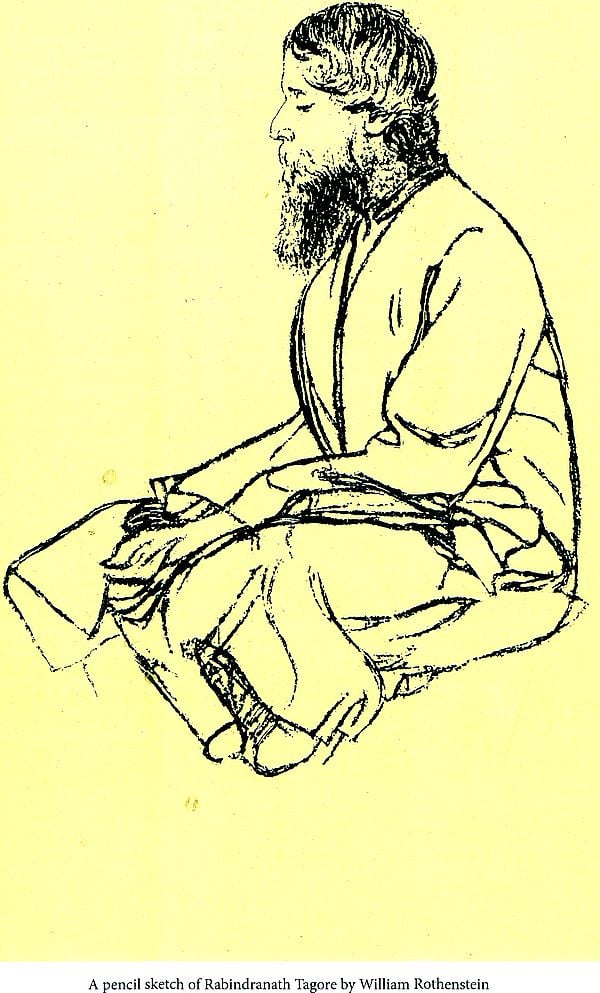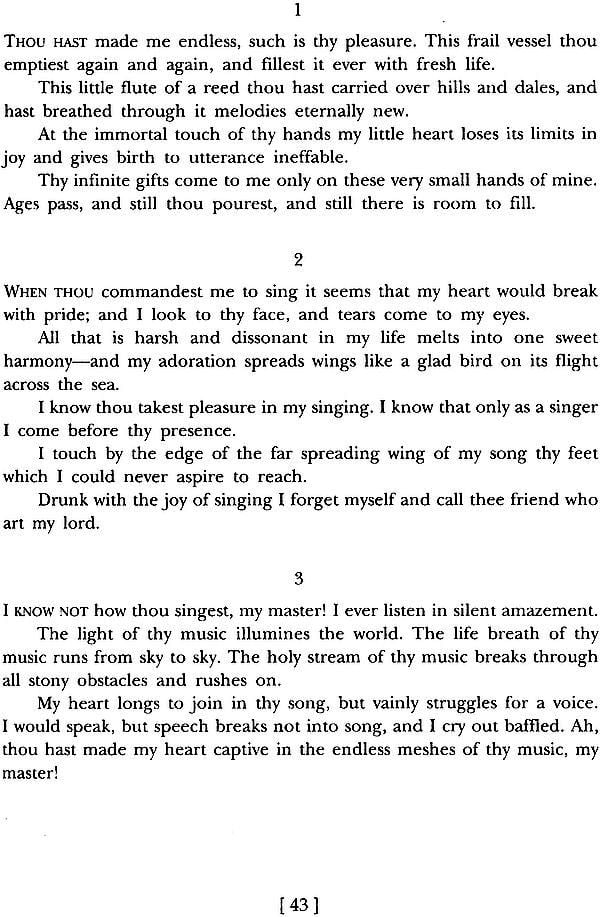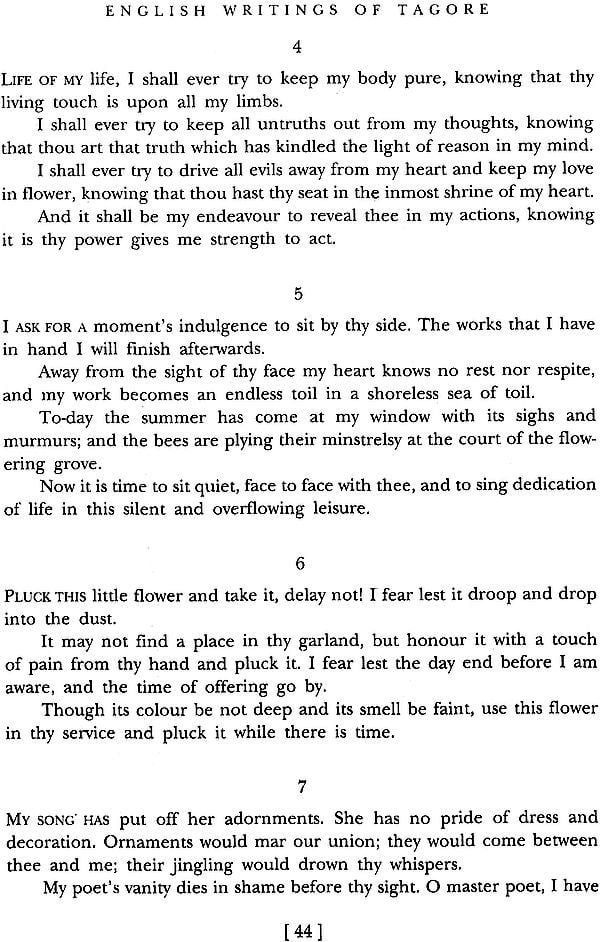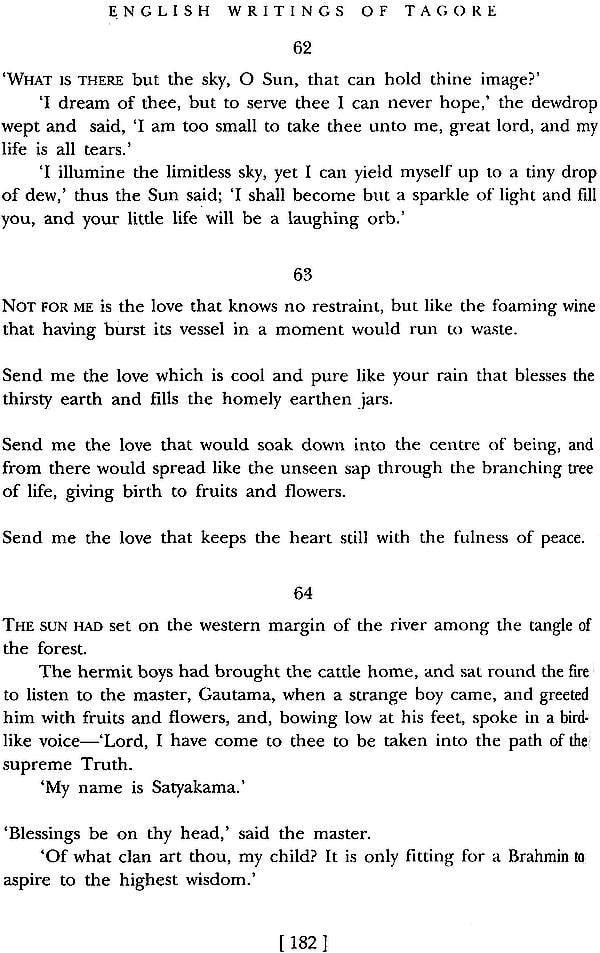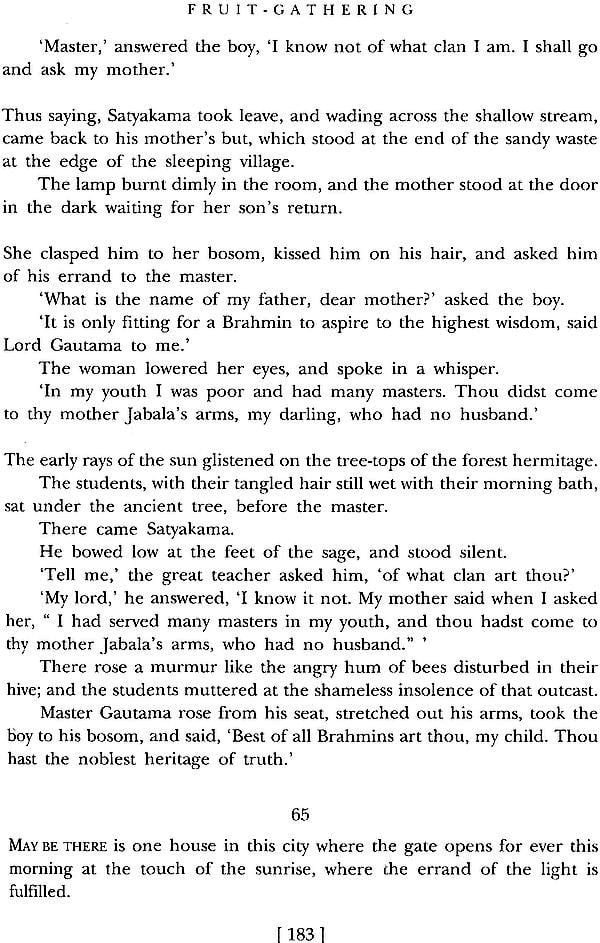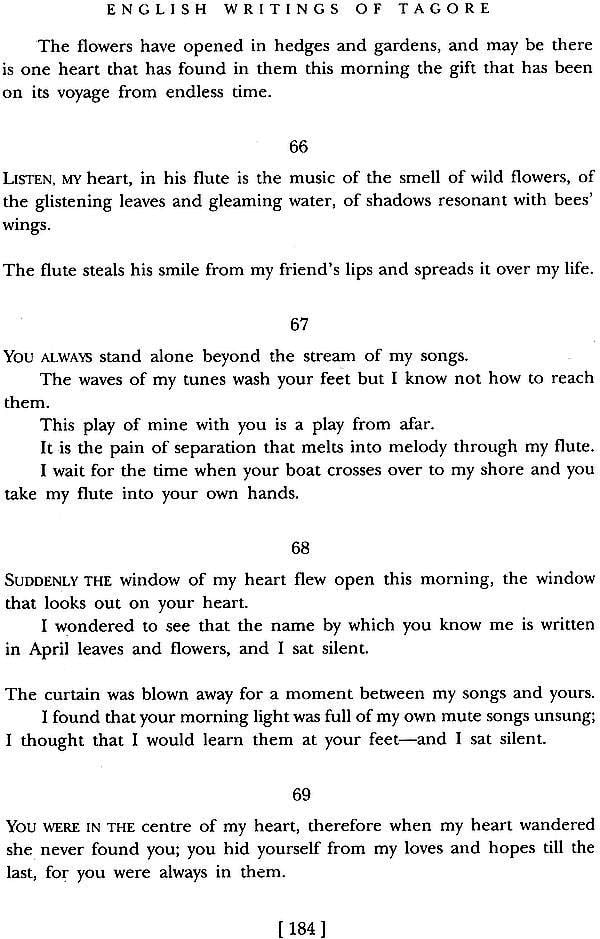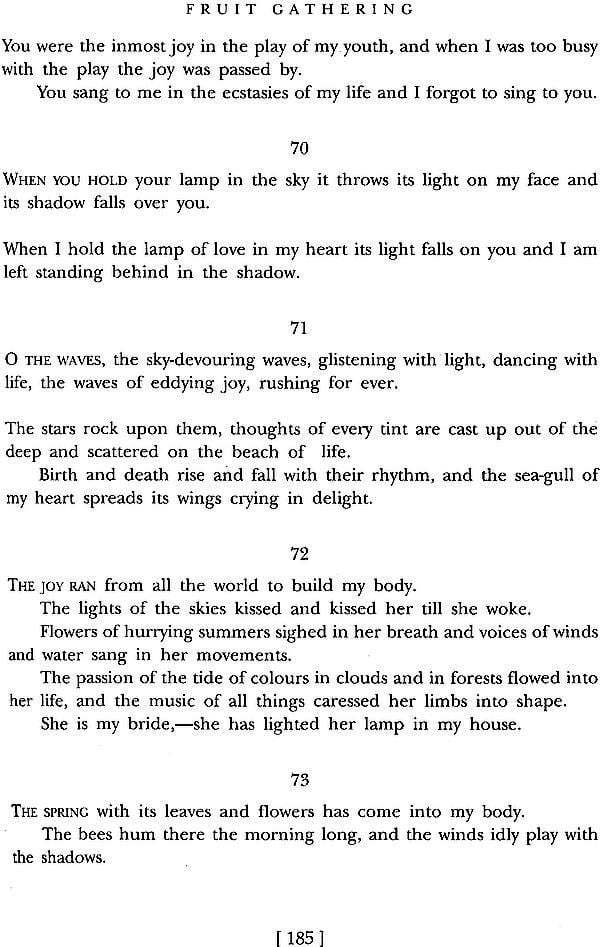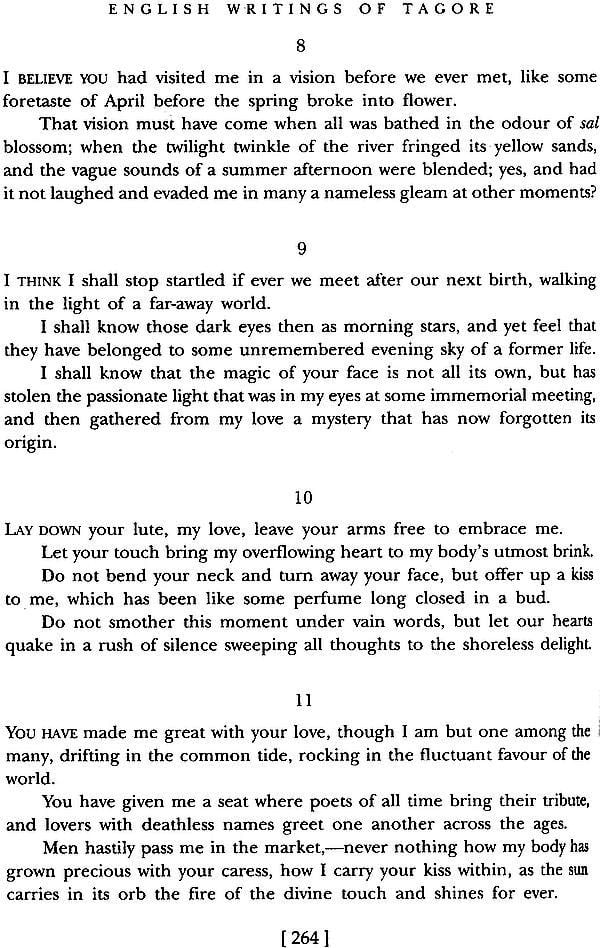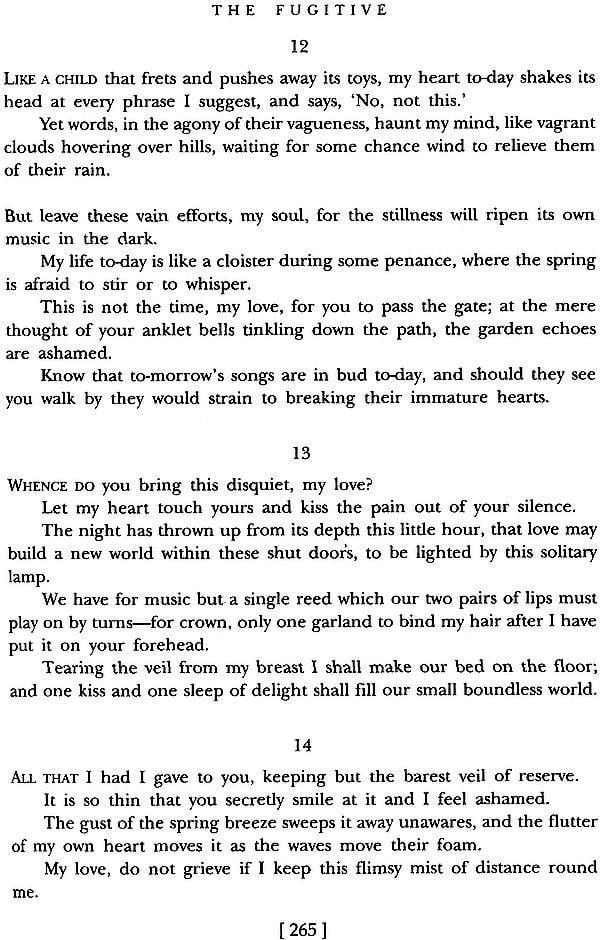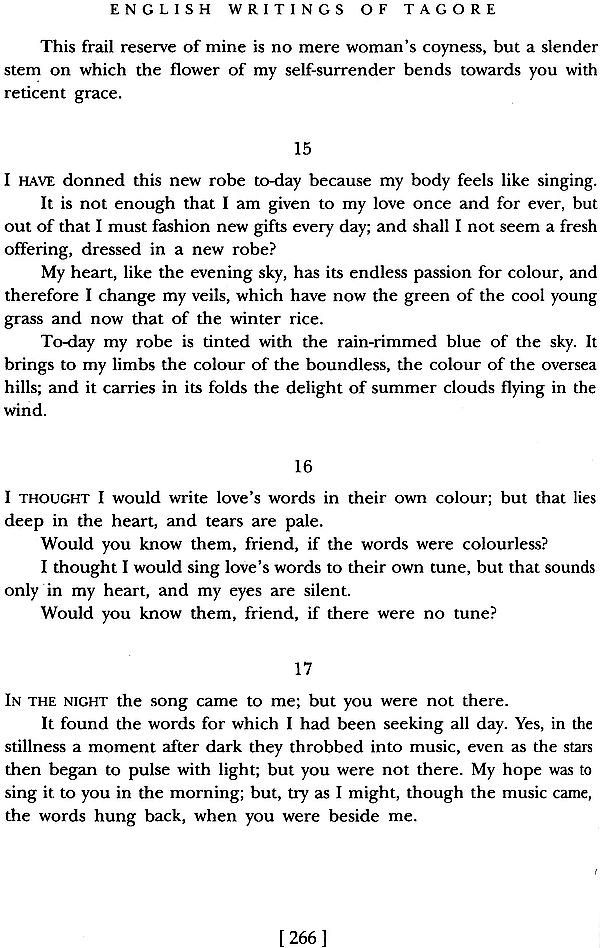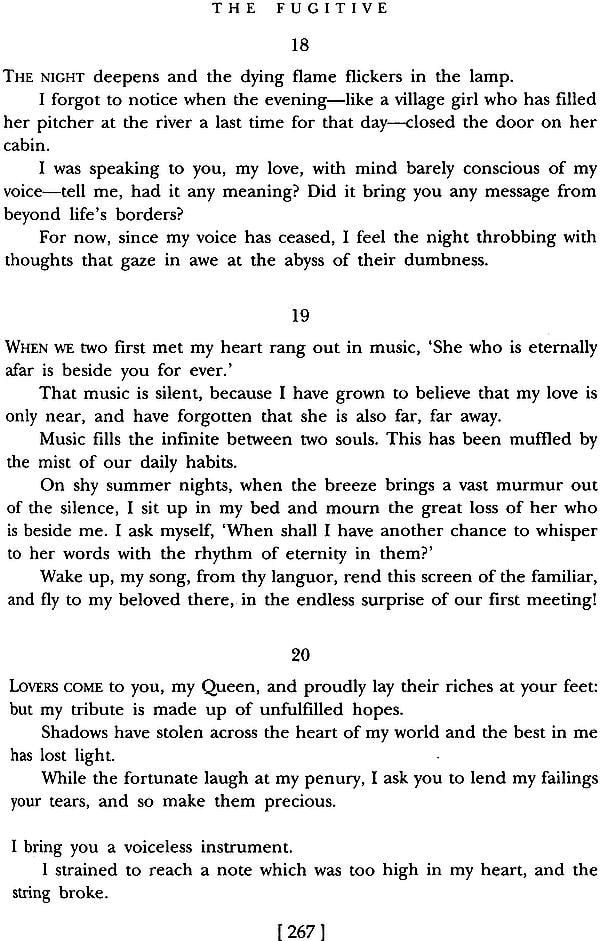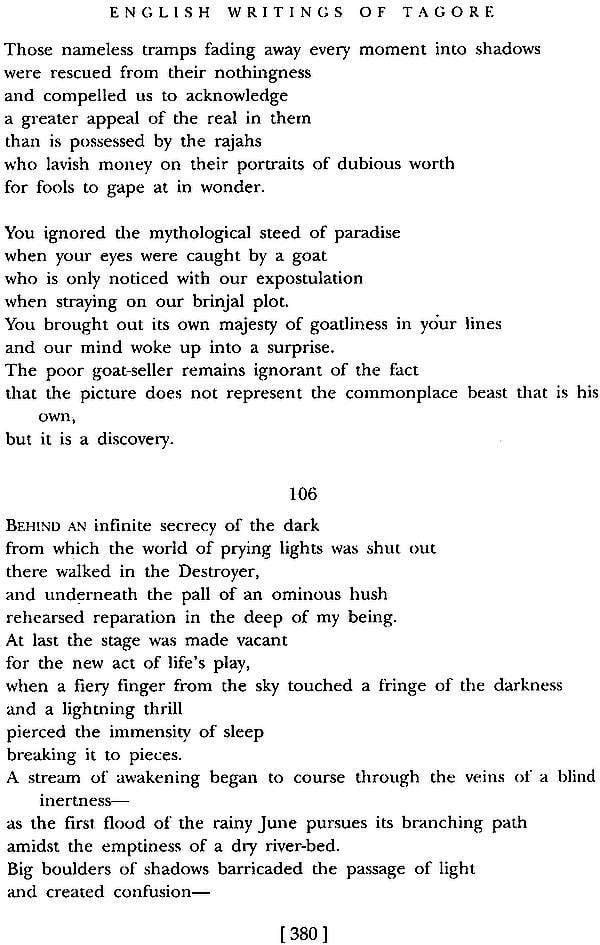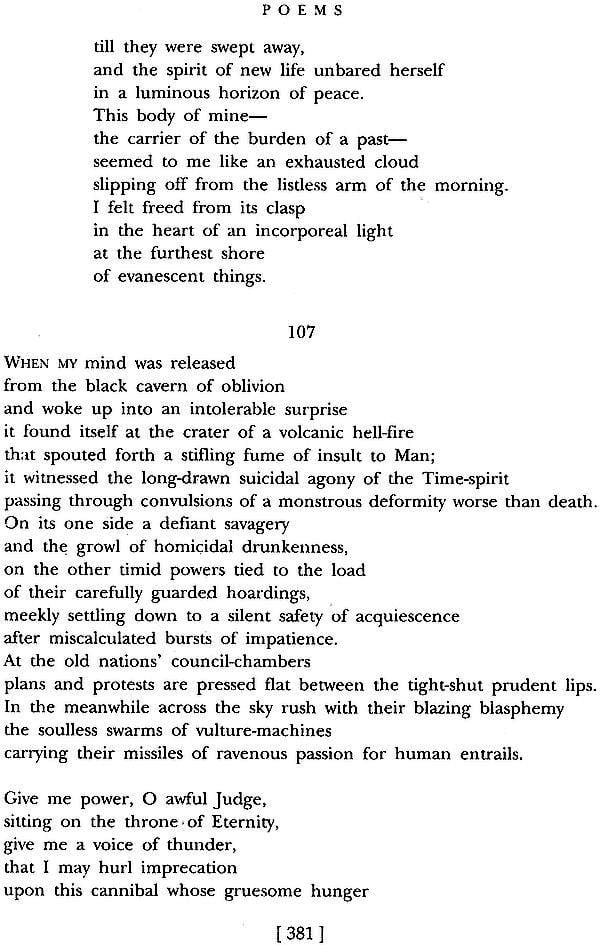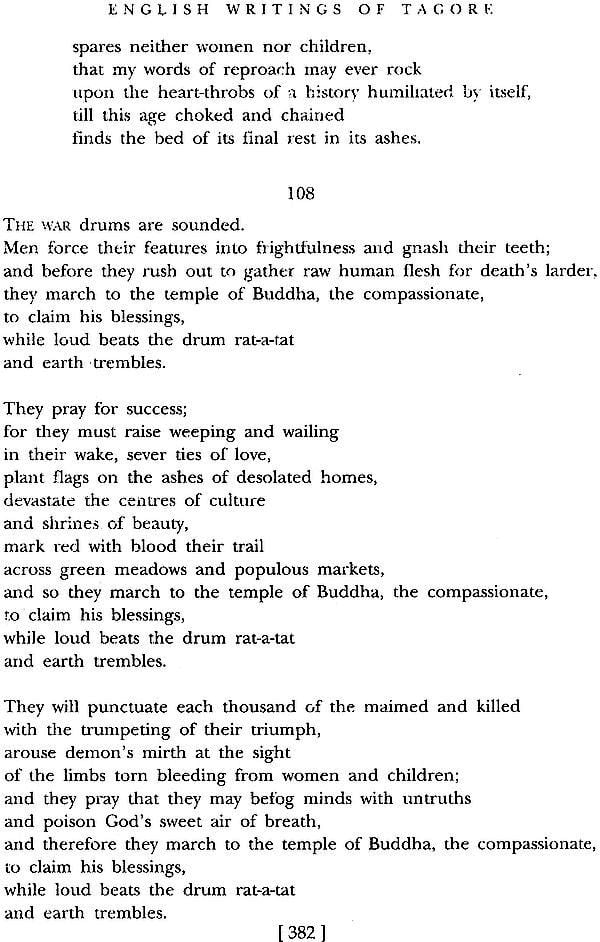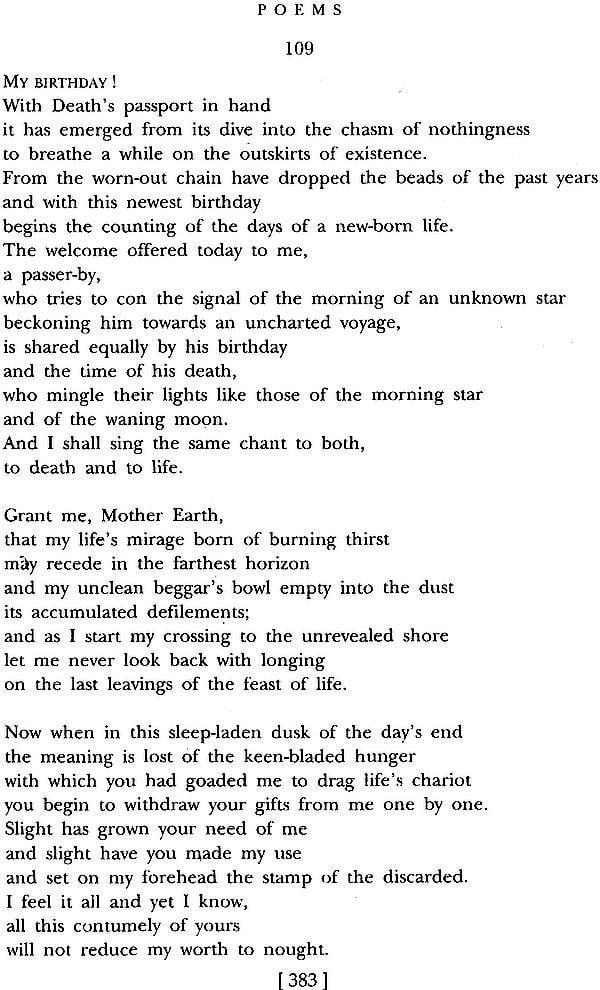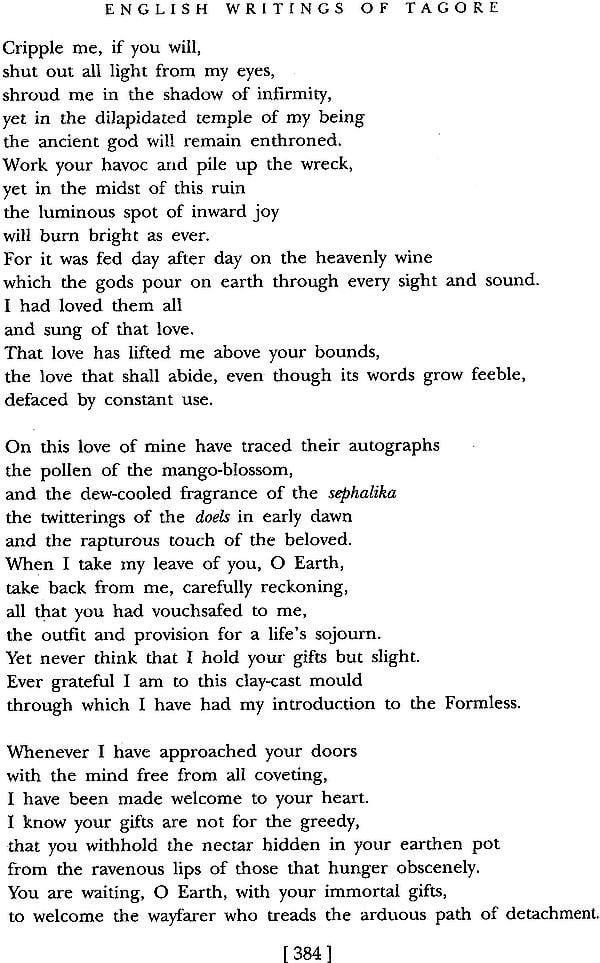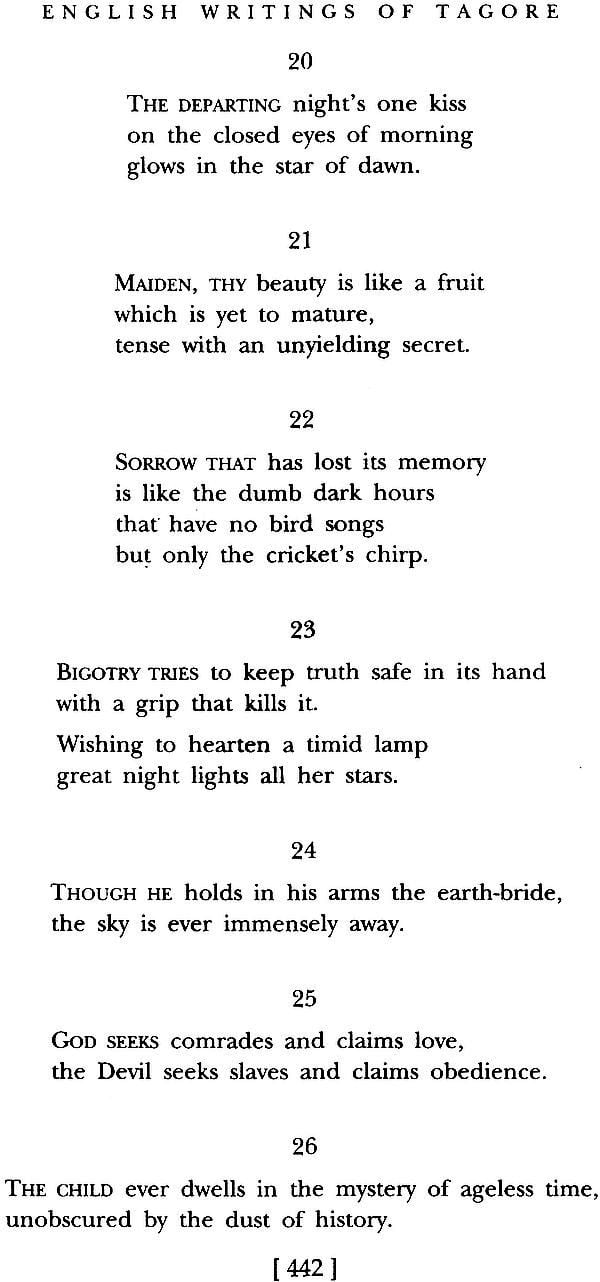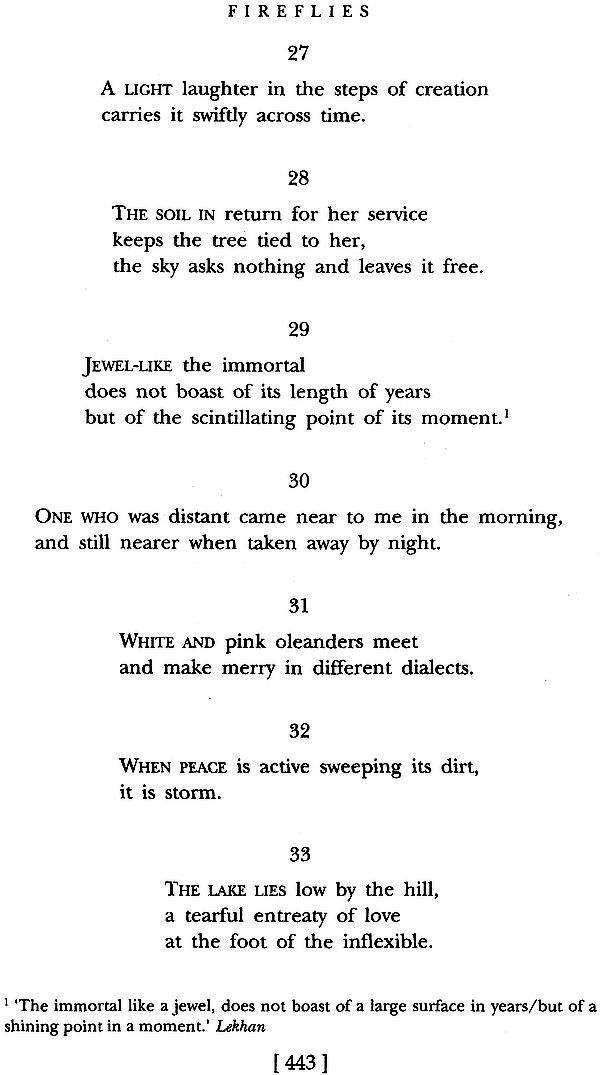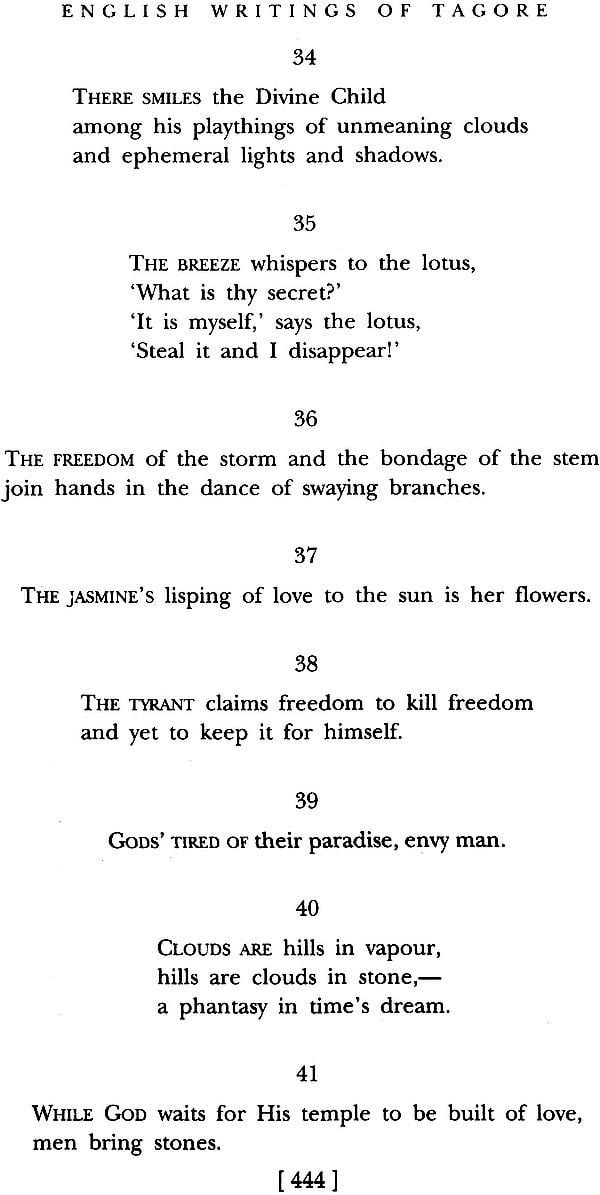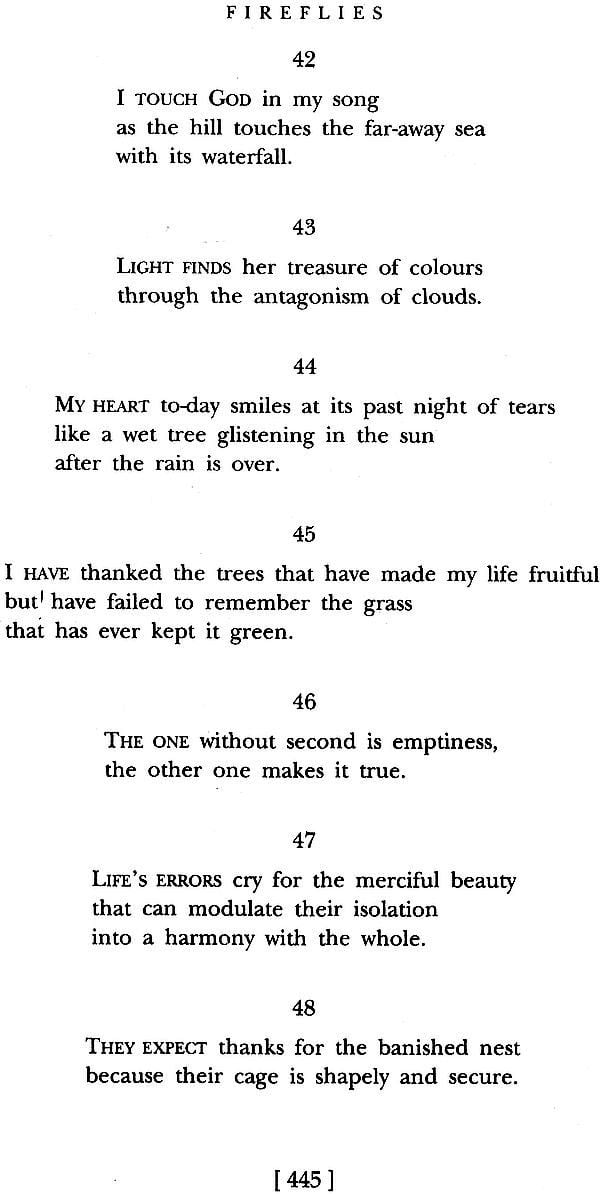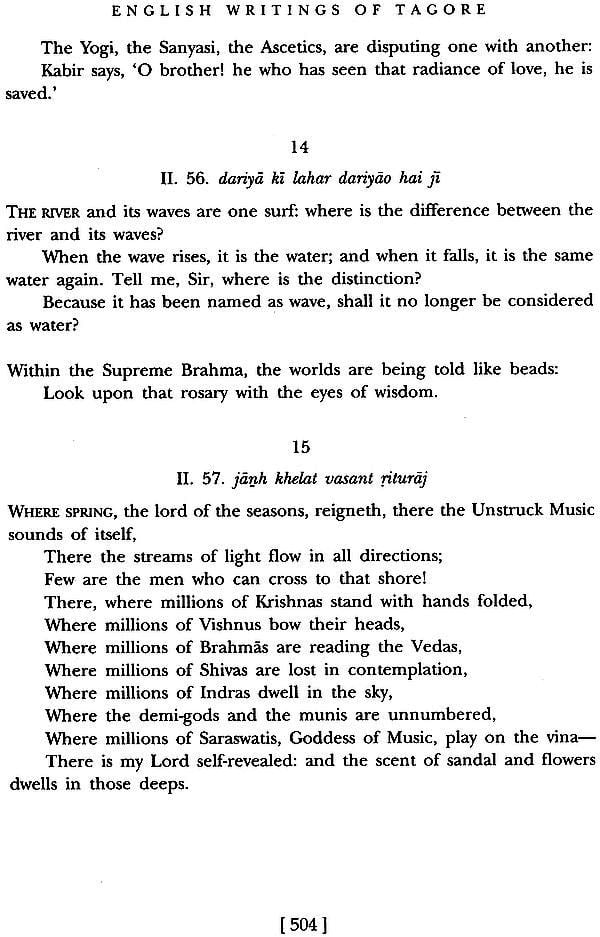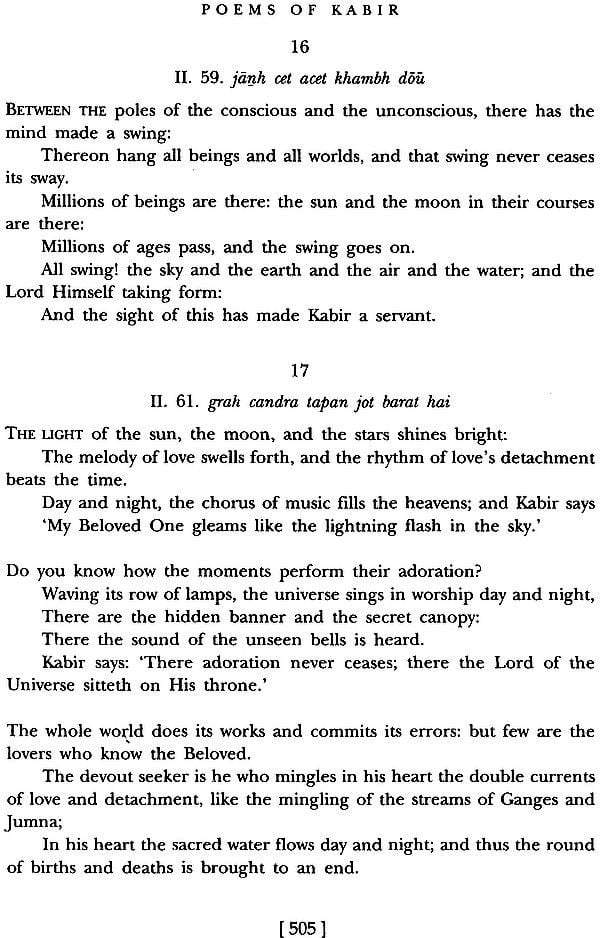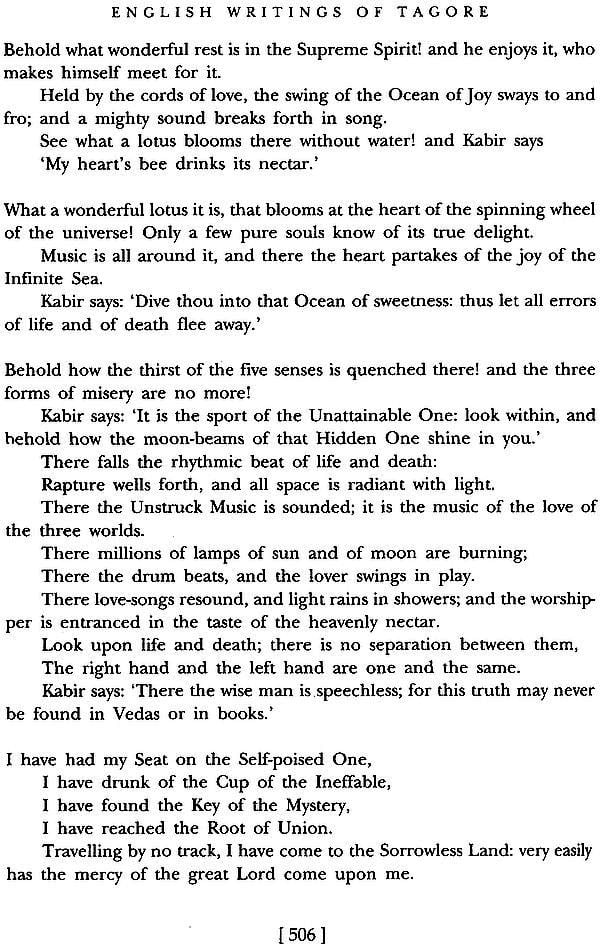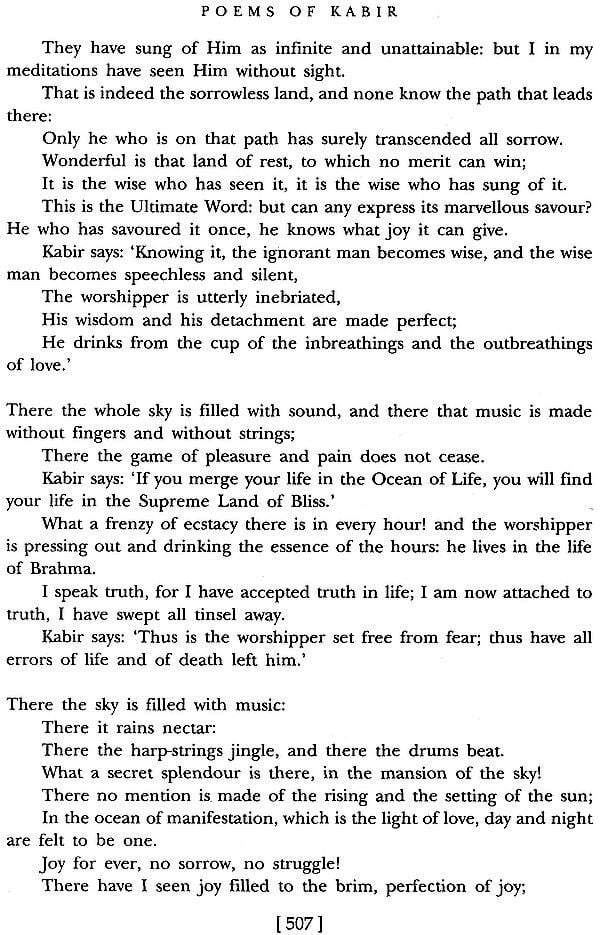 ---
Free Shipping. Delivered by

to all international destinations within 3 to 5 days, fully insured.
---