Description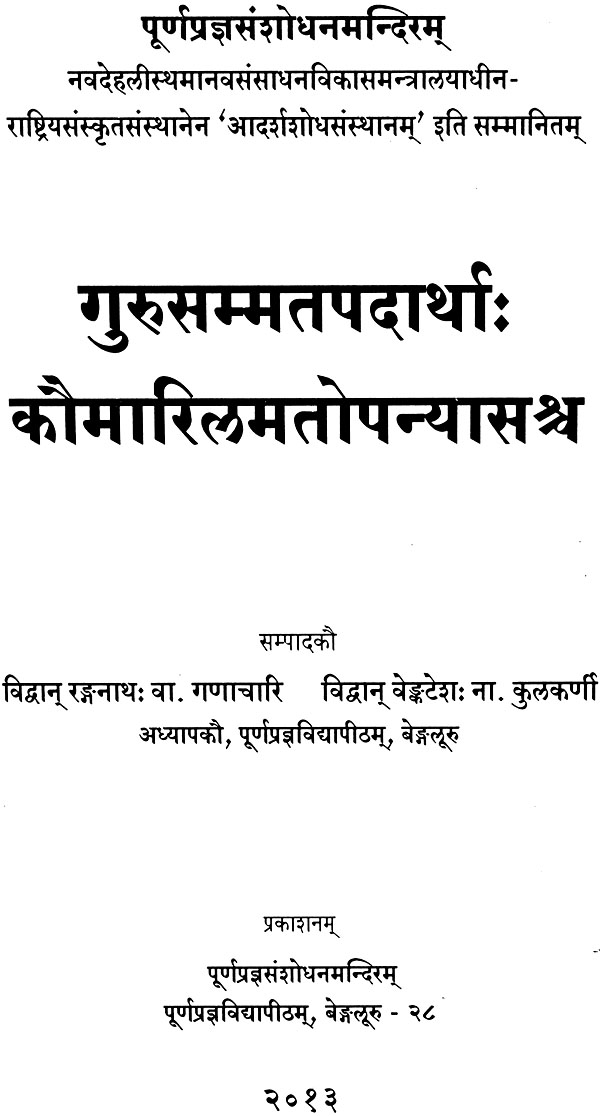 Director's Note
We are publishing two important works " Guru-sammata-padartha" and "Kumarila-matopanyaya" of Poorva-mimamsa shastra and submitting them to the holy hands of learned scholrs. Kumarila Bhatta, author of Tantra-vartika, Shloka-vartika etc., was commentator on Shabara-bhashya and lived in 7th century. Guru (Prabhakara Mishra) is disciple of Kumarila Bhatta and a well-known scholar by his creative Brihatee text.
The 'Guru-sammata-padartha' of unknown author deals about categories according to the Prabhakara Mishra and 'Kumarila-matopanyasa' deals with the Kumarila's school of thoughts authored by SriMarayana. There is an influence of Vaisheshika-darshana in Prabhakara, as the Vaisheshikas have explained seven categories-Dravya-guna-karma-saamaanya-vishesha-samavaaya-abhaavaah Sapta-padarthah'. Sri Prabhakara Mishra added Sankhya (number), saadrshya (similarity), shakti (power of substance) and left Vishesha and Abhaava. Sankhya (number) is one of attributes according to the Vaisheshika-darshana, but Prabhakara saya it is considered in Padartha category-
According to Kumarila's school, five categories have been accepted-
Sri Kumarila explained eleven Dravyas and added the Andhakara (darkness) and Shabda in his texts-
These two texts focus new light on Prabhakara and Kumarila thoughts of Poorva-mimamsa respectively Vidwan Venkatesha N. Kulkarni and Vidwan Ranganathacharya V. Ganachari, learned disciples of H.H. Sri Vishveshatirtha Swamiji of Sri Pejavara Math who have studied Poorva-mimamsa and Nyaya texta under the able guidance of Vidwan Devadatta Patil, Rashtrapati-awardee and well-known scholar of Nyaya and Poorva-mimamsa, have ably edited these texts and added valuable foot-notes too. This volume will bring clear light on Mimamsa and I congratulate these two young scholars for their contributions. I praya Lord young scholars to the field of Mimamsa and Vedanta philosophy.
I Prostrate with sincere devotion to Sri Vishveshatirtha Swamiji who has been guiding the activities of the Samshodhana Mandiram for its all-round development.
I sincerely thank Prof. Radha Vallabha Tripathi, Vice-chancellor, Rashtriya Sanskrit Samsthan, New Delhi, who evinces keen interest in all the activities of Samshodhana Mandiram and guiding force whenevevr we approach him. I also express my gratitude to Prof. Subbararydu, Registrar of Rashtriya Sanskrit Sansthan and Dr. Prakash Pandey, Head of Adarsha Scheme, for continuous encouragement in development our institutions' activities.
I express my gratitude to Prof. K. Hayavadana Puranik, Chairman of Poornaprajna Samshodhana Mandiram for his whole hearted support for our academic activities. I also express my gratitude for Prof. D. Prahlada Char for valuable guidance in the development of institution.
I also express my gratitude to the scholars who have presented research papers in Seminar and made the programme successful.
I thank M/s. Vagartha Printers who have printed this book very nicely, in a short time. I am sure they will extend the same co-operation in future also.