Description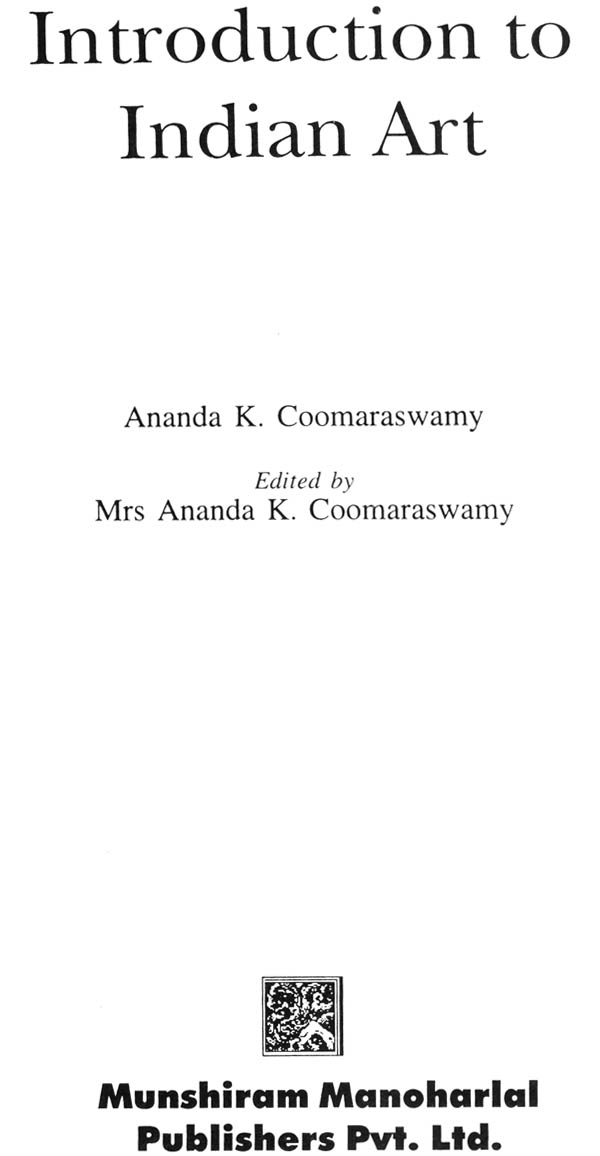 From the Jacket
"Today, if India takes her due rank as a first-class artistic power, it is in large measure owing to Coomaraswamy"-so said the distinguished British artist, Sir William Rothenstein of Ananda Kentish Coomaraswamy, the celebrated author of this work. To know the magnitude and quality of the work done by this great savant is to know the truth and value of this tribute. His pioneering work put the long neglected Art of India before the world of art where it holds its well-merited proper place. Coomaraswamy was more than an "art-critic," He interpreted the philosophia perennis through the medium of the arts.
In his autobiography Eric Gill writes, "He (Coomaraswamy) has written truth….with such wisdom and understanding. …"Coomaraswamy's bibliography consists of over 500 books and articles, in each of these he illuminates the soul (bija) of the subject he treats, and shares with his reader the treasures before him.
Coomaraswamy's Introduction to Indian Art is an ocean condensed into a luminous pearl. A basic work, it traverses the historic panorama of Indian art, from its Indo-Sumerian and Vedic-Mound beginnings to the various peaks reached during the Maurya, Sunga, Andhra, Kusana, and Gupta periods, and beyond the seas to further India and Indonesia. It is a handbook of immense value both to the beginner and scholar alike.
This present reprint was ably edited by Mrs Coomaraswamy and incorporates new material earmarked for the book by Coomaraswamy himself.
Ananda Kentish Coomaraswamy, the greatest among the Indian art-historians, was born in Colombo on August 22, 1877. After graduating from the University of London, he became the Director of the Mineralogical Survey of Ceylon. Between 1906 and 1917, when he joined as the Curator of Indian Art at the Boston Museum he was busy lecturing on Indian art and formed societies for the study of Indian art. In 1938, he became the Chairman of National Committee for India's Freedom. His contributions on Indian philosophy, religion, art and iconography, painting, and literature are of the greatest importance as were his contributions on music, science, and Islamic art. He died on September 9, 1947.
Introduction
'Art in India' and 'art' in the modern world mean two very different things. In India, it is the statement of a racial experience, and serves the purposes of life, like daily bread. Indian art has always been produced in response to a demand: that kind of idealism which would glorify the artist who pursues a personal ideal of beauty and strives to express himself, and suffers or perishes for lack of patronage, would appear to Indian thought far more ridiculous or pitiable than heroic. The modern world, with its glorification of personality, produces works of genius and works of mediocrity following the peculiarities of individual artists: in India, the virtue or defect of any work is the virtue or defect of the race in that age. The names and peculiarities of individual artists, even if we could recover them, would not enlighten us: nothing depends upon genius or requires the knowledge of an individual psychology for its interpretation. To understand at all, we must understand experiences common to all men of the time and place in which a given work was produced. All Indian art has been produced by professional craftsmen following traditions handed down in papillary succession. Originality and novelty are never intentional. Changes in forms, distinguishing the art of one age from that of another, reflect the necessities of current theology and not the invention of genius: changes in quality reflect the varying, but not deliberately varied, changes in racial psychology, vitality and taste. What is new arises constantly in Indian tradition without purpose or calculation on the part of the craftsman, simply because life has remained over long extended periods an immediate experience. Tradition is a living thing, and utterly unlike the copying of styles which has replaced tradition in modern life. No such failure of energy as archaism represents appears in Indian art before the twentieth century.
In India, the same qualities pervade all works of any given period, from pottery to architecture, and all are equally expressive: the smallest fragment of a textile portrays the same as the most elaborate temple. In other words, there are no distinctions of fine and applied or decorative art and no unsure mountable barrier dividing the arts of the folk from the canonical arts. Indian art has always an intelligible meaning and a definite purpose. An 'art for art's sake', a 'fine' or useless art, if it could have been imagined, would only have been regarded as a monstrous product of human vanity. The modern 'fine' or useless arts are unrelated to life and speak in riddles-and hence the utter impossibility of inculcating a 'love of art' in the people art large. A race producing great art, however, does so, not by its 'love of art', but by its love of life. In India, where no one discussed art (there is no Sanskrit equivalent for the modern concept of 'art'), where none but philosophers discussed the theory of beauty, and where sculptures and paintings were regarded not as 'works of art', but as means to definite ends-there, art was an integral quality inhering in all activities, entertained by all in their daily environment, and produced by all in proportion to the vitality (not the kind) of their activity.
Contents
| | | |
| --- | --- | --- |
| | Introduction | xi |
| 1 | Indo-Sumerian | 5 |
| 2 | Dravidians and Aryans | 12 |
| 3 | The Saisunaga-Nanda Period (642-320 B.C.) | 12 |
| 4 | Vedic Origins | 20 |
| 5 | Pre-Mauryan Sculpture | 21 |
| 6 | The Great Enlightenment | 23 |
| 7 | Early Buddhist Art-Maurya, Sunga and Early Andhra | 26 |
| 8 | Development of Devotional Theism | 32 |
| 9 | Kusana and Later Andhra Period | 36 |
| 10 | The Gupta Period | 44 |
| 11 | Early Mediaeval Period | 51 |
| 12 | Mediaeval Sculpture (A.D. 850-1200) | 56 |
| 13 | Southern India (Tenth to Eighteenth Century) | 60 |
| 14 | Further India and Indonesia | 64 |
| 15 | Mediaeval Buddhist Painting | 68 |
| 16 | Jaina Painting | 71 |
| 17 | Rajput Painting | 73 |
| 18 | Understanding Indian Art | 78 |
| | Supplementary Bibliography | 85 |
| | Notes on Illustrations | 87 |
| | Index | 93 |
Sample Pages