Description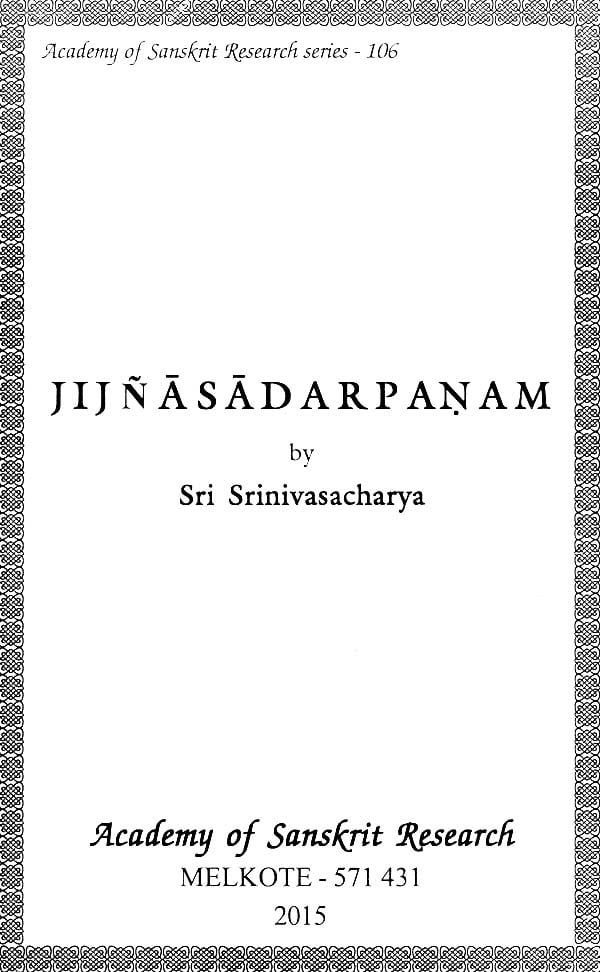 Preface
To publish -the rich collections of the rarest and valuable old Sanskrit manuscripts, the Academy of Sanskrit Research has setup a special division called "Publication of unpublished Manuscripts'.' On a priority basis, the Academy is publishing these rare books and works are interpreted under Visistadvaita philosophy of Sri Ramanujacharya. The Academy has already brought several books of Visistadvaita and other subjects and Jijnasadarpana is its Sixth work under publication of Unpublishad Manuscripts.
We proudly announce that we are publishing Jijnasadarpana by Shri Srinivasacharya. Originally, the book is in Telugu scripts (Ace no. 8D) and is in Sanskrit language and has been interpreted under the Visistadvaita School of philosophy. Unfortunately, the author's birth place and life dates are not known clearly.
Jijnasadarpana takes up the first surra "Athato Brahmajijnasa" and tries to elucidate the meaning of jijnasa by applying the grammer, analysis and mimamsa principles under Visistadvaita philosophy.
The desire for attaining the knowledge of Brahman will arise directly from the study of the Srutis. One must realize the eternal Brahman to attain eternal bliss, freedom, perfection and immortality. jijnasa means a burning desire to know and realize Brahman.
The first sutra of Mimamsasastra is "Athato Dharmajijnasa" and the last sutra of Vedantasutras is "Anavr ttisabdath Anavrttisabdath" According to Visistadvaita, the realisation of Brahman becomes true and eternal only after combining Karma and Dharma Mimamsa. Hence there should be the desire to know "Brahmajijnasa" Brahman. The present work jijnasadarpana serves as a mirror that reflects the real meaning of jijnasa. It removes the doubts of the other contending schools of philosophy and presents its arguments clearly. This is indeed a valuable resource to the readers and researchers.
This work was possible because of the encouragement and support of the Management of the Academy and State Government of Karnataka. Also, we are thankful for the efforts of the scholars of the Academy i.e., Vid. H.S. Hanumantha Rao-Granthapala, Vid S. Krishnan Research officer, Vid. S. Narayana-Research officer (Retd.,) and others, DTP operators, Printing team, and also Art designer Sri Lokesh and the binders of the book who were involved in every process of this work.
We look forward to enterprising years ahead as we have several good and rare publications to be brought out in the year of millennium celebration as " our Humanitarian Acarya par excellence Bhagavad Ramanujacarya in 20l7.