Description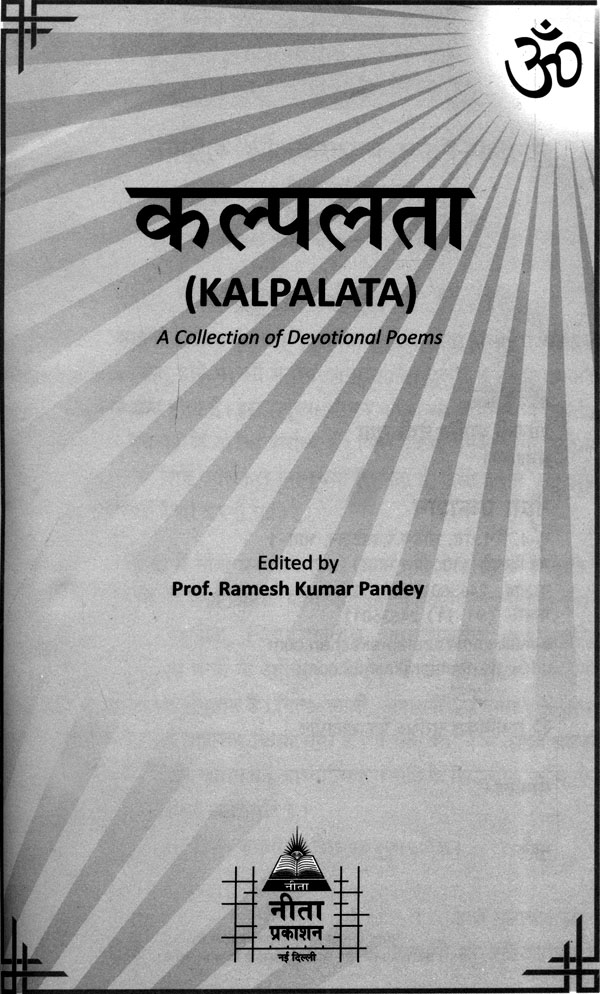 Foreword
I feel immensely happy to have been asked to write a few words of appreciation about the book entitled KALPALATA which has been edited by my colleague and a front rank Sanskrit scholar Dr. Ramesh Kumar Pandey. Kalpalata as the name signifies is realy capable of showering beatitude and happiness. It is a collection of didactic poetry which have been culled from different sources. In the world of literature, the term didactic poetry is usually applied to a group of compositions which are precisely meant for including the moral tendencies. They are not tracts or text books giving metrical exposition of complex, philosophical and moral themes, but which give an impressive poetical expression to traditional wisdom or to wisdom which springs from intimate observation of men and manners. A careful reader and spiritual seeker will find that the collections in Kalpalata aim at providing expressions of human soul craving for attaining sublimity at its acne. Each of the verse collected re-assures that here humanity will find its full expression and poetry will display richness and depth. In one sense, didactic poetry leans perceptibly towards Sanskrit devotional poetry. In fact Kalpalata is full of verses which are invaluable vehicle of devotion and meditation for achieving the purusarthas-Dharma, Artha and Kama leading to the final beatitude (Moksa-the summum bonum of human existence). It is felt that a person who has either acquired the merit in this birth or in the previous births feels inclined to worship HIM. In view of this, we feel that reading and chanting of these verses will keep a spiritual seeker away from the stress and strain of life and also lead him from darkness to light.
We all know that material things have never been capable of providing the inner peace of mind. It is a proved truth that "Man does not live by bread alone". In plain words "Roti, Kapada aur Makan" are bare necessities of life but beyond that it is of utmost importance to develop an inner vision to solve the complexities of life.
Spiritual seeker especially are those who are not well conversant with the divine language "Devanagari". Sanskrit will find pleasure in reciting the Slokas, because with great efforts the learned editor has produced the Kalpalata with English, Hindi translation and has also provided us with transliteration of the verses In my considered opinion even our foreign students who are deeply devoted to Ancient Indian wisdom will find this book very useful. The collected Stutis in this book contain invaluable spiritual advices. It also provides the seeker to uplift his mind, body and soul.
Under the inspiring guidance and blessings from his holiness Acharya Kanchi Kamakoti Pithadhipati Jagadguru Shankaracharya Swami Shri Jayendra Saraswati Ji and our respected friend Shri Radhey Shyam Gupta embarked upon such a noble work. Smt. Shanti Devi Gupta of Neeta Prakashan who has a deep religious bend of mind, understood herself the task of funding the publication of this collection. I hope and trust she will keep funding such publication in future also. The editor of this Kalpalata Dr. Ramesh Kumar Pandey has done his job with meticulous care. May God shower his blessings oh him.