Description
About The Author
Dr. Shaik Ishaq former Professor and HOD of Hindi, The New College, Chennai is an advocate of World Peace, Universal Brotherhood, National Integration and Social Harmony. His pursuits are Literature, Culture, Philosophy and Sufism.
He has three decades of teaching experience at The New College, Chennai. Prior to this, he served as a Professor and HOD of Hindi at C. Abdul Hakeem College, Melvisharam, Tamil Nadu. Besides, he had served as Academic Counsellor in Hindi at IGNOU Centre at The New College, Chennai for 10 years.
He obtained M.A. Degree in Hindi from Allahabad University in 1963; M.Ed. Degree from Central Hindi Institute, Agra in 1965; second M.A. Degree in Hindi with Sanskrit as a special paper from Andhra University in 1976; and Ph.D. Degree from Dakshina Bharath Hindi Prachar Sabha, Chennai in 1988.
He has won prestigious awards such as the one in Global Scholastic Research Thesis Contest in Hindi from Hyderabad; Seva Ratna Award from Cultural Academy, Chennai; and another Award from Urdu Academy, (autonomous), Chennai.
He completed two U.G.C. major projects (HRP) in Deccani Hindi and its Folk Songs (Lok Geet) and Sufi saints of India in 1995 and in 2004, awarded by U.G.C., (HRP) New Delhi, Department of Hindi at The New College, Chennai.
He had visited famous Colleges and Universities in the U.S.A., Frankfort, London and Sultanate of Oman.
Foreword
It has been rightly said: "Books are the carriers of civilization. Without books, history is silent, literature dumb, science crippled, thought and speculation at a standstill." What better and lasting testimony to mark the Sesquicentennial year of our beloved mother institution, the University of Madras, than the publication of30 commemorative volumes!
It is an honour and a privilege to pen the Foreword to these volumes submitted by the Faculty of the University of Madras and the affiliated institutions. Keeping in mind that these issues are a lasting memento to the 150 year dedication of our Institution to excellence in Higher education and research, the books have been chosen based on their innovative approach, quality of research and skilful style.
Apart from marking an important landmark in the progress of our great institution, it is hoped, that these volumes will be a truly significant contribution to the academic ethos of our nation.
I thank the academic fraternity and our partners and collaborators for their cooperation and I congratulate the authors and all those who contributed to ensure that the commemorative volumes are released at the Valedictory of the Sesquicentennial celebrations of the University of Madras on October 9, 2007.
A lot of water has passed under the bridge since that wonderful day on September 5, 1857 when the University of Madras came into existence. It is heartening for all of us to think that the best is yet to be.
Preface
In this book "Deccani Hindi Ke Premakhyanak Kavya: Ek Samikshatmak Adhyayan", efforts have been made to analyze and evaluate important love-related poetry of Deccani Hindi.
Deccan is a geographical area extending from the Vindhyachal mountains to northern Pennar and Neelam. Dr. Baburam Saxena was the first Hindi scholar to consider Deccani as Hindi. While describing the name of language, he has suggested three names of Deccani. (1) Hindavi, (2) Hindi and (3) Deccani. Deccani is a combination of many new cultures, the foundation for which was laid in Deccan, and it also served as a link language between the kings and the public of the region at that time.
Deccani Literature is considered to be an integral part of Hindi Literature. The development of Deccani Hindi and culture continued from the regime of Bahmani Sultans till the fall of Moghal Empire. Many Premakhyanak Kavya (epics) of high standard were written during this period in Deccani Hindi. Khwaja Bandenawaz Gesudaraz, Mullah Wajahi and Nizami were known to be the popular poets of that period in Deccani Hindi Premakhyanak Kavya. However, the work done so far in Deccani Hindi epics (Premakhyanak Kavya) is negligible. The books published are more in Urdu and Persian.
This book is organized chapters. In the first chapter, origin and development of Decanni Hindi are presented.
In the second chapter, the development of the tradition of Deccani Hindi epics in Urdu, Hindi and Persian and their importance are discussed.
In the third chapter, different branches and sects of love-elements expressed in Sufi love stories and their fundamental specialities are analyzed, In the fourth chapter, poetry of Deccani Hindi period has been analyzed.
In the fifth chapter, social and cultural aspects are discussed and summarized.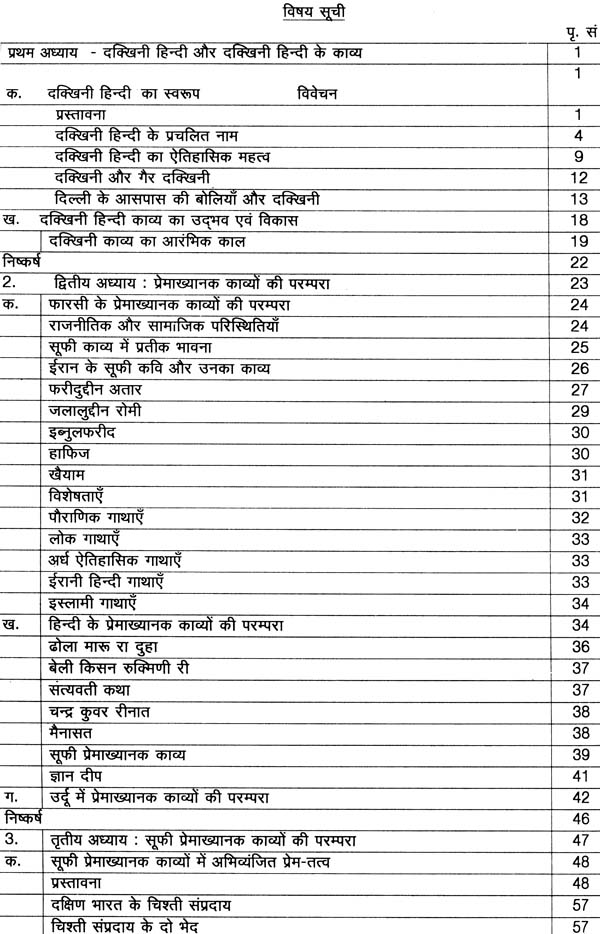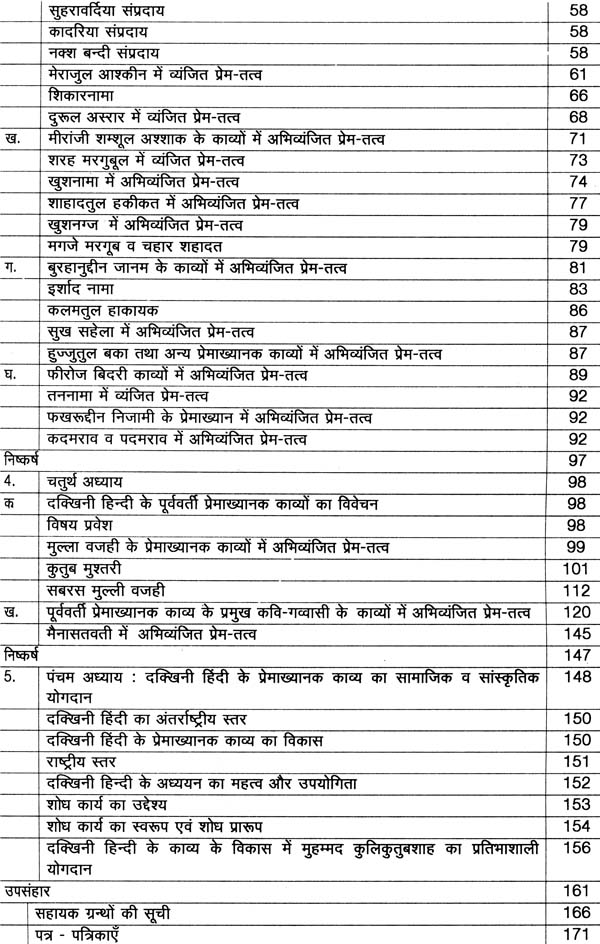 Sample Pages