Description
GENERAL PREFACE (1st Edition)
The present edition of Sri Shankaracharya's Upanishad Bhashyas, is intended for readers who wish to have at a moderate price the plain text of Shankara's works unencumbered by commentaries and sub-commentaries but provided with such aids to study as a beginner is likely to need in appreciating the original.
Every volume of the series has been provided with an Introduction, Short Notes on points of special interest, References to paralled passages in the other works of the great Acharya, a Summary of the Upanishad, and an Index.
It is hoped that the systematic division of the text into paragraphs with indication of important various readings, the tracing of quotations to their originals, and the close attention paid to typographical details will all combine to make this edition specially convenient for the earnest reader.
PUBLISHERS NOTE (2nd Edition)
Though in Kannada, Pujya Swamiji edited all the Prasthana trayi Bhashyas along with translation and footnotes, he edited only six Upanishads in Sanskrit. This Mundaka Upanishad is the third of the four 'Upanishads on which Sri Swamiji himself wrote footnotes in Sanskrit, whereas on the fifth one, i.e. Aitareya Upanishad Bhasyam, his kannada footnotes were translated into Sanskrit and published by us. He wrote elaborate Sanskrit commentaries on two - Taittiriya and Mandukya - Upanishad Bhasyas. Only on three Upanishads such as, Prasna, Chandogya and Brhadaranyaka Bhasyas, his Kannada foot notes are remaining to be brought into Sanskrit, which the Karyalaya hopes to do with Swamiji's blessings, in future.
His Mundaka footnotes are not just translations of Kannada version, because Sri Swamiji added many more to the Sanskrit version. He clarified many subtle points whose value one can experience as one reads it.
We have not made any changes to the first edition except correcting some printing errors.
The committee is extremely grateful to a devotee, who prefers to remain anonymous, while making a magnanimous donation of printing of this second edition after a lapse of more than fifty years, which helps the earnest seekers of vedanta to get the books at subsidised rates.
As the copies of the earlier edition were exhausted, this edition was felt necessary. We hope the readers will receive this edition too with the same enthusiasm.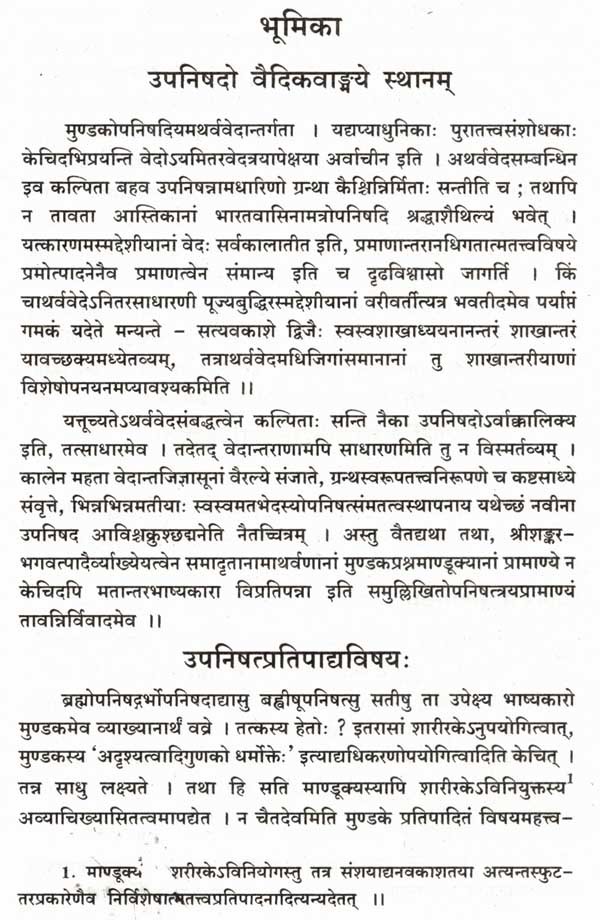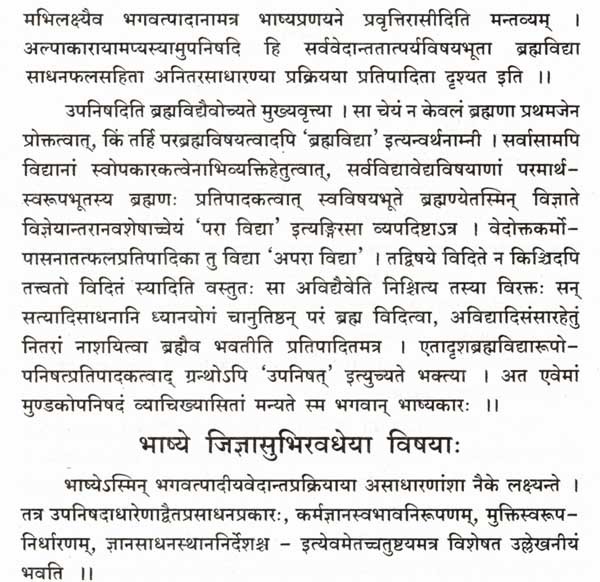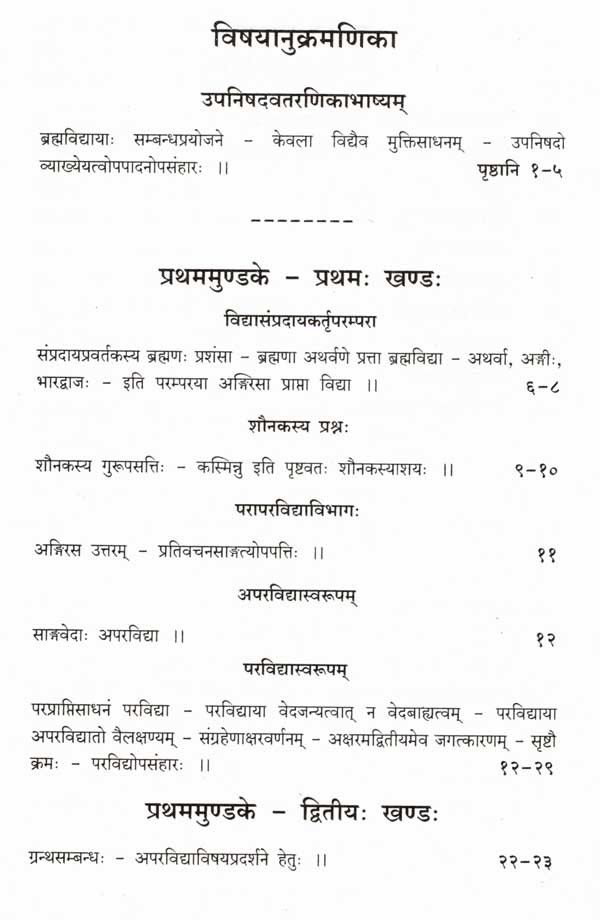 Sample Page