Description
About The Book
Orissa is a place for the study of Paippalada SAM of Atharvaveda. From Mayurabhanja areas palm-leaf manuscripts are abundantly discovered. The brahmins of that SAM are still chanting those mantras.
Prof. K.C. Acharya devoted a lot of time to the study of Atharvaveda. His contribution cannot be forgotten so far as the study of Paippalada Samhita is concerned. This anthology of papers on Atharvaveda is prepared to pay glowing tribute to the great scholar.
In this volume, papers on different dimensions on Atharvaveda, the areas, of which are little known to the scholarly world, are discussed.
About The Author
Prafulla K. Mishra (b. 1954—Puri) A well-known scholar and a poet of our time. A prolific writer in Sanskrit, English and Oriya; his mystic poems search a new way of creating modern taste for Sanskrit Poetry. He writes on Indian Aesthetics, Vedic studies and Sri Aurobindo studies. As the pioneer of Prachi valley Cultural Academic and Historical Research Society, his exploration of Orissan Cultural History is note-worthy. His important Publications are :
1. Sanskrit Poetics with Orissan Contributions, Delhi, 1988
2. Chitrakurangi (collection of Sanskrit poems) Bhubanesvara, 1995.
3. Purana Parampara 0 Navaka-levara, Puri, 1996.
4. Tavanilaye (collection of Sanskrit Poems) Bhubanesvara, 2000.
5. Brahmanabhi (collection of Sanskrit poems), Bhubanesvara, 2000.
6. Ethics Erotics and Aesthetics, Delhi, 2001.
7. New Dimensions in the Atharvaveda, Delhi, 2001.
Foreword
A commemoration volume for Prof. K.C. Acharya will appreciate many years of study which he devoted to the Paippalada Samhita and to Atharva Veda tradition of Orissa. This is an important domain of research - one that is peculiar to Orissa where this branch of the Vedic tradition has survived longer than elsewhere except for Kashmir. We still had hope to see the publication of some more results of K.C. Acharya's studies in this field. But it was not possible for his sad demise.
It may be permitted in this context to refer back to the middle of the 19th century and to the first European scholar who devoted himself to the study of the Atharva Veda. It was Rudolph von Roth, a great vedic scholar and the first occupant of the famous chair of Indology at Tubingen University in Germany. It was a time when the study of the Vedas was in its infancy in Europe. There was no Vedic grammar, no dictionary containing Vedic vocabulary; the Vedic literature was largely unknown outside India except for an article written by Wiliam Colebrooke in 1805 where he did not think it worthy of much attention.
Rudolph von Roth had studied Semitic language as well as Avestan, Persian and Sanskrit in Tubingen where he obtained his doctorate in 1843. Then he went on a two years' study tour to Paris, London and Oxford in search of Sanskrit manuscripts. He copied them by his own hand and soon got interested primarily in Vedic manuscripts. At the time, only small fragments of the Rigveda were known, nothing but one astaka of its first mandala had appeared in print. But when Roth returned to Germany after two years, he published booklet containing a survey of the entire Vedic literature: the contents of all the four Vedas, the characteristics of the Brahmana Sutra literature including a first attempt to determine the distance in time between the Samhita and the Brahmana literature. He also drew attention to the Vedangas, gave details of the Pratisakhyas and the Nirukta and thus showed interest in the early works of Vedic linguistics and etymology. In addition, he had also studied the commentaries on the Veda and was able to state that they were almost two thousand years later than the original hymns.
It was the first summary of Vedic language and literature that made Roth famous and gave a major push to Vedic studies in Europe. He was appointed Professor of Indo-Germanic Languages in Tuebingen and many pupils flocked to him to study Vedic Sanskrit. when the project of publishing the Rigveda was conceived by Hroace Hayman Wilson, it was Roth who was first offered the job. But when a sponsor was found for this enterprises and it became clear that the money and organization was located in Britain, Roth abstained and Max Muller took over. Roth published the Nirukta and then devoted himself to the Atharvaveda and this is what even 150 years later provides a link between him and Prof. K.C. Acharya.
Among the students who came to Tuebingen to study with Roth there are several wellknown names in Vedic studies. One of them was Karl Friedrick Geldner who later published an improved edition of the Avesta and translated the entire Rigveda. Another was Leopold von Schroeder who edited the Maitrayani - and Kathaka Samhita of the black Yajurveda. And one was William Dwight Whitney who assisted Roth in editing the Atharvaveda (published in 1855) and who did the English translation, making use of Roth's unpublished German translation. The manuscripts materials for the text edition were scanty at the time and Roth searched intensively for a better textual basis. Finally he got a copy of an important manuscript from Kashmir which helped solving some of the textual problems. Later, the original was also sent to him. Yet he admitted that some badly preserved passages had to be reconstructed and might require revision. The materials found in Orissa in this century were, of coruse, not known to him.
Whitney learned from Roth and Weber, and he handed on their philological Method to his own pupils Maurice Bloomfield and Charles Lanman. He even sent Lanman to Tuebingen to study directly with his own teacher. And it was Lanman who finished and edited the translation of the Atharvaveda.
It may be added here that we owe to Rudolph von Roth, another renowned contributor to last century's German Indology. Together with Otto von Boethlingk he compiled the famous St. Petersburg Sanskrit-German Dictionary in seven volumes. The entire Vedic vocabulary as well as the vocabulary of medical and botanical Sanskrit terms is from his pen. These were the most difficult parts to cover, because they were not included in traditional Indian Sabdakosas to the extent that the vocabulary of the classical literature was. The Peterburg Dictionary formed the basis for most of the Sanskrit English dictionaries we use today and it is still unsurpassed.
This year we celebrate 150 years of Tuebingen Indology. It was in spring 1848 that Rudolph von Roth was appointed extraordinary Professor at this university. In the line of his successors I am the fifth, with famous scholars like Richard Garbe, Wilhelm Hauer, Helmut von Glasenapp and Paul Thieme preceding me. Having occupied this chair for the last 25 years I, too, am about to hand over to the next generation. But the interest in the Vedas still persists in Tuebingen. It is, therefore, a pleasure for me to commemorate for his contribution to Atharvaveda. I greatly appreciate Prof. Acharya's scholarship and I also know that administrative burdens kept him busy in recent years. If students of the Atharvanic tradition of Orissa do not publish this who else will do it.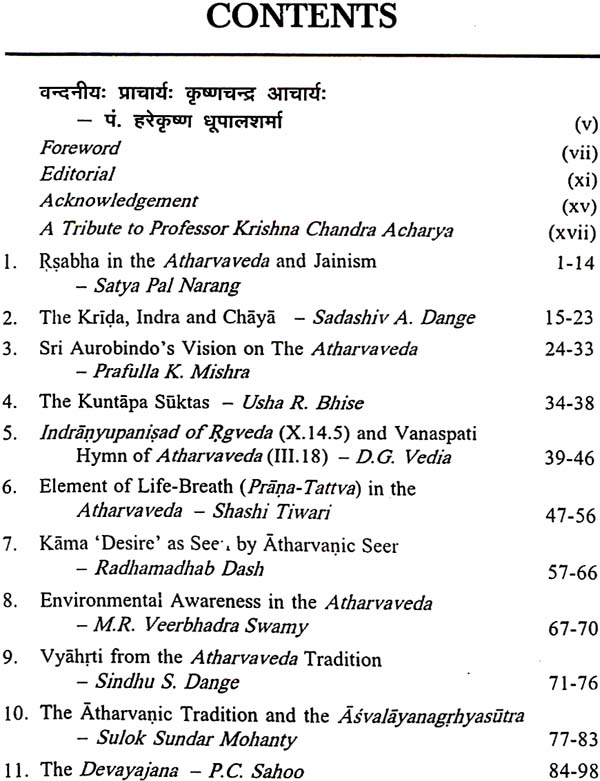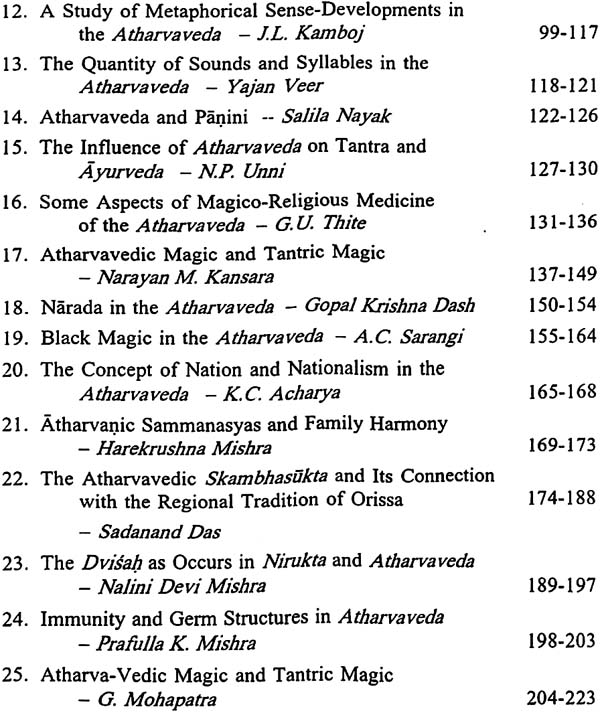 Sample Pages