Description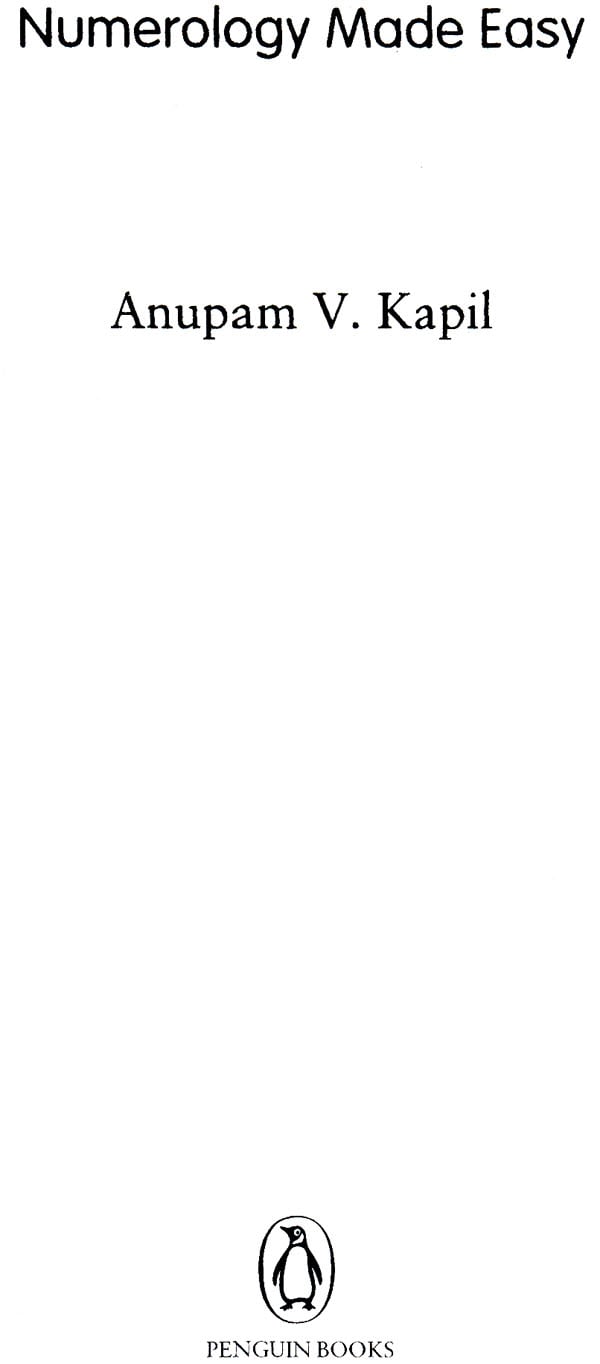 About the Book
How do numbers affect your life?
What makes a number lucky for one person and unlucky for another? How do you calculate your fate and destiny numbers? What are the colours that suit your personality best and are guaranteed to carry you through difficult times? Are there benefits in changing your name in order to draw the maximum benefit from its number significance?
This comprehensive introduction to numerology answers these and many more questions about the impact that numbers have on your life, career and personal relationships. It guides you through the calculations required for the application of numerological principles. It also sets out in an easy-to- follow format the characteristics of different numbers and the ways in which they combine.
Lucidly written for easy use, yet detailed in its scope and application, Numerology Made Easy is the one book that anyone interested in numbers absolutely must read.
About the Author
Anupam V. Kapil is one of the leading numerologists in the country. He completed his Masters degrees in Communications and Journalism, and Business Administration from Pune University.
Anupam Kapil writes a column for the Times of India. He is also on the panel of experts of the astrology website of the Times of India, indiatimes.com. His areas of specialization include palmistry, gem therapy, vaastu shastra, remedial measures in Vedic astrology and study of the Lal Kitab.
Contents
| | |
| --- | --- |
| Acknowledgements | ix |
| All About Numbers | 1 |
| What is Numerology? | 3 |
| The Evolution of Numerology | 5 |
| The Occult Symbolism of Numbers | 8 |
| Numerology and Astrology | 11 |
| Your Date of Birth and Your Fortunes | 15 |
| Your Birthday Number | 17 |
| Your Fate Number | 35 |
| Your Destiny Number | 61 |
| Your Birth Chart | 73 |
| Your Intensity Number | 74 |
| Arrows of Pythagoras | 79 |
| The Lo Shu Magic Square | 83 |
| Your Personal Calendar | 89 |
| Your Personal Year | 89 |
| Your Personal Month | 95 |
| Your Personal Day | 99 |
| Your Pinnacle Number | 102 |
| Your Name and Your Fortunes | 111 |
| Your Name | 113 |
| Your Karmic Compound Number | 124 |
| Your Expression Number | 143 |
| Your Soul Urge Number | 149 |
| Your Plane of Expression | 155 |
| Your Intensification Number | 158 |
| Your Name Cycle and Event Number | 162 |
| Using Numbers | 177 |
| Your Health Indications | 179 |
| Using Your Name | 179 |
| Using Your Fate Number | 185 |
| Your Lucky Colours | 190 |
| Numbers in Your Daily Life | 194 |
| The Important Years of Your Life | 194 |
| What is a Good Day? | 194 |
| Your Lucky Number | 195 |
| Compatibility Charts for Relationships | 196 |
| Your Date of Birth and Your Relationships | 198 |
| Is Your City Favourable to You? | 199 |
| Choosing Your House" Number | 199 |
| Tracing Lost Objects | 200 |
| Periodicity of Numbers | 205 |
| Numerological Yantras | 207 |
| Ready Reckoner | 214 |
| Bibliography | 216 |
Sample Page