Description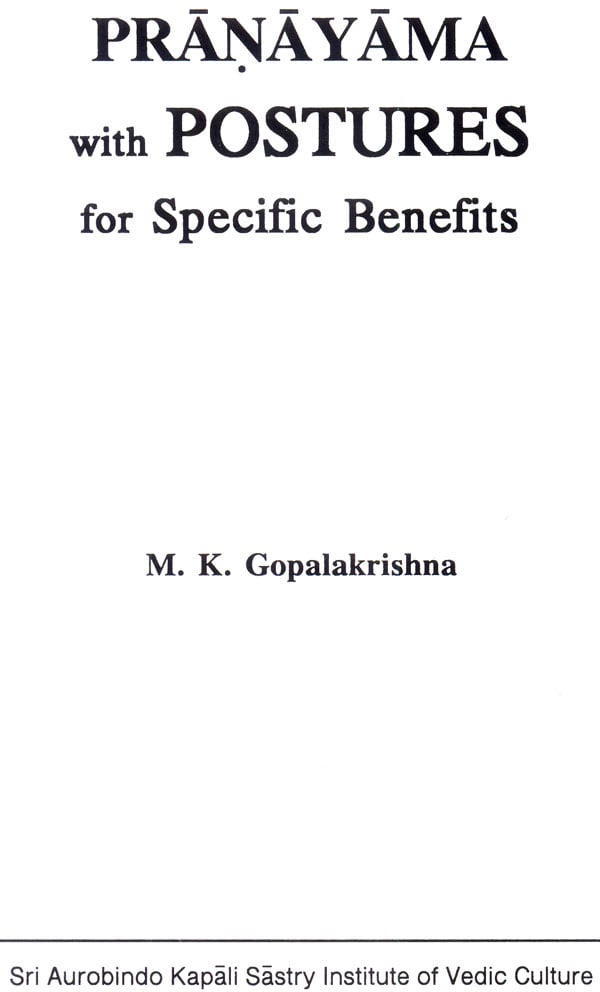 About the Author
M.K Gopalakrishna
MKG as he is popularly Known, is one of those rare individuals who have been able to utilise and display their concentrated power of observation, intuition and inspiration, both in the specialized engineering domain, the domain of health and well-being and numerous tasks undertaken in everyday life. There is no better example of Sri Aurobindo'sdictum "All life is Yoga". Even though his first degree is in Botany, he was senior manager (technical) in several multinational companies. His discourses stress the role Prc a In developing a unified spiritual life. The renowned Vedant in Sri Nisargadtta Maharaj and adepts like Swami Vedantin Sri Nisargadatta Maharaj and adepts like Swami Rma had told him that he has nothing more to learn. Still even in his eightieth Year he is adding to his Knowledge in all health domains prompting an expert Allopathic physician to explain that MKG Knows more about medicine and health than most acclaimed physician. He has utilized his deep Knowledge of music for healing purposes. His life is an excellent counter example to the popular no serious spiritual Progress is possible for one who has not taken the formal vow of syncs His network of students has spread all over the world.
Publisher's Note
We are Pleased to offer this revised edition of, 'Pranayama with Posture'. In this extensively revised new edition, all the errors, All the errors typographic and others, have been corrected; there is substantial improvement both in the quality of the line drawings and their placement with respect to the text. The text has been rearranged to increase its clarity.
We are grateful to Sri M. K Gopalakrishna for his active Participation in this revision Sri T.V Shankar Prepared neatly and correctly all the line Drowning.
We are particularly grateful t the users of our earlier edition who have expressed their compliments and given suggestions
We are proud to share the information that this book has sold more than ten thousand copies (Kannada & English versions Together) in a record time of two Year.
The role Of Prana in the maintenance of our health and well being has been briefly mentioned in many mantras of the Yajur Veda . While dealing with the inner Yajna occurring in our subtle body. This book is the result of developing all the hints given by our ancient Rishis into a tangible health maintenances Programmed needed very much by the moderns .
Author's postal and e-mail address is given in the imprint page. He has consented to clear the doubts of practitioners .
A Note to the Readers
Even though there are many books in the market on asana and pranayarna, they are, by and large, voluminous and expensive. In addition to asana and breathing exercises, this book describes many useful topics like relaxation, prana charging, yoga nidra, yoga for eyes etc., not usually mentioned even in the voluminous books.
The speciality of this book is its format. Every asana has a sketch and this sketch is placed with its textual description. Thus a person can keep this book in his/her proximity for quick reference while doing the exercises.
There are literally thousands of persons who have undergone courses in asana and pranayarna, but have discontinued them for lack of written material and other reasons. This book should be of help to these persons.
Persons who have no exposure to asana or pranayarna can begin doing simple exercises like abdominal breathing and obtain considerable benefit. The book is, by and large, self- contained.
The material in this book is based on the notes prepared by the yoga-teacher and engineer, Sri M.K.Gopalakrishna several years ago for his students. The editorial board in SAKSI assisted me in transforming the notes into a book format with many sketches so that the explanation for each asana is self- contained and understandable to the practitioners. MKG has been teaching pranayarna since many decades. His teaching was restricted only to those coming into his personal contact. Realising the importance and necessity of disseminating this knowledge, I proposed this matter to Sri M.K.G. We are grateful to him for allowing us to publish this book. Some of the exercises were developed by him based on the hints in some of the books, hints given by his teachers Swami Gitananda and Swami Satyananda Sarasvati and his own powerful intuition and practice. The asana sketches are prepared by Sri T.V. Shankar. .
Even though it is customary to mention Ghciiinde Samhita and Hatha Yoga Pradipika as the basic texts, the details on many of the iissn" and pra1)ayama are contained in the 25 books called as Y oga Upanishads which are part of the one hundred and eight Upanishads. Contrary to popular misconceptions, the sages of the Veda and Upanshads declared the necessity of a healthy body not only for leading a happy life but also for releasing the immense creative energies latent in our body useful for our development and that of the community.
Contents
| | | |
| --- | --- | --- |
| | Publisher's Note | |
| | Preface | |
| 1 | Need for Breath Control Exercises | 1 |
| 2 | What is Prana What does it do | 3 |
| 3 | Pranayama or Breath Control A Practicum | 6 |
| 4 | Correcting Faulty Breathing | 20 |
| 5 | Asanas for Specific Health Problems | 26 |
| 6 | Cleansing Breaths or Advanced Forcing | 31 |
| 7 | Relief of Pain in Joints and back | 36 |
| 8 | Prana Charging and Tension Releasing | 45 |
| 9 | Yoga Nidra | 49 |
| 10 | Yoga for Eyes | 53 |
| 11 | Index | 55 |
Sample Pages