Description
About the Book
Premchand (1880-1936), considered one of the greatest fiction writers in Hindi, was born Dhanpat Rai in Lamahi, a small village near Benares. He wrote in Urdu under the name Nawab Rai and changed it to Premchand when his collection of short stories, Soz-e Watan, was seized for sedition in 1909. In a prolific career spanning three decades, Premchand wrote fourteen novels, two plays, almost 300 short stories and several articles, reviews and editorials. He edited four journals, and also set up his own printing press. Though best known for his stories exposing the horrors of poverty and social injustice, he wrote on a variety of themes with equal felicity-romance, satire, social dramas, nationalist tales, and yarns steeped in folklore.
Back of the Book
Munshi Premchand, widely lauded as the greatest Hindi fiction writer of the twentieth century, wrote close to 300 short stories in the course of a prolific career spanning three decades. His range and diversity were limitless as he tackled themes of romance, satire, gender politics and social inequality with unmatched skill and compassion. By turns poignaht, acerbic, comical and tragic, many of his stories powerfully invoke the countryside its pastoral simplicity as well as its harsh realities while others capture the hopes and anxieties that accompany life in a teeming city where the underdog and the exploiter are caught in an age-old conflict.
For the first time ever, Penguin Classics brings together Premchand's entire short-fiction Oeuvre for the delight of the English-speaking world. Along with M. Asaduddin's illuminating Introduction, this path-breaking anthology features several stories not hitherto accessible either in Hindi or Urdu. Also included are comprehensive- notes that provide the publication history of each story-highlighting the- differences, sometimes significant and radical, between the Hindi and the Urdu versions of the same story-as well as a definitive chronology, making this a truly singular collection.
About the Author
M. Asaduddin is an author, critic and translator in several languages. His books include Premchand in World Languages: Translation, Reception and Cinematic Representations; Filming Fiction: Tagore, Premchand and Ray; A Life in Words; The Penguin Book of Classic Urdu Stories; Lifting the Veil: Selected Writings of Ismat Chughtai; For Freedom's Sake: Manto; and (with Mushirul Hasan) Image and Representation: Stories of Muslim Lives in India. He has been a Fulbright Scholar-in-Residence at Rutgers University, New Jersey, USA, and a Charles Wallace Trust Fellow at the British Centre for Literary Translation at the University of East Anglia, Norwich, UK. He is a regular speaker at literary festivals, and his translations have been recognized with the Sahitya Akademi Award, and the Katha and A.K. Ramanujan awards for translation, as well as the Crossword Book Award.
Foreword
During the birth centenary celebrations of Premchand (1880-1936), he was described as one of the panch devata, that is, one of the five gods, or (to put it more plausibly in English and also perhaps a bit more secularly!) one of the five iconic figures of modern Indian literature. This was high praise indeed, for each one of the twenty-four languages of India which are recognized and honoured by the Sahitya Akademi can boast of several outstanding writers in the modern period. The foremost of these probably still is Rabindranath Tagore, best known for his lyrical and transcendentally spiritual poetical works and, of course, for being the first, and so far the only, Indian to win the Nobel Prize for literature. But of those following behind him, Premchand stands as tall as any other writer.
Premchand wrote in both Urdu and Hindi, which made him an inheritor of two distinct literary traditions and also gave him a far wider readership than writers in other languages could aspire to. He wrote in the popular genres of the novel and the short story, and he practised a simple and candid style which had a direct emotive effect. He set his fiction in both cities and villages, often bringing the two Indias into poignaht juxtaposition, most pointedly in his last novel, Godaan (1936), and in other novels and numerous short stories too throughout his career. After experimenting early in his career with a few short stories set in the historical past (which he used allegorically for a present patriotic purpose), he wrote as a rule on contemporary themes of immediate social and political relevance. He marched with the times, responding to successive waves of public events and movements with a creative openness that wasn't bound by blind allegiance to any ideology. The scope of his understanding and the range of his sympathies were wide enough to encompass each aspect of the impact of colonial rule and of the nationalist movement for freedom in its many dimensions. His heart beat with the heart of the nation. As the Marxist Hindi critic Namwar Singh says :
Premchand was the unique epic-chronicler [maha-gathakar] of our struggle for freedom and it will be no exaggeration to say that he occupies in this regard an unrivalled place in the whole of Indian literature. If one wanted to find in anyone Indian writer the very pulse of Indian life, its struggles and its setbacks, its sorrows and its anguish, in all their depth and all their wide scope, over a period of three decades right from the Partition of Bengal in 1905-06 up to 1936, when he passed away, then, notwithstanding the fact that we have Rabindranath Tagore, we have Sarat Chandra, we have Subrahmanya Bharati, we have V.S. Khandelkar, we have Kanhaiyalal Maniklal Munshi, and we have as well Dr Mohammad Iqbal, I would like to name Premchand, for he is the one writer we have in whose works the immortal saga of our struggle for independence has been narrated in all its fullness.'
And yet, it would be to underestimate Premchand to think of him only, or even primarily, as a chronicler of what was perhaps the most vitally transformative phase in the history of modern India. For he was, like a true artist, concerned first and foremost with human beings and the daily, ordinary lives they led. If these lives were impacted by larger historical forces, as indeed they inescapably were, Premchand's focus remained on the human characters rather more than on the forces shaping them, and it was in this indirectness that the greatness of his achievement lies. His eventful narratives of the nation were above all else compassionate tales of humanity.
Introduction
Premchand is generally regarded as the greatest writer in Urdu and Hindi, both in terms of his popularity and the range and depth of his corpus. His enduring appeal cuts across class, caste and social groups. He was not only a creative writer in Urdu and Hindi, but he also fashioned modem prose in both languages and influenced several generations of writers. The fact that his works were published in more than two dozen Hindi and Urdu journals' simultaneously attests to his extraordinary reach to the wide audience that formed his readership. Many of his readers encountered modem Urdu and Hindi novels and short stories, and indeed any literary forms, for the first time through his writings. Premchand's unique contribution to the formation of a readership-and, in turn, to shaping the taste of that readership-has yet to be assessed fully. Few or none of his contemporaries in Urdu-Hindi have remained as relevant today as he is in the contexts of the Woman Question (Stree Vimarsh), Dalit Discourse (Dalit Vimarsh), Gandhian Nationalism, Hindu-Muslim relations and the current debates about the idea of India that is inclusive of all groups and denominations, irrespective of caste and creed. Francesca Orsini, who has worked on the Hindi public sphere, says pertinently: 'His strong social conscience and radical politics, which brought him closer and closer to socialism, were rooted in an utterly secular and inclusive view of the Indian nation, which makes him a particularly valuable and rare role model these days.' (Orsini 2003, xxvi)
However, despite his pioneering and iconic status, studies on Premchand have remained woefully inadequate because his entire corpus was or is still not available in either Hindi or Urdu, not to speak of English. Researchers had to remain content with only one of the corpuses (either Urdu or Hindi) accessible to them. This is also true of his short stories. Till today, the entire corpus of his short stories is not to be found in any of the versions. Fortunately, it is now being made available in English by combining and assimilating both the archives. Moreover, some new materials not accessible so far either in Hindi or Urdu are being made available for the first time in English. These twin advantages-in addition to the fact that the entire corpus is now being made available in English in a reliable chronological order-should make the reading of Premchand more fruitful, exciting and enjoyable and give a new fillip to Premchand studies. There is a need to revisit Premchand in the light of the new materials that have been discovered, mainly, though not exclusively, through the efforts of Kamal Kishore Goyanka, and some more new materials that are presented in this anthology.
Contents
Vol-I
| | | |
| --- | --- | --- |
| | Foreword by Harish Trivem | xiii |
| | Introduction | xxiii |
| 1 | Love for the World and Patriotism | 1 |
| 2 | The Rarest Pearl in the World | 11 |
| 3 | Sheikh Makhmoor | 18 |
| 4 | Sorrow's Reward | 31 |
| 5 | This Is My Homeland | 39 |
| 6 | Dara Shikoh's Durbar | 44 |
| 7 | The Pyre of Sin | 56 |
| 8 | The Travels of a Dervish | 67 |
| 9 | A Hunt | 96 |
| 10 | Rani Sarandha | 107 |
| 11 | Selfless Benefactor | 123 |
| 12 | A Well-bred Daughter | 132 |
| 13 | The Sword of Vikramaditya | 142 |
| 14 | A Strange Revenge | 160 |
| 15 | From Both Sides | 167 |
| 16 | Raja Hardaul | 180 |
| 17 | The Elder Sister | 194 |
| 18 | The Fear of Dishon our | 203 |
| 19 | The Desired Destination | 212 |
| 20 | A Poor Woman's Cry | 218 |
| 21 | Alha | 229 |
| 22 | Mother's Love | 240 |
| 23 | An Example Is Better than Precepts | 253 |
| 24 | Making Up | 261 |
| 25 | Nemesis | 271 |
| 26 | Royal Arrogance | 278 |
| 27 | Appearances Are Deceptive | 286 |
| 28 | A Woman's Character | 293 |
| 29 | Life and Death | 306 |
| 30 | The Night of the New Moon | 313 |
| 31 | A Glance of Love | 322 |
| 32 | Union | 331 |
| 33 | A New Dawn | 337 |
| 34 | Injustice | 345 |
| 35 | A Bitter Pill | 352 |
| 36 | Only One Voice | 361 |
| 37 | The Dandy Landowner | 369 |
| 38 | The Salt Inspector | 378 |
| 39 | The Orphaned Girl | 387 |
| 40 | When Blood Turns White | 395 |
| 41 | The Hunter Prince | 405 |
| 42 | The Funny Tale of a Jailbreak | 412 |
| 43 | Retribution | 418 |
| 44 | Remorse | 427 |
| 45 | An Appropriate Choice | 440 |
| 46 | The Balm | 445 |
| 47 | The Sword of Honour | 468 |
| 48 | The Consequences of Karma | 474 |
| 49 | A Daughter's Possessions | 480 |
| 50 | Godavari's Suicide | 490 |
| 51 | Two Brothers | 500 |
| 52 | A Punishment for Honesty | 507 |
| 53 | Holy Judges | 514 |
| 54 | An Embodiment of Pride | 523 |
| 55 | The Lustre of the Firefly | 531 |
| 56 | Deception | 541 |
| 57 | The Door: A Fragment | 549 |
| 58 | The Code of Honour | 551 |
| 59 | The Volcano | 565 |
| 60 | Counsel | 576 |
| 61 | DivineJustice | 597 |
| 62 | Separation and Union | 615 |
| 63 | The Greater Pilgrimage | 626 |
| 64 | The Durga Temple | 636 |
| 65 | The Captain | 646 |
| 66 | Victory | 653 |
| 67 | The Sacrifice | 663 |
| 68 | The Return | 673 |
| 69 | The Path of Devotion | 686 |
| 70 | The Chains of Passion | 693 |
| 71 | The Dagger of Loyalty | 703 |
| 72 | The Gift of Truth | 714 |
| 73 | Wisdom | 721 |
| 74 | Entanglements | 728 |
| 75 | The Bankruptcy of the Bank | 738 |
| 76 | Stepmother | 757 |
| | Notes | 763 |
| | Glossary | 779 |
| | Acknowledgements | 787 |
| | Note on Translators | 789 |
| | Popular Editions | 795 |
Vol-II
| | | |
| --- | --- | --- |
| | Foreword by Harish Trivedi | Xiii |
| | Introduction | xxiii |
| 1 | Premonition | 1 |
| 2 | The Murder of Honour | 7 |
| 3 | The Bookbinder | 16 |
| 4 | Atmaram | 22 |
| 5 | The Correction | 29 |
| 6 | The Prime Dharma of Man | 39 |
| 7 | Black Face | 44 |
| 8 | Banter | 51 |
| 9 | The Old Aunt | 59 |
| 10 | A Father's Love | 67 |
| 11 | After Death | 73 |
| 12 | The Blessed Illness | 83 |
| 13 | Life Force | 91 |
| 14 | The Problem | 99 |
| 15 | A Special Holi | 104 |
| 16 | The Hidden Hand | 110 |
| 17 | An Audacious Act | 120 |
| 18 | The Red Ribbon | 128 |
| 19 | When Rivals Became Friends | 145 |
| 20 | A Positive Change | 151 |
| 21 | A Battle ofIdeals | 158 |
| 22 | A Philosopher's Love | 166 |
| 23 | The Bridal Sari | 182 |
| 24 | Witchcraft | 190 |
| 25 | Victory of the Defeated | 203 |
| 26 | Defending One's Liberty | 217 |
| 27 | Cobra Worship | 223 |
| 28 | Turf War | 232 |
| 29 | Hidden Wealth | 236 |
| 30 | A Dhobi's Honour | 243 |
| 31 | Hoodwinked | 251 |
| 32 | Reincarnation | 257 |
| 33 | Test | 264 |
| 34 | A Loyal Subject | 268 |
| 35 | End of Enmity | 282 |
| 36 | The Fool | 290 |
| 37 | Compulsion | 297 |
| 38 | A Home for an Orphan | 304 |
| 39 | Purification | 321 |
| 40 | Autobiography | 327 |
| 41 | The Ornaments | 352 |
| 42 | Revenge | 362 |
| 43 | Trickery | 367 |
| 44 | Satyagraha | 381 |
| 45 | The Roaming Monkey | 381 |
| 46 | The Prophet's Justice | 390 |
| 47 | Sudden Downfall | 399 |
| 48 | Road to Salvation | 407 |
| 49 | Money for Deliverance | 418 |
| 50 | Forgiveness | 428 |
| 51 | The Lashes of Good Fortune | 435 |
| 52 | Banishment | 447 |
| 53 | Despair | 453 |
| 54 | Ghost | 464 |
| 55 | By a Whisker! | 476 |
| 56 | Initiation | 481 |
| 57 | Rescue | 495 |
| 58 | The Game of Chess | 502 |
| 59 | One and a Quarter Ser of Wheat | 513 |
| 60 | Pleasures of College Life | 520 |
| 61 | The Malevolent Baby | 536 |
| 62 | Money for the Decree | 544 |
| 63 | The Condemned | 556 |
| 64 | The Path to Hell | 572 |
| 65 | The Secret of Culture | 580 |
| 66 | Temple and Mosque | 587 |
| 67 | Faith | 597 |
| 68 | Man and Woman | 612 |
| 69 | A Hired Pony | 618 |
| 70 | A Mother's Heart | 630 |
| 71 | Theft | 638 |
| 72 | The Goddess from Heaven | 645 |
| 73 | Punishment | 653 |
| 74 | The Outcaste | 665 |
| 75 | Laila | 683 |
| | Notes | 699 |
| | Glossary | 717 |
| | Acknowledgements | 725 |
| | Note on Translators | 727 |
| | Popular Editions | 733 |
Vol-III
| | | |
| --- | --- | --- |
| | Foreword by Harish Trivedi | Xiii |
| | Introduction | xxiii |
| 1 | A Mentor's Advice | 1 |
| 2 | The Mantra | 4 |
| 3 | The Thread of Love | 19 |
| 4 | The Basis of Life | 32 |
| 5 | Qazzaqi | 38 |
| 6 | Disgrace | 50 |
| 7 | The Tonga Driver's Reflections | 62 |
| 8 | Ramleela | 68 |
| 9 | An Invitation | 74 |
| 10 | Violence Is the Supreme Religion | 86 |
| 11 | The Excommunicated | 95 |
| 12 | The Head Clerk | 107 |
| 13 | Why Do People Marry? | 117 |
| 14 | Sati | 120 |
| 15 | The Symphony of the Soul | 128 |
| 16 | The Tree of Love | 132 |
| 17 | Soujan, the Devotee | 142 |
| 18 | Temple | 155 |
| 19 | The Borrowed Watch | 162 |
| 20 | Babaji's Feast | 177 |
| 21 | The Actress | 179 |
| 22 | Trial by Fire. | 189 |
| 23 | Moteramji Shastri | 200 |
| 24 | The Spell | 206 |
| 25 | The Disappointment of Moteramji Shastri | 218 |
| 26 | Foolish Friend | 225 |
| 27 | Two Friends | 230 |
| 28 | A Tearful Holi | 284 |
| 29 | The Grinding Woman's Well | 291 |
| 30 | A Wedding That Turned into a Funeral | 301 |
| 31 | The Policeman | 320 |
| 32 | Moteramji, the Editor | 327 |
| 33 | Selthood | 334 |
| 34 | The Day's First Sale | 339 |
| 35 | Desire | 345 |
| 36 | The Rebel | 351 |
| 37 | Experience | 362 |
| 38 | The Balance Sheet | 369 |
| 39 | Resignation | 386 |
| 40 | Atonement | 396 |
| 41 | Nitpicker | 408 |
| 42 | The Holi of Love | 417 |
| 43 | In Memoriam | 422 |
| 44 | A Trip to the Hills | 438 |
| 45 | Mother | 450 |
| 46 | Mourning | 463 |
| 47 | The Legal Eagle | 466 |
| 48 | HolyWar | 475 |
| 49 | Family Break-up | 484 |
| 50 | The Live-in Son-in-Law | 502 |
| 51 | The Woman Who Sold Grass | 512 |
| 52 | A Narrow Escape | 523 |
| 53 | Two Graves | 532 |
| 54 | Prison | 547 |
| 55 | The Servant of the Nation | 558 |
| 56 | The Goddess | 559 |
| 57 | Shame | 561 |
| 58 | The Procession | 569 |
| 59 | Subhagi | 580 |
| 60 | Role Reversal | 589 |
| 61 | The Closed Door | 599 |
| 62 | Salvation | 601 |
| 63 | Trident | 609 |
| 64 | The Journey of War | 621 |
| 65 | The Wine Shop | 632 |
| 66 | A Night in the Month of Po os | 647 |
| 67 | Maiku and the Congress Volunteer | 653 |
| 68 | The Dream | 657 |
| 69 | Sacrifice | 660 |
| 70 | The Lunatic Lover | 670 |
| 71 | Dhaporsankh | 687 |
| 72 | The Final Excuse | 705 |
| 73 | The Accusation | 712 |
| 74 | The Performance | 735 |
| 75 | The Debt Collector | 744 |
| | Notes | 753 |
| | Glossary | 765 |
| | Acknowledgements | 773 |
| | Note on Translators | 775 |
| | Popular Editions | 781 |
Vol-IV
| | | |
| --- | --- | --- |
| | Foreword | Xiii |
| | Introduction | xxiii |
| 1 | The Game | 1 |
| 2 | The Holi Gift | 5 |
| 3 | Inspiration | 11 |
| 4 | Love' s Awakening | 21 |
| 5 | The Last Gift | 31 |
| 6 | The Penalty | 42 |
| 7 | The Second Marriage | 49 |
| 8 | The Mistress of the House | 51 |
| 9 | The Story of Two Bullocks | 66 |
| 10 | The Writer | 78 |
| 11 | The Co-wife | 89 |
| 12 | The Funeral Feast | 98 |
| 13 | The Story of My Life | 116 |
| 14 | The Miracle | 126 |
| 15 | A Wife's Testimony against Her Husband | 139 |
| 16 | The Vestal | 151 |
| 17 | The New Wife | 162 |
| 18 | The Ailing Sister | 176 |
| 19 | Slander | 177 |
| 20 | Thakur's Well | 181 |
| 21 | The Spectacle | 185 |
| 22 | Life Sentence | 191 |
| 23 | The Votary of Reminiscence | 212 |
| 24 | Kusum | 223 |
| 25 | The Widow with Sons | 239 |
| 26 | The Coward | 257 |
| 27 | The Man Who Defied Fate | 266 |
| 28 | Neur | 273 |
| 29 | Gilli-Danda | 282 |
| 30 | The Prostitute | 290 |
| 31 | The Romantic Editor | 307 |
| 32 | The Boy | 313 |
| 33 | Renunciation | 320 |
| 34 | The Flame of Love | 326 |
| 35 | The Prisoner | 337 |
| 36 | Idgah | 347 |
| 37 | The Queen of Hearts | 359 |
| 38 | The Murderer | 375 |
| 39 | The Wedding | 384 |
| 40 | If You Have No Woes, Buy a Goat! | 390 |
| 41 | The Goddess of Faithfulness | 401 |
| 42 | Peace of Mind | 421 |
| 43 | Intoxication | 434 |
| 44 | A State of Mind | 441 |
| 45 | The Secret | 447 |
| 46 | The Minister of the State | 450 |
| 47 | Pandit Moteram's Diary | 466 |
| 48 | The Price of Milk | 483 |
| 49 | Undeserved Praise | 493 |
| 50 | God's Share of Stale Rice | 500 |
| 51 | God's Own Police | 508 |
| 52 | My Elder Brother | 519 |
| 53 | The Farce | 527 |
| 54 | Tulia | 537 |
| 55 | The Rules of the House | 551 |
| 56 | The Curse of Life | 561 |
| 57 | Paying the Price | 572 |
| 58 | Splashed | 576 |
| 59 | The Assassin's Mother | 580 |
| 60 | Miss Padma | 587 |
| 61 | Radiance | 600 |
| 62 | Reality | 609 |
| 63 | Intoxicants, All | 618 |
| 64 | The Hallowed Feet of the Bridegroom | 621 |
| 65 | The Lottery | 626 |
| 66 | Two Sisters | 640 |
| 67 | My First Composition | 654 |
| 68 | The Shroud | 658 |
| 69 | The Holi Holiday | 666 |
| 70 | The Mystery | 680 |
| 71 | Apples from Kashmir | 692 |
| 72 | An Incomplete Story: A Fragment | 695 |
| 73 | A Cricket Match | 696 |
| | Notes | 711 |
| | Glossary | 731 |
| | Acknowledgements | 739 |
| | Note on Translators | 741 |
| | Popular Editions | 747 |
Sample Pages
Volume-I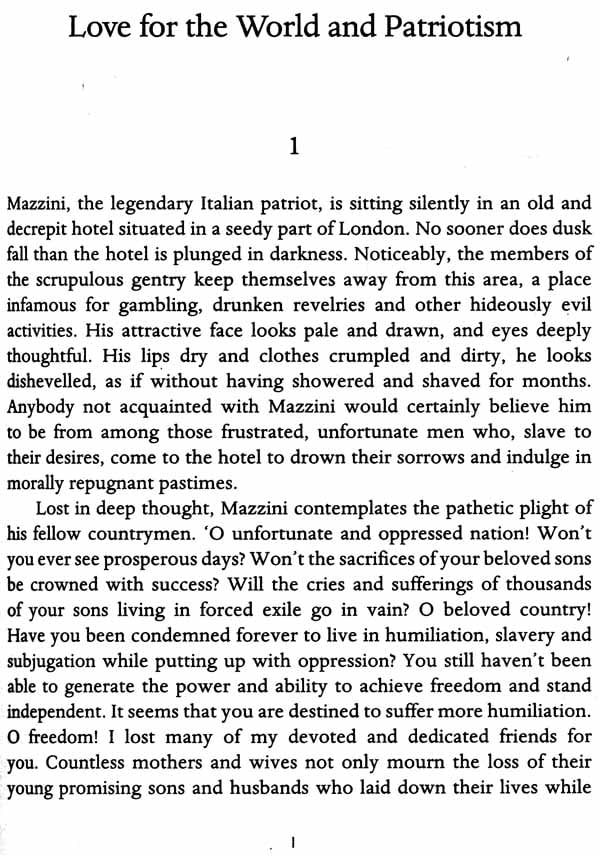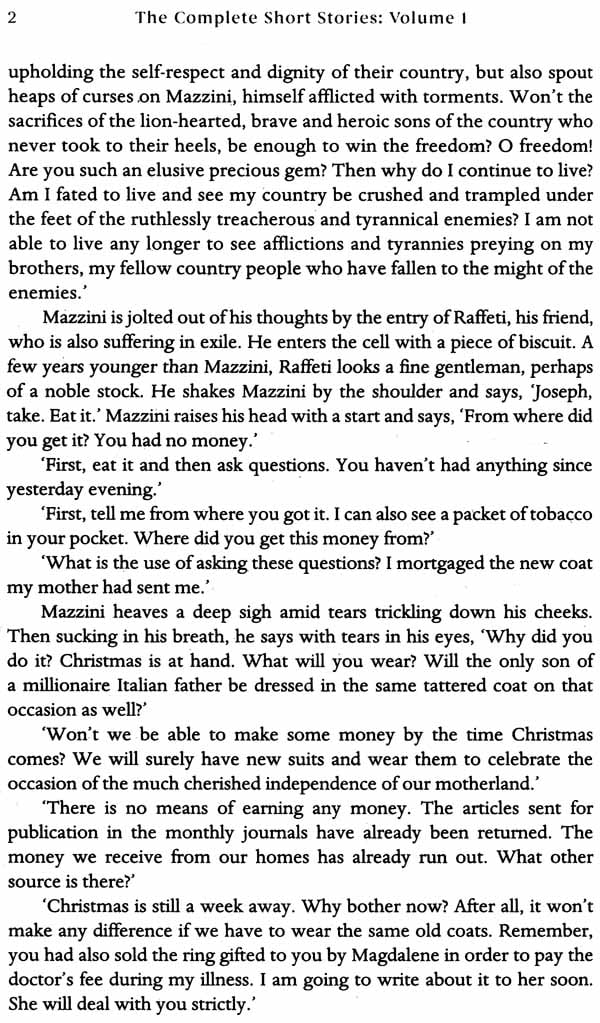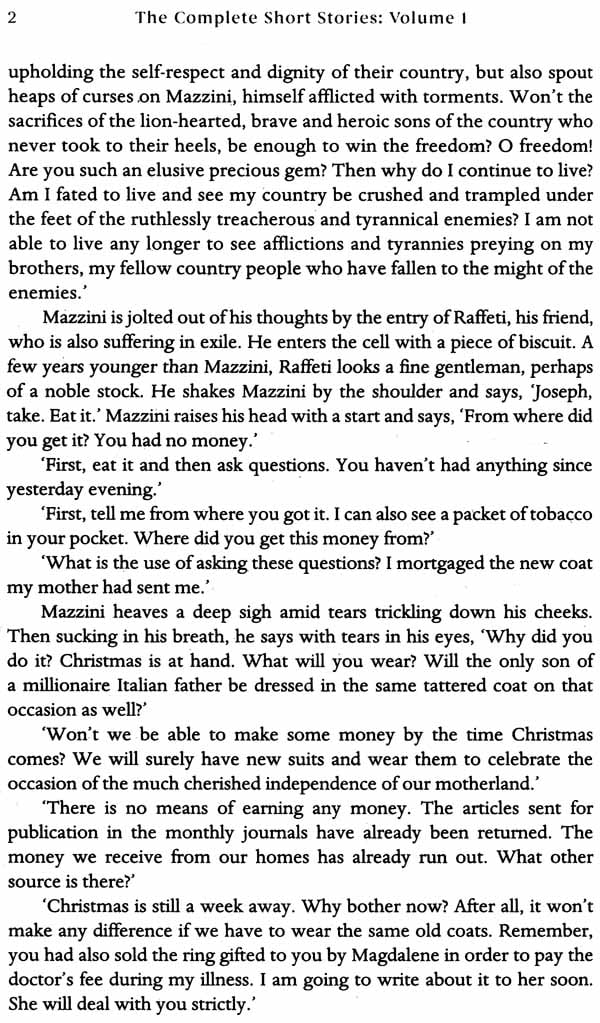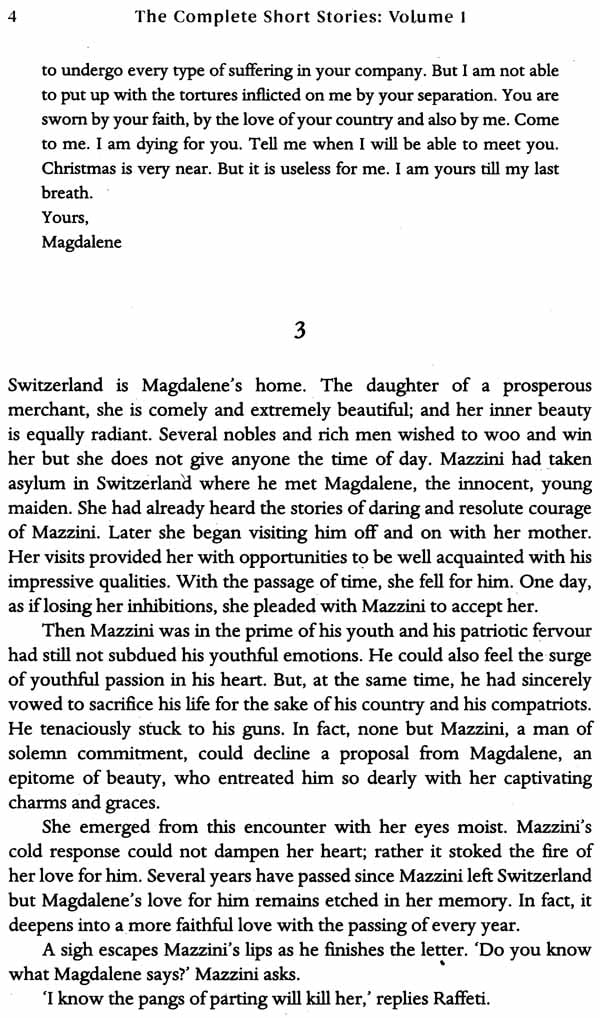 Volume-II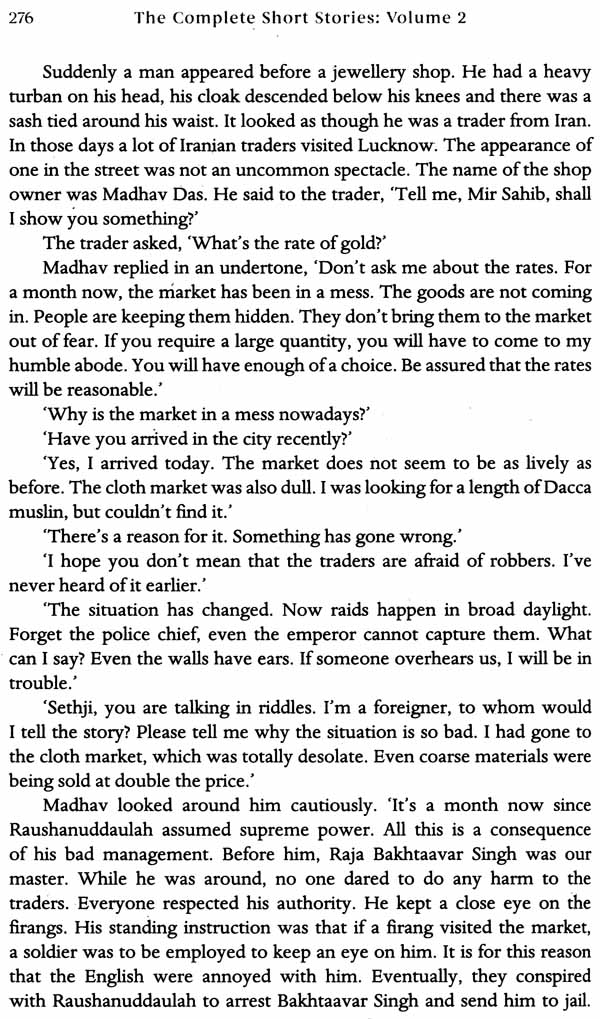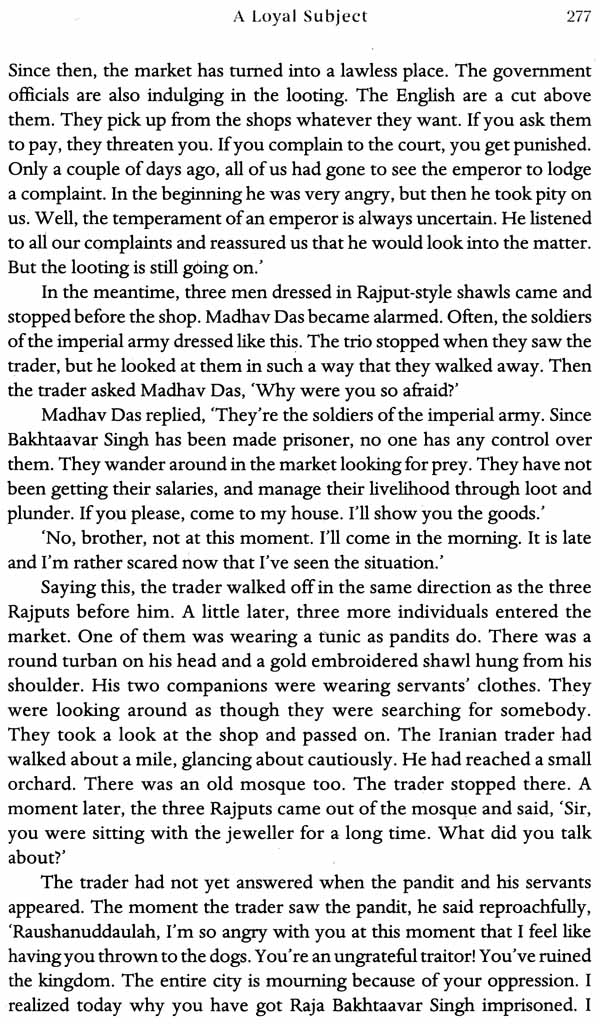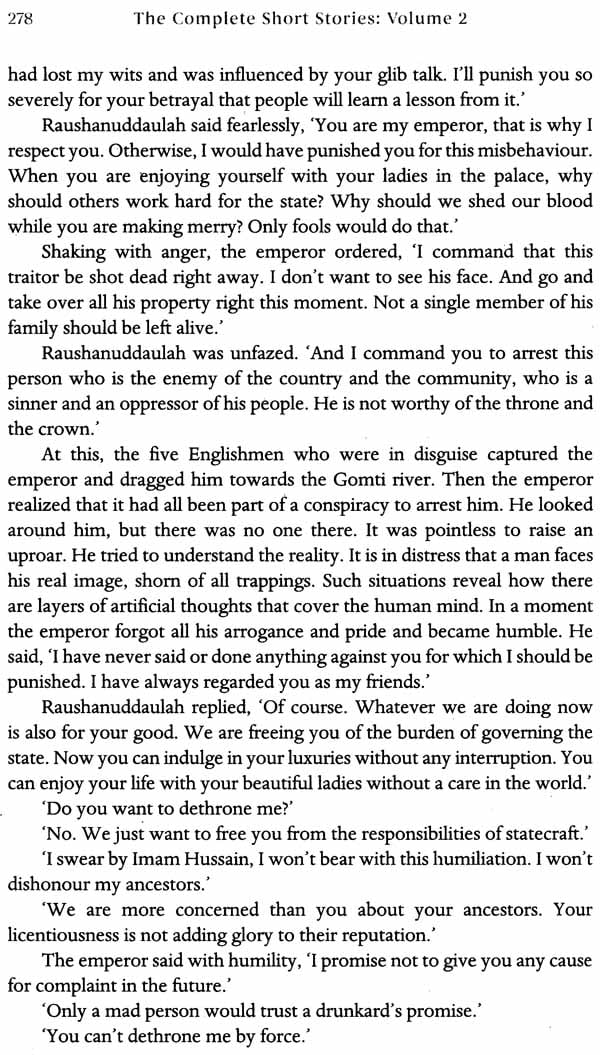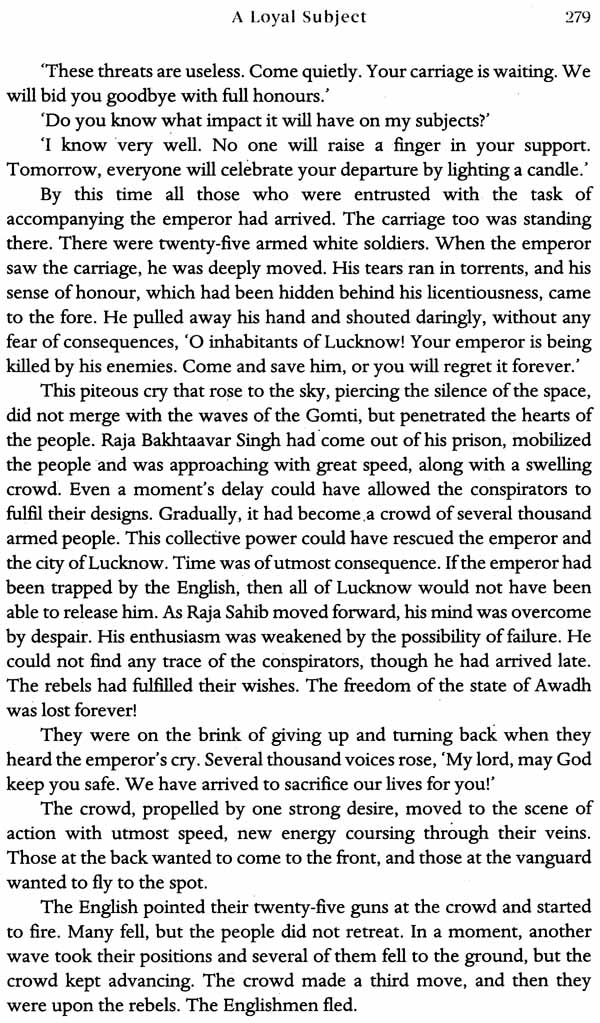 Volume-III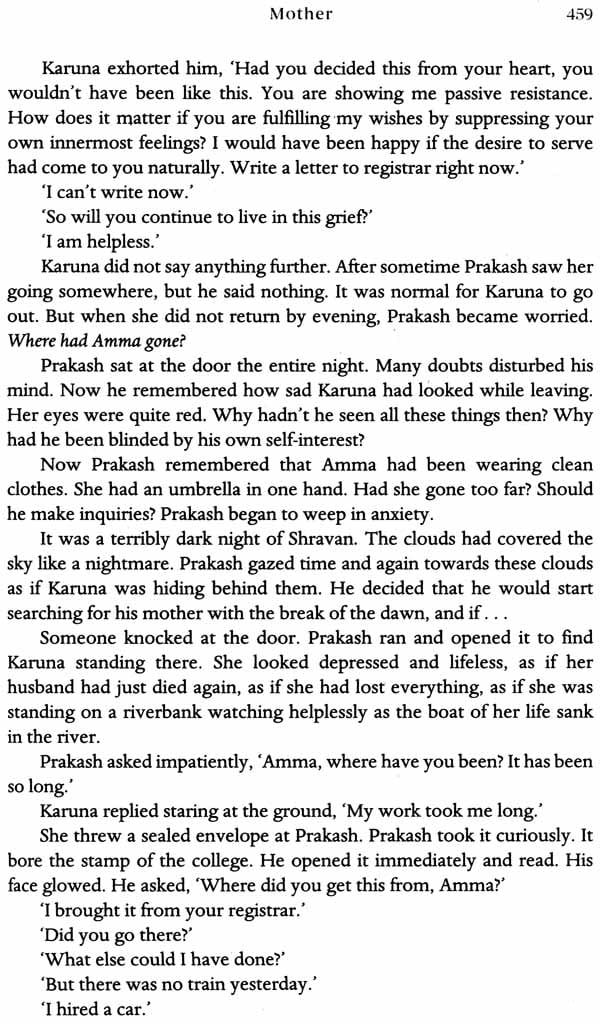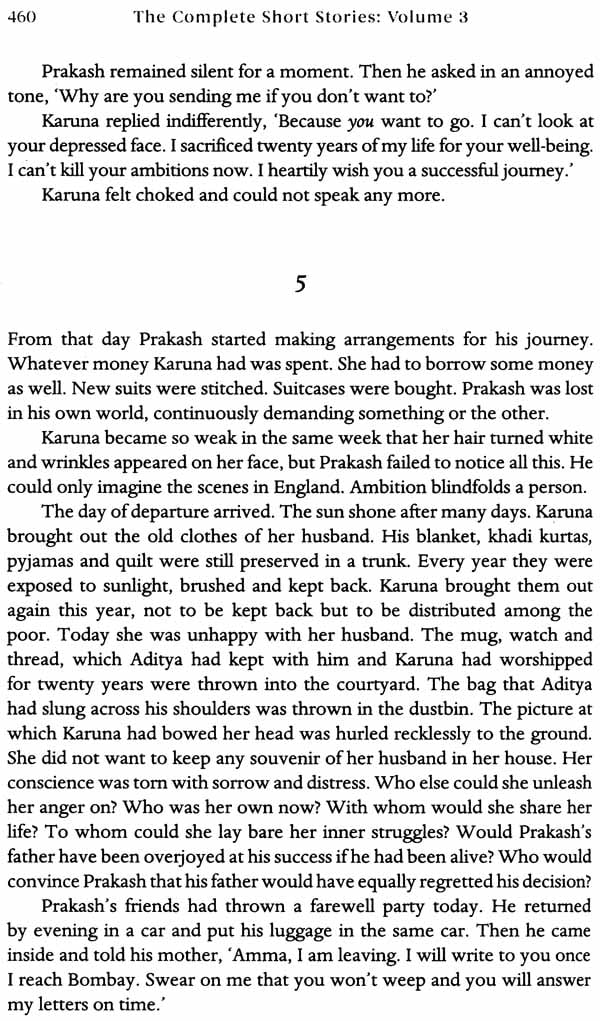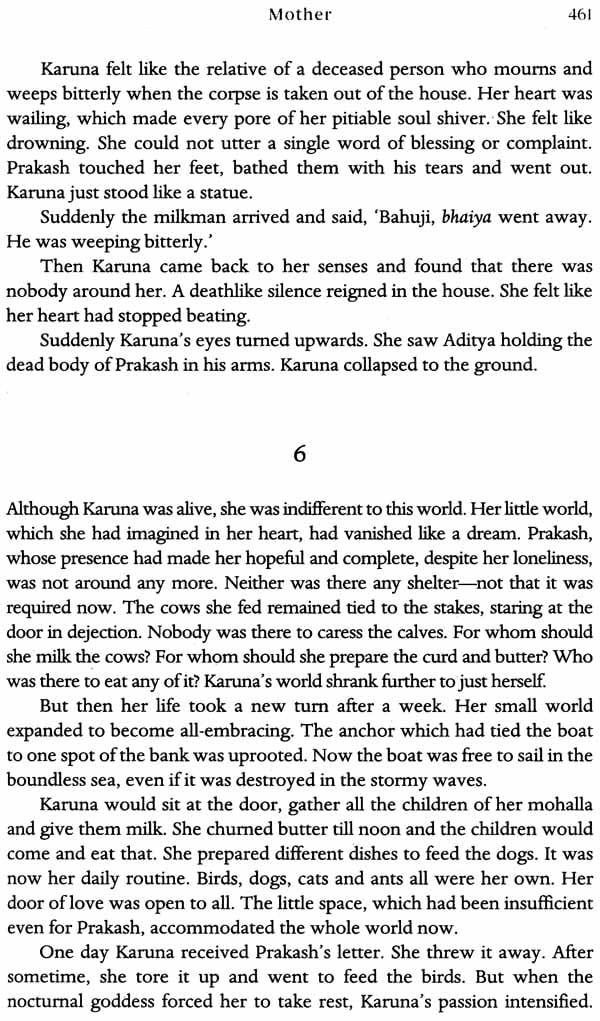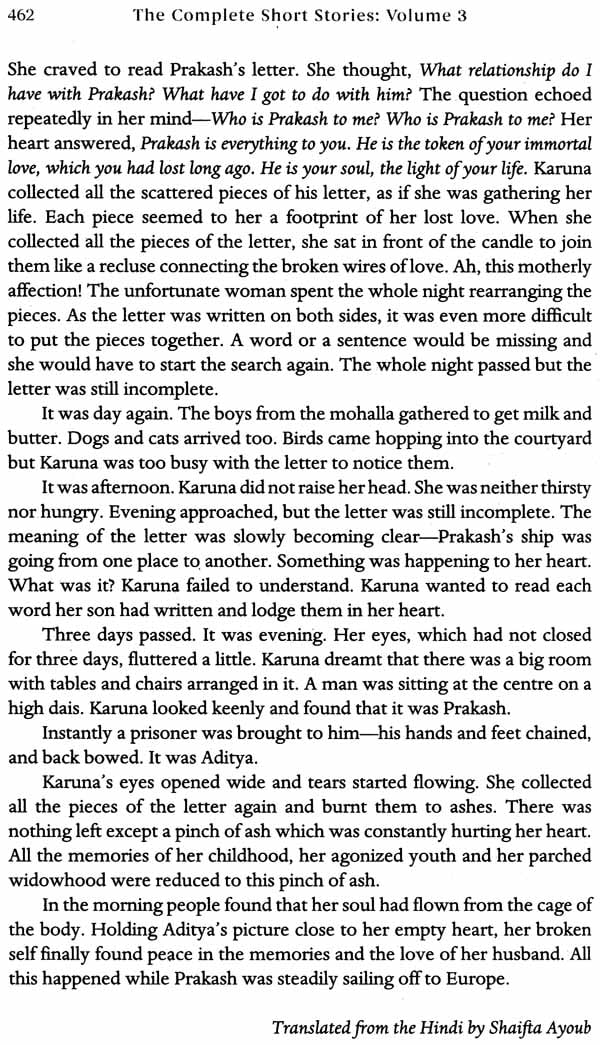 Volume-IV