Description
Back of The Book
It contains more than 20,000 head words and almost twice as many derivations, phrasal verbs and idioms.
All translations have been given in simple Hindi keeping in view the diverse needs of English language learners in India.
Instead of simple Hindi equivalents, descriptive meanings have given for most words.
Standard pronunciations of all headwords and, wherever necessary, of their derivations have been provided in easy-to-decipher Derivation phonetic alphabet.
Combination forms (with prefixes and suffixes) have been fully treated.
Words from science and technology have been given extensive coverage.
Many words have acquired new/additional connotations in Indian English. Such connotations have been taken note of and given along with the original meaning translations of words.
With all these features it is hoped that this dictionary will meet the expectations of not only young English learners, but also those who know the language but often feel the need to find but the precise meaning of words they encounter every day.
Preface
Lexicography has undergone a sea change during the last few decades. The driving force has been globalization which has made English a tryly global language. Technological advancements have further added to the importance of English as the medium of communication, especially with the advent of Internet. English has gradually become the most important link joining together cities, countries and continents. It is estimates that nearly 65 per cent of official business and interpersonal communication in the world is carried on through English. This has meant that those who use English as a second language far outnumber those whose mother tongue is English. The former naturally require dictionaries other than those in traditional style and format. New dictionaries in English (monolingual ones) have begun to lay greater tress on descriptive meaning and context of use rather than simple equivalents.
The bilingual dictionaries in India are yet to take note of these changes. Such changes, however, are imperative in view of the increasing use of English in India at all levels of communication.
In the light of the changing requirements of readers, this dictionary has incorporated the following features in it.
Pronunciation has been given in Devanagri script. Some special characters and diacritic marks have been introduced to handle some of the sounds not found in Hindi.
Technical terms have been explained in simple Hindi.
Hindi has borrowed, over the years, a lot of words from English and other foreign language. Such words have been given without unnecessary translations. Explanations have been added wherever necessary.
Many English words have come to different or additional meanings and specifically mentioned their Indian context. Original word meaning have, of course, been translated, too.
If a word meaning has gone out of currency, this fact has been mentioned.
We have tried to make this dictionary up-to-date in terms of lexicon but with English adding hundreds of words to its corpus every year, no dictionary can possibly claim to contain all the words in use at any time However, with over 60,000 references, it is hoped that this dictionary should be able to come up to the expectations of readers looking for a reasonably comprehensive English-Hindi dictionary.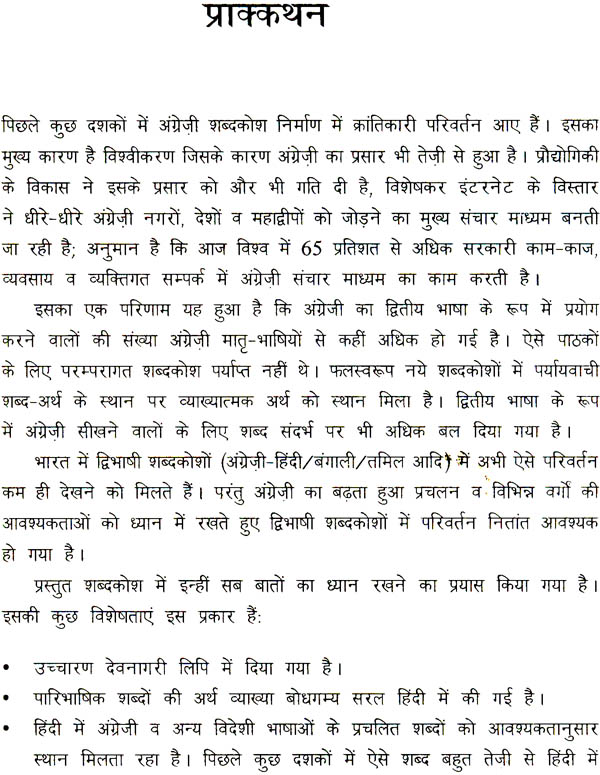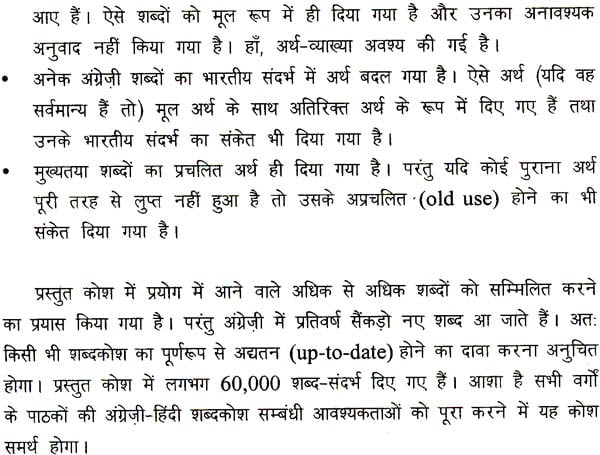 Sample Pages