Description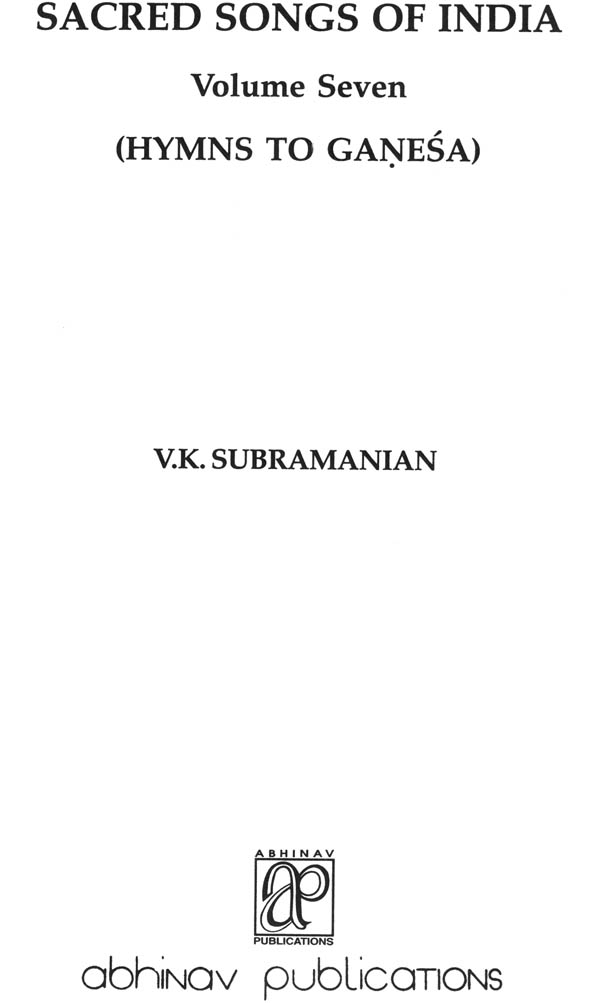 About the Book:
SACRED SONGS OF INDIA VOL.VII THE SACRED SONGS OF INDIA VOLUME SEVEN: HYMNS TO GANESA, THE DARLING DEITY makes a slight departure from the predecessor volumes.
Sacred Songs of India Volume One contained songs of mystics intoxicated with God in the form of Krishna or Rama.
Subsequent volumes have presented songs of saints obsessed with other images as well, like Siva, Sakti, Subrahmania, etc.
This volume presents the songs of sages on Ganesa, the darling deity.
The songs on Ganesa included in this volume span over twenty centuries; from Vedic period to the twentieth century.
They are also in diverse languages of India: Sanskrit, Hindi, Kannada, Marathi, Tamil, and Telugu.
The most ancient songs (in Sanskrit) are anonymous.
Songs whose authorship is identifiable are those of the poet saints; Agastya, the doyen of Tamil mystics. Veda Vyasa, the undisputed creator of the 18 puranas, Avvaiyar, known as the grandmother of Tamil literature and a God realized soul, Sankaracharya, the famous Vedantic philosopher form Kerala, the Maharashtra saints: Jnaneswar, Eknath, Tukaram and samartha armadas, the kanakadasa, the Tamil saints: Arunagirinathar, Oottukkadu Venkatasubba Iyer, Ramalinga Swamigal, Nilkantha Sivan, Harikesanallur Muthiah Bhagavatar, Paparasam Sivan, Subramania Bharati, Hindi poets: Tulsidas and Swami Brahmananda, Narayana Guru, the Kerala saint and Tyagaraja and Muttuswami Dikshitar, members of the Carnatic music Trinity.
The songs presented in this volume are a veritable ocean of devotion centred on the beloved image of God Ganesa.
Sacred Songs of India, Volume Seven, like its Predecessor volumes will be limitless repertoire for all artistes in music, drama and ballet.
About the Author:
Vadkaymadom Krishna Iyer Subramanian (b. 1930, Kerala, India) is an eminent scholar, whose life mission is to present to he world the treasures of ancient India, in the fields of art, literature, philosophy and religion.
He has already translated several ancient texts into English.
The include: Sundaryalahari, Sivanandalahari, Sacred Songs of India, Maxims of Chankya, Sri Rudraprasana, Wondrous Whispers of Wisdom from Ancient India.
As a consultant for holistic health and spiritual development, he has spelt out the Hindu regimens in this regard in his popular book: The Holistic Way to Health, Happiness and Harmony.
Subramanian's prolific literary output covers a variety of subjects ranging from astrology to art. He has been an astropalmic counselor for over 35 years.
A retired officer of the Indian Audit and Accounts Service (which he joined in 1953), Subramanian is also a reputed painter, who has held 22 one-men shows and whose paintings (some of them in the Chandigrah Museum) have won wide acclaim form leading art critics of India.
Subramanian who has traveled extensively in India, now lives in the United States of America.
CONTENTS
| | | |
| --- | --- | --- |
| Acknowledgements | 11 | |
| Apologia | 13 | |
| Introduction | 15 | |
| 1. | Ancient Songs of Invocation of Ganesa | 19 |
| 2. | Hymns by Agastya (2500 B.C.) | 51 |
| 3. | Hymn by Veda Vyasa (13th century B.C.) | 63 |
| 4. | hymn by Tirumular (3rd century-5th century A.D.) | 97 |
| 5. | Hymn by Avvaiyar (7th century A.D.) | 103 |
| 6. | Hymns by Sankaracharya (788-820 A.D.) | 123 |
| 7. | Hymn by Jnaneswar (1275-1296 A.D.) | 147 |
| 8. | Hymns by Arunagirinathar (15th century A.D.) | 153 |
| 9. | Hymns by Purandharadasa (1484-1564 A.D.) | 163 |
| 10. | Hymn by Kanakadasa (16th century A.D.) | 173 |
| 11. | Hymn by Tulsidas (1532-1623 A.D.) | 181 |
| 12. | Hymns by Tukaram (1608-1650 A.D.) | 187 |
| 13. | Hymn by Eknath (1533-1606 A.D.) | 195 |
| 14. | Hymns by Samartha Ramadas(1608-1681 A.D.) | 201 |
| 15. | Hymns by Shahju Maharaja (1684-1710 A.D.) | 207 |
| 16. | hymns by Oottukkadu Venkatasubba Iyer(1700-1765 A.D.) | 215 |
| 17. | Hymns by Tyagaraja (1684-1710 A.D.) | 227 |
| 18. | Hymns by Muttuswami Dikshitar (1775-1835 A.D.) | 235 |
| 19. | Hymns by Ramalinga Swamigal (1823-1874 A.D.) | 259 |
| 20. | hymns by Nilakantha Sivan (1839-1900 A.D.) | 285 |
| 21. | Hymns by Narayana Guru (1856-1928 A.D.) | 297 |
| 22. | Hymns by Swami Brahmananda (1863-1922 A.D.) | 309 |
| 23. | Hymn by Harikesanallur Muthiah Bhagavatar (1877-1945 A.D.) | 319 |
| 24. | Hymns by Subramania Bharati (1882-1921 A.D.) | 325 |
| 25. | Hymns by Papanasam Sivan (1890-1973 A.D.) | 345 |
Sample Pages