Description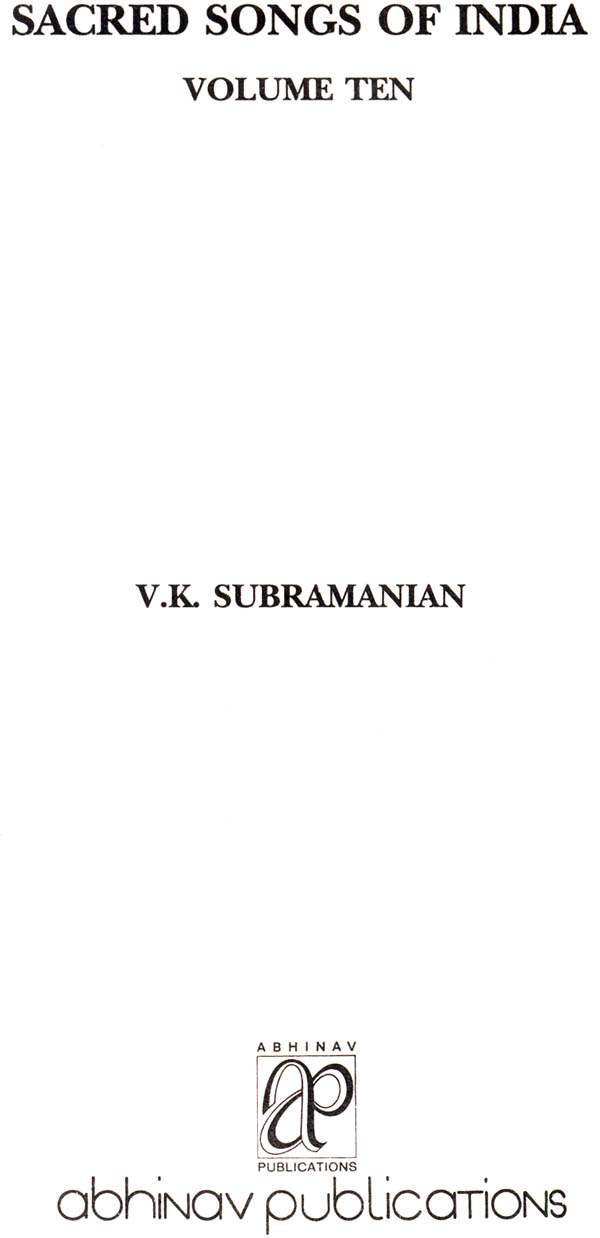 From the Jacke
The Sacred Songs of India Volume Ten, the concluding volume, in the ten-volume series compendium of devotional lyrics of the mystic poet-saint-musicians of India comprises selections from the following:
Ilango Adikal, the famed author of Silappadikaram, who probably lived in the 2nd century A. D., Ramanuja, the Vaishnavite saint who lived in the 11th century A. D., and preached the devotional philosophy of Visishta Advaita, Prativadi Bhayankara Acharya, the little known author of the famous prayer, Venkatesa Suprabhatam, recited daily at the Tirupati temple, Tunjat Exhuttacchan, the well-known poet saint of Kerala, who wrote the Adyatma Ramayana, Tayumanavar, the Saivite saint who lived in the 18th century, as also Arunachala Kavi Rayar, the composer of the Tamil opera Rama Nataka Kirtanas, who also lived in the 18th century, Muthu Tandavar, the Saivite saint, one of the Tamil Trinity, also of the 18th century, Ramalinga Swamigal, also known as Vallalar, the mystic social reformer who worshipped God as Effulgent light and preached universal compassion, who lived in the 19th century, Nilakantha Sivan, mystic music composer from Kerala, who also lived in the 19th century and Mysore Vasudevachar from Karnataka, of the 20th century, whose mellifluous devotional musical compositions made Rabindranath Tagore confer the title Sangita Kala Kovida on him.
Like the previous volumes, this concluding volume will prove an invaluable repertoire for all artistes in the fields of music, dance, drama and ballet.
About the Author
V. K. Subramanian is a U. S. based scholar and writer whose life mission has been to present to the world the wisdom of ancient Indian in the fields of literature, philosophy and religion.
He has to his credit over 20 published books.
These include: Sacred Songs of India (ten volumes) which deal with the devotional lyrics of the mystic saints from different parts of India, Maxims of Chanakya, dealing with ancient political wisdom, and the Holistic Way to Health, Happiness and Harmony, in which he has spelt out the regimens for holistic health and spiritual harmony. He has been an astropalmic counsellor for the last 10 years.
A former member of the prestigious Indian Audit and Accounts Service (which he joined in 1953 and served for 28 years), Sri Subramanian has held important positions in Government as Financial Commissioner, Nagaland, Accountant General, Haryana, Director of Audit, Indian Embassy, Washington, financial Adviser, Hindustan Zinc, Director, National Academy of Audit and Accounts etc.
Sri Subramanian is also a reputed painter, who ha held 23 one-man shows (some of them inaugurated by the president and Vice-President of India) and whose paintings (some of them in the Chandigarh Museum) have won wide acclaim from leading art critics of India.
Subramanian who has traveled extensively in India and abroad has been living in the United States for the last 19 years.
Introduction
The Sacred Songs of India Volume Ten brings to completion the compilation of devotional lyrics of the mystics of India which commenced in Sacred Songs of India Volume One.
When I started on this project, I had no idea that, thanks to help from diverse sources and many dear friends belonging to various parts of India, I would be able to cover a hundred mystic poet-saint-musicians of India.
I had mentioned at the outset, in my first volume, that my selection of songs and the mystics was arbitrary, incomplete and whimsical.
As saint Tyagaraja sang in one of his immortal songs, there are ever so many great spiritual savants in this blessed land, India, that it is impossible to select 100 saints and bring their life work within the compass of ten volumes.
There would be vital omissions due to the imperfections inherent in an individual selection, which is arbitrary, incomplete and whimsical.
I would like to recapitulate, for the benefit of my readers, the mystics whose devotional lyrics have been included in the previous volumes.
In Volume One, I had presented the sacred songs of: Andal, Jayadeva, Vidyapati, Kabir, Meera, Purandharadasa, Surdas, Tulsidas, Tukaram and Tyagaraja.
These songs spanned twelve centuries and covered various regions of India.
The Second Volume presented the sacred songs of: Manikkavachakar, Narsi Mehta, Jnaneswar, Annamacharya, Syama Sastri, Muttuswai Dikshitar, Swati Tirunal, Rabindranath Tagore, Subramania Bharati and Papanasom Sivan.
The Third Volume dealt with the songs of: Namdev, Arunagirinathar, Chaitanya Mahaprabhu, Kanakadasa, Sant Raidas, Bhadrachala Ramadas, Sadasiva Brahmendra, Narayana Teertha, Gopalakrishna Bharati and Pattanam Subramania Iyer.
In the Fourth Volume were included the songs of: Sundarar, Nammalwar, Basavanna, Lal Dev, Bilwa Mangal, Chandi Das, Guru Nanak, Eknath, Kshetrajna and Suddhananda Bharati.
Fifth Volume gave glimpses of the life work of: Perialwar, Tirujnana Sambandhar, Mahadevi Akka, Vallabhacharya, Dadu Daya, Poontanam, Narayana Bhattadir, Guru Arjan Dev, Samartha Ramadas and Ramprasad Sen.
In Volume Six, we saw the songs of: Veda Vyasa, Appar, Tirumangai Azhwar, Sankaracharya, Allama Prabhu, Guru Amar Das, Ras Khan, Shahji Maharaja, Oottukkadu Venkata Subba Iyer and Iriyamman Tampi.
Volume Seven making a departure from the set pattern became a compendium of sacred songs on Ganesa, the Darling Deity, comprising selections from anonymous ancient songs of invocation, Vedic and Upanishadic hymns and compositions of sages like Agastya and Avvaiyar, apart from some songs of saints included in other volumes of the Sacred Songs of India.
Volume Eight contained the songs of: Kulasekhara Perumal, Devara Dasimayya, Kalidasa, Tirumoolar, Guru Ram Das, Kamban, Appayya Dikshitar, Narayana Guru, Rahim and Bhima Bhoi.
Volume Nine presented the songs of: Pattinattar, Vedanta Desikan, Jana Bai, Bulleh Shah, Sankaradeva, Vedanta Desikan, Jana Bai, Bulleh Shah, Sankaradeva, Abhirami Bhattar, Guru Teg Bahadur, Karaikkal Ammaiyar, Vivekananda and Harikesanallur Muthiah Bhagavatar.
In this volume, Sacred Songs of India Volume Ten, I am including songs of Ramanuja, Prativadi Bhayankara Acharya, Ilango Adika, Ezhuttacchan, Tayumanavar, Arunachala Kavi Rayar, Muttu Tandavar, Ramalinga Swamigal, Neelakantha Sivan and Mysore Vasudevachar.
The mystics I have presented in these ten volumes came from different regions of India and sang in a variety of languages: Sanskrit, Tamil, Kannada, Marathi, Telugu, Assamese, Oriya, Kashmiri, Punjabi, various dialects of Hindi, Malayalam, Bengali and Gujarati.
Centuries separated them.
Veda Vyasa and Agastya lived several centuries before Christ. Ilango Adikal and Tirumoolar probably lived between the 2nd and 5th centuries A. D. Kalidasa, Karaikkal Ammaiyar and Kulasekhara Perumal lived in the 5th century A. D.
Perialwar, Tirujnana Sambandhar, Appar, Avvaiyar and Andal lived in the 7th century A. D.
To the 8th century belong: Sundarar and Tirumangai Azhwar.
To the 9th century, we can possibly assign: Manikkavachakar, Nammalwar, Sankaracharya and Kamban.
Devara Dasimayya and Pattinttar probably lived in the 10th century A. D.
Ramanuja lived in the 11 century.
During the twelfth century lived Jayadeva, Basavanna, Mahadevi Akka and Allama Prabhu.
Jnaneswar and Namdev lived in the 13th century.
During 14th century, we have: Vidyapati, Lal Ded, Vedanta Desikan, Bilwa Mangal and Jana Bai.
To the 15th century belong: Kabir, Chandi Das, Purandhara Dasa, Surdas, Narsi Mehta, Annamacharya, Arunagirinathar and Prativadi Bhayankara Acharya.
The 16th century witnessed the life and work of a large number of poet saints which included: Meera, Tulsidas, Chaitanya Mahaprabhu, Kanaka Dasa, Guru Nanak, Sant Rai Das, Sankara Deva, Dadu Dayal, Eknath, Ezhuttacchan, Guru Arjan Dev, Guru Amar Das, Ras Khan, Guru Ram Das and Rahim.
In the 17th century also there were several stalwarts like Tukaram, Guru Teg Bahadur, Poontanam, Narayana Bhattadiri, Samartha Rama Das, Bhadrachala Rama Das, Sadasiva Brahmendra, Kshetrajna, Appayya Dikshitar and Shahji Maharaja.
18th century also had a large number of minstrels like: Tyagaraja, Syama Sastri, Muttuswami Dikshitar, Tayumanavar, Muttu Tandavar, Oottukkadu Venkata Subba Iyer, Arunachala Kavirayar, Ram Prasad Sen, Narayana Teertha, Abhirami Bhattar and Bulleh Shah.
During 19th century, flourished: Swami Tirunal, Iriyamman Tampi, Gopala Krishna Bharati, Ramalinga Swamigal, Swami Vivekananda, Bhima Bhoi and pattanam Subramania Iyer.
In the 20th century, we had the giants: Rabindranath Tagore, Subramania Bharati, Suddhananda Bharati, Papanasam Sivan, Narayana Guru, Swami Brahmananda, Neelakantha Sivan, Harikesanallur Muthiah Bhagavatar and Mysore Vasudevachar.
Thus we have an unbroken line of mystics in India from several centuries before Christ to modern times.
As Prema Nanda Kumar, eminent scholar, wrote in the Hindu dated 16th September, 1997, reviewing Sacred Songs of India Volume One:
"The minstrels who swelled the Bhakti movement came from all classes and castes and they brooked no gender or language barrier. The distance between man and Deity was nullified. The incandescent love of the soul caught within the net of the physical body yearning for the Supreme was the recurring theme. And in due course this yearning became the true law of being. Each poet had his or her own style and a personalized approach to the Divine, but all glow with identical power, for this is the democracy of divine consciousness. All aspirants pray to the Lord with love, faith and devotion."
It is my hope that this ten-volume series of Sacred Song of India will be cherished as a valuable heirloom by the songs and daughters of India, wherever they live and to whichever generation they belong, for they are the proud inheritors of this invaluable legacy bequeathed by the mystics of India, who sang in God-intoxication, transmitting their ecstatic beatitude, which resulted from a personal spiritual communion with God.
If has been my privilege to have been able to present these songs on a common platter in a common global language, so that their savouring is not impeded by language barriers.
All imperfections in my presentation may be for-given, as also omissions of several saints and their sacred songs.
Contents
| | | |
| --- | --- | --- |
| | Acknowledgements | 9 |
| | Introduction | 11 |
| 1 | Songs of Ilango Adikal (2nd Century A. D.) | 17 |
| 2 | Songs of Ramanuja (117-1137 A. D.) | 33 |
| 3 | Songs of Prativadi Bhayankara Acharya (361-1454 A. D.) | 57 |
| 4 | Songs of Ezhuttacchan (16th Century A. D.) | 129 |
| 5 | Songs of Tayumanavar (1705 A. D.-1742 A. D.) | 143 |
| 6 | Songs of Arunachala Kavi Rayar (1712 A. D.-1779 A. D.) | 169 |
| 7 | Songs of Muttu Tandavar (18th Century A. D.) | 221 |
| 8 | Songs of Ramalinga Swamigal (1823 A. D.-1857 A. D.) | 275 |
| 9 | Songs of Neelakantha Sivan (1839 A. D.-1900 A. D.) | 299 |
| 10 | Songs of Mysore Vasudevachar (1865 A. D.-1961 A. D.) | 359 |
Sample Pages