Description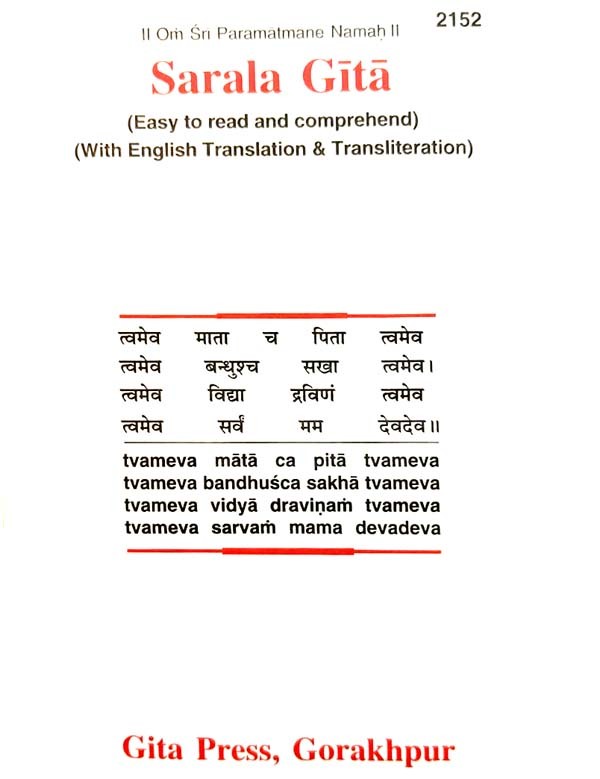 Publisher's Note
Srimad Bhagavad-Gita is a supernatural scripture, well-known worldwide. It is a boon of Lord Sri Krsna, imparted during Mahabharata war. Any annotation, commentary or exhibit of its mystry is a distant matter, even many people are not conversant with pronunciation of its couplets with purity. Inspired by the goodwill and with the blessings of Lord Sri Krsna, we have published "Sarala Glta". Our motto and efforts is to make it easy for such great people to recite hymns of Sri Gitaji with correct pronunciation.
While reading the 'Slokas' printed in two lines, make four parts of it, each of eight letters means eight letters complete one stanza. Similarly some Slokas are of four lines which should be made in four parts of eleven letters each. You will find a few stanza of nine or twelve letters also which should be enunciated as per printed colour only.
While counting the letters, half letter should not be considered and only full letters should be accounted.
To facilitate the common readers for perfect enunciation of Gitaji, difficult words of each stanza have been bifurcated with contractional marking and printed in two colours. This will enable you to get the syllables of each stanza in proper order.
Further to understand the correctness of the Slokas more easily, transliteration and translation have been given just below the Slokas.
We are sure that those who are willing to recite Gita will be benefited much with this altogether new concept and our objective will be accomplished.
Contents
| | |
| --- | --- |
| CHAPTER ONE | 11 |
| "The Yoga of Dejection of Arjuna" | |
| CHAPTER TWO | 26 |
| "Sankhyayoga"-The Yoga of Knowledge | |
| CHAPTER THREE | 51 |
| "Karmayoga"-The Yoga of Action | |
| CHAPTER FOUR | 66 |
| The Yoga of Knowledge as well as the Disciplines of | |
| Action and Knowledge | |
| CHAPTER FIVE | 81 |
| The yoga of Action and and Knowledge | |
| CHAPTER SIX | 92 |
| The yoga of Self-Control | |
| CHAPTER SEVEN | 109 |
| The Yoga of Jnana and Vijnana | |
| CHAPTER EIGHT | 120 |
| The Yoga of Imperishable Brahma | |
| CHAPTER NINE | 131 |
| The Yoga of Sovereign Science and Sovereign Secret | |
| CHAPTER TEN | 144 |
| The Yoga of Divine Manifestations | |
| CHAOTER ELEVEN | 159 |
| The Yoga of the Discrimination between the Ksetra | |
| and the knower of the three Gunas | |
| CHAPTER TWELVE | 184 |
| The Yoga of Devotion | |
| CHAPTER THIRTEEN | 191 |
| The yoga Discrimination between the Ksetra and | |
| the knower of the Ksetra | |
| CHAPTER FOURTHEEN | 204 |
| The Yoga of Divine of the three Gunas | |
| CHAPTER FIFTEEN | 214 |
| The Yoga of Supreme Person | |
| CHAPTER SIXTEEN | 223 |
| The Yoga of Discrimination between the godly and | |
| demoniac properties | |
| CHAPTER SEVENTEEN | 232 |
| The Yoga of Division of three kinds of faith | |
| CHAPTER EIGHTEEN | 242 |
| Moksasannyasa yoga | |
Sample Pages