Description
About The Book
Pulse examination is a special part of Ayurvedic Clinical examination. This is a very minute and complex method of examination. Prolonged experiences of Ayurvedic physicians regarding pulse examination can be traced in various Ayurvedic texts. The knowledge scattered in different texts is gathered in this book in chronological order. Various topics regarding pulse such as philosophy, methodology, basic principles of pulse examination, effect ofeteology on pulse, specific movement of pulse during vatiation of doshas and during various dis- eases have been discussed in this book. There is an independent chapter regard- . ing prognosis.Recent discoveries regard- ing pulse examination have also been discussed in this book in order to give this book a scientific appraoch towards recent medical science.
A Clinical approach has been given to various controversial topics in order to give a clear understanding of these topics.The book also discusses various aspects of pulse examination in other medi- cal systems.
About The Author
Vaidya G. P. Upadhyay is presently in Shri Ayurved College, Nagpur. He is a practicing Ayurvedic physician with several works on Ayurveda to his credit.
Preface
After the publication of my 'Siddhida' Hindi Commentary, on Ravana's 'Nadi Pariksha' many scholars advised me to write an independent text on pulse examination. While translating or writing a commentary, a writer is bound within certain limitations. One has to abide by the chronological order present in the original text. The books which are available today on pulse examination show a lack of uniformity and order. Hence keeping the above factors in mind, the book 'Science of Pulse Examination' is dedicated to the world of Ayurveda.
'Nadi Pariksha' or pulse examination has been synonymous with diagnosis in Ayurveda. Whenever a patient goes for consultation to a physician, he says, 'I am going to the physician for pulse examination.' Surely this science might have developed and enjoyed acceptance in masses. History bears testimony to it in ample measure.
The fact cannot be denied that a planned attempt was made to destroy the Ayurvedic science along with other Indian traditional arts during alien rules. In comparison to the popularity of pulse examination, utility in clinical practice, prevalent, available literature is rare. The increasing tendency in modem diagnostic techniques, the uncertainity and the high cost involved in the modem science again directed the attention of medical world towards the science of pulse examination'. Responding to the need of western medical world, the book is being presented in English. 'Science of Pulse Examination.' Emphasis is given to practical approach based on experiences with comprehensive compilation of ancient references and scientific presentation. This book is an humble attempt in this direction
There are different opinions in Ayurveda itself regarding 'Pulse Examination'. According to some scholars pulse examination is very authentic and useful in practice but some others have an opinion that there is exaggeration in this regard, and it has limited diagnostic scope. Rational analysis brings us to the following conclusion:
1. This science has survived through ages even in adverse circumstances which proves the utility of this science.
2. Even if we leave apart the historical evidence and the epigrams, many persons have themselves seen the senior Ayurvedic physicians diagnosing accurately with pulse examination alone. Not only this, with the help of pulse examination they have been able to state the outstanding facts of patients' personal history aetiopathogenesis, psychological condition, prognosis of the disease, etc. This. underlines inadequancy in human competence rather than science itself.
3. Pulse examination is necessary for the poor, dumb, deaf, lunatic, and imbecile patients, for immediate diagnosis, in developing regions.
4. It is imperative to accept the rationality of science of pulse examination not only for the welfare of the society but medical science as well.
5. There is a need to develop the science of pulse examination with new interpretations,
It is my fortune that Shri Yd. Tarashanker Mishra author of the famous book 'Nadi Darshan' and Shri Vd. Vishwanath Dwivedi, author of ' Abhinav Nadi Tantra' have been my gurus. It is my privilege that I had the opportunity to learn this science from Shri vd. Kashinath Shastri and Shri Vd. Yadunandan Upadhyay a direct disciple of V d. Satyanarayan Shastri. The blessings of these Acharyas are real treasure in my life. I am deeply indebted to them. I am indeed grateful to Prof. R.H. Singh (B.H.U.) for his Foreword.
In my maiden attempt to author a volume on Pulse Examination in English deficencies are unavoidable. I look forward to criticisms and suggestins from readers for corrective measures in next edition, which would be gratefully acknowledged.
I am thankful to Miss Vandana Savant and Miss Manju Mishra for their kind cooperation in preparation of this manuscript.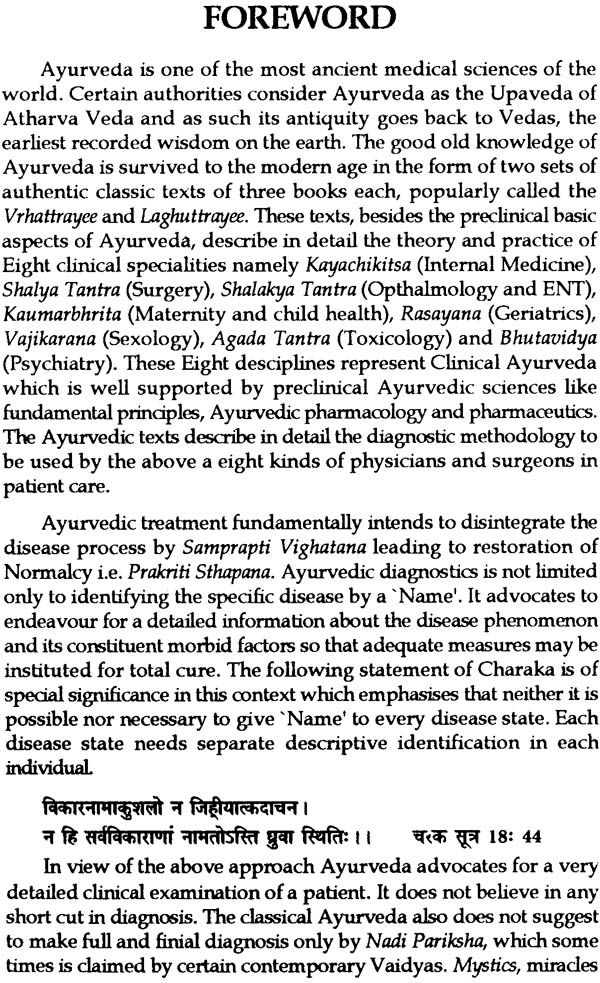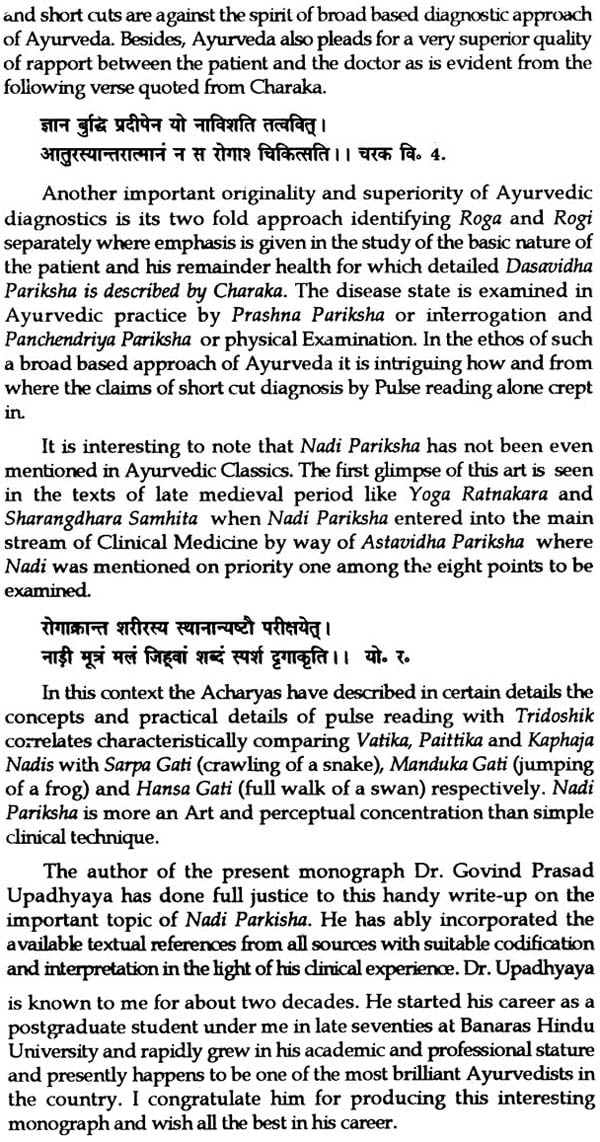 Contents
| | | |
| --- | --- | --- |
| | Preface | v |
| | Foreword | ix |
| 1. | Science of Pulse Examination | 1 |
| 2. | Methdology of Pulse Examination | 5 |
| 3. | Sites of Pulse Examination | 13 |
| 4. | The Importance of Jeev-Naadi | 15 |
| 5. | Sources of Naadi Gyaan | 17 |
| 6. | Fundamentals of Pulse Examination | 20 |
| 7. | Method of Palpation (Sparshan Vudhi) | 27 |
| 8. | Doshas and Pulse Beat | 31 |
| 9. | Specific Movements | 33 |
| 10. | Effect of Agni on Pulse | 38 |
| 11. | Effect of Diet on the Pulse | 40 |
| 12. | Diseases and Pulse beat | 49 |
| 13. | Assadhyata Soochak Naadi Gati (Pulse indicating incurability) | 78 |
| 14. | Disease Curability lnspite of Arishta Symptoms | 85 |
| 15. | Unani Methodology of Pulse Examination | 87 |
| 16. | Pulse Examination in Modern Medicine | 96 |
| | Terminology of Pulse Examination in Ayurveda | 102 |
| | Scientific Terms in Pulse Examination | 104 |
| | Bibliography | 105 |
Sample Pages