Description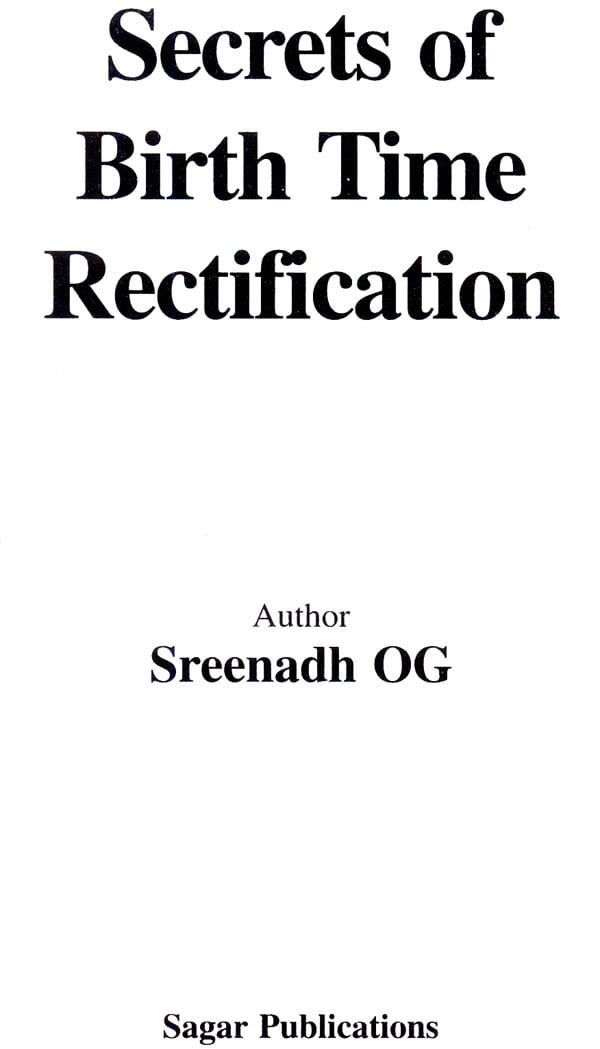 Preface
This is a book that tries to present all the available ancient birth rectification methods in a systematic manner. Most of the things I have learned about ancient Birth Time Rectification methods are included. I hope that the information this book provides would be useful to the astrology students and scholars alike. I have sincerely approached this subject and shared with you all what I could collect and understand.
This is my first book in English. I have published 4 books in my mother tongue Malayalam, but definitely getting a book published in English, that too through the very reputed publishers like Sagar Publishers is a real pleasure. I am thankful to Sagar Publishers for undertaking this task, and fulfilling it beautifu11y.
. I am dedicating this book to all those who are in search of real essence of ancient Indian astrology, its history, origin and originality.
CONTENTS
| | | |
| --- | --- | --- |
| I | INTRODUCTION | 1 |
| | Time | 1 |
| | The eternal time | 2 |
| | The divisible time | 3 |
| II. | Which is the correct Birth time? | 5 |
| | The time at which placenta breaks | 6 |
| | Head if Asc is Seershodaya etc | 8 |
| | The time at which Head, Feet or Hand comes out | 9 |
| | The time at which umbilical cord is cut | 10 |
| | The time at which the child takes the first breath | 11 |
| | The time of first cry of the child | 12 |
| | The time of conception | 12 |
| | The time at which the forehead is seen | 15 |
| | The time at which the child touches earth | 18 |
| | Any moment which is strongly related to native | 16 |
| III | Rhythm of Day | 20 |
| | Ahoratra or vara | 21 |
| | Divisions of Ahoratra | 22 |
| | Yama | 23 |
| | Kshenika Graha (Momentary influence) | 27 |
| | Rise of Gulika at the beginning of Gulika span | 31 |
| | Rise of Mandi | 33 |
| | Gulika and Mandi | 34 |
| | Odd-Even divisions of Yama | 36 |
| IV. | Birth time Rectification Methods | 42 |
| | Pancha Tatva Method | 42 |
| | Kunda (Navamsa-Navamsa) | 46 |
| | Multiplication Method | |
| | Navamsa-Dwadasamsa and Birthtime | 58 |
| | Varga Chatushtaya method and birth time | 61 |
| | Gulika and birth time | 67 |
| | Longitude of Sun and birth time | 72 |
| | Khati-Vikhati at birth time and BT rectification | 75 |
| | Week day of birth and BT rectification | 76 |
| | Sookshma Lagna and BT rectification | 77 |
| | Nadi Astrology and BT rectification | 80 |
| | Pranapada and BT rectification | 84 |
| | Other methods | 86 |
| | Conclusion | 86 |
| V. | Birth time Rectification Example (Case Study) | 88 |
| VI. | Time of Intercourse and an Example for BT determination by Bhattolpala | 103 |
| | Bibliography | 111 |
Sample Pages