Description
About the Book:
The book is chiefly a record of the activities of Shri Rama, the eldest son of King Dasaratha of Ayodhya (Oudh) in North India in the Treta-yuga. It is commonly believed that Shri Rama incarnated as such with the objective of getting the world rid of the menace of Demon King Ravana of Lanka (Ceylon).
In reality Shri Rama's long fourteen years of exile from Ayodhya, Capital of king Dasaratha's Kingdom (Oudh), was not only for the extermination of Demon King Ravana of Lanka.
The record of Shri Rama's life story during the period of his long fourteen years of exile ending with his victory over Ravana and also establishment of friendly relationships with various forest kingdoms extending over south India and Ceylon shows that his life's mission was mainly the establishment of cordial relationships for India with various territories and peoples in essence to show that man should be able to live in the world as friend to as large a number of people as possible.
And Shri Rama has shown that this is not only possible but salubrious for the peoples of the world at large.
About the Author:
The author, Shri Gananath Das, retired from the Indian Administrative Service in the year 1972. Since then he has engaged himself in the study of various saint poets staring with the famous saint poet, Kabir Das, of the 15th century A.D.
On Kabir his works include Life and Philosophy of the Saint Poet in Oriya, and translation of five hundred of his couplets in English Verse, in three volumes: the first of one hundred published by the Bharatiya Vidya Bhavan of Bombay in 1992, the second of three hundred published by Motilal Banarsidass of Delhi in 1991 and the third of one hundred published by Writer Workshop of Calcutta in 1992, followed by Sayings of Kabir published by the same publisher in 1993.
In 1992 he published his translation of one hundred songs of Guru Nanak Dev as Nanak Satak in Oriya and 100 Love songs of Kabir in English Verse which was published by Abhinav Publications of New Delhi.
In 1994 he published his Oriya Verse translation of the entire Thiru Kural, the immortal work of the Tamil Saint Poet Thiru Valluvar, consisting of 1330 couplets in 133 chapters.
In 1994 he published his Essays on Kabir published by the Writers Workshop of Calcutta consisting of indepth studies of the Saint Poet's Sayings on as many as 22 topics.
In the meantime he has completed his "Readings of Bhagabata", being English Verse translation of over 150 Sayings of the famous scripture originally composed by Vyasa Deva and translated into Oriya Verse by Saint Poet Jagannath Das of 'Pancha Sakha' fame.
Preface
After meddling with "Mahabharata", the- outstanding Epic of India to enlist what lessons we learn from it, I do not know how my attention was drawn to its elder brother in age, to eke out what the eminent Bhakti poet Goswami Tulasi Das has given to the Devanagari knowing world in the treasure of the narrative-cum-didactic poem entitled "Shri Rama Charita Manas" which is called his "magnum opus".
The scripture is woven round the life story of Shri Rama, eldest of four sons of king Dasaratha of Ayodhya situated in the ancient Kosala Kingdom of India.
The scripture "Shri Rama Charita Manas" is divided into seven cantos, namely - Bala Kanda, Ayodhya Kand, Aranya Kand, Kiskinda Kand, Sundar Kand, Lanka Kand and Uttar Kand.
In brief the story runs thus: King Dasaratha had four sons to his three queens Kousalya, whose son was Rama, the eldest; Kaikeyi the second whose son was Bharata the second; and Sumitra the third who had two sons, Lakshmana and Satrughna the two youngest.
As the sons grew up, they had their education in scriptures and military crafts under guidance of the great sage Vasistha, their preceptor. Then they started helping father Dasaratha in the affairs of the state to gain practical knowledge in statecraft.
In the forest region of Kosala kingdom which comprised of the Dandakaranya area, demons lived in large number who used to harass and often devour the saints and defile the sacrificial practices in hermitages dotted all over the forest.
Once sage Viswamitra visited king Dasaratha and requested him to spare sons Rama and Lakshmana to help the sages to ward off the demon menace to them. The demons owed their allegiance to the Demon King Ravana of Lanka and lived under his suzerainty. They harassed and devoured the innocent saints and sages frequently.
Accordingly Rama and Lakshmana accompanied sage Viswamitra. On their way to sage Viswamitra's hermitage, Rama slayed some demons such as Tadaka the demoness and Srupanakha the sister of Ravana on sojourn in Dandak who was made to lose her ear and nose by Lakshmana.
At sage Viswamitra's hermitage news reached them about the Swayambara ceremony going to be held at Janakpuri of king Janaka's daughter, Shri Sita. They proceeded there to see the ceremony.
The princes and kings who came to join the contest as suitors were required to break the great bow of Shiva, but even could not lift the huge ancient bow of Lord Shiva. The Swayambara was going to be foiled due to that. Sage Viswamitra permitted Rama to try to lift and break the bow. Rama did it easily and qualified to win the hand of Shri Sita the bride.
King Dasaratha, all the queens and brothers Bharata and Satrughna and counsellor Sumantra etc. were informed and invited by king Janaka to attend the ceremony. They did. In a joint meeting of kings Dasaratha and Janaka it was decided that the three sisters of Shri Sita would be given away in marriage to the three remaining brothers of Shri Rama. Accordingly the marriages of all four brothers were performed and solemnised.
On return to Ayodhya king Dasaratha resolved to perform "Abhiseka" of Shri Rama to anoint him as "Yubaraja" or successor to the throne of Ayodhya after him.
In the meantime, Manthara the vile maid of queen Kaikeyi insinuated with Kaikeyi to ask for the two boons that king Dasaratha owed to Kaikeyi. She chose to ask for them then and there for Bharata to be anointed as Yubaraja in place of Rama and Rama to go on exile of an unbroken period of 14 years with immediate effect. King Dasaratha tried to persuade queen Kaikeyi to refrain from insisting on that. But Kaikeyi was too adamant and stuck to her demand. Shri Rama on hearing of this was gladly ready to under-take the exile accompanied by Lakshmana and Shri Sita who persuaded father Dasaratha and all the mothers to accompany Shri Rama.
Bharata had gone to visit the maternal uncle, king of Kekaya territory. When Shri Rama went out on the exile accompanied by Lakshmana and Shri Sita, king Dasaratha received a rude shock that made him bed ridden and in course of days, he breathed his last in bereavement of Shri Rama.
Guru Vasistha took immediate step to send for Bharata and on return he was extremely sorry to hear of the deplorable developments. He spurned the idea of being anointed as Yubaraja and proposed to visit brother Rama in the forest to persuade him to return.
Accompanied by all mothers, brothers and large number of Ayodhya citizens, Guru Vasistha and others, a huge deputation followed Bharata to the forest to meet Shri Rama, Lakshmana and Sita and to persuade Shri Rama to cut short the exile and return. King Janaka of Bideha father of Shri Sita on hearing of the developments also went to Chitrakuta to meet all of them.
After great deal of discussion it was agreed to leave the decision to Shri Rama. He held that father Dasaratha's decree about the exile and Bharata's taking charge of Ayodhya affairs should be followed in letter and spirit, now that father was no more. Bharata begged for brother Rama's wooden sandals (Kathau) which he carried on his head to Ayodhya to represent Shri Rama on the throne of Ayodhya till Shri Rama's return from exile. Bharata would worship the sandals and manage the affairs of the state on the advice of Guru Vasistha, counsellor Sumantra, etc. during the period of absence of Shri Rama, it was decided.
In the meantime, while Rama, Lakshmana and Shri Sita were at Panchabati on exile Ravana, king of Lanka, abducted Shri Sita in the absence of both Rama and Lakshmana from their leaf hut at Panchabati.
With the help of Nala and Nila two expert craftsmen of Monkey tribe and hordes of monkey and bear workers the floating bridge to Lanka was completed in record time and the army of monkey and bear soldiers crossed over to Lanka.
There was severe fighting between the demon and monkey soldiers in which Ravana was killed with all his sons and supporters. His younger brother Bibhisana was anointed successor to Ravana and enthroned in a ceremony attended by Shri Rama, Lakshmana and Shri Sita.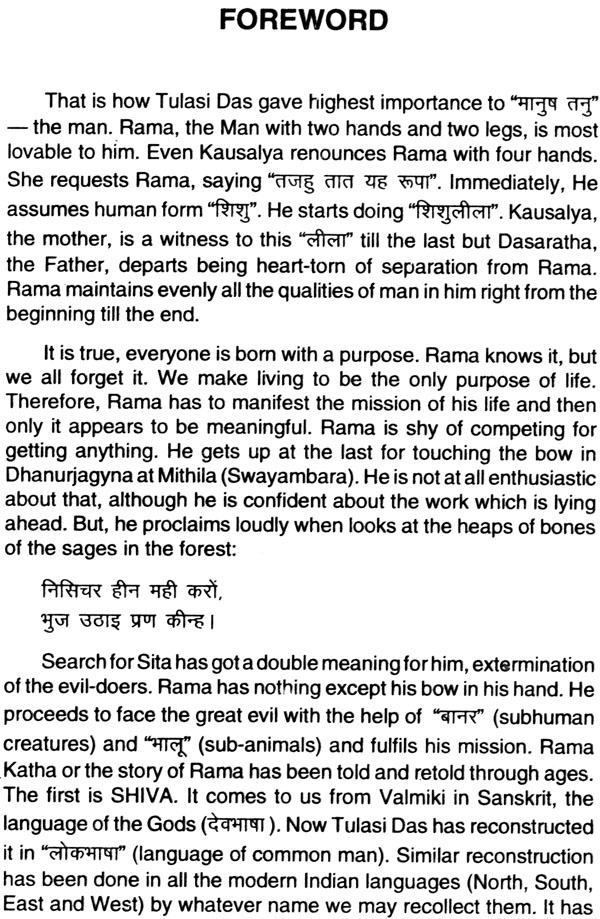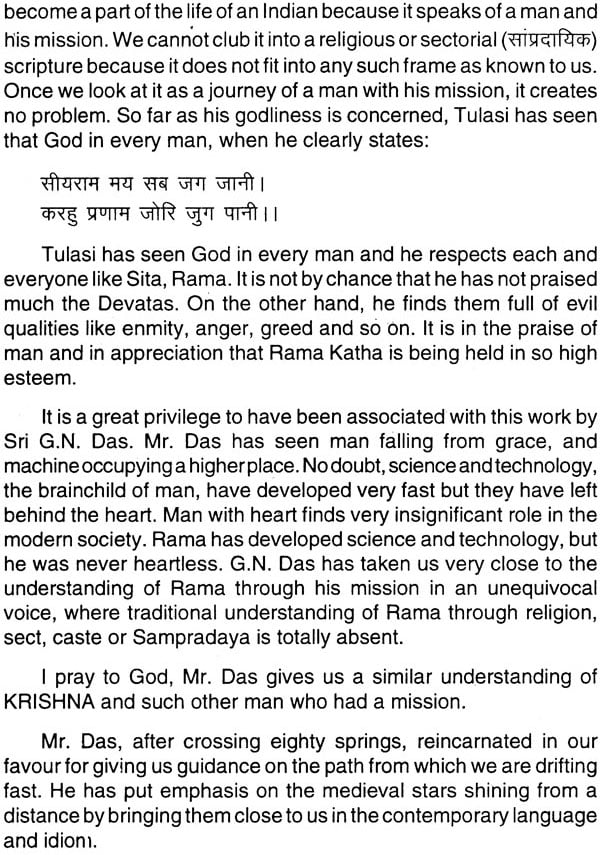 CONTENTS
| | | |
| --- | --- | --- |
| | Foreword | 7 |
| | Preface | 9 |
| | Massage | 15 |
| | Acknowledgements | 16 |
| I | Prologue | 17 |
| II | Background | 23 |
| III | Marriage | 25 |
| IV | Exile | 29 |
| V | Sringaberapura | 39 |
| VI | Chitrakuta | 43 |
| VII | Panchabati (Abduction of Shri Sita) | 61 |
| VIII | Search for Shri Sita | 68 |
| IX | March to Lanka | 78 |
| X | The Great Battle (Fall of Ravana) | 86 |
| XI | Return to Ayodhya | 93 |
| XII | Coronation of Shri Rama | 96 |
| XIII | Rama Rajya | 99 |
| XIV | Conclusion | 107 |
| | Glossary | 111 |
Sample Pages