Description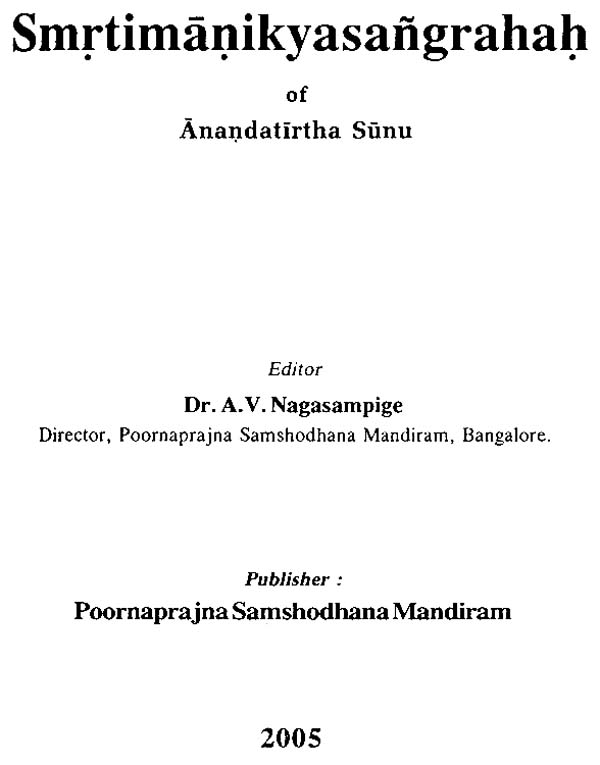 Smruti-Manikya Sangraha
"Sadachara Smruti" or a compendium of religious codes is one of the important works of philosopher-saint Sri Madhvacharya, who propounded realistic school of philosophy on the monotheistic bedrock of sacred Vedic literature. This work is composed with an objective to lay strict guidelines on daily life and activities of spiritual aspirants from an orthodox stand point. About 5 to 6 commentaries of this work are available in print today. A hitherto unknown commentary written in metrical verses was brought to light recently. This commentary throws fresh light on the original "Sadachara Smruti." Some of the explanations found here are very useful for the right understanding of the original work, which are not found in the commentaries published so far. The author of this metrical commaentary on "Sadachara Smruti" does not give us any detail about himself expect saying that he is a son of one Anandathirtha belonging to kagaluru family. Self-denial of the author is noteworthy here. I have attempted to give a brief resume of the important topics discussed in this wonderful metrical commentary for the benefit of the readers.
Metaphysical dependence on Sri Hari
All living being in this universe right from a blade of grass to Chaturmukha Brahma are metaphysically dependent on Sri Hari and no commerce of life is possible on this earth without His grace. Acceptance and assimilation of food by all living being is possible due to indwelling God residing in them. They can speak and hear only when He impels the respective faculties of living being to do so. To sum up, no act on the part of the living beings is possible without God desiring it. Human bondage is thus due to arrogation of doership upon himself without realizing that it in actual fact belongs to Him. God is all doer and independent without a peer and/or superior. Emancipation from the cycle of life and death enveloped in misery is possible only when God is meditated upon as an independent all doer. Awareness of his inscrutable power behind the states of living beings viz. from waking to deep sleep and back to waking state is also important. Performance of duty without desiring fruit thereof not only brings about right knowledge but also takes souls to eternal upliftment.
Six steps of mandatory righteous duty
Six steps are necessary for any duty enjoined in the scriptures or even secular duties to be consummated to its fulfillment:
1) Proper understanding of the scriptures [Apaurusheya and paurusheya]
2) Belief in one's own way of life [Shradde]
3) Being in the company of noble men
4) True devotion towards God
5) Eschewing selfishness and egotism
6) Assiduously following rules and regulation as enjoined in the scriptures
There is a necessity for five sub-steps for the above to stay on a firm foundation:
1) Performance of duties as enjoined in the scriptures at the right time
2) Analysis of duty being performed to one's utmost capacity
3) Maintaining equilibrium of mind
4) Protection of environmental surroundings and its ecological purity
5) Shunning avariciousness
Yearning for love of God will help in getting all types of duties performed in our lives consummated to its fulfillment persons engaged in performing duties as enjoined in the Vedas should pay attention these aspects. [Verse: 2-20]
Boundaries of purification by ablution
Organs of excrement hands and feet should be washed several times using special kind of soil. The injunction of the handbook of duties [Dharmashastra] specifying required number of times for washing and thereby removing impurity from the body stems from the fact that it brings mental happiness. The method of ablution at night can be reduced by half of what is required for the morning one. For a person afflicted with disease the prescribed method of ablutions is only one fourth of what a healthy person is required to adhere to. It is mandatory to strictly follow the rules and regulation laid out in the religious text book in full while we are at our hometown. Half of it should be observed while in a different town or place. It is good enough to follow one forth in big cities. Laxity in observance of rules of ablution during travel is permitted. We are required to be vigilant always to maintain purity progressively despite odds. [Verse: 50 51]
Early morning ablution [bath] yield great fruit
As per the vision of Rishis found in the mantras 'आपो वै सर्वदेवता' the water used for bath will have the divine presence of all the gods presiding over our sense organs. Taking bath around 4.30 in the early morning is auspicious as the divine presence of Ganges and other holy rivers present will be more efficacious in the water used for bath during this time. This auspicious time is called as Brahmi-muhurtha. No religious duty will yield fruit if it is not performed by taking bath as prescribed. Purity and ablution [taking bath] is necessary to performing duties enjoined in the Vedas. It has a place of reverence equal to that of father and mother. Persons taking bath in the Brahmi-muhurtha attains wealth and prosperity marital happiness at the appropriate age, health, purity, and knowledge, fame and glory etc. cleansing God given human corporeal body not only removes sin but also horrors born out of bad dreams and sins accumulated due to wicked thoughts. [Verse: 174-182]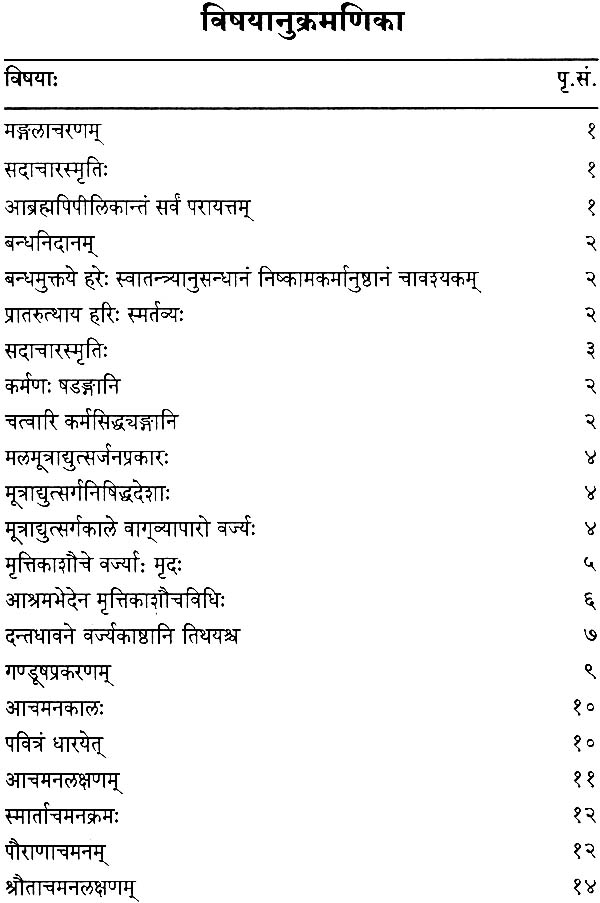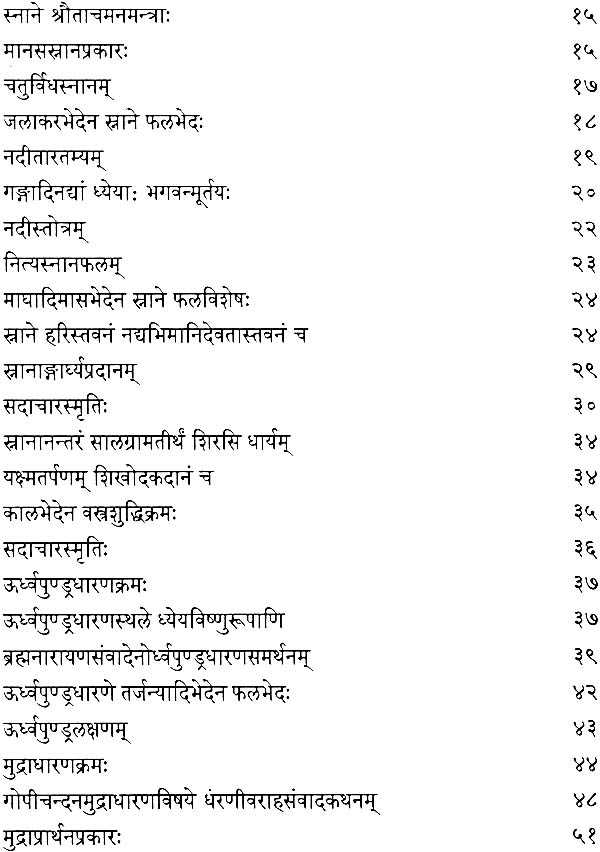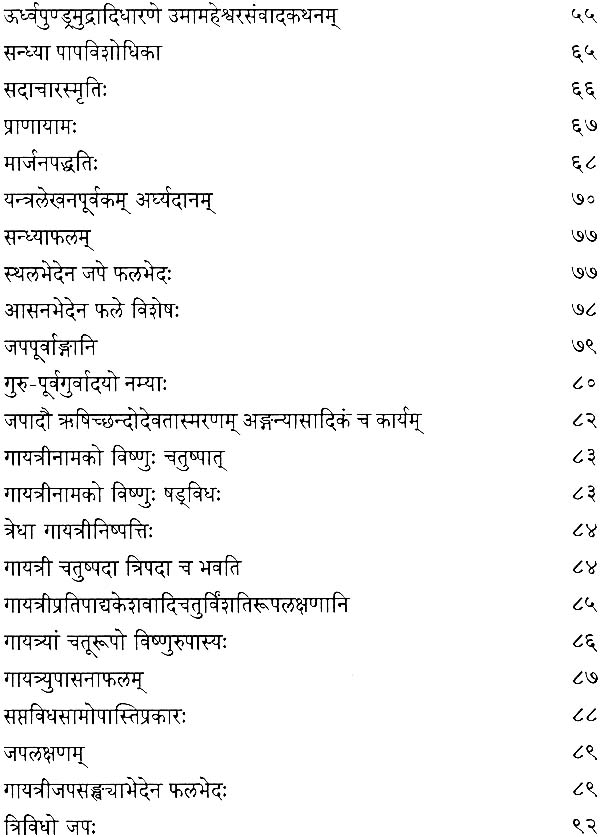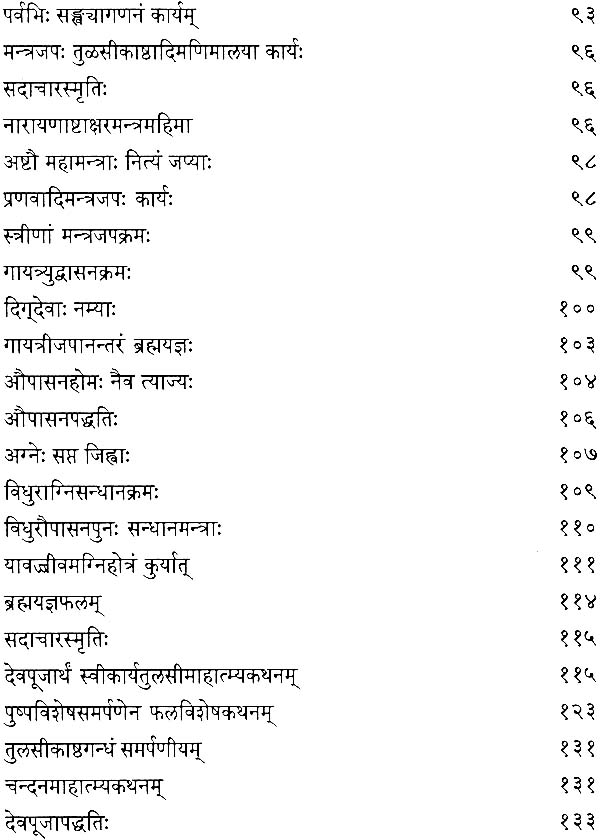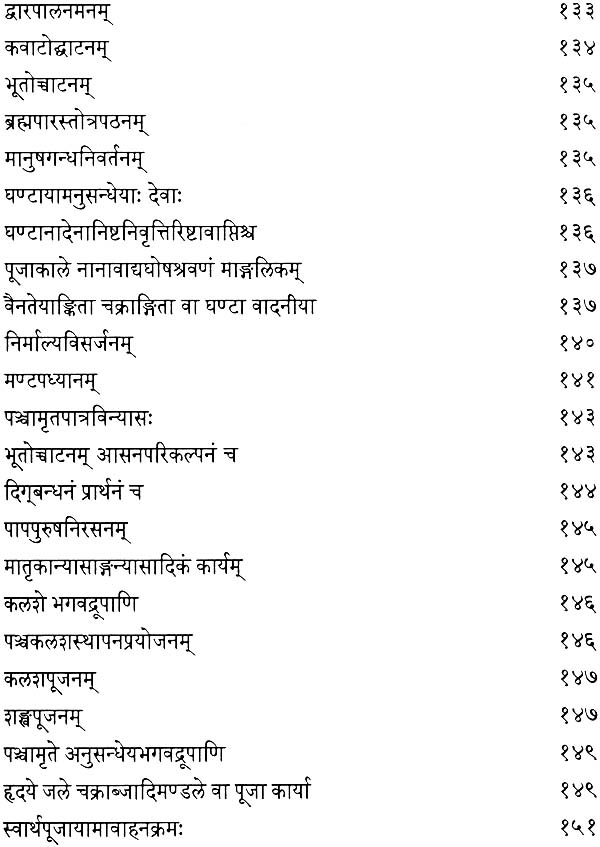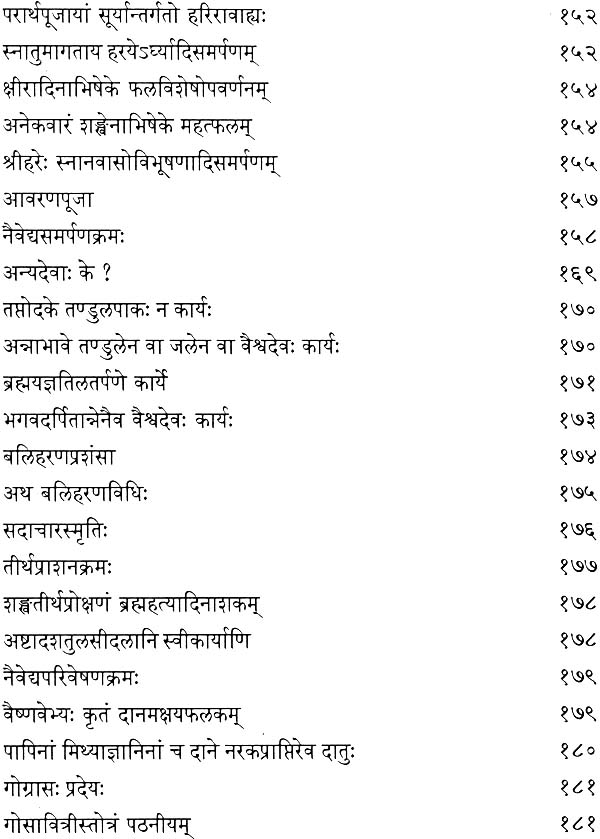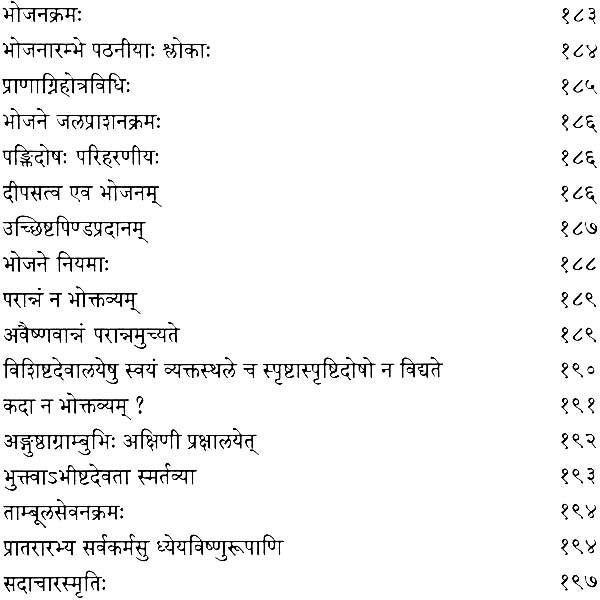 Sample Pages