Description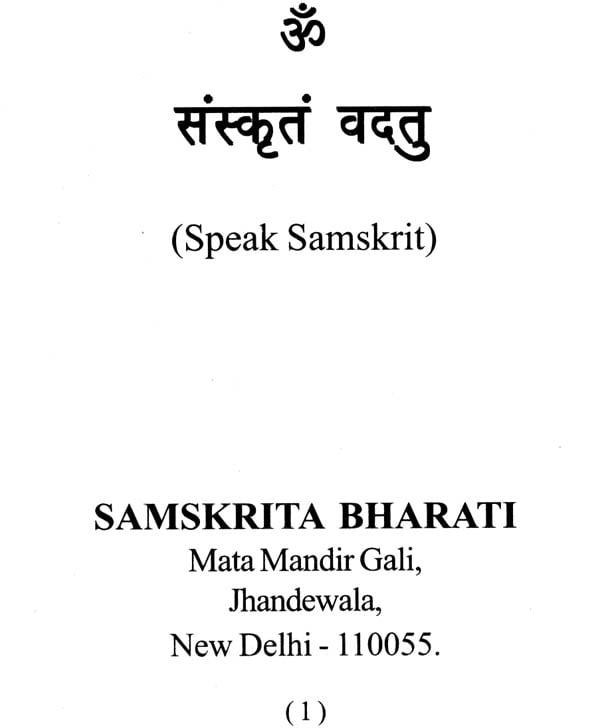 Introduction
By acknowledging that samskrit is a soft spoken, magnifical language, divine and superior to others, ancient in origin and embedded in our very culture, people have many a time and oft shown their appreciation of its unique charm. However Samskrit cannot be promoted by mere appreciation. If you talk in Samskrit, use it in your day to day dealings, and then only will it make progress and continue to survive. Hence speak in Samskrit, not about Samskrit.
Samskrit can be studied by repeatedly hearing and speaking, by aural means. Without reading any book, without reading grammatical rules, by oral practice alone one can learn Samskrit. So one must talk in Samskrit.
If it is inquired 'Where Should we speak in Samskrit', the answer is – in school, in class. Not only in school or class, but wherever you are – at home, at office, in factory, on road, in market, everwhere you should talk in Samskrit. When your are on playground, at dining table, in transit, or even on phone, always speak only in Samskrit, One should talk only in Samskrit with students, father, mother, brother, husband/wife, friend, officer, servant whoever he/she may be. Forgetting the differences in caste, creed class, region etc. One should converse only in Samskrit.
The best method to learn to learn Samskrit is to speak in Samskrit. In order to give a slight idea, as to how to talk in Samskrit a few words and sentences are given in this booklet. However this is very inadequate. It will only give you an idea about conversational Samskrit. But there is Samskrit within you. There is Samskrit in the each drop of your blood. Bring it out correct or grammatically faulty, speak Samskrit with Patience and Pride.
It the past, we used to converse in Samskrit. But today it became restricted in use in our country. What is required is the will to make Samskrit once again the language of daily usage.
We pray to the Almighty: "May our National will be awakended to achieve this end.
Sample Pages