Description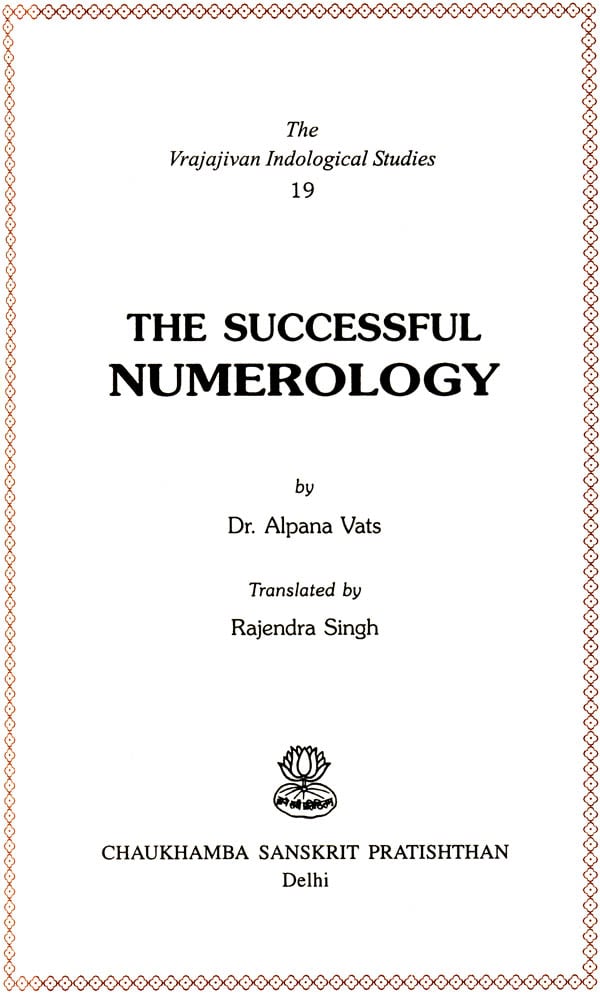 Introduction
It is an individual's natural desire to be able to peep at his future and learn how his life would turn out to be and what achievements are in store for him, what problems he is going to face and besides how to assess to prevent any mishap in order to chart the right course to embark on some novel mission in life. For instance he would like to known in advance whether he will succeed in love and marriage in business traveling abroad in making friends and so on. A study of numerology also helps to ascertain about litigation or when an ailment will end discover best vocation which gives livelihood along with satisfaction. Likewise there are many other significant factors of life which everyone is eager to comprehend.
A wider science that can provide an answer to all these question is astrology a subject of vast scope which is based on the occult. The basic difference between science and astrology is that the former deals with matter the latter with life. Though matter also hides mystery which is revealed by science astrology is the only science that can actually bring out the secrets of universe and hand out a key which can open the lock of any aspects of life.
The roots of astrology reach back to the Vedas and the Indian scholars had laid its foundation in the ancient times hence it is also one of the six Vedas. It has been customary for Indian astrology to seek answers to questions connected with one's life by composing a horoscope that is based on the date of birth and the time and position of planets. The legitimacy of this system is indisputable, Palmistry is another important branch of astrology, wherein palmists can read the various lines on the palm of the hand and reveal the intricate mysteries of an individual's past as well as predict his future.
Besides these two there is a third popular and modern wing of astrology known as Numerology. This is a study of an individual's past present and future founded on the numbers calculated in terms of the position of planets. Not only is it more scientific but also easier to comprehend. It is not difficult to have information about the future by converting the numbers from one to nine into the matching nine planets. Moreover numerology does not display the limitations that restrict the other two disciplines despite their accepted authenticity. For instance the time of birth is the corner stone of Indian astrology, which takes into account even seconds and minutes but the fact is that the exact time of birth in each case is not and can not be recorded for there are practical problems and some minutes or seconds can always be plus or minus in the reckoning. This difference in time can cause considerable difficulty in correct prediction for which reason some forecasts derived from such horoscopes do not turn out to be true. Also Indian astrology is not so simple or straight that everyone can comprehend it readily. On the other side it is sufficient in the realm of numerology to obtain an individual's complete name and date of birth for framing faithful forecasts. In the context of palmistry the prime problem that comes in is the inability to set down the precise time of predictions. Thought some smart palmists have advocated the method of measuring the lines on a palm which can confirm the correlation between a man's age and his lifetime yet this measurement is only a rough approximation. How difficult it is to predict on the basis of palmistry has been stated by a well known astrologer and palmist Dr. Narain Dutt Shrimali.
Chiromancy (palmistry) is considered the most arduous and difficult subdivision of astrology. It requires great labor talent and study to read and interpret without error the significant of lines on a palm. Further in accordance with the intensity of sensations in the brain the shape of lines in the hand keeps on changing Hence any distant predictions are not possible for a palmist.
So it can be safely said that a comparative study proves numerology to be can exact and simple science. Besides these three segments of astrology, some scholars can claim to forecast future by just scanning the forehead of an individual or by reading his hand writing. They provide some threads of information about him and his character, but here also you get only guess work or general conclusions, which leave your curiosity to peep for numerology.
Several Indian scholars have attempted to affirm the inception of numerology in our country and sought its origin in the mathematical calculations of astrology. This may be true to a degree but it cannot be denied that modern numerology is a gift of the western scholars. The greatest numerologist of our time is Cheiro whose work is held to be the most authentic but a scrutiny of his book discloses that the values he has assigned to the English alphabets in terms of their numbers fail to forecast a man's future by the ultimate number of his name. Cheiro's enumeration of the characteristics of the nine planets is alright but the ultimate number of a name is faculty that does no place the precise date at our disposal. This wise man takes into account only the birth number based on the date of birth and not the total sum of the date month and years of birth. This formula of forecasting fails frequently and does not cover the entire life of an individual. The birth number may furnish flawless information for the initial years of life but if cannot give a glimpse of the whole life. Hence it is doubtful whether Cheiro's system of numerology can be called completely successful. These who have perused Cheiro carefully would agree with my assertion that his friendly number and enemy numbers are ineffective in forecasting the future with any fidelity.
Contents
| | | |
| --- | --- | --- |
| | Introduction | 11 |
| 1 | English Alphabets and numbers | 18 |
| 2 | Numbers and Planets | 20 |
| 3 | Nature and quality of planets | 22 |
| 4 | Friendly and unfriendly numbers | 30 |
| 5 | Birth Numbers and Name Numbers | 32 |
| 6 | Lucky and Unlucky years of age | 38 |
| 7 | Lucky and Unlucky Dates, Days, Months, Colors | 44 |
| 8 | Choice of profession | 52 |
| 9 | Lucky Castes (Friends & Neighbors) | 57 |
| 10 | Distinctive landmarks near residence or office | 59 |
| 11 | Hints on lucky directions | 61 |
| 12 | Knowledge of diseases through numbers | 63 |
| 13 | Matrimonial Affairs | 66 |
| 14 | Three stages of life | 74 |
| 15 | Matters regarding Childbirth | 76 |
| 16 | Lucky and unlucky stones | 81 |
| 17 | Semi Precious stones | 90 |
| 18 | Some other stones to cure diseases | 91 |
| 19 | Solution of land and house problems | 93 |
| 20 | Lucky Numbers and suitable time for buying vehicles | 97 |
| 21 | Lucky and Unlucky numbers for banks and accounts | 100 |
| 22 | Lucky and unlucky numbers of homes and offices | 103 |
| 23 | Lucky and unlucky telephone numbers | 106 |
| 24 | How to know the examination results | 108 |
| 25 | Success in court cases | 110 |
| 26 | ways to find missing persons | 112 |
| 27 | Lucky and Unlucky Journeys | 114 |
| 28 | Favorable years for every number | 115 |
| 29 | Qualities of grand total numbers | 116 |
| 30 | Special achievements in years of age | 124 |
| 31 | Numerology and pantheon | 126 |
Sample Pages