Description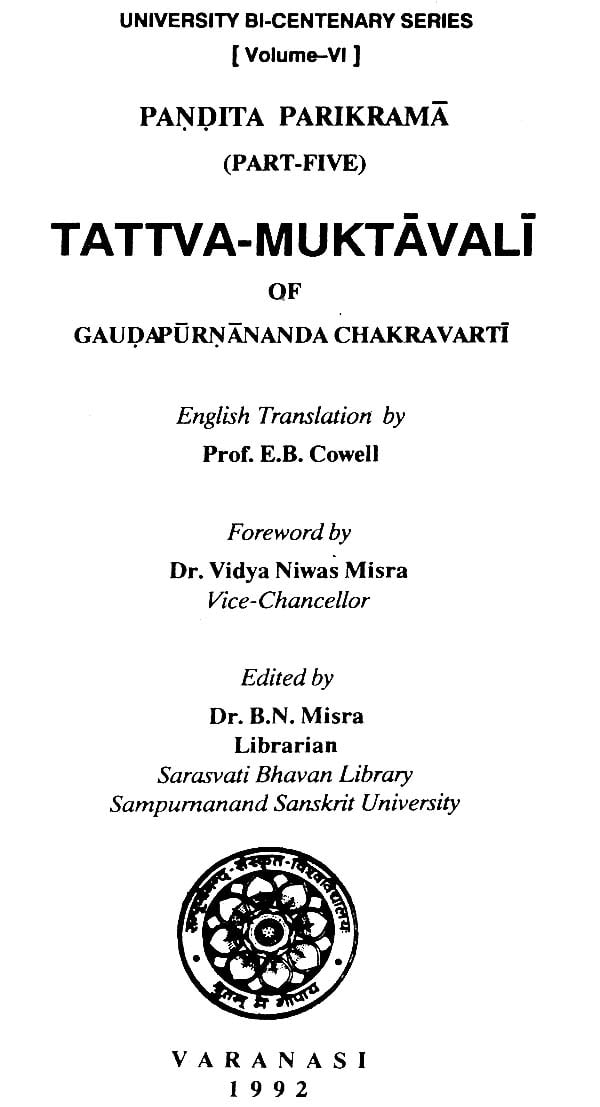 FOREWORD
The present text of Tttva muktavali is by Gauda Purnananda Chakravarti, a disciple of Narayana Bhatta, who was a follower of Madhva school. This work is in verses and is a logical exposition of Dvaita, presenting a very ingenious refutation of the Advaita position. This was edited for the first time by Pandit Becanarama Sarma Tripathi, Professor of Samkhya in the Government Sanskrit College, Benares, and its press copy was prepared during the Principalship of Prof. A.E. Gough.
This short work comprises of 122 verses, all attacking the proposition of Maya. This was translated by Prof. E.B. Cowell into English in the Journal of the Royal Asiatic Society', Calcutta, volume XV,. n.s. 1883 pp. 138-173. In order to bring out the full relevance of the work, I have decided to publish the translation as well.
INTRODUCTION
Tattva-muktavali or Mayavada satadusani of Gauda Purnananda Chakravartin (c. 17th cent.) is a Prakarana (a sectional treatise) of Madhva Vedanta in 122 verses. This is written in defence of the reality of Difference (Dvaita) and other views of Madhva and in a' strong refutation of the doctrine of Advaita expressed particularly by Nrsimhasrama in his Bhedadhikkara and Advaitadipika, etc. The other two works ascribed to him as reported by Prof. Aufrecht in the New cat. cat., volume one page 344 are:
1. Tattvabodha-tikii (Samkhya)
2. Yogaviisistha-sara-tika.
3. Satadusaniyamata.
Dr. B.N.K. Sharma in his 'History of the Dvaita Vedanta literature, ii pp. 235, remarks as hereunder.
"Gauda Pnrnananda Chakravartin (c. 17th cent.) was a native of Bengal (Gauda), He is called 'Gauda' Purnananda in the colophon to his work. Nothing is known about his date or life. He describes himself as a disciple of Narayana Bhatta (verse 117). He may, without difficulty, be placed in the 17th century or even later, when the influence of Madhva philosophy was strongest in Bengal.
The Tattvamuktavali, is a very elegent performance, almost unique in the history of Dvaita Literature. There are, of course, some earlier works of this nature, such as the Nyaya- ratnavali of Vadiraja (which is a more erudite work). The burden of the song in the work is that the identity of Jiva and Brahman, claimed by monist is a metaphysical impossibility. It is fraught with serious and terrible consequences on the moral and religious life of man (verses 88, 89, 91-94). Purnananda pleads that 'Aham Brahmasmi' should be interpreted only figuratively. He draws a graphic picture ala Vadiraja, of the limitations of man and the infinitude of God and queries with mystic naivete how two beings so widely different in essence could ever be equated with each other (verses 12-17). He observes that there are insurmountable difficulties in the way of a monastic interpretation of Tattvamasi text, as Brahman, in the Advaita Vedanta, is vowedly beyond the sphere of utterance and no laksana can operate in such a case (verses 20-22). He therefore, thinks that text like Aham Brahmasmi should he viewed as having been prescribed for purpose of Upasana (verse 65) and that Tattvamasi should be interpreted as Implying the elision of the genetive case termination: 'Thou art His (Servant)'. In the illustration of several fruit juices, there is no case for the disappearance of individuality, for, the very fact that the essence resulting from their mixture is able to cure one's bodily disorders arising from the disturbance of the humors is proof of their persistence in honey (verses 81-83). The two other works attributed to him by Aufrecht (page 344) are not his."
The text was first edited by Pandita Becana Rama Sarma, Professor of Sankhya in the former Govt. Sanskrit College at Benares. This was published in volume six (1871) of 'The Pandit', a monthly journal of the College. An edition, with Bengali tr. by Jagadananda Goswami, Calcutta, 1936 is also repoted by Prof. Cowell. Later the text was edited and translated into English by Professor E. B. Cowell and published in JRAS, n.s. xv, 1883 pp. 138ff. The text varients of the MSS. used by Prof. Cowell in his edition is properly incorporated in this edition for the benefit of the scholars. At places where his English rendering differs from the readings in our edition is due to the emandations as accepted by Prof. Cowell in his edition.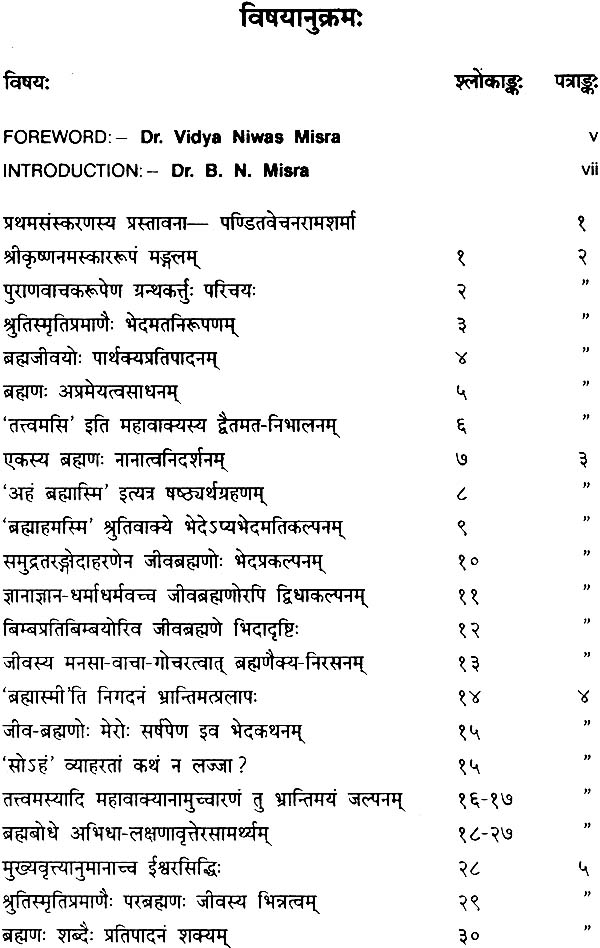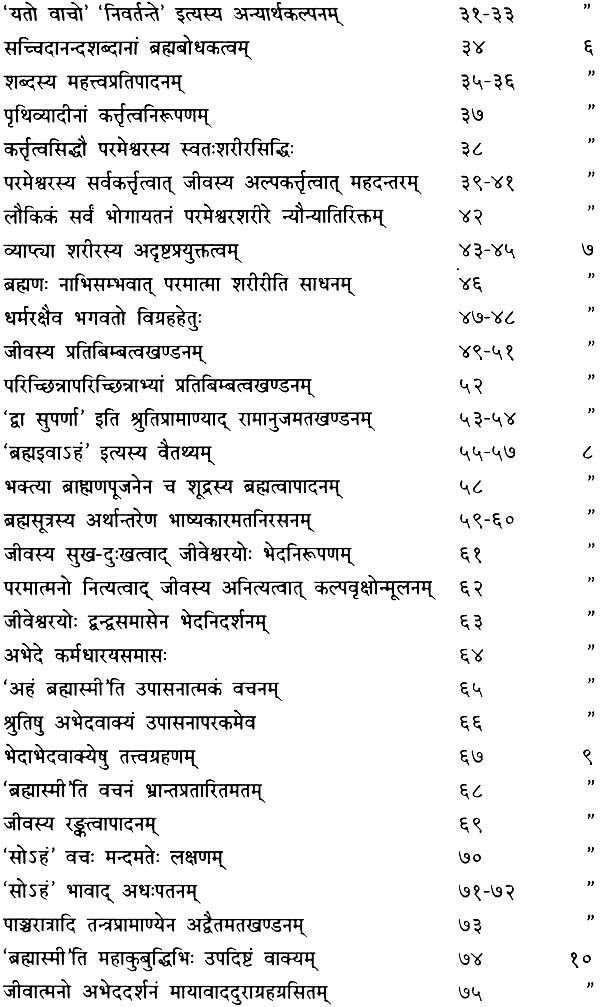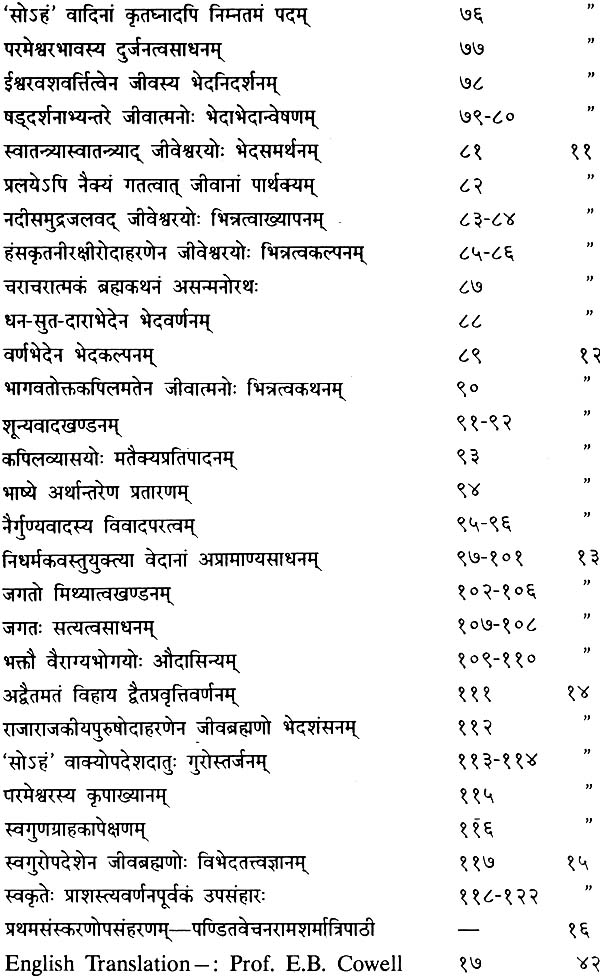 Sample Pages