Description
About the Book
Since its first publication, this book has become the most widely accepted and utilized anthology of modern Indian poetry in English. Compiled by R. Parthasarathy, himself an eminent writer and poet who has contributed to this volume, it carries verse by the country's best-known poets: A. K. Ramanujan, Nissim Ezekiel, Kamala Das, Arvind Krishna Mehrotra, Keki Daruwalla, Gieve Patel, Arun Kolatkar, Jayanta Mahapatra and Shiv K. Kumar, as well as brief introductory notes on each of them.
Excerpts for Reviews
'If anyone wants to know who the leading Indian poets are and what they write, this will henceforth be the obvious book to read.
-Indian Book Chronicle, Delhi
'This refreshing anthology is recommended to readers interested in the state of contemporary poetry. It introduces a new coinage.'
-British Book News
Preface
I should like to thank all the poets in this book for their kindness in allowing me to reprint from their published works and to look over their unpublished manuscripts. Their generosity has made this book possible. My thanks are due to the publishers and the editors of the periodicals, where some of the poems first appeard, for permission to reprint.
It has been a great pleasure to discuss this book in the making with friends, and I am indebted to Nimmim Ezekiel, Roger Iredale, S.Krishnan, Shiv K. Kumar, Jayanta Mahapatra, C.D. Narasimhaiah, K.Ayyappa Paniker, A. K. Ramanujan and M. Sivaram-Krishna for reading the book in manuscripts, offering suggestions and for their continuing help and co-operation.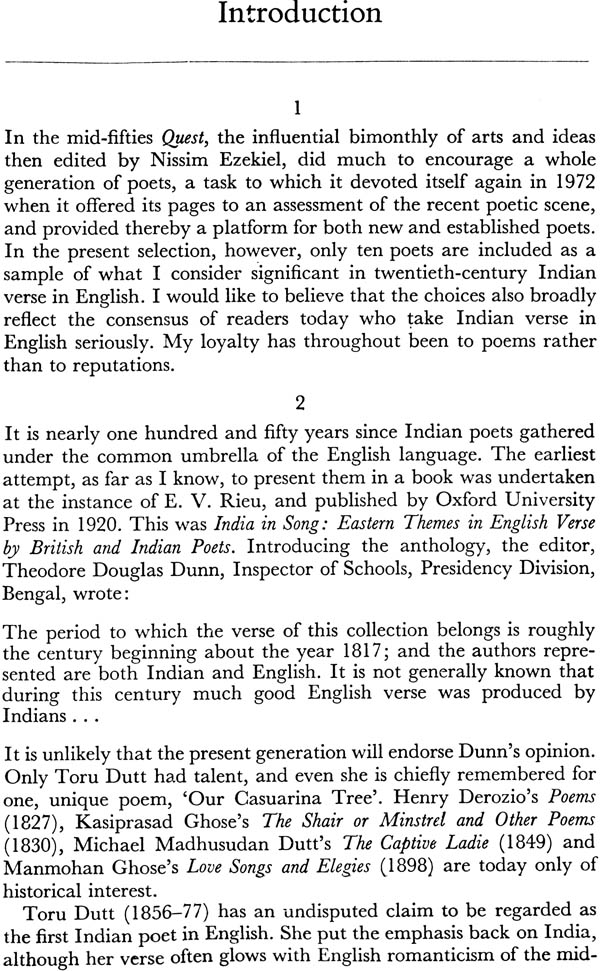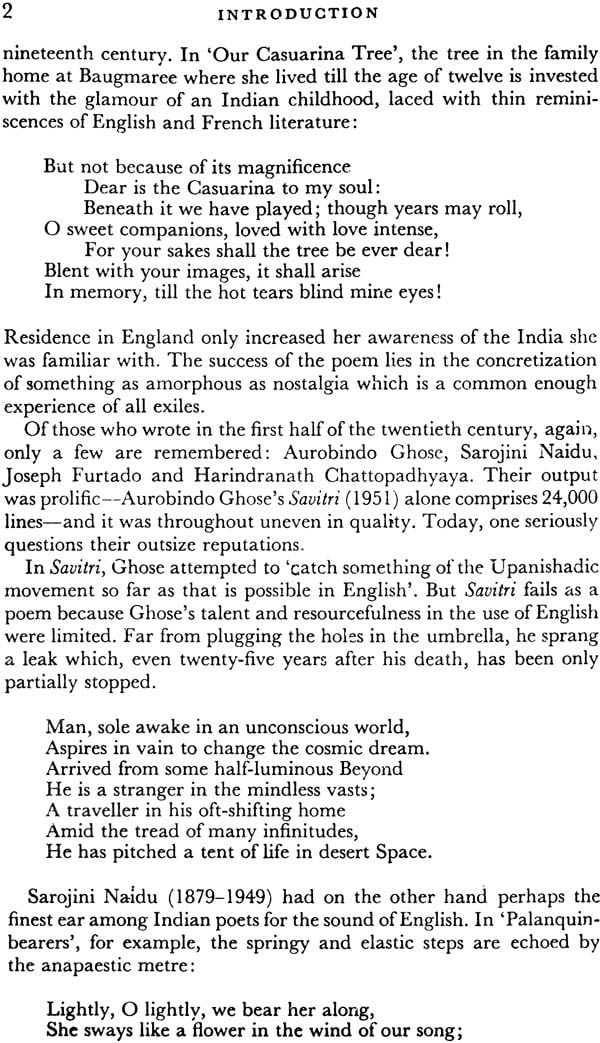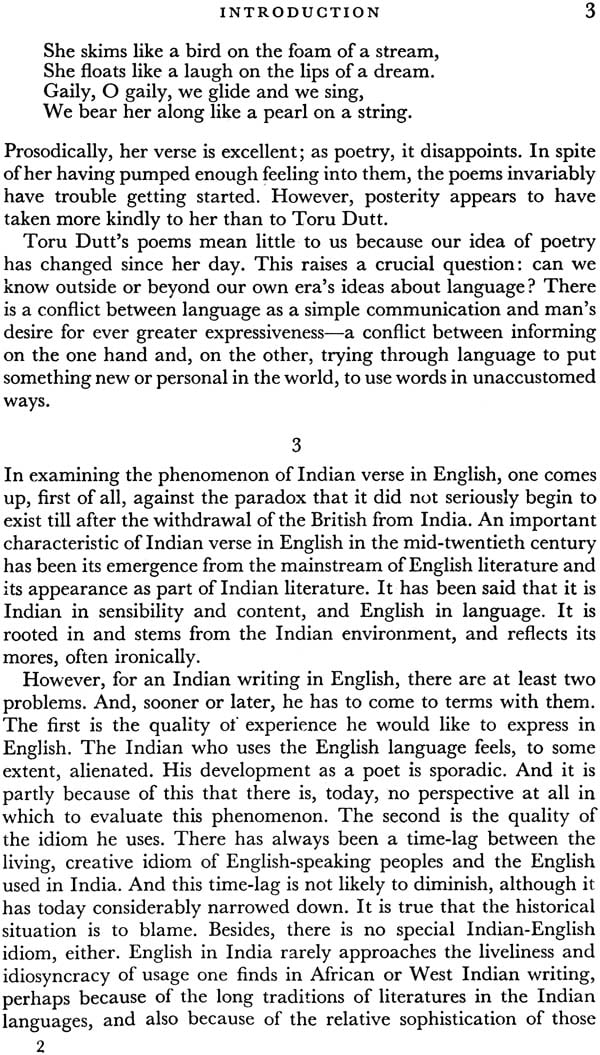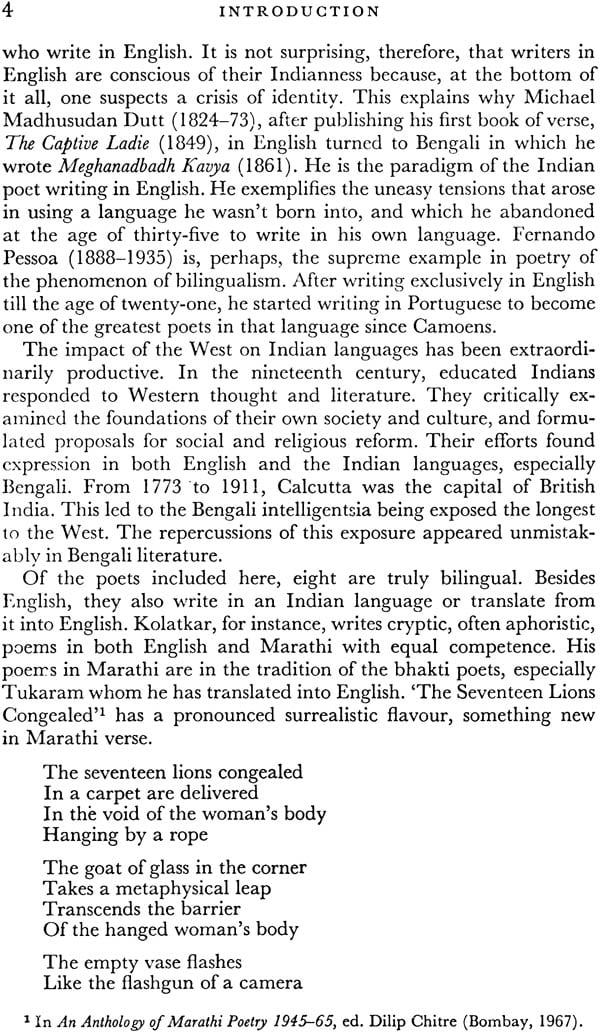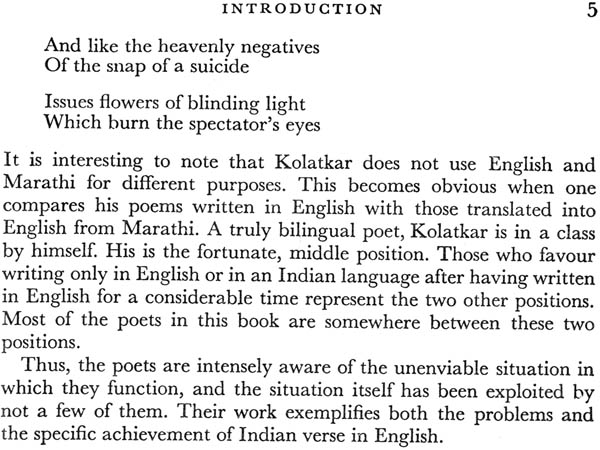 Contents
PREFACE
ACKNOWLEDGEMENTS
INTRODUCTION
KEKI N. DARUWALLA
from Under Orion, 1970:
from The Epileptic
The Ghaghra in Spate
from Ruminations
from Apparition in April, 1971
Fire-Hymn Routine
From Crossing of Rivers, 1976:
Death of a Bird
KAMALA DAS
from summer in Calcutta, 1965:
The Freaks
My Grandmother's House
A Hot Noon in Malabar
The Sunshine Cat
from The Descendants. 1967:
The Invitation
The Looking-glass
NISSIM EZEKIEL
from the Unfinished Man, 1960
Enterprise
From The Exact Name, 1965:
Philosophy
Night of the Scorpion
Poet, Lover, Birdwatcher
The Visitor
from Hymns in Darkness, 1976:
Background, Casually
Goodbye Party for Miss Pushpa T.S.
Poem of the Separation
ARUN KOLATKAR
From MS:
the boatride
form Jejuri, 1976
SHIV K. KUMAR
from cobwebs in the Sun, 1974:
Indian Women
My Co-respondent
Pilgrimage
from Subterfuges, 1976:
Days in New York
Kali
JAYANTA MAHAPATRA
from A Rain of Rites, 1976:
Indian Summer
A Missing Person
The Whorehouse in a Calcutta Street
from MS:
The Logic
Grass
Lost
ARVIND KRISHNA MEHROTRA
from Middle Earth, 1984:
The Sale
Continuities
A Letter to a Friend
from Nine Enclosures, 1976:
Remarks of an Early Biographer
R. PARTHASARATHY
from Rough Passage, 1977
from Exile
from Trial
from Homecoming
GIEVE PATEL
from Poems, 1966:
On Killing a Tree
Servants
Nargol
Naryal Purnima
from How Do You Withstand, Body, 1976:
Commerce
O My Very Own Cadaver
A. K. RAMANUJAN
from The Striders, 1966:
Looking for a Cousin on a Swing
A River
from Relations, 1971:
Of Mothers, among Other Things
Love Poem for a Wife
Small-scale Reflections on a Great House
Obituary
SELECT READING LIST
INDEX OF TITLES
INDEX OF FIRST LINE
Sample Page