Description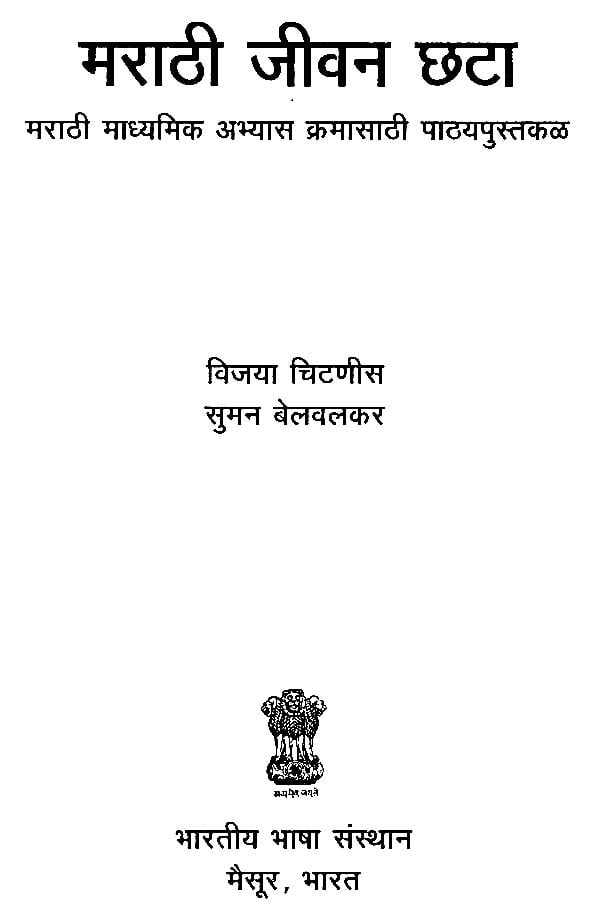 FOREWORD
Disciplines merge, and then converge. Disciplines also emerge. Merger of disciplines could be best instantiated by what was once nicknamed as 'hyphenated' linguistics (classical cases like 'Socio-linguistics' and 'Psycho-linguistics' provide good examples, the latest being 'Geo-linguistics' growing on the ashes of what was once recognized as 'Dialect geography'). These compounded disciplines show signs of merger very clearly as the stitches are quite visible. It takes long time to drop the hyphens and get more integrated. However, practitioners of these disciplines had their own dogma and learning history because of which they would usually try to push (or pull) the conjoined words (and worlds) apart (so much so that separate approaches would emerge).
But in the history of language sciences, several disciplines have emerged and have made their mark. They have emerged through a longer process of being together in a mutually beneficial manner. In hard-core areas, Phonetics and Semantics are two classical examples. In applied language sciences, Language Teaching & Testing is by far the best example of this kind. Here too, one has seen ideas emanating from different disciplines and converging to create a common base. Some areas in Linguistics had always provided attractive meeting grounds for scholars with varied interests to work on. Some others emerged, but got sidelined again. (For instance, the once popular, Morphology, which bounced back as Word Formation, came up again as a point of focus with its original title). However, there have also been disciplines which grew out of linguistics or from dissatisfaction of it, but later assumed a much bigger canvas large enough to involve people who would like to be miles away from grammar. The emergence of Semiotics with Saussure, later practiced as Semiology by modern greats as Rolland Barthes is a case in hand.
The areas such as Language Teaching always attracted the faculty at the Central Institute of Indian Languages, and as a result, a lot of interesting materials got produced. The Intermediate Course on Marathi has been produced in the same series by the Western Centre of the Institute at Pune. They cover a wide range of writing styles used in the language so that both teachers and second language learners using them benefit from the lessons. The text used here are not merely instances of ideal writing styles, they are also used to teach certain grammatical patterns and lexical coinages.
The language teaching materials produced by the Institute have so far been tried out through a series of 10 months Intensive Training Programme currently offered in the seven regional centres of the Institute at three levels: Basic, Intermediate and Advanced courses. The present book is suitable to be used not only for such language learners who are to be taught as a part of our programme, but also for those who have had introduction to the language through a formal system, and yet have not had chance to go beyond the basics.
I congratulate the teachers who have used and perfected the material as much as the author, Suman Belwalkar. The suggestions, comments, criticisms from all those who may use this teaching material will be most welcome. Specific comments on the aspect of production, including typographical and other errors that may have crept in or stylistic changes could be sent to Dr. K.S.Rajyashree, who heads the Publication Unit. Suggestions on teaching and use of these materials could be mailed to Dr. Usha Nair, Principal of our Centre in the West at Pune.
INTRODUCTION
'मराठी जीवन छटा' '(Marathi Jiwan Chata)'Is an Intermediate Course Reader in Marathi which is specially written for the second language learners of Marathi who have successfully completed the Basic course through 'An Intensive Course in Marathi.' Those who have achieved mastery over the basic Marathi structures on their own can also use this material for further study. This book is basically the prescribed text book for the learners of the Western Regional Language Centre, Pune of the Central Institute of Indian Languages, Mysore. The Intermediate course runs for 12 weeks out of which 350 clock hours are devoted for teaching this Reader. This Reader could also be used by other similar organisations which impart instructions in Marathi to non-Marathi learners and also by Boards of Secondary Education which teach Marathi as a second/third language in the secondary stage.
Aquisition of basic language structures is a primary stage in a language learning course. Once these structures are mastered, the learner is anxious to use them in the language community and to mix with the people. Language being the most effective means for social interaction helps the learner to know about the people and the land of which language he/she is learning. The Intermediate Course Reader meets this requirement and gradually takes the learner to a stage to be able to comprehend and appreciate the literature in that language. Thus the Intermediate Course is a bridge between the basic language structures and the literature. This book 'मराठी जीवन छटा' is going to be a middle link in the series of text books, namely, 'An Intensive Course in Marathi' and An 'Advanced Course Reader in Marathi' (मराठी शारदियेच्या चंद्रकळा).
This Reader is the main text book for a detailed study of Marathi. This Reader will help learners to proceed further. Small story books, children's books, state government's school readers, newspapers, weeklies, magazines, and passages prepared for listening and reading comprehension serve as supplimentary materials for this Reader.
This course intends to enable the trainees to converse not only with the teachers and felIow trainees on restricted topics but with the native speakers on a variety of topics which are not controlled even though they have acquired with limited vocabulary and structures. At the end of the course, the learner is competent in reading with comprehension the materials presented in standard written language. The learner is also able to write guided compositions as well as free compositions on a variety of topics in a form of description or a dialogue or biographical sketches.
To achieve these objectives, the Intermediate Course Reader in Marathi 'मराठी जीवन छटा' is designed according to a particular format. The poems, editorials and the folk tales are the selections from literature. All the remaining lessons are written by the authors of this book. The teacher trainees of RLCs arc sent for an environmental tour during this course. They are encouraged to take interviews of the eminent personalities they meet during the tour. After completion of the tour they have to write a detailed report of it. Taking into consideration all these factors, we have included in this book one interview and a narration of a trip to a historical place. All the 30 lessons are well graded and arranged according to pedagogical principles. The language of these lessons represents written standard language in simple form which marks a definite progress over the basic course and covers a variety of major forms of communication including narration, description, reflection, conversation, interview, letter writing etc. The lessons in this book focus on various cultural, historical, rural, geographical, scientific and social aspects of Maharashtra, the land and the people of Maharashtra. The book also includes detailed exercises both for content and the language along with the compositional exercises. We hope that the book will serve the learners of Marathi language as a powerful bridge.
The invaluable help, cooperation and constructive suggestions received from Dr. P.N. Dutta Baruah and Dr. Usha Nair in the various stages of preparation of this manuscript and bringing out of this book arc acknowledged with gratitude.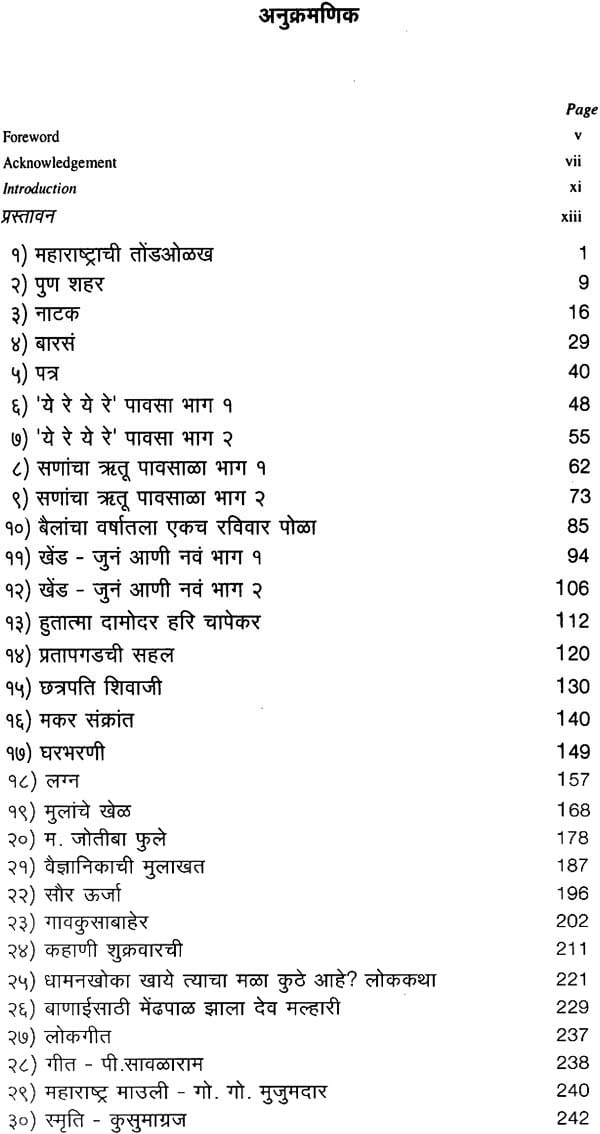 Sample Pages