Description
Preface
"Apama Somamrita" -Somarasa is that mystic nectar, drinking which, many have crossed the ocean of the world- process; and many continue to cross it. Books written by great men are indeed Somarasa which illumine the path of Shreya (blessedness) for the seekers after Self-realization.
Sri Swami Divyanandaji Maharaj is among such divine and highly elevated Mahatmas (Sages) whose books can guide the spiritual aspirants on the path of blessedness. Those who are desirous of seeking spiritual progress should study and reflect upon his teachings. This book, "Yoga Sadhana" has been written by him after profound studies in this subject. His unique style of writing has rendered even difficult subjects of Yoga and philosophy delightful to study. This book contains the description of Kundalini Yoga in accordance with the principles of Agamas and Nigamas, secrets of Mundamala (the garland of skulls), the method of repetition of Mantra, and other profound subjects based upon his own experiences. The glorious advantages of the practice of Yoga and the nature of liberation have been written with such surprising simplicity that, guided by this book, even ordinary persons can attain the knowledge of Self and become Jivanrnuktas (liberated in life).
In the Appendix of this book, he has presented the pro- found subjects of Shakti Tatwa in inspiring songs; he has verily "placed the ocean in a little jar." He is the knower of the secrets of Shakti Siddhanta (the philosophy of Mother-worship). This book, "Yoga Sadhana" is one of the foremost books dealing with Kundalini Yoga. It is not an easy matter to bring the secrets of Sanskrit scriptures in a simple language that can be understood by general masses. People in modern times are naturally disinclined to practice spirituality, and at the same time, they are unable to get such saints or great souls, or books written by them, by which they could work out the betterment of their own souls. This book of his will prove to be a true Guru and guide. This is my firm belief; because, the pith that is expounded and taught in a selfless manner is bound to be good and helpful for all general masses-"Paropakaraya Satam Vibhutayah."
Having studied this book from beginning to end, and then having reflected upon its teachings, an aspirant is bound to experience spiritual awakening. Let an aspirant realize this fact by himself.
I offer my good wishes towards the spread and propagation of this wonderful book, "Agamokta Yoga Sadhana."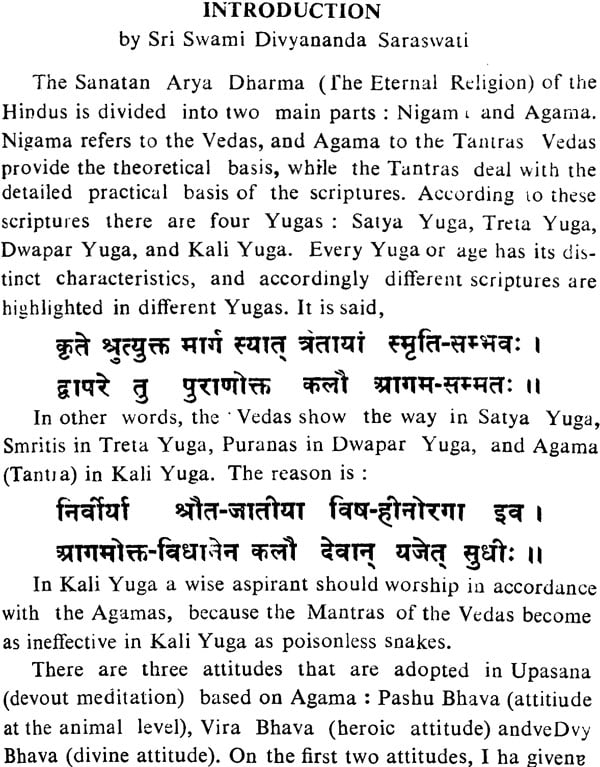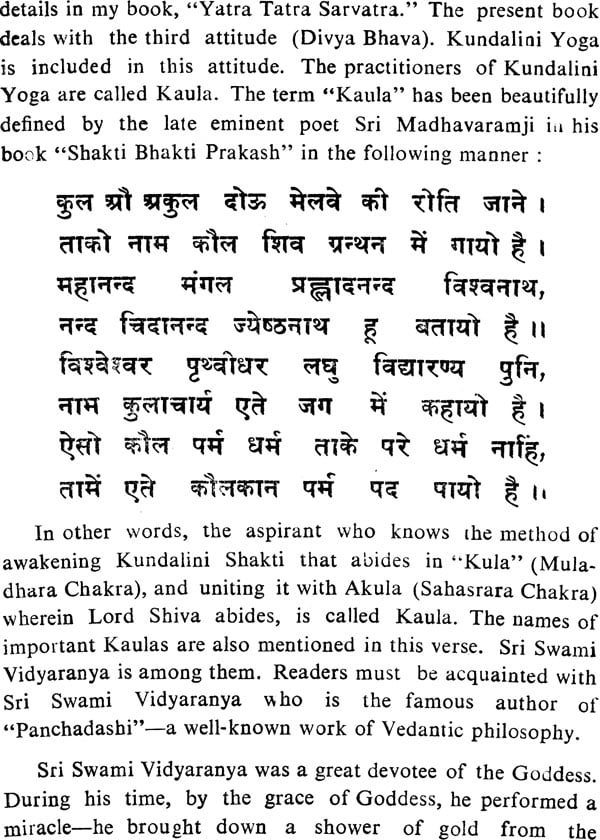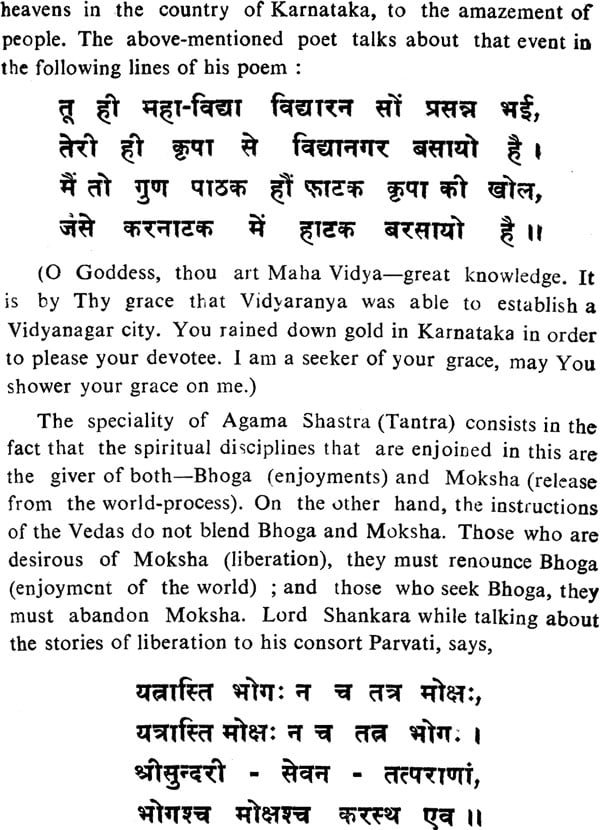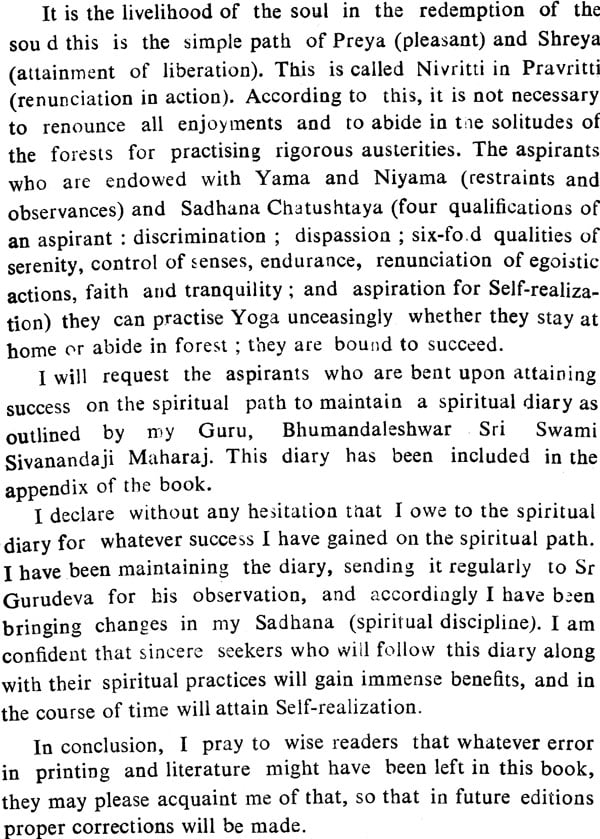 Contents
| | | |
| --- | --- | --- |
| 1 | Introduction | 1 |
| 2 | Appreciation | 6 |
| 3 | Prologue | 5 |
| 4 | Preface | 10 |
| 5 | Other books by Swamiji | 11 |
| 6 | Dedication | 13 |
| 7 | Kundalini Yoga | 14 |
| 8 | The Secret of the Garland of Skulls | 20 |
| 9 | The Technique of Practising Japa | 23 |
| | (What is Japa, Mantra-Japa--Repetition of Mantra) | |
| 10 | Various Types of Sound | 25 |
| 11 | Asanas and Pranayamas | 27 |
| | (Physical Poses and breathing Exercise) | |
| | (i) Advantages of the practie of Yoga | 32 |
| 12 | The Nature of Liberation and its attainment | 35 |
| | (i) Bahiranga Sadhana (External Means) | 36 |
| | (ii) Antaranga Sadhana (Internal Means) | 37 |
| 13 | Worship of the Deities Presiding over the six Chakras | 40 |
| 14 | Appendix: (i) Ajapa-Japa and Kundalini Song | 45 |
| | (ii) Spiritual Diary | 47 |
| | (iii) Special Instructions | 48 |
Sample Page