Description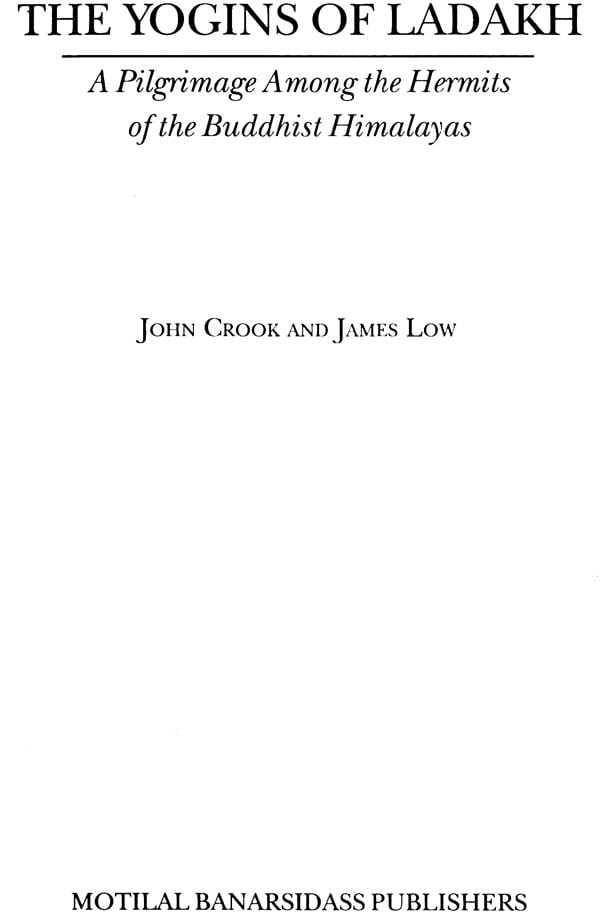 About the Book
When John Crook of Bristol Universtiy began research in the Zangskar valley of Ladakh in 1977 is prime intention was to investigate the social anthropology of the area through studies of village life.
In 1986 Crook returned to Ladakh with Tibetologist James Low to enquire fully into the social organization, history, Meditational practices and philosophy of the yogins who still lived and practiced in the remote parts of the area. This book is a record of the author's adventurous journeys to meet some remarkable men.
The yogins were often generous, providing accounts of their training, one of them allowing Crook to photograph a previously unknown text-instructions on Mahamudra by the eminent Tipun Padma Chosgal. James Low's brilliant translation of this difficult work together with that of a biography of the great woman yogin Machig Labdron provides the basis for extensive and original discussions of the meaning of Tibetan Buddhism and its significance in our time.
About the Author
John Crook, PhD, DSc is a pioneer in the socio-ecological study of both animal and human populations. In 1977 he led a Bristol University expedition to Zangskar in Ladakh initiating a series of studies on village and monastic life in the Himalayas. During this work ("Himalayan Buddhist Villages", J. Crook and H. Osmaston eds. Motilala Banarsidass and Bristol University 1994), he began studying the psychology of yogin meditators living as hermits in the high mountains. He is the author of "The Evolution of Human Consciousness" (Oxford 1980), "Illuminating Silence"(with Chan Master Shenyen. Watkins, London 2002 and New Age Books, Delhi) and "The Indigenous Psychiatry of Ladakh" (in Anthropology and Medicine Vols 4 and 5 1997-1998). He is the teacher of the western chan fellowship in the UK and is preparing a book on world crisis and Buddhist humanism.
James Low MA. PhD works as a Consultant Psychotherapist at Guy's Hospital, London. Between 1973 and 1982 he studied Tibetan language, literature and philosophy in India with Chimed Rigdzin Rinpoche at Visva-Bharati University, Santiniketan, Bengal. During that time they produced translations of over twenty ritual texts in the Nyingmapa tradition. He continues to translate Buddhists texts and teaches Dzogchen meditation practices. His recent publications are Simply Being (Vajra Press 1998) and Being Right Here (Snow Lion 2004). His translations of two important texts and an account of his own yogic practice provide a major contribution to this study.
Early Scholars
Modern understanding of Tibetan religion and culture owes much to the hard work of a few itinerant scholars who, leaving their studies and libraries, have undertaken long journeys on foot through the secretive 'land of snows'.
The first European scholar of the Tibetan language, the Hungarian Csoma de Koros, travelled extensively in Ladakh in the early 19th century before producing his pioneering dictionary and conspectus of Tibetan literature in 1834. The Japanese Zen Buddhist monk, Ekai Kawaguchi, underwent extraordinary privation until disguised as a Chinese, he reached Lhasa in 1901 where the depth of his linguistic studies enabled him to enter one of the great monastic universities. He returned to Japan with an outstanding collection of texts. Alexandra David-Neel, the French Buddhist explorer, disguised as her lama's mother, succeeded in reaching Lhasa early this century at a time when other explorers were frustrated in their attempts to reach the capital. Her firsthand accounts of the psychophysical yogas of meditating monks have fascinated scholars of Tibet ever since. Few have ever had such close contacts with the yogins. And we must not forget Sir Francis Younghusband whose idiosyncratic philosophy, prefiguring in many ways contemporary spiritual interests, owed much to personal experiences in Tibet.
Since the 1930s learned travellers in the Himalayas and western Tibet have similarly made major contributions. The German scholar Lama Anagarika Govinda, Guiseppi Tucci the chief interpreter of Tibetan religion , and David Snellgrove of the London School of Oriental and African Studies have all written travelogues and provided detailed accounts and translations of monastic ceremonies, spiritual texts and ancient hagiographies. In Ladakh the British Buddhist scholar, Marco Pallis, combined accounts of mountaineering with a sympathetic study of local Buddhism. The work we present here arises therefore within a tradition where travel writing is balanced by scholarly reporting of religious and social life. We attempt a contemporary understanding of the practices of the hermits still living in the inner Himalayas not through textual enquiry alone but through travel and contact with these men in their remote retreats.
Previous scholars have also made known the depth of philosophy and spiritual practice inherent in the Tibetan tradition. Recently the damage done to the planet by Western technology together with an alienation from their own religious traditions has led many educated persons in both East and West to an anguished search for new values and hence a deeper study of Eastern thought. Our work necessarily concerns the relevance to our times of often seemingly remote Tibetan ideas. The question is whether our Western preconceptions blind us to what they have to say.
The Present Research
My original interest in Ladakh, the Himalayan district of North West India bordering on Tibet, focussed on the social anthropology of the Buddhist population. The Ladakhis are a Tibetan people speaking a dialect of Tibetan retaining many ancient linguistic features. We chose a study location in the remote valley of Zangskar, in 1977 still cut off from the modem world and largely unaffected by monetisation of the economy. The valley had an ancient history. Originally a mountain locked kingdom eventually part of the larger independent state of Ladakh, it became part of the British Indian Raj in the last century, thus escaping the fate of Tibet at the hands of the Chinese in 1959.
Our research team of 1980 investigated in considerable depth the agriculture, family life, relations between village and local monastery, and the lives and economics of the monks. But I was not satisfied by this external examination of a culture strange to me. Stimulated by my own experiences, my personal search for meaning was provoked by the discovery of yogins in the sunlit hills who still practised profound yogas of self-transcendence. It was not enough to study the texts of their meditations in translation, nor to meet Tibetan lamas who were engaged in transmitting the Buddhist Dharma to the West, for they had necessarily to dilute their presentation if it was to be understood at all. I wanted to reach the heart of the matter as I had already tried to do in my training in Zen. The only way was to return to Ladakh several times to meet the yogins on their own ground.
Introduction
This book explores Tibetan Buddhism from within the viewpoint of its most exemplary practitioners; the hermits of the Himalayas, particularly the yogins of Ladakh. We attempt to describe their values, way of life, Meditational practices and philosophical understanding as we came to know them within the context of their daily lives.
The exodus of Tibetan lamas to India and the West following the Chinese inspired holocaust in Tibet has produced an historical situation not unlike that in the Mediterranean world following the fall of Byzantium to the Turks. The arrival of refugee scholars and intellectuals in Italy did much to inspire the European Renaissance. Similarly, the arrival of the lamas has produced an extraordinary spread of Buddhism in the West with the creation of meditation centers in almost every city. The full impact of Buddhism in the West, let alone that of the specific teachings of the Tibetans, has yet to be realized but it is clearly of major cultural significance as we approach the millennium.
Within Tibetan Buddhism there is a division between 'Teaching schools' and 'practice schools'. The former, particularly the Gelugpa, excel in presenting Buddhist philosophy and ethics in an often very learned and subtle form, which is relatively easily assimilated by Westerners whose high levels of education equip them to receive it. The latter schools, when most true to themselves, only wish to teach those already committed to an arduous way of life and meditative practice and consecrated to a yogic path. On such a path there are instructions to behave and to explore but often philosophical or psychological teachings, explanations and theory are set aside as misleading unless experience through practice is already present. There is here a similarity with the skepticism of Zen masters concerning teaching through words. The Kargyupa and Nyingmapa are cagey about discussing their practices. They prefer to share their Meditational explorations only with those dedicated to serious inner work. Even then they quickly set limits to what they feel they can say.
An understanding of the yogic path is of course crucial to a heartfelt appreciation of Tibetan Buddhism but when I first attempted to explore this area I felt an absence of grounding in the presentation to Europeans of both the lamas teachings and the meditations. The manner in which their time consuming practice could be meshed with a busy Western life needed further thought. I kept asking myself what they actually did with their often complex practices within the proper context of their own cultural world. When I first visited Ladakh and came across the yogins in the mountains I realized that, in relating to them, I would be able to fit teaching and practice which I had heard about from leaned lamas back into the culture to which they belonged and thus deepen my understanding. Furthermore, I began to hope they might in some way clarify for me the nature of my own experiences in practice and in the mountains. Our book shows this to have been no easy task. To enter another culture, especially at the level of its deepest insights, required a certain delicacy that needed to be learnt as we went along.
James Low and I undertook long journeys on foot in Ladakh to meet the yogins in their monasteries and 'caves'. Few of these men were teachers but they allowed us into their presence and showed us their manner of being. A landscape was set before us, which we had to map as best we could. Our book is a map of the cultural landscape of these men. We hope and believe it will help Westerners both to broaden and to deepen their insight into the Dharma. Come with us then in an exploration of these inner landscapes set among the highest mountains of the world. It is our belief that what we found there is of great significance in the suffering world of today.
Contents
| | | |
| --- | --- | --- |
| | Introduction | vii |
| Preface: | Hermits and Hermeneutics | x |
| Part I. | Background | 1 |
| 1. | The Lineage of the Yogins | 3 |
| Part II. | Travelogue | 31 |
| 2. | Maintaining the Revolutions of the Universe | 33 |
| 3. | Meetings with Rimpoches | 54 |
| 4. | Schools for Hermits | 82 |
| 5. | The City and the Hills | 104 |
| 6. | The Geshe of Saspola | 132 |
| 7. | Return to Sani | 142 |
| 8. | Light Rays of the Sun | 154 |
| 9. | A Home of Ancient Yogins | 177 |
| 10. | The Hill of the Tigress | 194 |
| 11. | The Precious Jewel of Pipcha | 207 |
| 12. | Crossing the Mountains | 224 |
| 13. | Manali | 247 |
| Part III. | Teaching and Practice | 260 |
| 14. | Teachings of the Yogins | 263 |
| 15. | Practising Chod in the cemeteries of Ladakh | 292 |
| 16. | Privacy and Public Knowledge of the Dharma | 333 |
| 17. | The Meditation Notebook of Tipun Padma Chogyal | 342 |
| 18. | End and Beginning | 398 |
| | Glossary | 409 |
| | Index | 416 |
Sample Pages