Notify me when this item is available
Notify me when this item is available
You will be notified when this item is available
Be the first to rate this product
Add to Wishlist
Send as e-card
Viewed
10694
times since 20th Oct, 2019
The Citipati are two skeletons, one of a man and the other of a woman, represented with arms and legs interlaced, dancing the Tsam dance. They are considered to be masters of the cemetery. The Citipati are one of the seventy-five forms of Mahakala and are visible reminders of the impermanence of everything worldly. Their mouths are parted in a large grin, showing all their teeth. Each wears a long scarf.
According to a Northern Buddhist legend, the Citipati were, in a former existence, two ascetics who were once lost in such deep meditation that they did not notice that a thief had cut off their heads and thrown them in the dust. Since that time they have been ferocious enemies of thieves, having vowed eternal vengeance. This legend is somewhat similar to that of Yama.
In the cemetery, the Citipati are supposed to perform a skeleton ritual dance during which they blow the Tibetan long horns. In most monasteries the dance, symbolic of the cycle of life and death, is performed in the monastery cemetery once in summer and once in winter by monks wearing masks.
Click Here to View the Thangka Painting along with its Brocade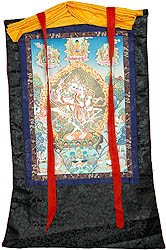 ---
Delivered by

to all international destinations within 3 to 5 days, fully insured.
---