Be the first to rate this product
Add to Wishlist
Send as e-card
Viewed
13271
times since 29th Jun, 2016
Grinning wildly and fiery eyed, this monumental image of the Great
Mahakala
stands heavily on the body of a corpse. He holds before him a huge vajra
chopper
and a large white skull bowl full of the blood and guts of demons turned into elixir. He carries across the crook of his elbows an ornamented wooden gandi gong, used in
Buddhist
monasteries to call the
Buddhist
monks to assemblies, symbolizing his vow to protect Nalanda monastic university and by extension all Buddhist monasteries.
The ornaments worn so elegantly on his chubby body and gigantic head include a jewel-encrusted gold crown, necklaces, earrings, and anklets. A garland of severed heads and snakes and the chalk white five-skull crown complement the ornaments and his glowing eyeballs and gleaming teeth. Each of these specifically symbolizes the conquest of a particular type of obstruction of enlightenment. Mahakala takes a terrific form and conquers the most horrible realms of existence. As a fierce manifestation of Avalokiteshvara, the Bodhisattva of Compassion, Mahakala helps beings overcome all negative elements, especially spiritual ones, personified and symbolized by the panoply of fearsome creatures over which he becomes lord. He wears his grisly ornaments to show his indefatigable determination to redeem even the horrible.
This particular form of Mahakala, easily recognized by the wooden gong he carries across his arms, is a favorite protector of the Sakya Order.
Each of our thangkas comes framed in silk brocade and veil, ready to be hung in your altar.
Click Here to View the Thangka Painting along with its Brocade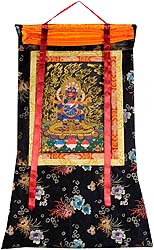 ---
Free Shipping. Delivered by

to all international destinations within 3 to 5 days, fully insured.
---