Tibetan Buddhist God Medicine Buddha
Bhaisajyaguru, also commonly known as the Medicine Buddha, is revered in Buddhism because he has the power of healing, both physically and spiritually. He is said to cure dukkha or suffering. His pure land is called the Vaiduryanirbhasa or the Pure Land of lapis lazuli. He is typically depicted with blue skin color, consistent with his attribution to the semi-precious gem, lapis lazuli, which is in a rich blue hue. Per tradition, he is pictured seated on a lotus throne. His position is the Dhyana Assan, leg crossed with feet facing upwards.
This thangka pictures him wearing three robes of the traditional monk. He can be seen carrying his jar filled with life-giving and healing nectar and fruit of Aruna which is said to carry many healing benefits. The hand that holds the jar has its palms up, which symbolizes meditative stability. His right hand can be seen reaching down, palms outward as a sign of giving blessings. This hand also holds the stem of an Aruna or Myrobalan plant between his thumb and forefinger which are all symbolic of eradication of suffering by way of the truth. By Buddha tradition he also wears an ushnisha on the head, symbolizing spiritual reliance. On the lower side of the thangka are two attendants, Suryaprabha and Candraprabha, holding elements for the sun and moon. Zoom in on top of the thangka and an image of Shakyamuni Buddha seated on a lotus. On the sides are apsaras, or female spirits in the clouds. The thangka is depicted in a rich red colorway using gold (symbolizing enlightenment and knowledge from its association with the color of the sun).
Specifications:
Tibetan Thangka Painting
Size of Painted Surface 19 inch X 27 inch
Size with Brocade 31 inch X 49 inch
Notify me when this item is available
Notify me when this item is available
You will be notified when this item is available
Be the first to rate this product
Add to Wishlist
Send as e-card
Viewed
7003
times since 22nd Jun, 2019
Click Here to View the Thangka Painting along with its Brocade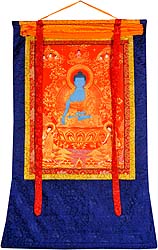 ---
Delivered by

to all international destinations within 3 to 5 days, fully insured.
---