Various Components of Early Costumes
Headdress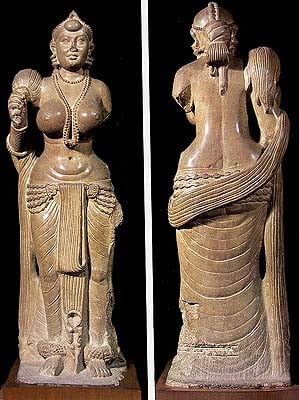 Yakshi from Didarganj (ca 300 B.C.)
After Indus, it is the Mauryan era (300 to 180 B.C), that, upon the evidence of its sculpted figures as the statue of yakshi from Didarganj, comes out with well defined costume styles.
This yakshi statue defines a new costume style and marks a subtle departure from the Indus tradition. In the costumes of this era the short skirts or broad band-type wear worn around loins and elaborate headdresses of Indus were completely missing.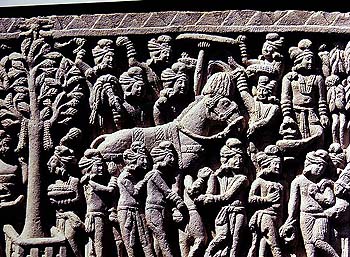 The Death Procession of the Buddha. Notice that the heads of all the accompanying Retinue are Turbanned
However, in less than a hundred years after the Mauryans, the Indus concept of an elaborate headdress re-emerged in Indian costumes, with far greater emphasis and wider significance. The yaksha statues, recovered from Bharan Kalan, now in Mathura Museum, datable to late third or early second century, and the entire range of human figures – kings, courtiers, attendants, servants, devotees, usually male but also female, at Bharhut, Sanchi, Amaravati, Nagarjunakonda…. were conceived with variedly styled headdresses, arranged sometimes with prominent protuberances (golakas)of various sizes, and at other times, modelled as conch, stupa, Shiva-linga, long drum, a flower-form, leaf, fan….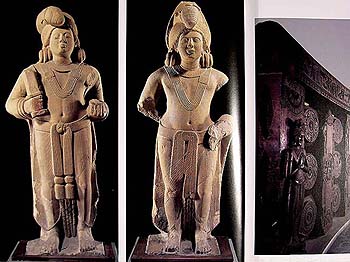 The Right Figure is identified as Agni, the Priest of the Gods, because of the Central Protuberance of his Headgear
The position of protuberance – in the centre, inclined to right or left, indicated the wearer's position and rank. Protuberance in the centre was reserved for a priest. It is mainly due to its centrally located protuberance that one of the two Bharan Kalan yaksha statues (300 B.C.) is sometimes identified as Agni instead of a yaksha.
Antariya, Kayabandha and Uttariya (Lower Garment, Waistband and Upper Garment)
Mauryan Period (ca 325 to 180 B.C.)
Broadly, simple, unstitched and usually undyed costumes, comprising three components – antariya, kayabandha, or kamarabandha, and uttariya, defined the Mauryan wears.
Ivory Dhoti with Zari Border
Antariya was the modern sari/dhoti type main garment varying in size. As in the Yakshi statue, antariya was worn on the lower part of the body below the waist as the male dhoti in modern times.

A Stylistic Feminine Antariya (Lower Garment)
Styles of male and female antariya only slightly differed. As female wear, its large part, almost one half or two thirds, was artistically pleated into a decorative frill, which was tucked into the waist band. Its other end was carried, from over the hips, to the right arm and across it was thrown to let it trail to the ground.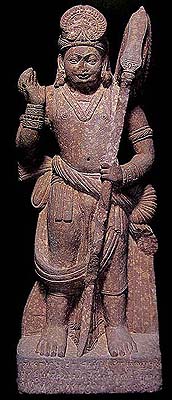 Male Figure with Elaborate Waistband
In male attire, one end was pleated, though not as artistically as in female wears, and tucked into the fold of the antariya wrapped around the loins while the other end was carried from between the two legs and tucked behind. It was worn up to the lower part of the ankles, not feet as in female attire. Its length, too, was much less. IMAGE 13 Kayabandha was a sash tied around the waist for securing the antariya. Kayabandha was largely a male attire tied in loop knots. It could be a simple sash, vethaka, one with drum-headed knots, a flat ribbon shaped pattika with elaborate band of embroidery, composed of many strings or a knitted one.

Nayika Applying Kajal in Her Eyes
In female attire, a multi-stringed girdle substituted kayabandha. Sometimes a beautifully pleated kayabandha was tucked over the pleats of antariya for giving it a thicker look.

Segan Semui-in
Uttariya was a long scarf-type textile covering the upper half of the body. Uttariya, too, usually formed the part of male attire worn either as a band tied over the stomach or as one diagonally across the chest from the right hip to left shoulder and across the back from left shoulder back to right hip.
Costume-Styles as Reflect in Early Buddhist Sculptures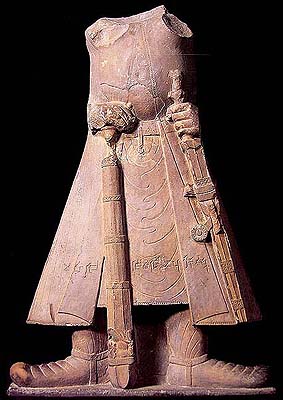 Male Figure with Footwear
During the reign of the Sunga (185 to 73 B.C.) and Satavahana (230 B.C onwards) rulers, boots, sandals and leggings formed an addition to costumes.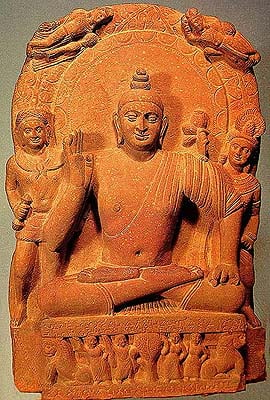 Buddha – With the Uttariya and Antariya made of a Single Cloth
Later, around the middle of the first century of the Common Era, uttariya and antariya merged into one in Buddha's images. Now a sheet, as long as could cover his form from his feet to his left shoulder, defined his apparel.

Standing Buddha
Later, into the art of India infused the elements of Greek sculptures. Influenced by the long robe of Greek sculptures, the sheet, covering the divine form of the Buddha, further widened to cover his entire figure, both shoulders and down to feet, as did a Greek robe.
Costume-Types, Designs and Techniques as Revealed in Ajanta Murals (200 B.C. to 450 A.D.)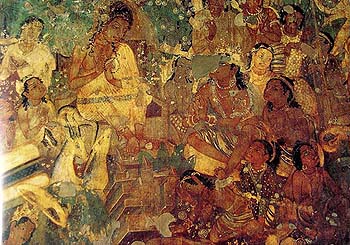 A Congregation from Ajanta, No Two Figures Wear the Same Clothes
A minute survey reveals that no two figures in Ajanta murals wear a similar costume. And, Ajanta panels, representing a Jataka or a detached episode from the Buddha's life, are a representation of crowd, though a meaningful one, with people pouring in from all sides, each differently costumed, and each costume differently designed and fashioned.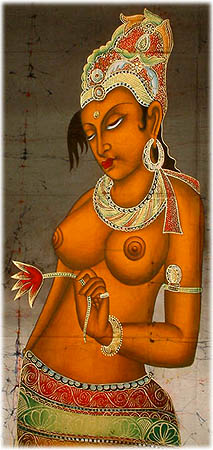 Ajanta Lady
Ajanta damsels knew multifarious styles of putting on a sari. Ordinarily, a sari was tied on pelvis wrapping both legs down to the feet. Maids, attendants and common women covered their upper part also with one third of it but not those from elite classes. Elite wore it mostly up to the waist.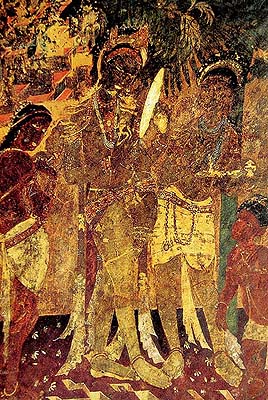 The Sari Trails the Dominating Central Figure
A smaller part of its length was wrapped around the loins and its half width was folded like a short skirt and the longer, let loose on the backside trailing on the ground like a long majestic cloak.
Sari from Breasts to Knees (Second Figure from Left)
In another innovation, it was worn on body's middle part, that is, from breasts to knees. It was secured on the waist by one of its ends tied like a kayabandha.

Sari Worn in the Fashion of the Women of Maharashtra
The sari was also worn like the male dhoti or as the contemporary langad-dhoti, a style of wearing sari yet pursued in entire Maharashtra. The sari was wrapped around the loins down to knees and one of its ends was carried from under the two legs and was tucked behind.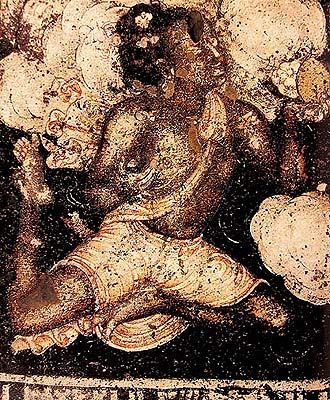 One End of the Sari Thrown Over Like a sash
Sometimes, its other end was thrown over one of the shoulders like a sash.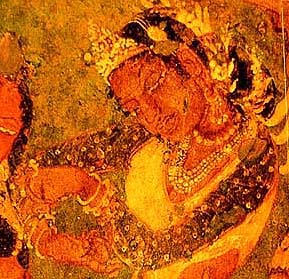 Designer Blouse from Ajanta which can be the Envy of any Modern Woman
A full sleeve blouse has been designed with white front and back and tied-and-dyed sleeves. Its front has pointed corners, as are sometimes seen in concurrent fashion garments.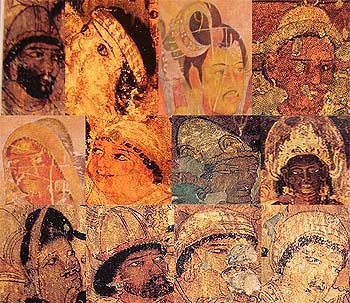 A Sample of Some Ajanta Cap Styles
Some blouses are designed with a round neck, some with v-neck and others with a collar. Here are socks, parasol, fans, curtains, tapestries and a lot more. Here are people with a band tied on the forehead, scarf, tied around the head, wearing round, flat and domed caps and wrapped in a sheet, chadara.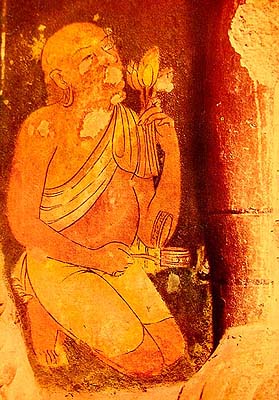 The Male Drape in Ajanta
Styles of wearing male uttariya are enumerable. A sash has its own beauty when it is passed from under the right arm, is carried over the left shoulder and is then brought down to the right hip.
Besides the weaved-in-designing, tie-and-dye and block printing seem to have been the chosen techniques of colouring textiles those days. Monochromic textiles are little favoured. Ajanta murals showcase, instead, a range of designed textiles. These design comprise variously laid stripes – narrow, broad, horizontal, vertical, straight, waving, crossing each other and forming squares and rectangles, colour-alternating….., sleek delicately laid lines across the entire piece, chess-board designs, floral patterns, trefoil, four-petalled, multi-petalled, vines, painted using obverse and reverse blocks, and rows of geese. Costumes-types, styles, designs, colour-schemes and the very spirit of these early wears is so deeply rooted into its soil that despite a gap of about two thousand years the contemporary textile fabricators and fashion designers not only wonder at their ingenuity but also look at them for inspiration and discovering in them their models today.
---
References and Further Reading:
Agrawal, Dr. V.S. India as Known to Panini: Lucknow

Bachhofer, Ludwig. Early Indian Sculptures: Paris

Behl, Benoy K. The Ajanta Caves – Ancient Paintings of Buddhist India: London.

Bhargava, K.D. (ed.). Indian Seals: New Delhi.

Brown, C. Catalogue of Prehistoric Antiquities in the Indian Museum Calcutta: Calcutta.

Chandra, Moti. Costumes, Textiles, Cosmetics and Coiffure in Ancient and Mediaeval India: Delhi.

Cowell, E.B. The Jataka or Stories of the Buddha's Former Births (6 Volumes Bound in Three) Delhi.

Dahiya, Neelima. Arts and Crafts in Northern India (From the Earliest Times to C. 200 B.C.): Delhi.

Ghosh, A (ed.). Ajanta Murals: Delhi.

Hegde, Raja Ram. Sunga Art: Delhi.

Jaina, J.C. Life in Ancient India as Depicted in Jaina Canons: Bombay.

Kangle, K.P. The Kautiliya Arthasastra: 3 Volumes Delhi.

Lalwani, K.C. (tr.) Kalpa Sutra: Delhi.

Majumdar, R.C. Vedic Age, Bombay.

Indus Civilization: A Catalogue of the Exhibition of Indus Finds and Art Objects (2000), Tokyo.

Sharma, Dr. R.N. (ed.). Manusmrti (Sanskrit Text with English Translation) Delhi.
Singh, Dr. Kiran. Textiles in Ancient India Varanasi.
Whitney, W.D. Atharvaveda samhita in 3 Volumes (Sanskrit Text, English Translation, Notes and Index of Verses) Varanasi.