Description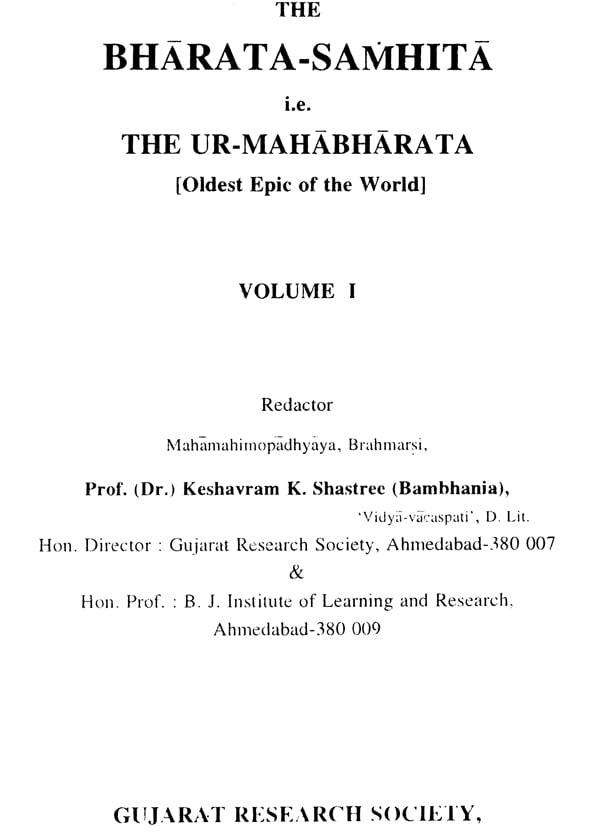 Foreword
I have great pleasure in introducing a work of sustained efforts and international merit-the Jaya-Samhita, i.e. the nucleus of the Mahabharata (which has been extracted from Bharata- Samhita which is also extracted from the Mahabharata), which can be called the Ur-Mahabharata, of about 8,800 (in the case of Bharata-Samhita about 24,000) two-line verses extracted out of 78,675 slokas of the Mahabharata (including it supplement, the Harivamsa), on the principles of higher criticism. According to late Dr. V. S. Sukthankar, a Scandinavian Orientalist, Soren Sorenson (compiler of the Mahabharata Index), was the first one who found out a nucleus and extracted about 27,000 slokas in the first instance. Soren Sorenson went further into depth and reduced that number to about 7,000 to 8,000 slokas, as early as between 1883 and 1894 A.D. Sorenson died very young and, according to Dr. Sukthankar, no one knows what became of this work.
Prof. K. K. Shastree, Honorary Director of the Ahmedabad branch of the Gujarat Research Society, who is an experienced and reputed Sanskritist, undertook afresh the work of finding out the nucleus, Prof. Shastree spent years in independent study and succeeded in extracting a nucleus of about 8,800 (in the case of the Bharata-Samhita about 24,000) two-line verses which are presented here in their original form.
As a result of devotion, deep scholarship and intense effort, Prof. Shastree has succeeded in extracting this text which is a contribution of immense value.
It is a matter of deep satisfaction that this extracted text has a well-linked narration which strictly follows the list of contents given in the 55th Adhyaya of the Adi-parvan. Thus Prof. Shastree has placed before us an authentic text of great merit.
I heartily congratulate the redactor, Prof. Shastree, for presenting such a masterly work to the oriental scholars who, I am sure, would find it most useful and interesting.
The Gujarat Research Society considers it an honour to publish this important work.
Introduction
We should not be hesitant in accepting the opinion of late German orientalist Herman Oldenberg that "The Mahabharata began its existence as a simple epic narrative. It became, in course of centuries, the monstrous chaos." Oldenberg further said that "Besides the main story there were veritable forests of small stories and besides, numberless and endless instructions about theology, philosophy, natural science, law, politics, practical and theoretical knowledge of life. A poem full of deeply significant dreaming and surmising, delicate poetry and school-masterly platitudes full of sparkling play, of oppressive and mutually jostling masses of images, of showers of arrows of endless battles, clash after clash of death-despising heroes, of over-virtuous ideal men, of ravishing beautiful women, of terrible-tempered ascetics, of adventurous fabulous beings, of fantastic miracles-full of empty flood of words and wide, free, peeps into the order of the course of the world."
(Quoted by late Dr. V. S. Sukthankar, vide his lectures entitled 'On the Meaning of the Mahabharata; pp. 1 & 125)
This was the opinion of that learned scholar after reading carefully the vulgate edition of the MBH available in his times. At preset we are fortunate to have a critical edition of the same published by the Bhandarkar Oriental Research Institute of Pune, including even its supplement the Harivamsa, yet we are not in a position to substract a single word from that opinion. It is true that hundreds and thousands of interpolations have been cleared in the critical edition, yet we do not get a pure epic. The conclusion arrived at by the late Franz Bopp, the father of Indogermanic philology that all parts of the epic were not of the same age, is in a way no doubt quite true even in the case of the critical edition of the MBH also. Late Prof. Christian Lassen, the first Europeon scholar, after submitting a complete analysis of the MBH, endorsed the conclusions of Bopp that in the MBH there are pieces belonging to very different periods and of very different colour and content.
We are informed by late Dr. V. S. Sukthankar (Ibid, pp. 6-7) that the striking "attempt at reconstructing the original epic was made between 1883 and 1894 by the Scandinavian scholar Soren Sorenson… Rejecting accordingly from the Vulgate text everything appeared to him like an episode or a didactic digression, he obtained at first an edition of some 27,000 stanzas. But even this extract, he thought, included materials belonging to different epochs… This second attention rendered the epic to a concentrated essence of some seven or eight thousand stanzas, which seems to have satisfied the soul of Sroenson … Sorenson's attempt at establishing the Ur-text of the Mahabharata stands by itself, and experiment was, as far as I know, never repeated".
Let us, here, take in our mind the words of Dr. Sukthankar that "The Mahabharata is in short a veritable chaos, containing some good and much useless matter. It is a great pity that a fine heroic poem, which may even be found to contain precious gems of ancient Indian history, should have been thus ruined by its careless custodians. But it is not quite beyond redemption. A skilful surgical operation-technically called "Higher Criticism"-could still disentangle the sub-merged "epic core" from the adventitious matter-known to textual critics as "Interpolation"—in which it lies embodied. The Mahabharata Problem thus reduces itself to the discovery of criteria which will enable us to analyse the poem and to dissect out the "epic nucleus" from the spurious additions with which it is deeply incrusted. This is the "Analytic Theory" of the origin and the Character of the Mahabharata, which was espoused by the majority of Western critics of the Great Epic of India….."
Vol-I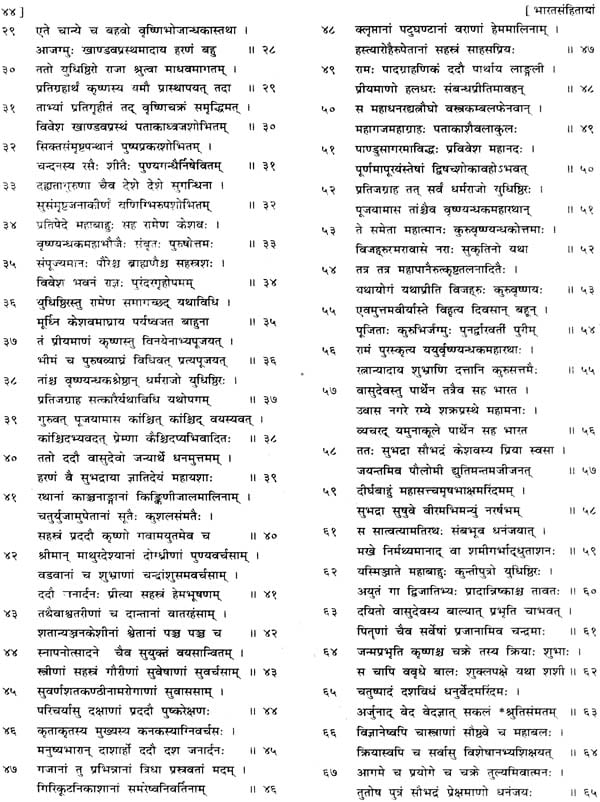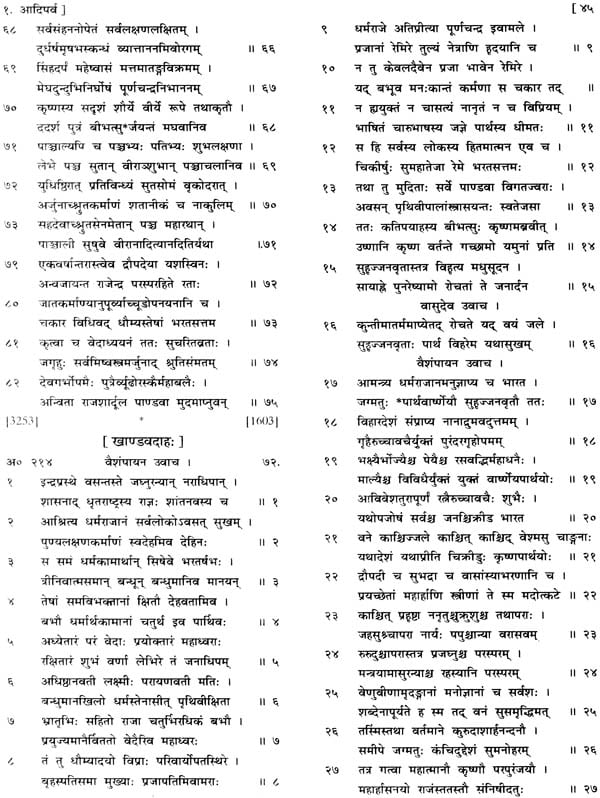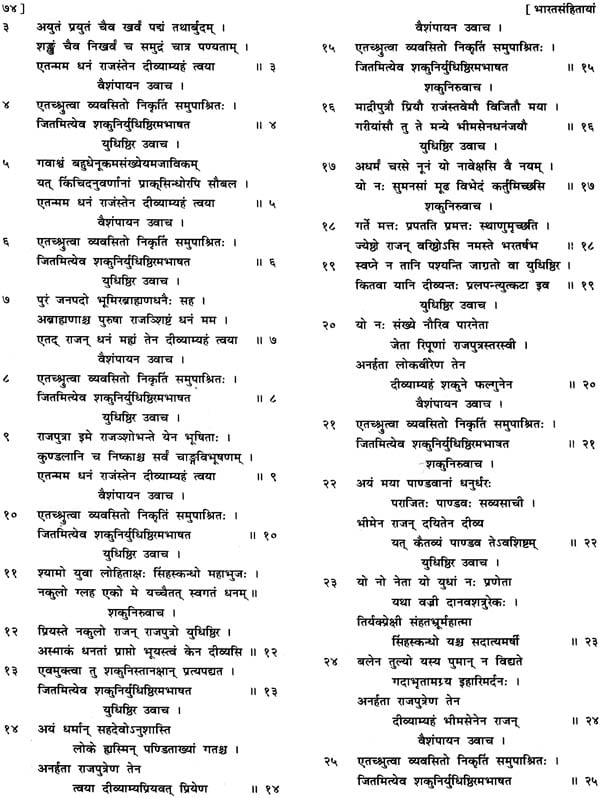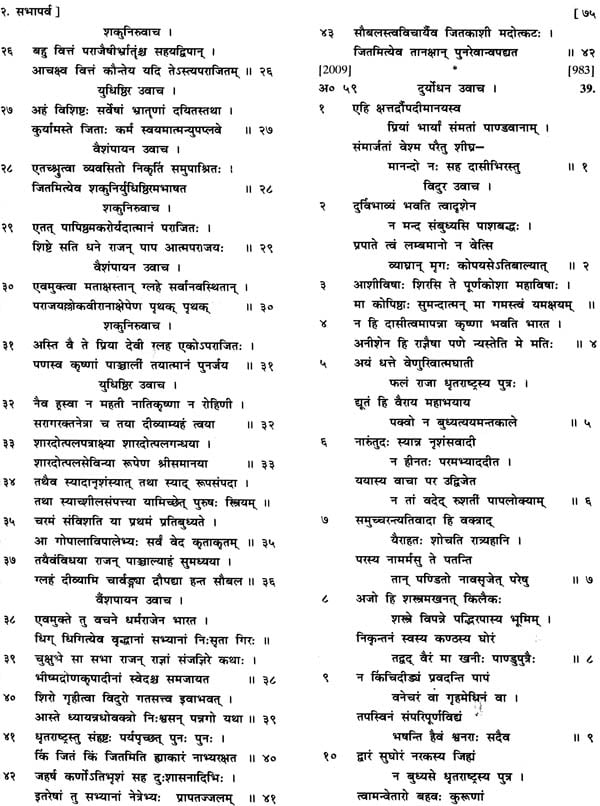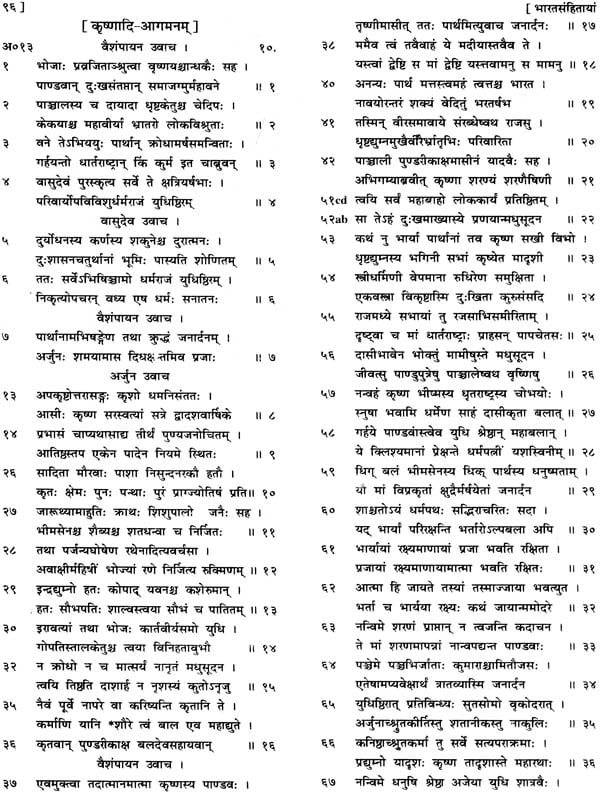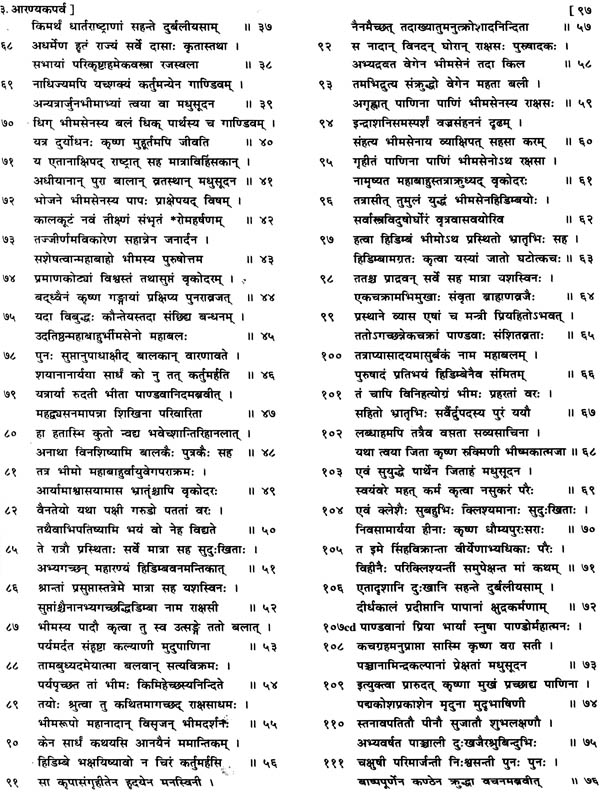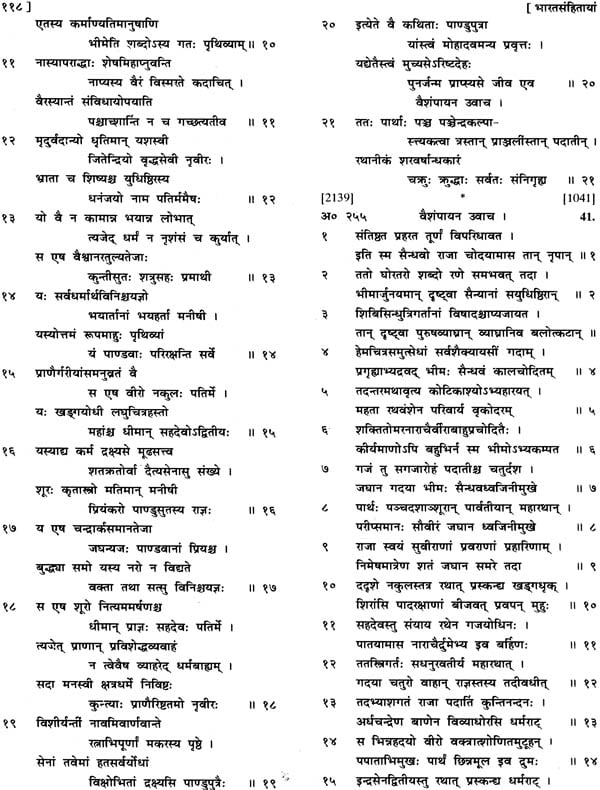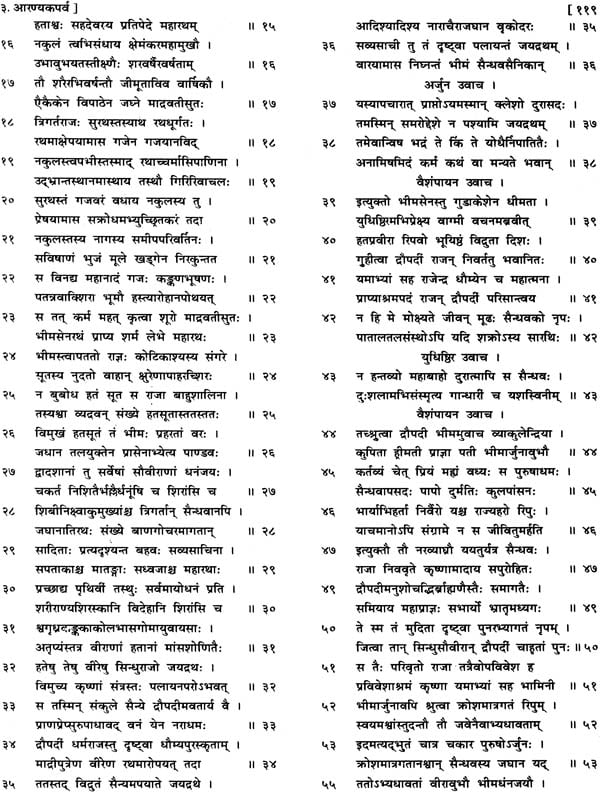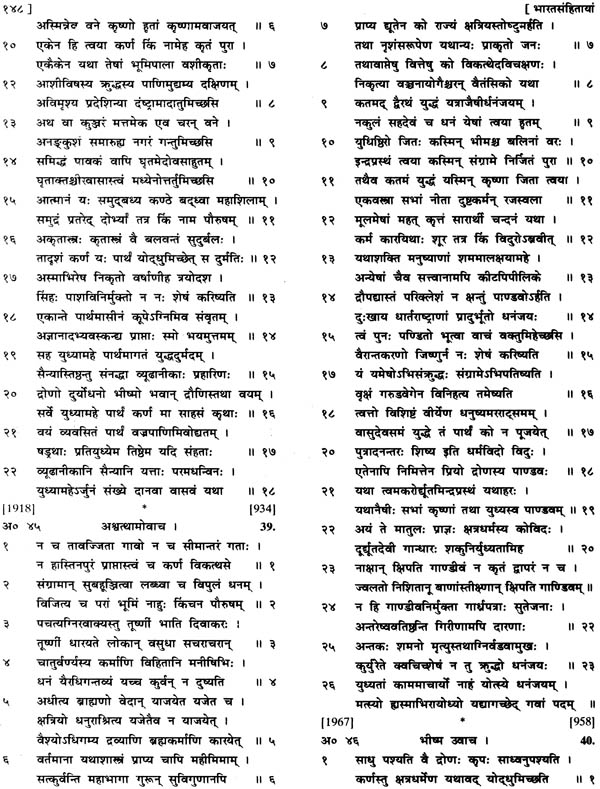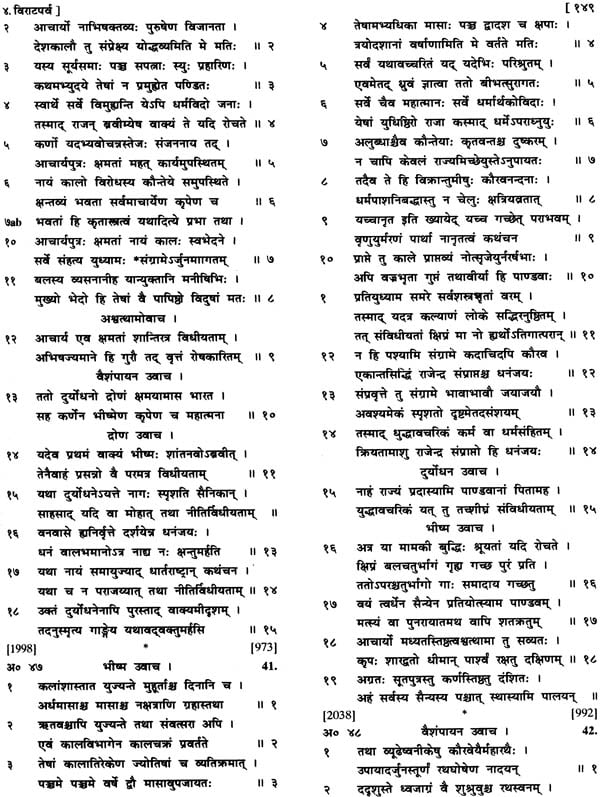 Vol-II