Description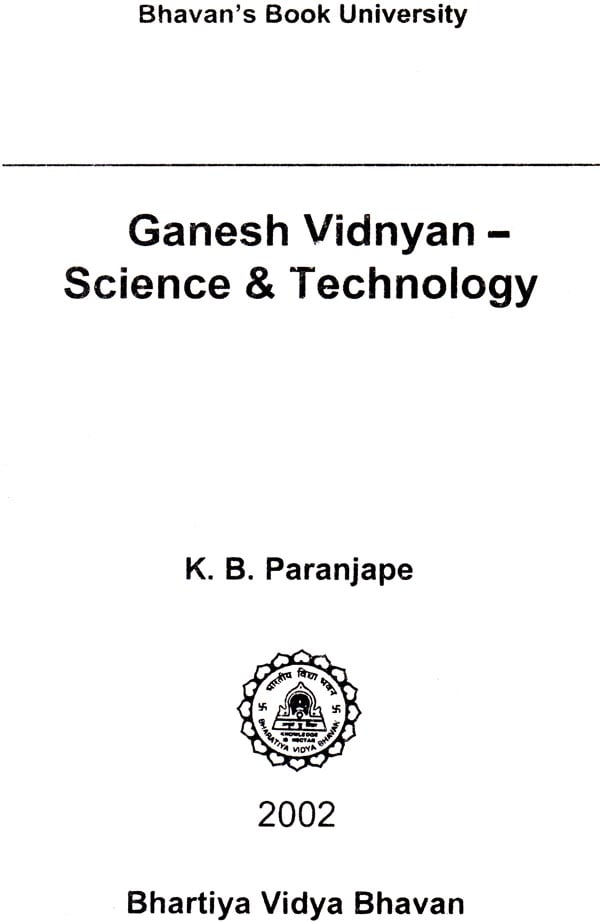 Back of The Book
Though Outward Appearance of Atharvashirsha is just Like A praise of God or Prayer To The Lord, it can be seen from The in depth analysis of Atharvashirsha As Given in This Book:
Image of Lord Ganesh is actually a projection of brain and nervous system in our body. It charts out sensitive nerve centres to facilitate activation of inner strength by easy concentration thereon.
Text of Atharvashirsha is composed in such a manner so as to make Yogic meditation easy and thereby achieve self-realisation and self-development.
Atharvashirsha has in-built Tantric application, which is aimed at stimulating dormant inner power of our mind and body, by using sound and other techniques.
Ancient theorem of Omkar has significant use in our life. Omkar is not a religious sign or just a mystic word, but it is a scientific term used in psycho-mathematical model of the universe at macro level and or life at micro level, Vital impotance of Atharavashrisha is that its text has channeled the technique of Omkar. It therefore renders valuable help in our life.
Introduction
Old is gold. This is a well known proverb. But our ancient civilization seems to be like an antique gold coin, which glitters, but its actual gold content is doubtful at least to the modern eye. Old scribbling on it cannot be deciphered. Neither coin itself can be melted out to testify the gold, if any; nor it can be disrespected and thrown as a rubbish. We are always in dilemma like this in all the cases of antique idols, images, and even prayers and texts.
I was also not exception to this. But I am having some advantage of knowing little bit of Sanskrit, which is foremost in the ancient languages in the world. I have also grown up in a typical Indian family; having firm belief in old cultural values. I have also an opportunity to spend my years with good learned people. I think all this has positive impact upon my mind. l, therefore, with the grace of God, could start my quest in ancient texts in a more positive manner. You may agree that very often, though not always, viewpoint of the beholder is most crucial factor.
During my pursuit, I tried to decipher science hidden between the lines of the ancient texts and reasonably could do so. I repeatedly made an attempt to find out application of prayers in day to day life and could gain good experience. I devoted my efforts to look behind the outwardly old fashioned forms of idols to find out real meaning underneath them. I was surprised to see that a well-conceived design based on some valuable principle has been often presented in seemingly crude piece of wild imagination. Even I could trace scientific application in apparently aboriginal primitive idols. My lifelong search of gold in ancient texts could fetch satisfaction to my mind. I think it worth to share this found treasure with others.
Now I prefer to start my presentation with the idol of Lord Ganesh. As you may perhaps be aware orthodox image OT Lord Ganesh is composed of elephant head, placed on human body. This idol has prominent one tooth and huge long trunk, which is slightly turning at the end. The story, which is traditionally told to explain this form, is somewhat curious and unbelievable. But story goes like this.
Lofty Mountain Himalaya was having a daughter, named Parvati. Do you understand subtle meaning of this? Parvati means one, who holds mountains. So Parvati means mother earth. Parvati was married to Lord Shiva. Literal meaning of word 'Shiv' is one who is auspicious. Lord shiva is a god of salvation from all bondage. What does a man wants in his life? Freedom from poverty! Freedom from the clutches of nature! And host of other things! It means man wants salvation from number of bondages. Lord Shiva thus denotes the limit of aspirations in human life. This divine couple of Shiva and Parvati is therefore very much close to our human life. One is earth, a support of human beings and other ultimate goal of our life.
Once Parvati created an idol, out of mud. She placed this idol as a sentry at the gate. This muddy sentry seems to be working like our robots. He prevented even Lord Shiva at the gate. Shiva could not tolerate this obstruction. Lord cut the idol in its neck. This aggrieved Parvati. Lord Shiva, therefore, placed an elephant head on the body of idol and put life in it. Parvati was pacified due to this. She adopted the alive guard as her son. She named him "Ganapati "or "Ganesh".
Now perhaps you may start understanding the hidden meaning in the idol worship of Lord Ganesh. Parvati is Mother Earth. Her most favoured earthen toy is a man. Lord has put life in it. This traditional odd story, thus, tells us that we are not ordinary creatures, crawling on the earth, but most precious children of the divine couple. We are creations of Nature and the Supreme power in the universe.
But then question arises why huge trunk and silvery single tooth are superimposed on the normal human face in the idol of Ganesh? In my opinion, answer to this question lies in the human anatomy and the yogic perception of nervous system in human body. Satisfactory explanation of Ganesh idol with elephant head on human body can be found, if we can visualize the human brain and its extension in the form of spinal cord from the base of the skull to pelvic plexus, situated near rectum.
1.1 Technical meaning of the image of Lord Ganesh
One may agree that such visualization of human brain with extended spinal cord fairly corresponds with the pictorial presentation of the same thing in the form of elephant head with trunk placed on human body in the image of Ganesh. But somebody may still say that this might be my wild imagination or at least after thought to justify something, which was initially not there. I would therefore, prefer to show some extracts from ancient texts, which support my argument.
I would like to start my exhibits with an extract from Mudgal Puran, duly preceded by explanatory note. It is stated in this Puran that three sides of our physique below neck have three different qualities. Right side is sluggish (Tamas), left side pro-active (Rajas) and middle enlightened one (Satvik), All these qualities converge into a single point in the neck. Our ego stays at this point. Thus ego and mixture of three qualities form the characteristics of every man.
This description is very much parallel to position of spinal cord along with two sympathetic nerves on each side. All these three also converge in cranial cavity in the human brain little above neck. We can go later into more details of this aspect of human anatomy. Still at this stage, it can be said that all types of actions, thoughts and feelings, are expressed and put into action mainly through these three nerves. It is also true that our thinking pattern is a mixture of three qualities -namely dullness or inertia,
Contents
| | | |
| --- | --- | --- |
| 1 | Physiological aspect in the image of Ganesh | 1 |
| 2 | Yoga and Atharvashirsha | 15 |
| 3 | Tantra and Atharvashirsha | 40 |
| 4 | Some advanced topics | 61 |
| 5 | Omkar Theorem and its applications | 72 |
| 6 | Omkar in Atharvashirsha | 88 |
| 7 | Hints on putting Om in use | 101 |
| 8 | Contacting absolute Singularity | 110 |
| 9 | Methodology | 125 |
| Annexure | Text of Ganapati Atharvashirsha | 149 |
| Appendix A | Details of Yogic Chakras | 157 |
| Appendix B | Detailsof Tantric Chakras | 158 |
| Appendix C | Details of distrubution of Alphabets in nerve centres | 159 |
Sample Pages