Description
About the Book
You have to believe that you are a wonderful person and that you are a once-in-all-history event. You have the duty and a right to be whom you are capable of. You have to believe that life is not a problem to solve, but a gift to cherish. You have to believe that you will be able to stay one up on what used to pull you down. You have to believe that you are your greatest as-set and that there is nothing you cannot do. You also need to believe that no one can keep you from dreaming and that you alone can stop dream coming true. Your achievements are determined by the desire that you possess. You have to discover who you are and what you are capable of. it is not a quirk of fate, but it is the systematic application of effort that will make you what you want to be.
You need workable ideas to make your exciting dreams come true. This book contains over four hundred small but powerful ideas, which are simple and commonsense. It is purely up to you to practice them and make your dream come true.
Preface
For the past over 25 years, I have been conducting programmes to help people to invest their time effectively. Earlier I used to call my programme "Time Management". After deeply thinking about this topic, I realized that time cannot be managed since we have no control on time. When we say we 'manage' a resource, we imply that we have a 'control' on that resource. For example, a Finance Manager has control on finance; a Materials Manager has control on materials; a Production Manager controls the production, etc. These people can alter the availability and the flow of the resource entrusted to them. For example, a Finance Manager can alter the availability of funds and control the cash flow. So there is a meaning in calling them as 'managers' of the resource entrusted to them.
But can time be controlled? Can we alter the availability and the quantity of time? Can we stop, reduce or speed up the flow of time? Irrespective of any social or status difference, all of us have the same amount of time. This quantity of time is identical for a baby in the cradle to the president of the largest country in the world. No one can control the flow or availability of time. Given this irrefutable fact, is it not abnormal to call it 'Time Management'?
However, we can intelligently use the available time by investing the same on value adding priorities. This process can be called 'enhancing the productivity of time'. After decades of teaching 'Time Management', I realized that it is not possible to teach or train anyone to manage any resource entrusted to them and that no one can be motivated or changed except with their complete cooperation and conviction.
With this in mind, I interviewed hundreds of successful people in various fields to understand how they are able to produce amazing results while others are struggling. I realized that successful people are unique in the way they use their time. I learnt hundreds of small ideas and tips that make them highly relaxed while at the same time turning out amazing results.
I started to share such ideas through my daily newsletters, which reaches thousands of readers across the world. This book "The Gift of Time" is the result of compiling such ideas. Already three editions of this book have come out and they have been received very well. This is the fourth edition of the book. I have tried to refine some of the ideas and present them in a more readable format. I thank Mr. Srinivasamurthy of Productivity and Quality Publishing for accepting to publish the fourth edition of this book.
I am very confident that the readers will benefit a lot from this book. I have made this book easily readable by ensuring that each chapter is not more than a page and each chapter is a stand-alone chapter without any link with previous or succeeding chapter. Any one can read any page to understand a simple concept.
Any concept is as useful as it is implemented. I strongly recommend the readers to not only read the book but also implement what they read in their daily life to derive maximum benefit of this book.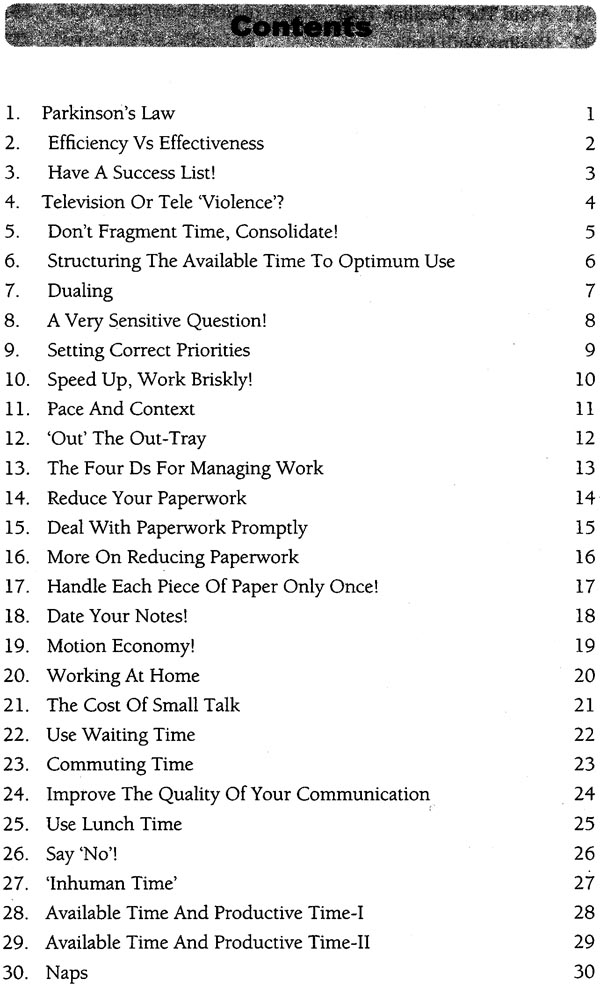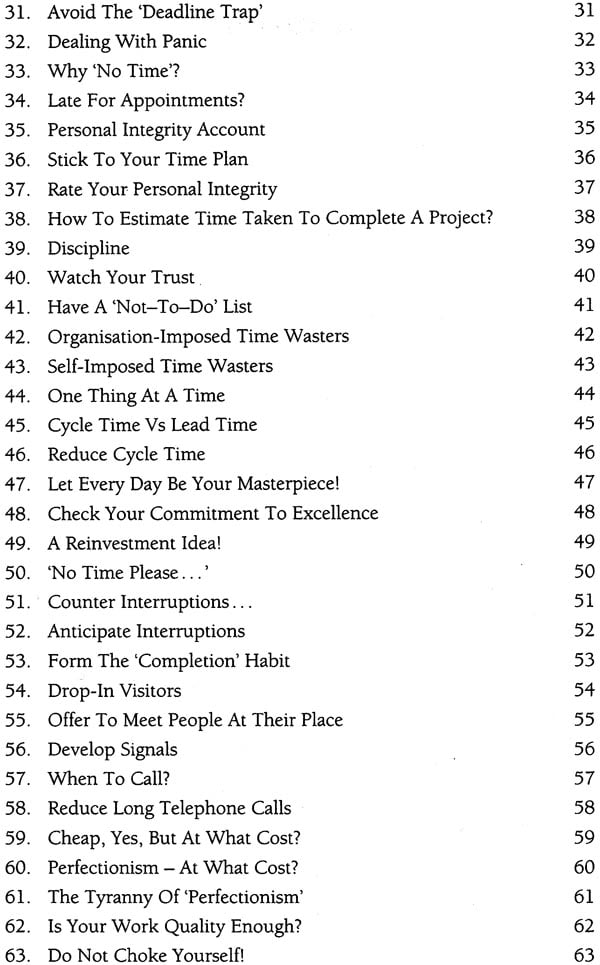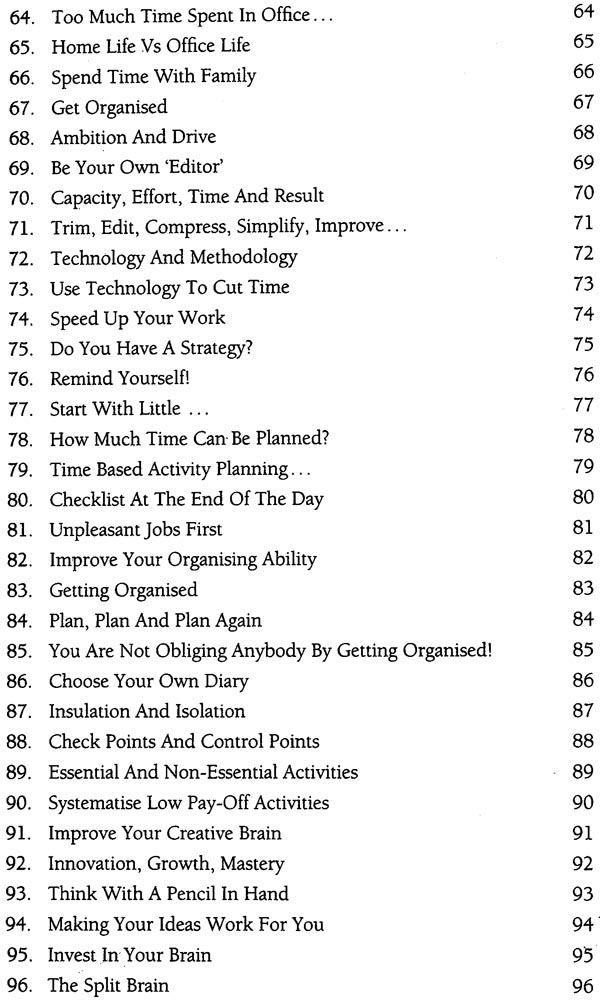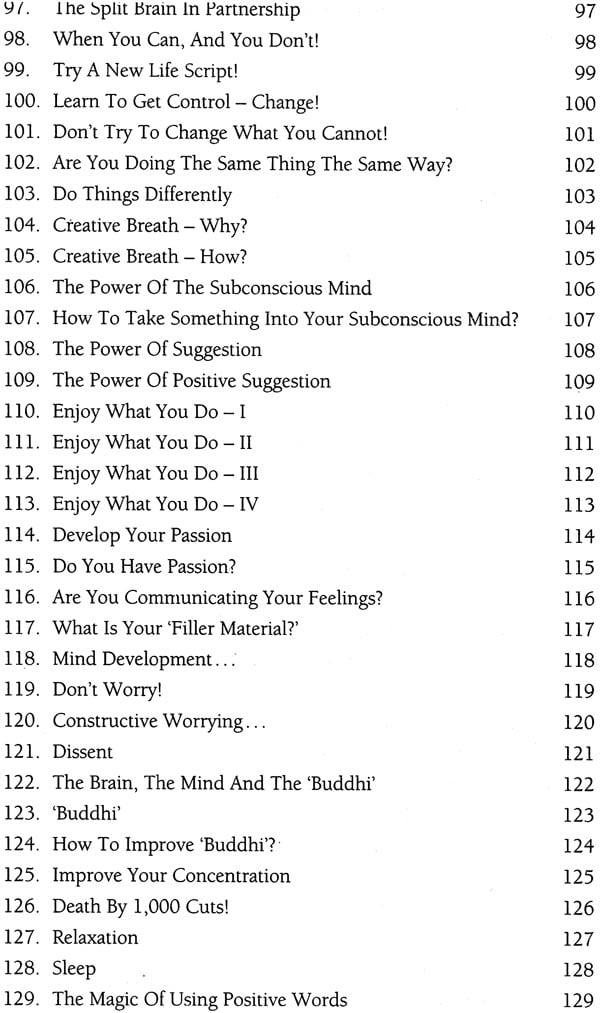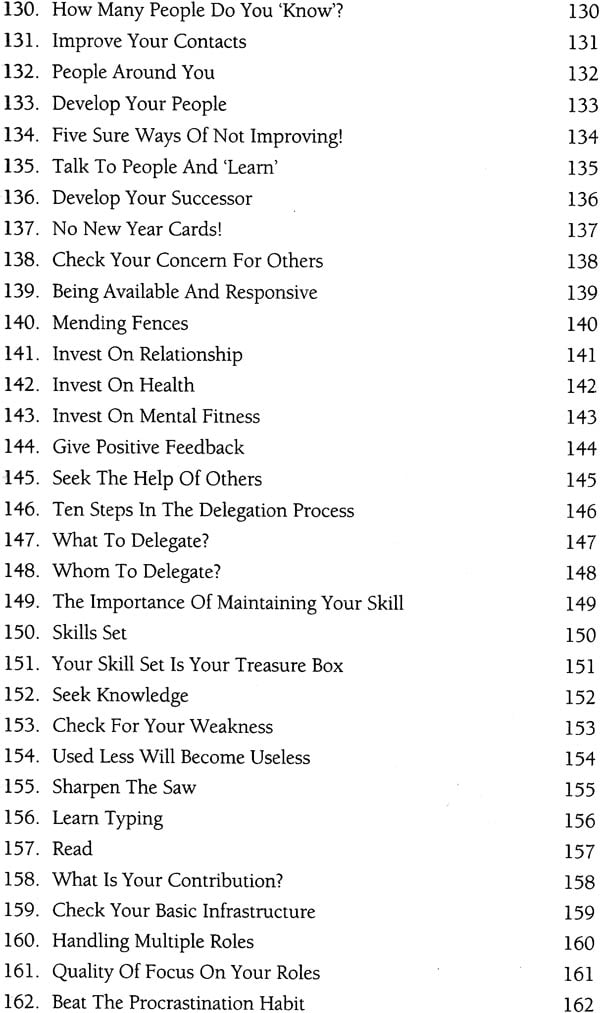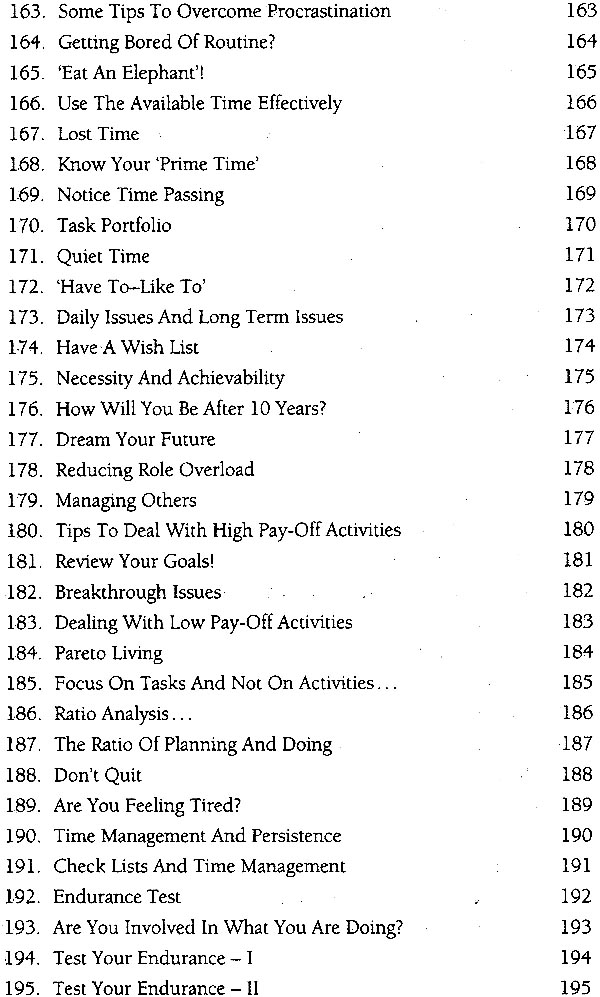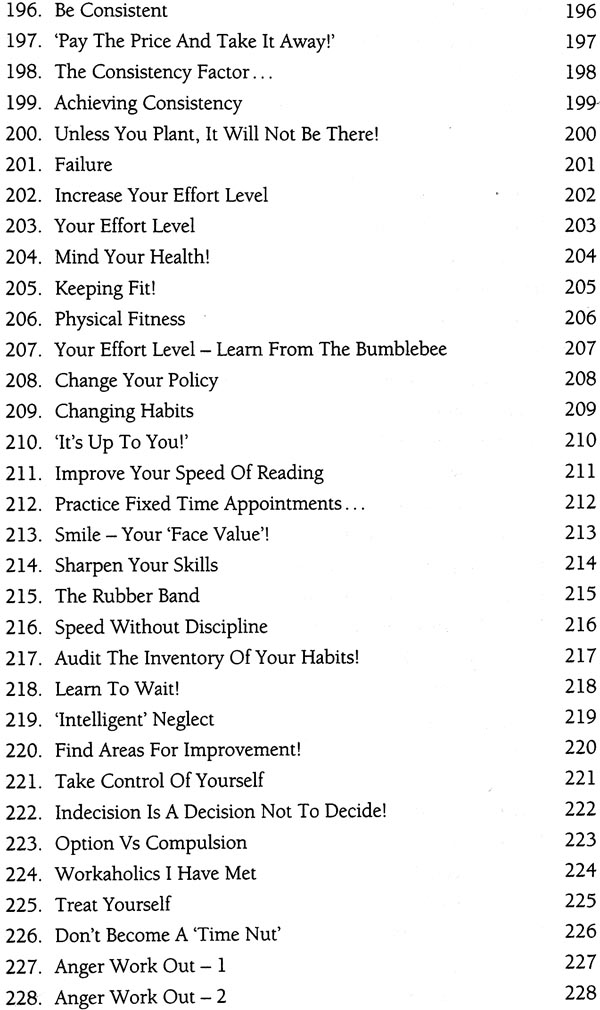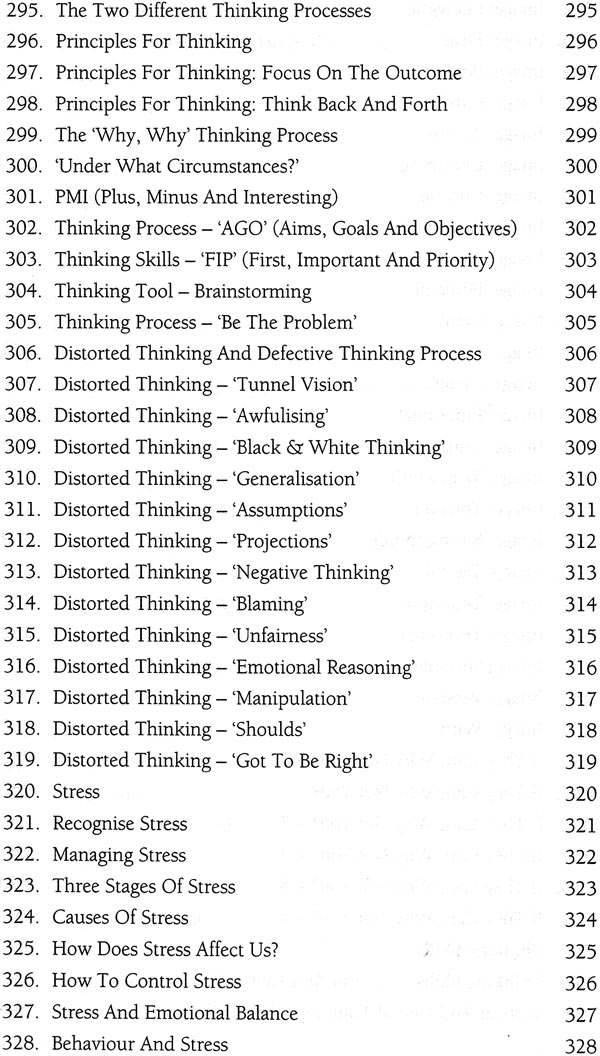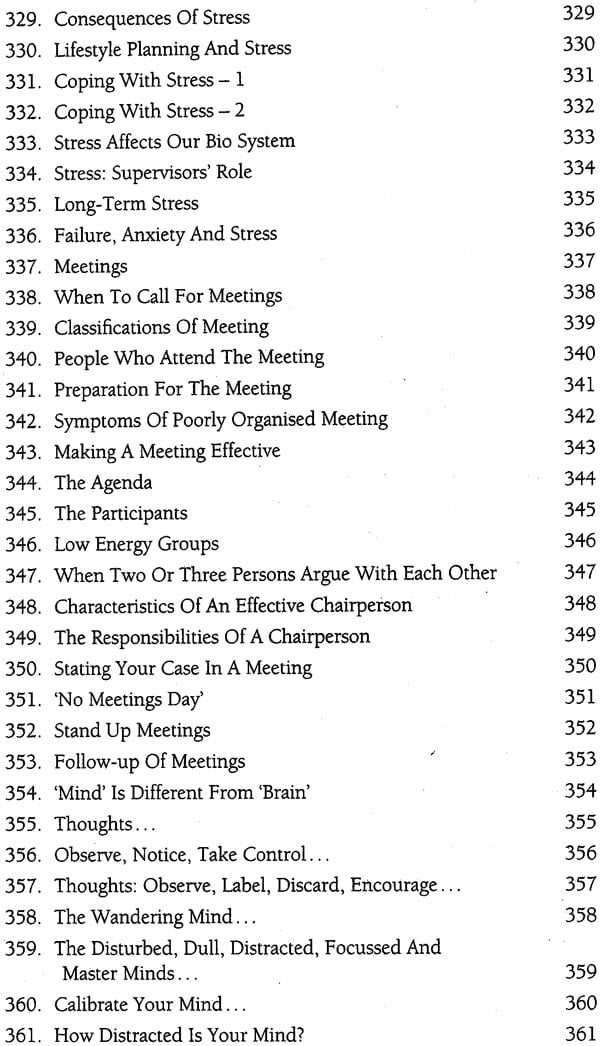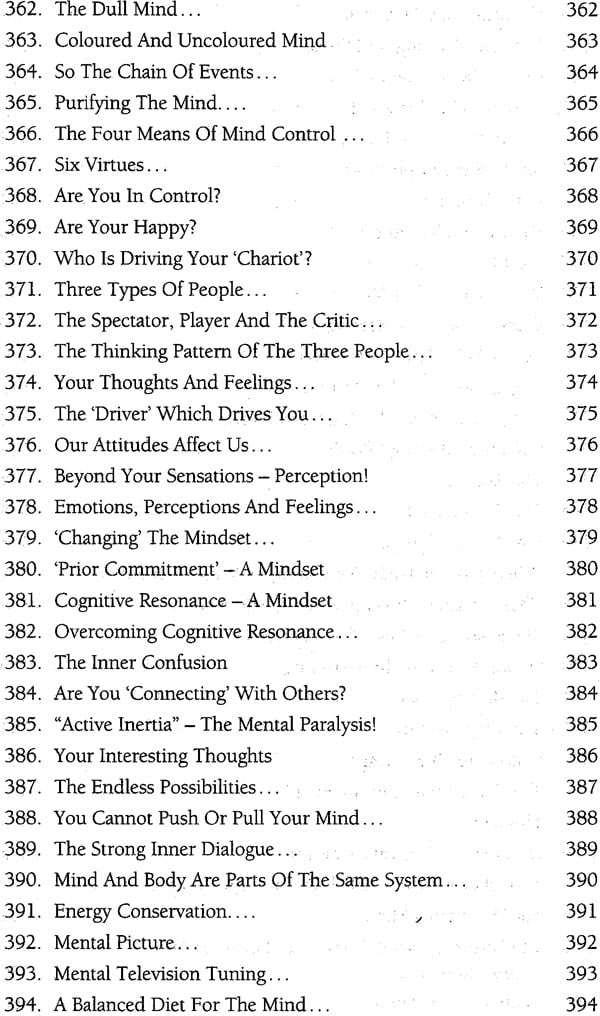 Sample Pages