Description
Foreword
Two histories the Sage Valmiki wrote, to teach the growing world he loved so well, the way of virtue and of happiness. The one, intended for the younger souls, depicts the outer life of Rama, prince and king of Avadha and tells of how he warred against, and slew the evil King, Ravana. This ancient book is known to all the world as Ramayana. The other, helpful at a later stage, is called the Maha Ramayana , Greater Book, and it describes the inner life of Rama, telling how he triumphed over foes within himself, and so prepared to fight and conquer, for the helping of the world, the outer evil forces rampant in that time.
The story of this Greater Book is here essayed in brief.
PREFATORY NOTE
The Yoga-Vasishtha, a Samskrit work, in thirty-two thousand shlokas, or sixty-four thousand line, is highly honoured among Indian Vedantins, for its philosophy and its hints on practical mysticism, as also its literary beauty and poetry. The saying about it, among the Vedantins, is that it is a work of the siddh-avastha, i. e., for the philosopher-yogi, who, having mastered the theory, is passing on to the practice of it; while the other well-known works, even the Gita, the U panishats, and the Brahmsutras, are works of the sad han-avastha, i. e., for those who are yet trying to master the theory.
The very highly abbreviated version, of about a sixth of the work, which is here presented to the public, originally appeared in The Theosophical Review (of London, then edited by Mrs. Annie Besant and Mr. G. R. S. Mead), in 1899-1901. Mrs. Mrs. Besant very kindly added some valuable notes that greatly elucidate some very obscure portions of the story of Leela.
Friends have, from time to time, wished that the tales were rescued from the oblivion of the pages of a periodical. The present General Secretary of the Indian Section of the Theosophical society, Pandit Iqbal Narain Gurtu, kindly expressed the desire to fulfil that wish, through the Publishing Department of the Section. Thus the tales are re-appearing after having slept for nearly thirty years. I have revised them, but with scarcely and alterations. There has been no opportunity to submit her noted to Mrs. Besant, for revision. They have been printed exactly as they first appeared
CONTENTS
PAGE
Foreword
iii
Prefatory Note
v
Book-I
Rama's Vairagya
The dying of desire-The coming of
the Master-The questioning and
prayer-The promise.
1-17
Book-II
The qualifications of those who desire deliverance
The history of Shuka-The disciple
and the teacher-The pace of progress
-Exertion and destiny-The
meaning of destiny-The origin
of the Science-Who may ask and
who may answer-Attaninment of
true knowledge-Shama and the
other means.
18-39
Book-III
The world illusion and the real Self
The nature of the drishya-The
story of the space-born-Recurring
questions-The story of Leela-The
story of Leela (continued)-The story
of Leela (coneluded) Consciousness
-The story of Karkati; her hunger
and austerities-The transformations
of Karkati and further Tapas-The
question of the Rakshasi-The
answer-The end of Karkati's story.
40-114
Sample Pages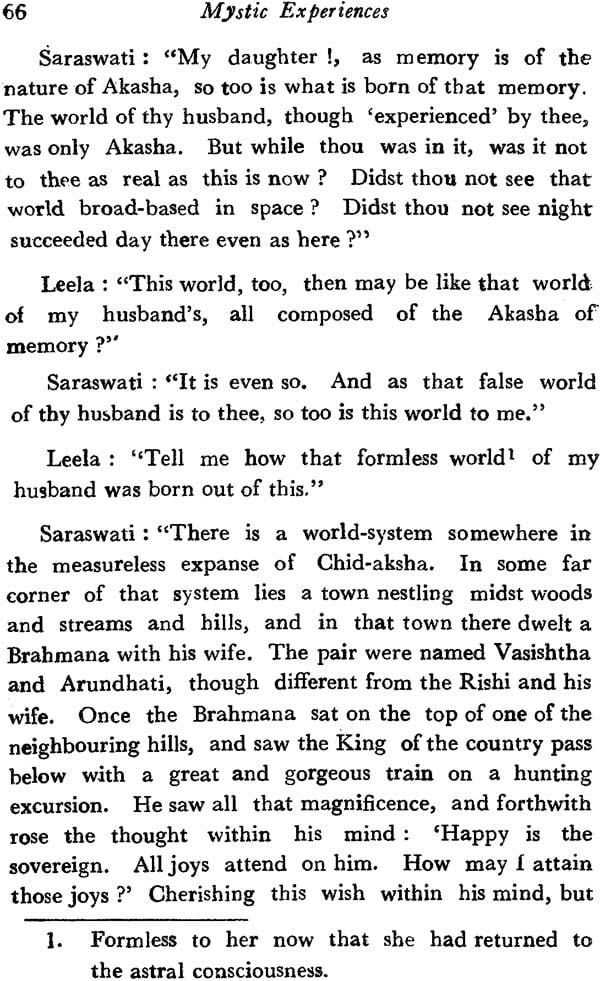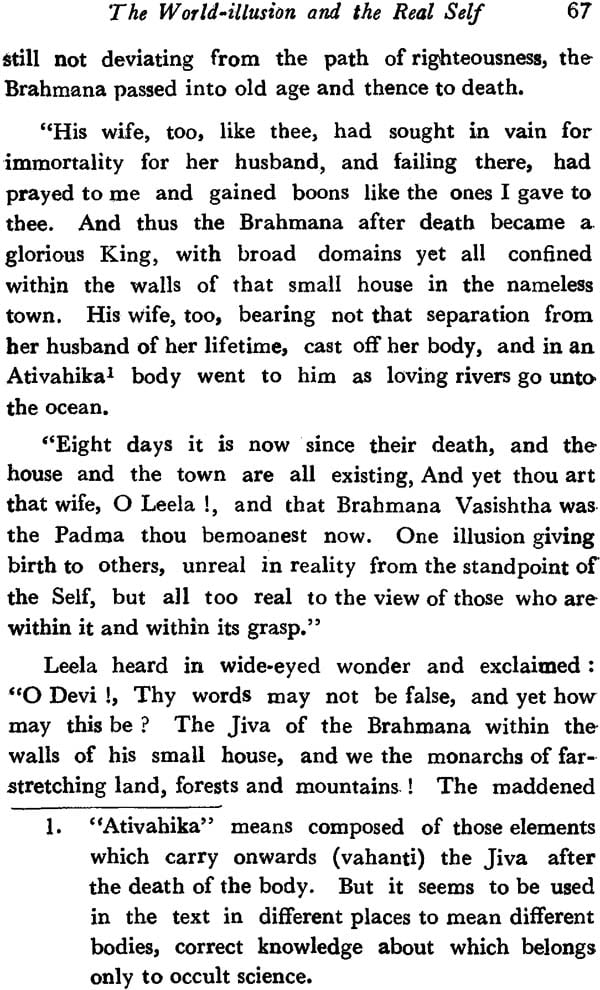 Click Here for More Books Published By
Theosophical Publishing House