Description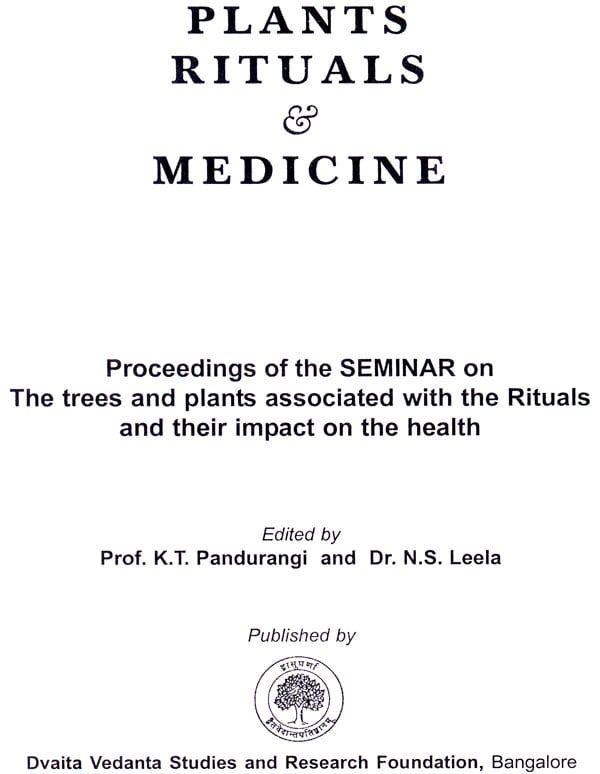 Preface
Rituals play an important role in Indian Culture. These have social, ethical, aesthetic and medicinal values. A number of trees and plants are utilised in rituals. These have medicinal value.
It is necessary to bring these aspects of the rituals to the notice of modern young men to enable them to realise the role of rituals in Indian Culture. Medicinal values of the trees and plants utilised in the rituals deserves our attention. The flowers, the incense etc used in rituals and the music of prayers have delicate aesthetic sensitivity.
To highlight all these aspects of the rituals, a Seminar on - The trees and plants associated with the rituals and their impact on health was organised. H.E. TN. Chaturvedi, Governor of Karnataka inaugurated this Seminar. Dr. Timmappa, Vice-Chancellor of Bangalore University released the two publications of Dvaita Vedanta Foundation. Sri Yellappa Reddy delivered the Key-note address. Sri N. Narasimha Rau, Chairman of Dvaita Vedanta Foundation presided.
Distinguished Scholars from the areas of Agricultural Science, Forest Science, Ayurveda and Dharma Sastra participated in the seminar.
We are grateful to H.E. TN. Chaturvedi, Dr. Timmappa, Sri Yellappa Reddy and the distinguished scholars who presented the papers.
The papers presented at this seminar are published in this volume. Dr. N.S. Leela has assisted the editing of this volume, sparing her valuable time. I express my thanks to her.
From the Book
I am glad to know that Dvaita Vedanta Studies and Research Foundation, Bangalore proposes to publish the proceedings of the seminar on "Trees and Plants Associated with Rituals and their Impact on Physical and Mental Health" held during May 2004. I was very happy to associate myself with the Seminar by inaugurating it.
Knowledge and understanding emerge through such Seminars. One may call the theme of the Seminar as concern for the environment or the need for eco-centric development, but it is true that we have to avoid many of the problems that have beset society not only in India, but all over the world. Another important advantage of this kind of a seminar is that distinguished scholars participated in it and the latest advances and researches etc., were briefly in a very distilled form were put not only before the knowledgeable delegates, but also before laypersons. Besides, I hope that the scholarly interaction which took place in the Seminar ultimately led to intellectual rethinking and introspection about the subject. It is imperative that such an intellectual exercise of a very high order needs to be passed on to the future generations in the form of a proper book. I am sure that it will be received well by all.
I commend the efforts of the Hon. Director and his colleagues at the Foundation. I send my best wishes for the success of the endeavour.
Contents
| | | |
| --- | --- | --- |
| Seminar Programme | | 9 |
| Welcome Speech by Sri N. Narasimha Rau | | 11 |
| Address Delivered by H.E. T.N. Chaturvedi, Rajyapal of Karnataka State | | 13 |
| A Profile of the Academic Activities of Dvaita Vedanta Research Foundation | Prof. K.T. Pandurangi | 17 |
| "Eco-centric Culture" – A Road Map [Keynote address] | Shri A.N. Yellappa Reddy | 21 |
| The role of rituals in Indian Culture | Prof. K.T. Pandurangi | 31 |
| Role of tress and plants in the purification soil | Dr. G.K. Veeresh | 44 |
| Five Sacred Trees | Mahesh Adkoli | 48 |
| Sacred Temple Trees of Tamilnadu (Sthala Virkshas of Tamil Nadu) | Dr. R. Nagaswamy | 63 |
| Trees and Plants Associated with Temples in Kerala | Dr. V. Nithyanantha Bhat | 68 |
| Awareness of Biodiversity in Ancient India | Dr. Krishnakumar | 72 |
| Medical Ritual in Atharvaveda | Dr. V.K. Hampiholi | 81 |
| "Trees and Plants associated with Grhya-rituals" | G.N Thite | 86 |
| Religious and Medical Value of Dhatri, Nimba and Shami trees | Dr. Satyanarayana Bhatt | 90 |
| Tree of Life: the giving tree | | 93 |
| Nimba, Bilva and Dhatri | Dr. S.B.A Sandhya | 96 |
| Tulasi, the Religious Plant and its impact on Mankind | Dr. N.G. Raghu Mohan | 102 |
| Chandana and Narikela | Dr. S.B.A. Sandhya | 105 |
| Aromatherapy in ancient India | S. Hemalatha | 116 |
| Tree and Plant Products utilized for the care of Pregnant Woman and Children | Dr. Rohini, D. Bharadwaj | 126 |
| Insects and Plants: Mutual Interactions | A.K. Chakravarthy | 130 |
| Totemism as a Symbol of Fertility: A Comparative study | Dr. N.S. Leela | 136 |
| Let Food by your medicine and Medicine your food | | 146 |
Sample Page