Description
From the Jacket:
Sanskrit grammar has remained for long, professedly deficient in its treatment of syntax, in spite of the labours of Delbruk, De Saussure, and Whitney in this field. The present work is an attempt to remove this deficiency. Herein the author has presented a vivid portrait of syntax as it is represented by classical Sanskrit literature, Vedic prose and Epics.
The book is divided into six sections. Section I opens with the general remarks on the structure of sentences. Section II explains concord and case-relations. Section III deals with the different classes of nouns and pronouns. Sections IV, V, VI discuss the syntax of verbs, particles and sentences.
The book is the result of the author's observations of original sources which he quotes in plenty. Majority of examples cited by him are selected from the works of well-known authors and this has made the work both authoritative and interesting. Among the ancient grammarians he has followed Panini whose rules are referred to at every step.
The study is documented with an introduction and index of Sanskrit words.
Preface
This book aims to give a succinct account of Sanskrit Syntax, as it is represented in classic Sanskrit literature, without ne- glecting however the archaisms and peculiarities of vaidik prose (brahmana , upanishad, sutra] and of epic poetry. The facts laid down here have been stated chiefly by my own observa- tions in perusing Sanskrit writings, and accordingly by far the great majority of the examples quoted have been selected directly from the sources, if not, those suggested by the Pe- tropolitan Dictionary or others have, as a rule, been received only after verification. Moreover, valuable information was gained by the statements of vernacular grammarians, especially of Pa- nini , to whose reverenced authority due respect is paid and whose rules are referred to at every. opportunity. For some useful intelligence I am indebted to Mr. ANUNDORAM BORooAH's Higher Sanskrit Gmmmar Calcutta 1870. A welcome and pre- cious assistance were to me some treatises or occasional hints of distinguished European scholars, who, as DELBRluCK, DE SAUSSURE, WHITNEY, have explored tracks of this scarcely trodden region of Indian philology. But for the greater part of the subjects falling within the scope of this compilation, monographies and special investigations of a sound philological and scholarlike character are still wanting, and I have felt that want often and deeply. For this reason I am fully aware, that many deficiencies and inaccuracies will certainly be found now or appear afterwards in this first Sanskrit Syntax written in Europe. Notwithstanding, as I felt convinced that my labour, however imperfect, might prove of some profit by facilitating both the access to Sanskrit literature and the study of Sanskrit language, and that on the other hand this work might afford some base for further investigations on special points. of Syntax, it is placed before the public with the confidence that it may be judged, what it is, as a first attempt, and an attempt . undertaken by a foreigner.
In arranging materials I preferred following, as best I could, the nature and spirit of the language I was working on, rather than clinging too closely to the classification familiar to us by the Syntax of Latin and Greek; in stating facts I have avoided generalizing from such instances as did rest only on my own limited experience, remembering the wise words of Patanjali
CONTENTS
| | | |
| --- | --- | --- |
| SECTION I. | General remarks on the structure of sentences | 1 - 13 |
| SECTION II. | Syntaxis convenientiae and syntaxis rectionis | |
| Chapt. I. | Concord | 13 - 23 |
| Chapt. II. | How to denote case-relations | 24 - 29 |
| Chapt. III. | Accusative | 29 - 42 |
| Chapt. IV. | Instrumental | 42 - 58 |
| Chapt. V. | Dative | 58 - 67 |
| Chapt. VI. | Ablative | 76 - 81 |
| Chapt. VII. | Genitive | 81 - 101 |
| Chapt. VIII. | Locative | 102 - 113 |
| Chapt. IX. | Periphrastic expression of case-relations | 113 |
| | I. Prepositions | 113 - 134 |
| | II. Periphrase by means of noun-cases | 134 - 141 |
| | III. Periphrase by means of Participles, gerunds and the like | 141 - 145 |
| Chapt. X. | Compounds | 145 - 178 |
| SECTION III. | On the different classes of nouns and pronouns | |
| Chapt. I. | Substantive, Adjective, Adverb | 179 - 193 |
| Chapt. II. | Pronouns | 193 |
| | 1. Personal pronouns and their possessives | 193 - 201 |
| | 2. Demonstratives, Relatives, Interrogatives | 201 - 215 |
| | 3. Pronominal adverbs | 215 - 221 |
| | 4. Pronominal adjectives | 221 - 222 |
| Chapt. III. | On nouns of number | 222 - 227 |
| SECTION IV. | Syntax of the verbs | |
| Chapt. I. | General remarks, Kinds of verbs, Auxiliaries, Periphrase of verbs | 228 - 235 |
| Chapt. II. | On voices | 235 - 241 |
| Chapt. III and IV. | Tenses and moods | 241 - 278 |
| Chapt. V. | Participles and participles idioms | 278 - 296 |
| Chapt. VI. | Gerunds | 296 - 300 |
| Chapt. VII. | Infinitive | 300 - 309 |
| SECTION V. | Syntax of the particles | |
| Chapt. I. | Particles of emphasis and limitation | 310 - 315 |
| Chapt. II. | Negation | 315 - 320 |
| Chapt. III. | Interrogations | 320 - 326 |
| Chapt. IV. | Exclamation | 326 - 329 |
| Chapt. V. | Connective particles | 329 - 336 |
| SECTION VI. | On the connection of sentences | |
| Chapt. I. | Coordination | 337 - 346 |
| Chapt. II. | Subordination, Periods and clauses | 347 - 352 |
| Chapt. III. | Relative sentences introduced by pronouns | 352 - 357 |
| Chapt. IV. | Relative adverbs and conjunctions | 358 - 372 |
| Chapt. V. | The conditional period | 372 - 379 |
| Chapt. VI. | The direct construction | 379 - 388 |
Sample Pages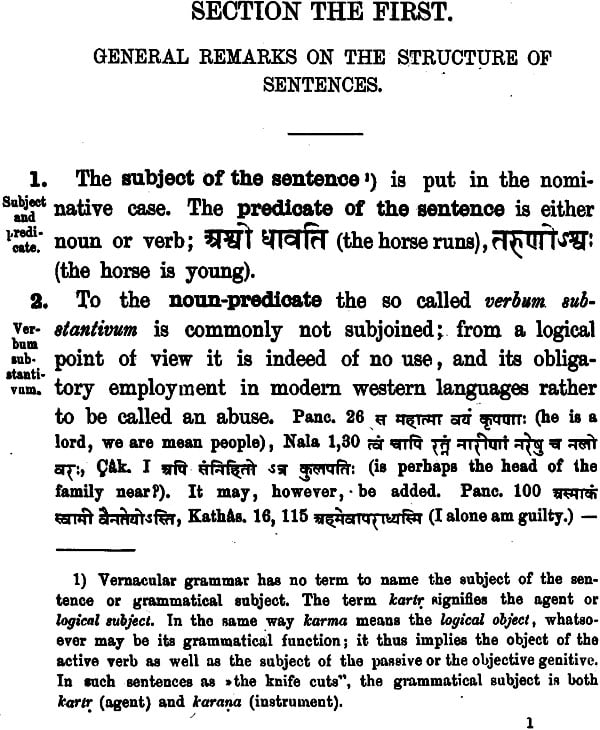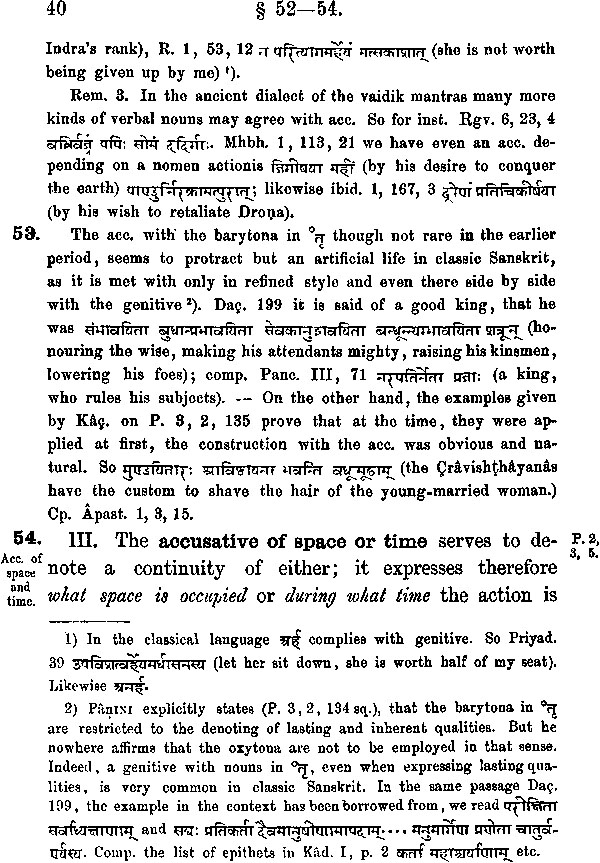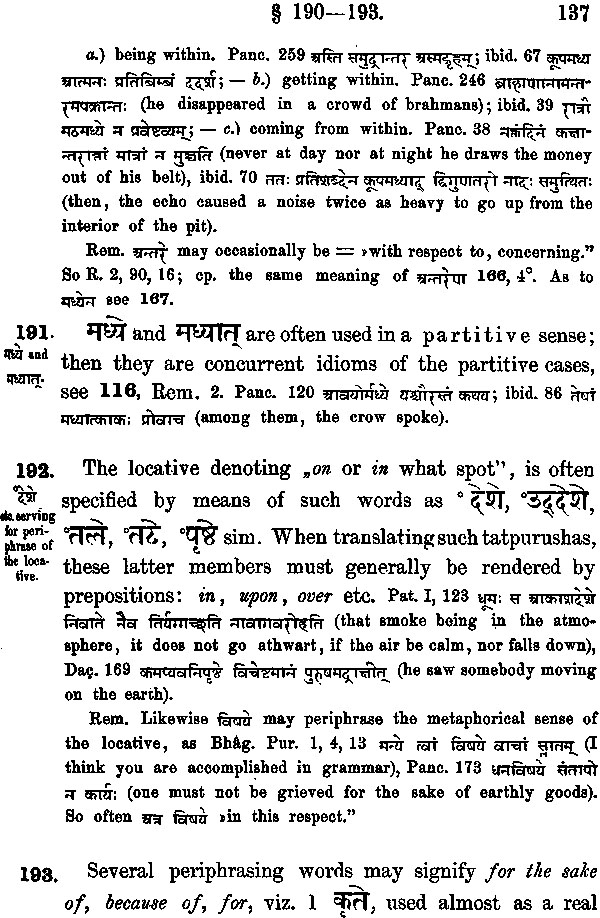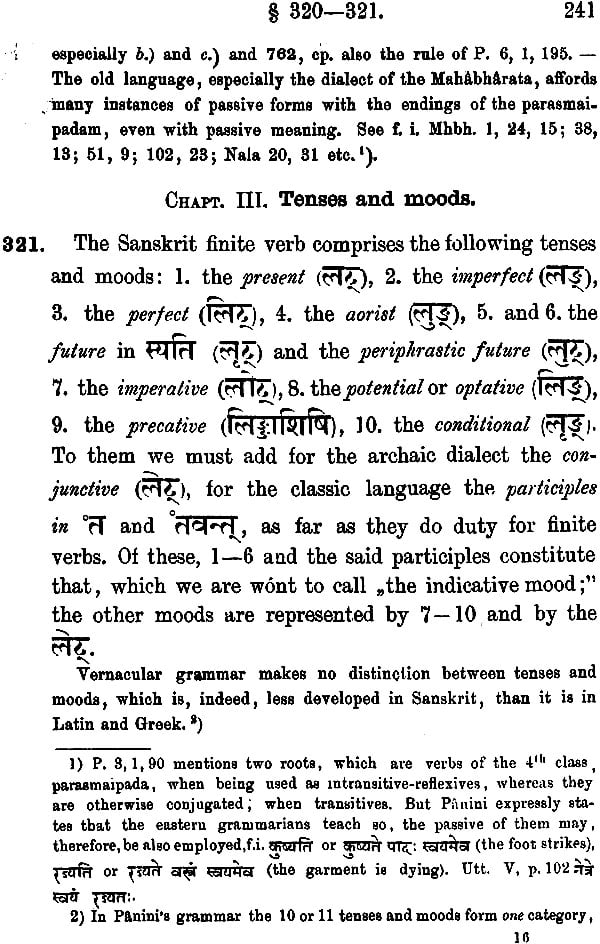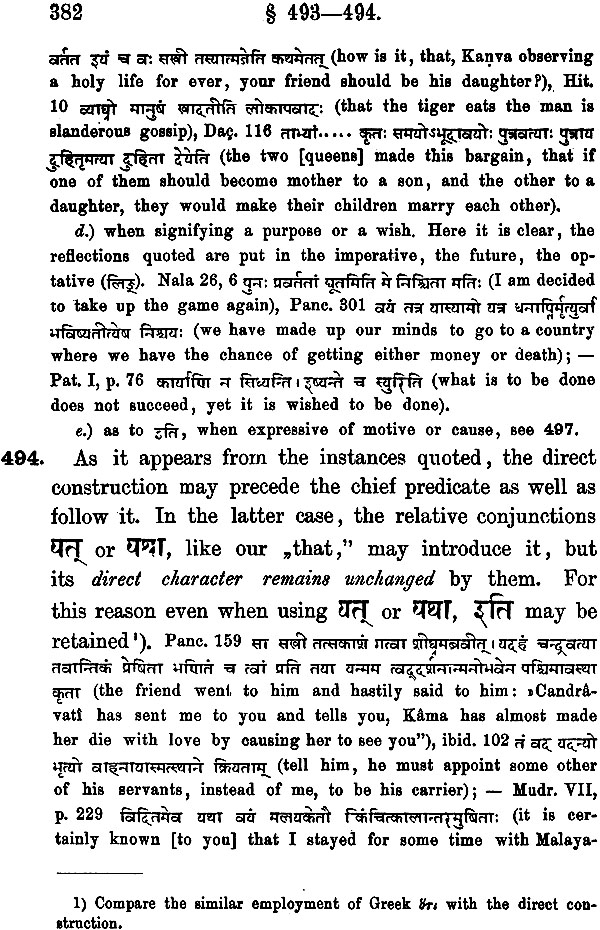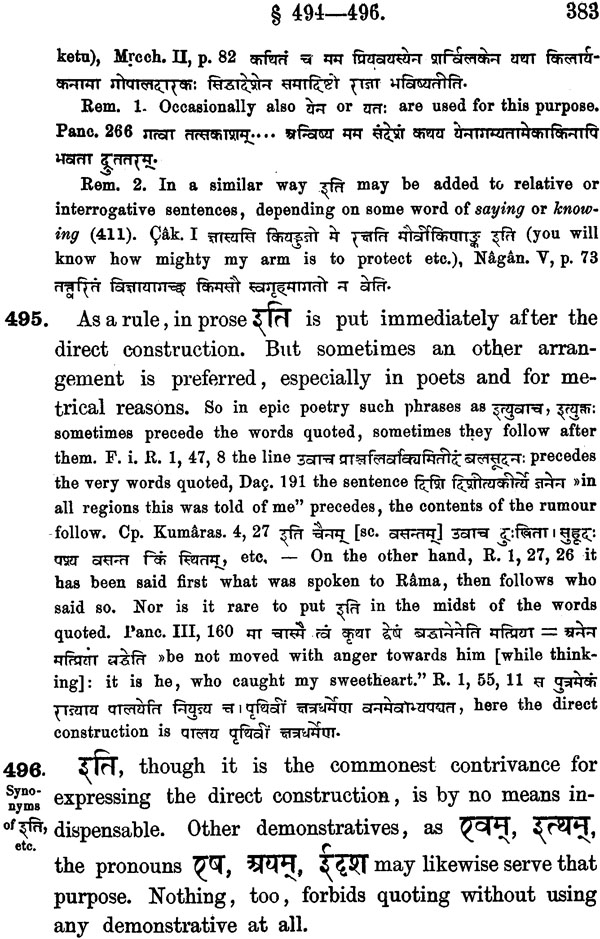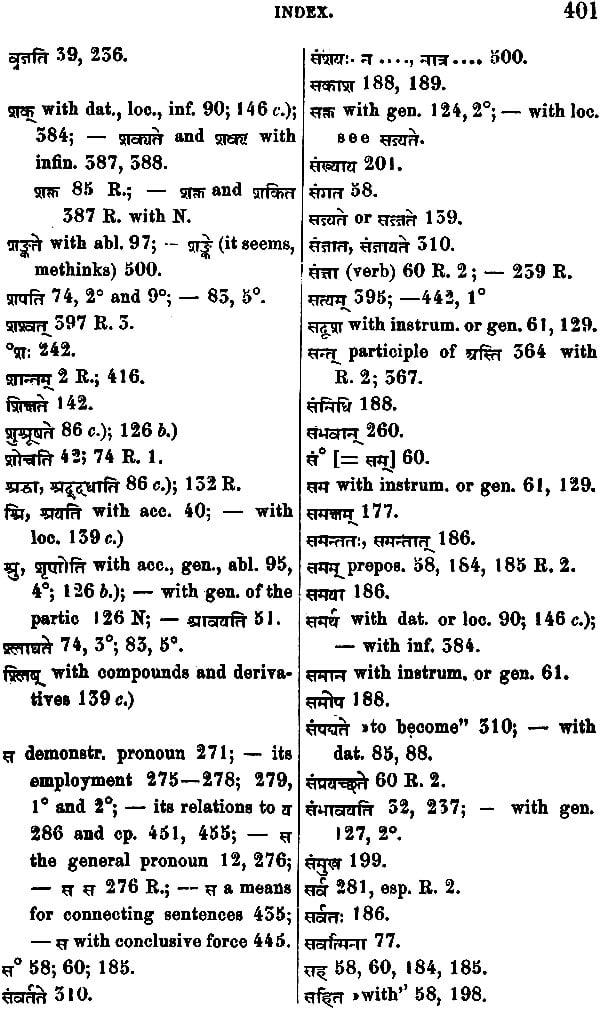 Click Here for More Books Relating to Sanskrit