Description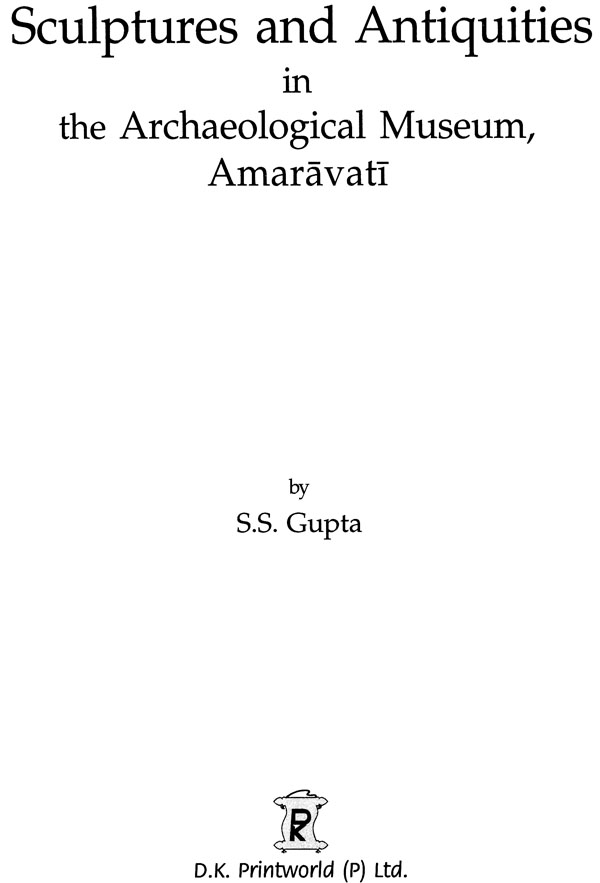 From the Jacket
The Amaravati sculptures are famous throughout the world for their special feature and they form a distinct school of art called Amaravati school of Art. Through Amaravati art pieces take the pride of place in India's best museums, the sculptures in the site museum at Amaravati itself have not been assigned enough significance. This volume lists and analysis the museum antiquities typologically and chronologically. The effort includes all the museum antiquities, including many objects of seemingly minor importance, which are described in detail. Their types and features, provenance, probable period, measurements and accession number, reference to them and details of inscriptions relating to them are provided. The catalogue of objects features twenty main headings including the pillars, slabs, pilasters, beads, ceramics and copper plate grants. There are photo illustrations of a large number of antiquities that form the museum collection which have enormous archaeological merit. The book will interest historians, archaeologists and general readers keen on knowing about Indian culture and art.
Dr. S. S. Gupta is an expert in archaeology. He has traveled extensively in the course of his involvement with archaeological explorations and rock art studies in India as well as abroad. He has a rich experience of working in the archaeological museums of Amaravati, Gwalior and Sarnath. At present, he is Deputy Superintending Archaeologist in Archaeological Survey of India, Bhopal. He has published numerous articles in reputed journals.
Foreword
It was really a pleasure to go through the text of the book Sculptures and Antiquities in the Amaravati Archaeological Museum, authored by Dr. S.S. Gupta.
Originating in the Mauryan period, probably even before Asoka, the Amaravati School of Sculptures continued to flourish for about five centuries. At times, it had interaction, with other contemporary schools, like Bharhut and Mathura. The Amaravati School of Sculptures is known for its slender and rhythmic treatment and vibrating renderings of theme with great skill and zeal. In the field of aesthetics, the art of Amaravati established a new convention represented by the exquisitely carved architectural components.
The sculptural remains of the Great Stupa (Mahacaitya) remained buried in the womb of earth in the shape of a mound and accidentally came to light in the late eighteenth century. The archaeologists tried their pickaxe for about two centuries to search the antiquarian remains of the great school. Today, they adorn different galleries in India and abroad, like the Government Museum, Madras; the British Museum, London; and a few pieces exhibited in museums and galleries here and there. Yet, a sizeable part of the excavated wealth is preserved in the local museum.
Dr. S.S. Gupta, who was lucky to be the curator in charge of the museum, examined the finds closely and utilized his time for the academic pursuits. He prepared a Catalogue of the sculptures preserved in the museum. The book imparts a comprehensive idea of the grandeur of the Amaravati School of Sculptures, its contribution to the development of art in India, the story of exposition of antiquarian wealth in the last two centuries, and analyses notes and interpretation on the exhibits in galleries and reserve collections. While the greater number of the objects belongs to the Great Stupa (Mahacaitya), there are several important items from the adjoining region. Beside stone sculptures, the Catalogue incorporates some terracotta figurines, beads, coins and a few Neolithic tools. The need for such complete and exhaustive Catalogue was being felt since long and Dr. Gupta deserves rich compliments and gratitude for fulfilling this mission exceedingly well. I hope the book will be received with applause by the scholars, researches, students and connoisseurs of early Indian sculptural art.
Preface
Amaravati sculptures universally known for their characteristics form a distinct school of art called Amaravati School of Art in the panorama of Indian art.
These art pieces have the privilege of being exhibited in our country's best museums such as National Museum, New Delhi; Prince of Wales Museum, Mumbai; Indian Museum, Kolkata; and internationally renowned museums abroad – British Museum, London; and the museums in New York, Paris and Bonn. Amaravati sculptures of all these museums have been catalogued. But sculptures of Amaravati exhibited in the site museum, i.e. Archaeological Museum, Amaravati could not find this recognition at the place of their origin. Although a number of significant stone sculptures and other antiquities belonging to the museum have been published in various journals from time to time.
Listing of museum antiquities with their requisite details is an utmost necessity. Not only does it enlighten the art historians and academicians but also ensures their safety and security. It is with all the above objectives that an attempt is made here to enlist all the museums antiquities including the objects of minor importance with their provenance, probable period, material of making measurements, accession number and reference it any. Not a single object has been omitted in the Catalogue in spite of being insignificant.
The Introductory part of the Catalogue includes:
(i) Historical Background of Amaravati; and
(ii) Acquisition and mode of collection made for the museum antiquities from time to time.
Further, the collection has been arranged typologically and chronologically. Since the stone sculptures are recovered mainly from Mahacaitya of Amaravati and a Stupa of Gummadidurru, they have been accounted according to their peripheral position in the edifices from the very outset. Moreover, each type of antiquity has been grouped in its own category chronologically. The type of material used in the antiquity has also been taken into consideration.
A decade back, new accession numbers were given to the museum antiquities. Therefore, wherever these antiquities have been published with their old accession numbers, the same old numbers have been ascribed along with their latest accession number, while referring to these in the Catalogue.
The Catalogue has been appended with black and whole photographs. As it is not feasible to illustrate all the 1069 antiquities of the museum collection, the antiquities having archaeological, historical, artistic, epigraphical and iconographic importance have been provided with photo illustration. Talking into account this aspect, a general sketch, pertaining to each type of art object has been preceded to its description.
Notwithstanding the due care taken in the preparation of manuscript, a few discrepancies have crept in which could be noticed only at the final stage.
Therefore, a corrigendum has been added at the end. I deeply regret the same.
I am highly indebted to late Dr. S.P. Gupta, Former Director of the Allahabad Museum, and Chairman of the Indian Archaeological Society, New Delhi who in fact inspired me initially to undertake the task of Catalogue preparation for the Amaravati Museum antiquities. He has gone through the text and made corrections aptly. I find myself fortunate and an immensely obliged to him.
I am beholden to Dr R.C. Agrawal, formerly Director (Project & Museums), Archaeological Survey of India, New Delhi and Professor, National Museum Institute, New Delhi for his insistence on early completion of work and scholarly guidance.
The richness in illustrations could be made possible due to prompt supply f requisite photographs by Shri S.B. Ota, Superintending Archaeologist, Kolkata Circle, Kolkata and Shri D. Kanna Babu, Assistant Archaeologist, Kondapur Museum. Words would not suffice to acknowledge for their academic sensibility and generosity. These photographs in fact have been prepared by Shri A. Bandhopadhya, Senior Photographer, Kolkata circle, Kolkata, who deserves special thanks.
The Catalogue would have remained with insufficient reference, had it not been received Xerox copies of published articles pertaining to Amaravati Museum antiquities from Dr P.R.K. Prasad, Former Assistant Superintending Archaeologist for Museums, Archaeological Museum, Amaravati. I extend my sincere thanks to him.
I appreciate the assistance of Shri S. Ahmad Peer for typing the manuscript with great accuracy and neatness and helped immensely in various ways for the completion of this Catalogue.
In fitness of things, I acknowledge Shri R.K. Dwivedi, Senior Draftsman, Prehistory Branch, Nagpur who has prepared the maps for publication.
I am thankful to my colleagues of Archaeological Survey of India and other institutions who have extended their co-operation in completion of this work.
Words would not suffice to suffer my immese gratitude for Prof. R.C. Sharma, Formerly Director General, National Museum and Director and Acarya of the Varanasi Jnana Pravaha, who has gone through the manuscript and not only made valuable suggestions but also honoured me by writing the acclaimed Foreword of the Catalogue.
At last but not least, I am highly grateful to the Director General, Archaeological Survey of India for granting permission to publish this constant reminder to complete the Catalogue during my stay at Archaeological Museum, Amaravati. All the illustrations are by courtesy of the Archaeological Survey of India.
Finally M/s D.K. Printworld (P) Ltd., New Delhi deserves special thanks for publishing and bringing out the Catalogue in an aptly and most pleasant form.
Introduction
Amaravati toponym is a corrupt form of Aramavati originated from Amrarama one of five arama ksetra of Andhradesa. A Siva temple Amaresvara was raised here during Eastern Calukyan monarch of Bhaima – (c. CE 812-821) on the southern bank of river krsna (Sarma 1988: 9-10). The place is located 25 km north of Guntur district headquarters of the same name. It was in oblivion till Col. Colin Mackenzie of Trigonometrical Survey resqued its Buddhist remains enshrined within a mound from plundering by the local people in 1797. It was then locallyDippaladinne or hill lamps (Burgees 1970: 2).
Antiquity of Amaravati goes back to prehistoric times as a number of prehistoric stone implements comprising of Palaeoliths and Neolithic Celts were found from the fields ten miles around Amaravati (ASI 1905-06: 2). The Neolithic people were followed by Megalithic builders which was attested with the discovery of megalithic burials in the Gegion between Guntur and Amaravati near the foothills ranges at Lam, Mothadaka, and Nemalipuram. Moreover, a few burials were discovered by Alexander Rea, an officer of the Archaeological Survey, under one of the smaller stupas (ASI 1908-09).
History of the place is recorded from Asoka's period (third century BCE). According as Mahavamsa, Maurya Emperor Asoka sent one Mahadeva to Mahismandala to propagate Buddhism in Daksinapatha after the third Buddhist Council held at Pataliputra (Geiger 1912: 82). Consequently, the region underwent an embracing of Buddhist order by its people. There is an Asokan pillar fragment recovered from Mahacaitya in testimony of it (Sircar 1963-64: 40-43). Generally, Asokan pillars were erected by the side of Buddhist structures particularly stupas (Ghosh 1967: 273-75). In the Manjusrimulakalpa (I:88), the Dhanyakataka caitya is described as enshrining the relics of Lord Buddha himself, Sri Dhanyakataka caitye Jidhatudhare Bhuvi. Therefore, this must be one of the 84000 stupas which Asoka raised after opening the seven original stupas among eight to take out Buddha's relics in view of distributing them throughout the length and breath of the country and abroad to spread Buddhism far and wide. The same Mahacaitya is also appreciated by Taranatha in glowing terms. Thus it is proved beyond any doubt that this Mahacaitya was built by Asoka, the great on account of his missionary zeal. In the excavation near the Amaravati stupa, a good number of Northern Black Polished ware sherds, uprights of granite and a few plain limestone Crossbars and copings of large size were found. Granite uprights bear inscription in Asokan characters (Sarma 1985: 15-18). Moreover, Dharanikota excavation also revealed Northern Black Polished Ware sherds (Raghavachary 1972-73: 167).
It was around second century BCE to first quarter of third century CE that Dhanakataka, the Satavahana monarch then called, came into prominence. Dhanakataka, the original name of Amaravati, is found in two of its earliest inscriptions belonging to second century BCE.
Contents
| | | |
| --- | --- | --- |
| | Foreword - R.C. Sharma | v |
| | Preface | vii |
| | Maps | xiii |
| | List of Maps, Plates and Figures | xv |
| | Key to Transliteration | xxiii |
| 1. | Introduction: Historical Background | 1 |
| 2. | Acquisition and Mode of Collection | 6 |
| 3. | Amaravati School of Art | 8 |
| 4. | Catalogue | 13 |
| A. | Stone Axes | 14 |
| B. | Uprights | 15 |
| C. | Crossbars | 24 |
| D. | Coping Stones | 42 |
| E. | Pillars | 47 |
| F. | Drum Slabs | 55 |
| G. | Dome Slabs | 64 |
| H. | Slabs | 79 |
| I. | Pilasters | 90 |
| J. | Sculptures | 99 |
| K. | Friezes | 122 |
| L. | Terracotta Figurines | 125 |
| M. | Beads | 127 |
| N. | Ceramics | 129 |
| O. | Bricks | 131 |
| P. | Seals | 132 |
| Q. | Relic Caskets | 133 |
| R. | Coins | 141 |
| S. | Copper-Plate Grants | 146 |
| T. | Iron Implements | 148 |
| | Corrigendum | 149 |
| | Plates and Figures | 151 |
| | Glossary | 229 |
| | Concordance | 234 |
| | Bibliography | 245 |
| | Index | 247 |
Sample Pages