Description
Preface
These volumes continue a series initiated two years ago by "South India: Lower Dravidadesa." They introduce for the first time the Deccano-Dravida mode of Dravida architecture found in the Deccan, a style as antique as the Dravida style of the lower South (surviving from as early as the sixth and seventh centuries A.D.) and distinct from that style, if also interdependent with it from the sixth through the tenth century A.D. This variety of Dravida architecture acted as foundation for a new form known as "Vesara" created by architects in the Deccan in the 11th century, a synthetic and original style that will form the subject of volumes that follow these in this series.
As in previous volumes, style and patronage form a web in which the many temples to be described have been embedded. The principal patrons in this region of South India in this period were the Calukyas of Badami and Vengi and the Rastrakutas of Malkhed, The primary patrons of the Vesara style, which follows in the Deccan, were the Later Calukyas and their successors, the Hoysalas, whose temples will form the bulk of the "Upper Dravidadesa, Later Phase," set of volumes to follow this set. Though major dynasties may thus be linked to major changes in architectural style, a variety of smaller kingdoms and sub-regional styles existed that form the subject of separate chapters in this Encyclopaedia. It is perhaps in the definition of such divisions that the crux of understanding style in India lies. Styles are formulated in the hands of artisans, and the fabric of craft in India was continual over a wide territory. While we must understand both "centres" and "peripheries" in studying Indian patronage, we also must understand that each group of craftsmen was central to the "style" their work expressed. The "style" of a dynasty could be formulated only from a continuum of the idioms such craftsmen created.
Throughout these volumes a style code has been used as heading for chapters and as reference for plates; this code is summarized at the front of the Plates volume and is based on the following style outline:
Style Outline
Vol. I, part 1
I. Lower Dravidadesa, c. A.D. 650-1324
Vol. I, part 2
II. Upper Dravidadesa, c. A.D. 550-1075
A. Early Period , c. A.D. 550-900
1. Karnata style, c. A.D. 550-700 Calukyas of Bhadami: Phase I
2. Karnata style, A.D. 700-750 Calukyas of Badami: Phase II
3. Tulunadu style, c. A.D. 700-900 Alupas of Udayapura: Phase I
B. Middle Period, c. A.D. 775-1075
1. Later Karnata style, c. A.D. 775-974
a. Rastrakutas of Malkhed: Upper Variation, Phase I
b. Rastrakutas of Malkhed: Upper Variation, Phase II
2. Early Andhra-Karnata style, c. A.D. 750-900 Eastern Calukyas of Vengi: Phase I
3. Later Andhra-Karnata style, c. A.D. 900-1075 Eastern Calukyas of Vengi: Phase II
4. Renandu style, c. ninth-11th century A.D. Telugu-Codas and Vaidumbas
5. Tulunadu style, c. A.D. 900-1000 Alupas of Udayapura: Phase II
6. Gangavadi style, c. A.D. 900-1000 Gangas 0of Talkad
7. Nolambavadi style, c. A.D. 850-1000 Nolambas of Hemavati
8. Malanad style, c. A.D. 775-990
a. Santaras of Humca
b. Hoysalas of Angadi
Vol. I, part 3
C. Later Period, c. A.D. 973-1326
Vol. I, part 4
III. Integrated Style of South India, c. A.D. 1326-1736
Vol, I, par 5 will contain a comprehensive, annotated glossary of architectural terms; the reference glossary that has been provided in each part has been intended only as a quick aid to the reader.
M.A. Dhaky, as coordinator, has particularly been responsible for development and expanding the style outline for this project; also must be given credit in this volume for incorporating the widest possible range of recent opinion concerning the material covered. The architecture of the Calukyas and Rastrakutas has been the subject of much scholarship in recent decades, yet it can still not be said that all chronological and historical issues have been resolved. This volume attempts to make the issue and opinions clear. What has emerged clearly from recent scholarship, however, is the originality of architecture in the Deccan, its independence, and the consistency with which styles in the region developed and interacted. By studying the interweaving of architectural motifs and ideas in this central region, something of the process of stylistic origination in Indian can be observed.
Contents
| | | |
| --- | --- | --- |
| | Preface | v |
| | Style outline | v |
| | Acknowledgments | vii |
| | List of Maps | xi |
| | Figure References | xiii |
| 20 | Calukyas of Badami: Phase I | 3 |
| | Supplementum | 59 |
| 21 | Calukyas of Badami: Phase II | 71 |
| | Supplementum | 90 |
| 22 | Alupas of Udayapura: Phase I | 95 |
| 23 | Rastrakutas of Malkhed: Upper Variation, Phase I | 105 |
| 24 | Rastrakutas of Malkhed: Upper Variation, Phase II | 141 |
| 25 | Eastern Calukyas of Vengi: Phase I | 163 |
| 26 | Eastern Calukyas of Vengi: Phase II | 171 |
| 27 | Telugu-Codas and Vaidumbas | 177 |
| 28 | Alupas of Udayapura: Phase II | 179 |
| 29 | Gangas of Talkad | 185 |
| 30 | Nolambas of Hemavati | 205 |
| 31 | Santaras of Humca | 217 |
| 32 | Hoysalas of Angadi | 227 |
| | Reference Glossary | 299 |
| | Site and Temple Index | 247 |
| | Plates Volume | |
| | Style Code for Plate Reference | vii |
| | Plate/Chapter Reference | 2 |
| | Plates 1-656 | 3 |
Sample Pages
Part - 1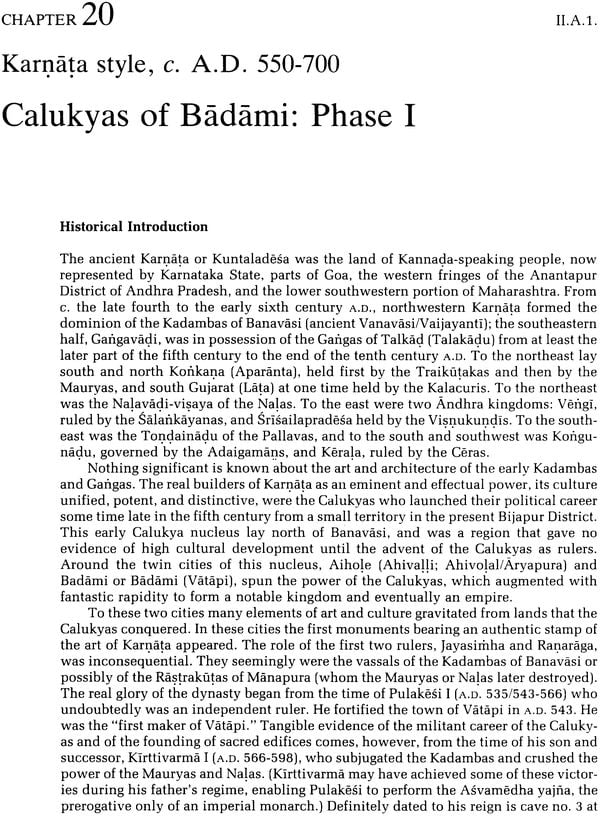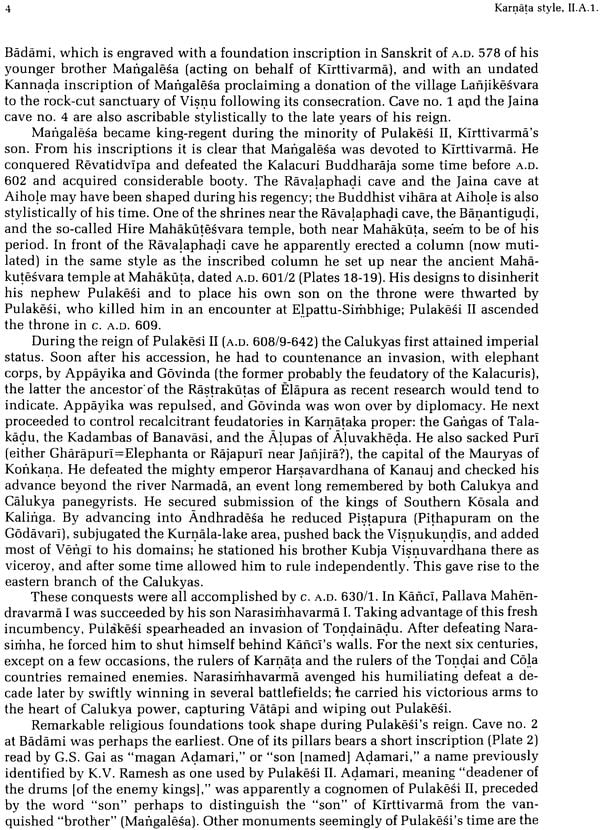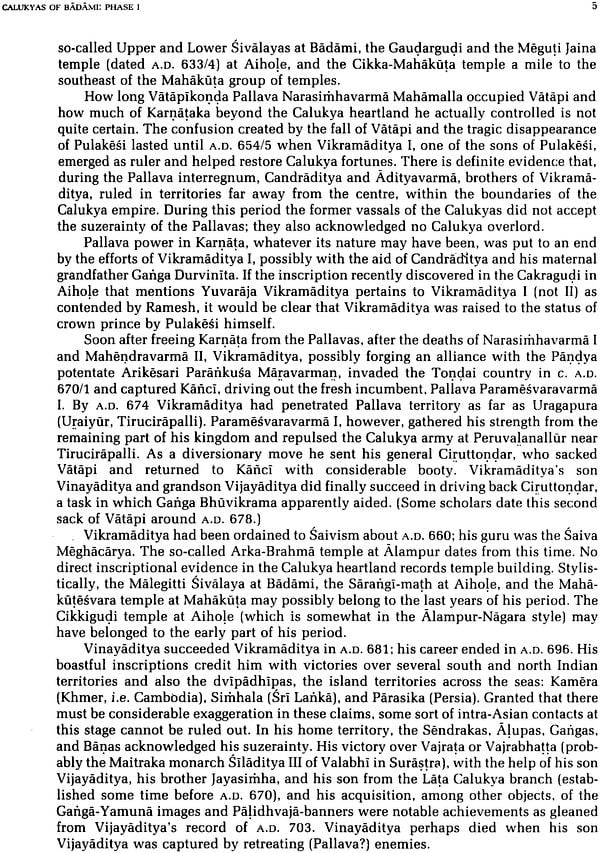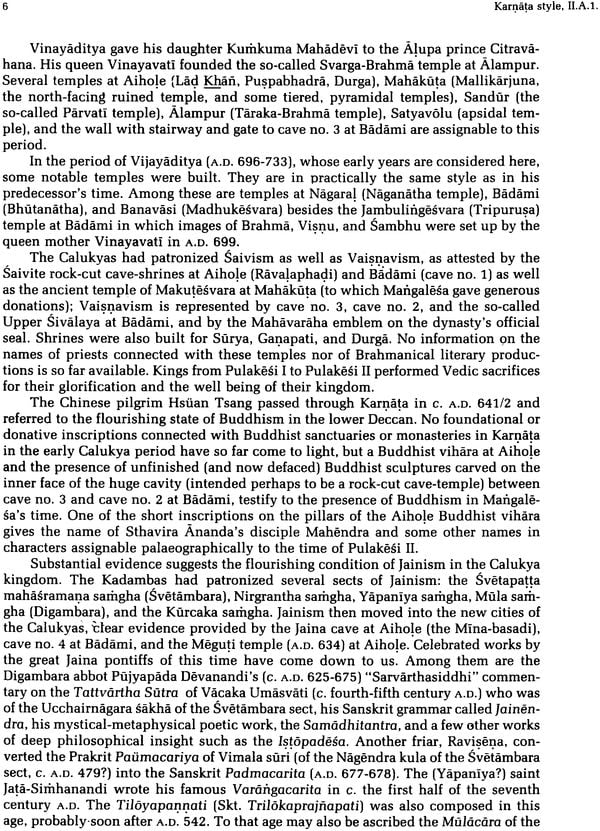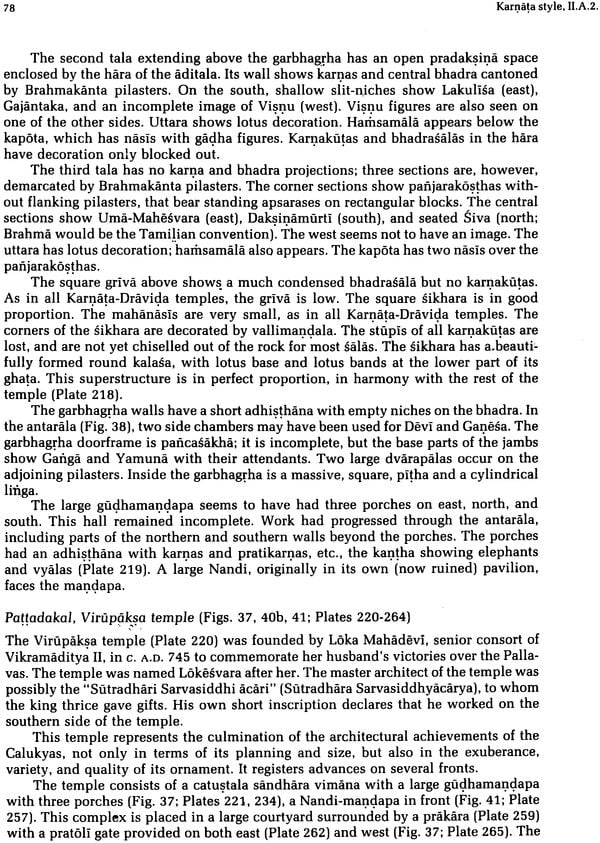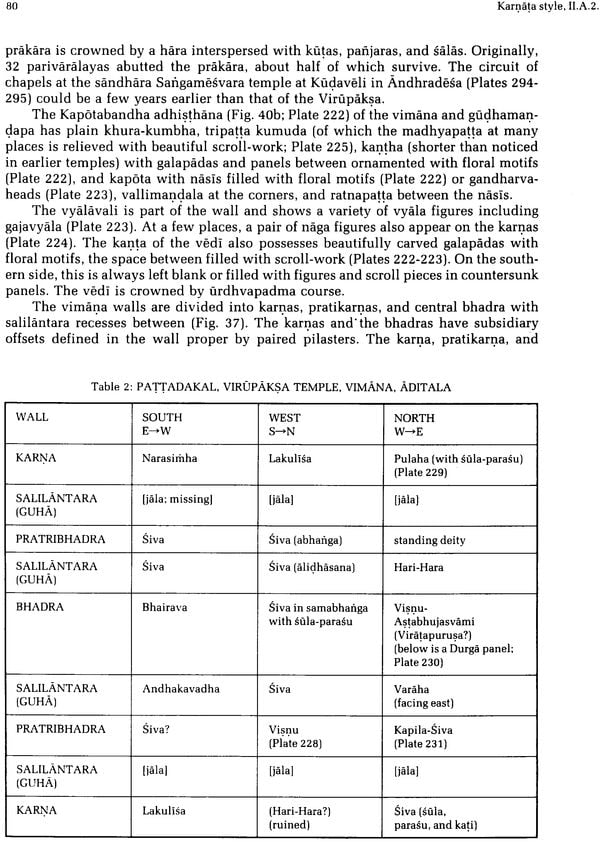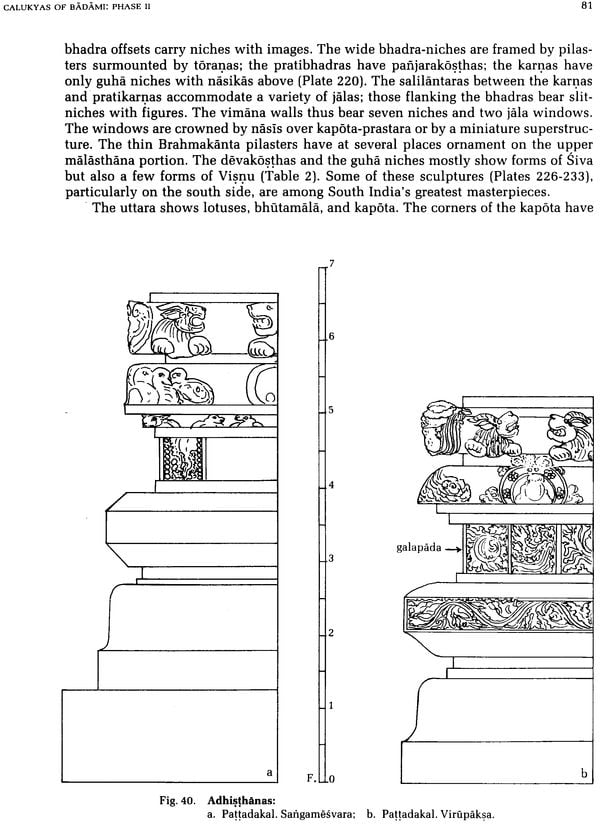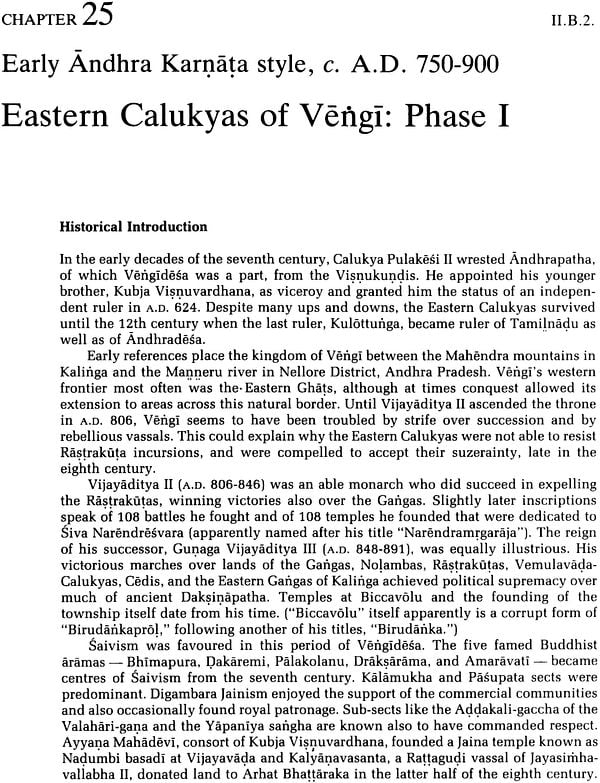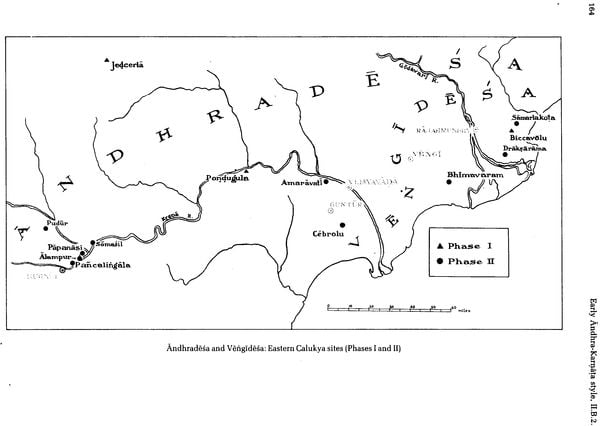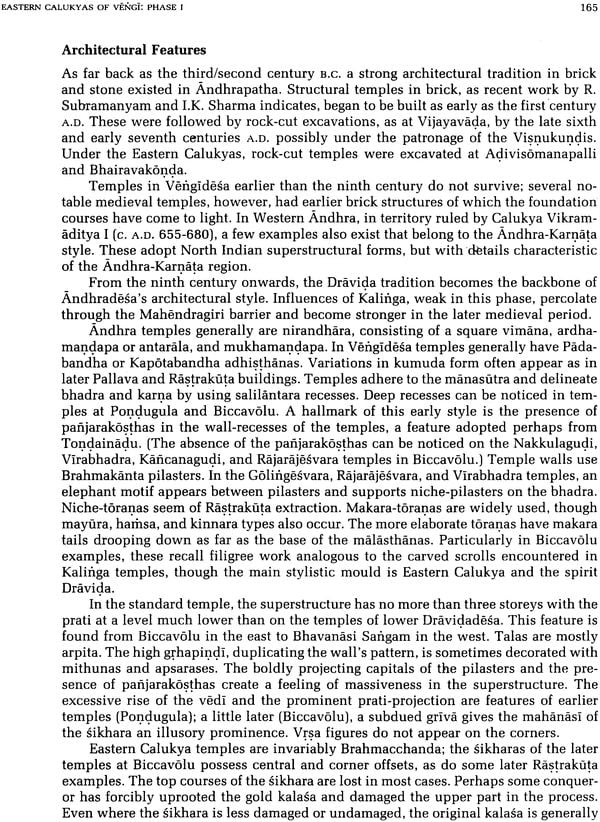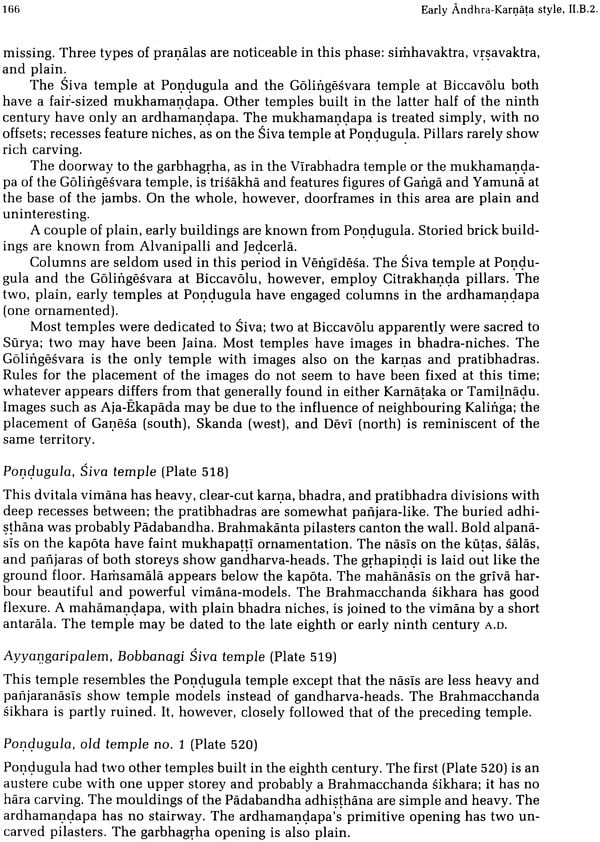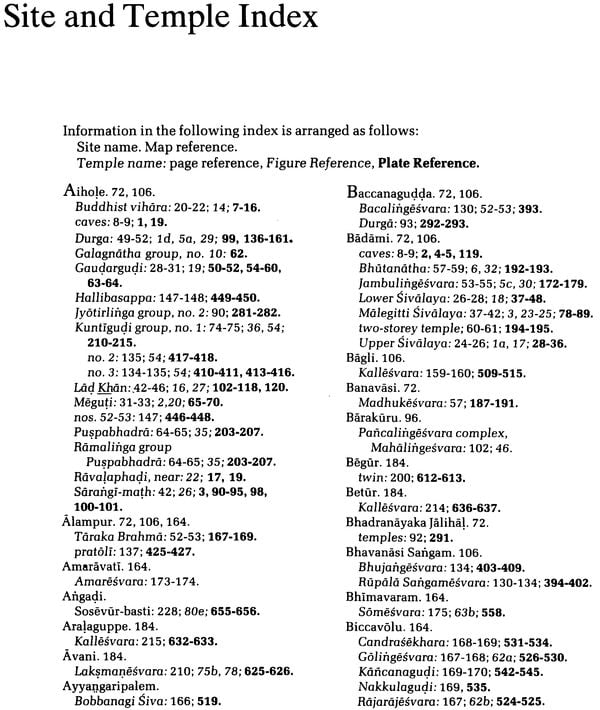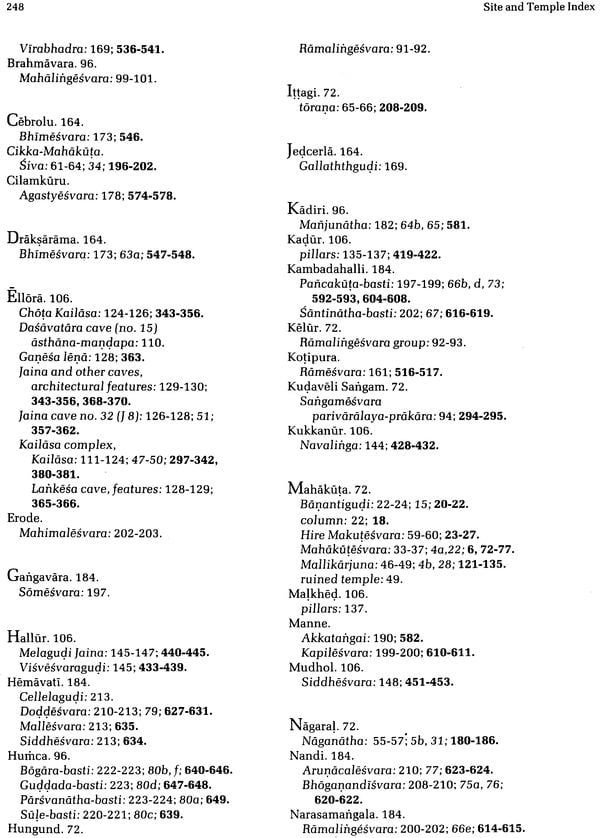 Part - 2