Description
About the Book
STUDIES ON MEDICINAL PLANTS &
DRUGS IN DHAVANTARI NIGHANTU
The subject matter of the work is the studies of the medicinal plants recorded in the compilation of Dhanvantari Nighantu. The compilation in one of the oldest available Nighantu and the topmost authority on the subject of Ayurvedic botany and the pharmacodynamical actions of drugs on human body.
To understand the arrangements of the subject (of identification) and confirmation of plants of this Nighantu, a particular method is adopted in this work and unless it is carefully studied, the work cannot be understood thoroughly. The author has explained this method under the heading "Proforma".
Two chapters with comments by Late Vd. D.K. Kamat were published in 1972 and in 1979. Due to paucity of funds the Sanskrit text was not included at that time. In the present edition all the chapters with Sanskrit text, with different readings from various manuscripts and books, English translation of the text and notes, latest nomenclatures changes of the plants are included.
About the Author
Born on 21st of February 1936, Dr. Sadanand Digambar Kamat did his D. S. A.C. from Mumbai in 1957 securing gold medal. He completed his Ayurvacharya Course from Delhi in 1960 and M.F.A.M. from Maharashtra in 1969. He served as an advisor in Ayurvedic formulations to Franco-Indian Pharmaceuticals from 1974 to 1975. He received Vanoushadhi Puraskar from Khadivale Vaidyak Sanshodhan Sanstha, Pune in 1988. He is a general Practitioner in ayurvedic Medicine since 1960 and is currently working for Literary Research in the Board of Research in Ayurveda, Mumbai as a Research worker. He has published many articles in ayurvedic journals and magazines. Dr. S.D. Kamat is also an elected trustee & President of Ayurvidya Prasarak Mandal, Mumbai since 1991.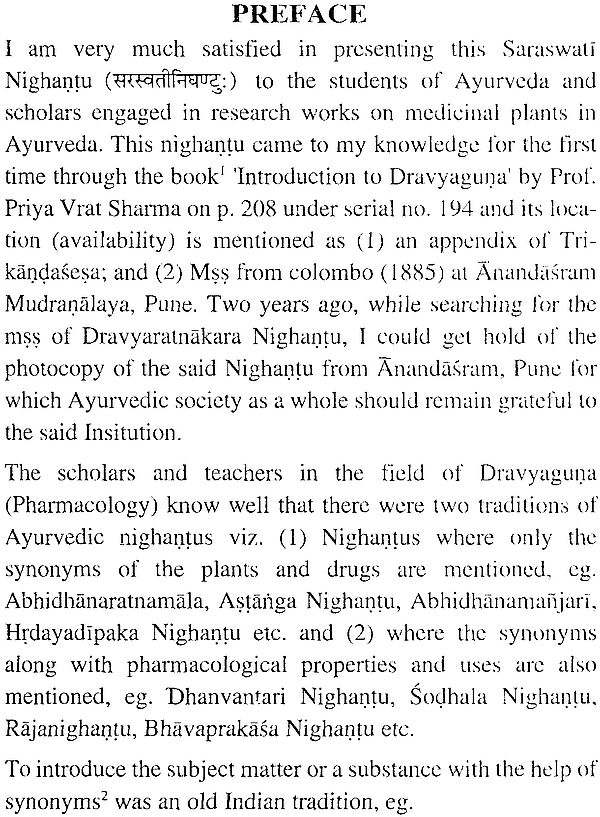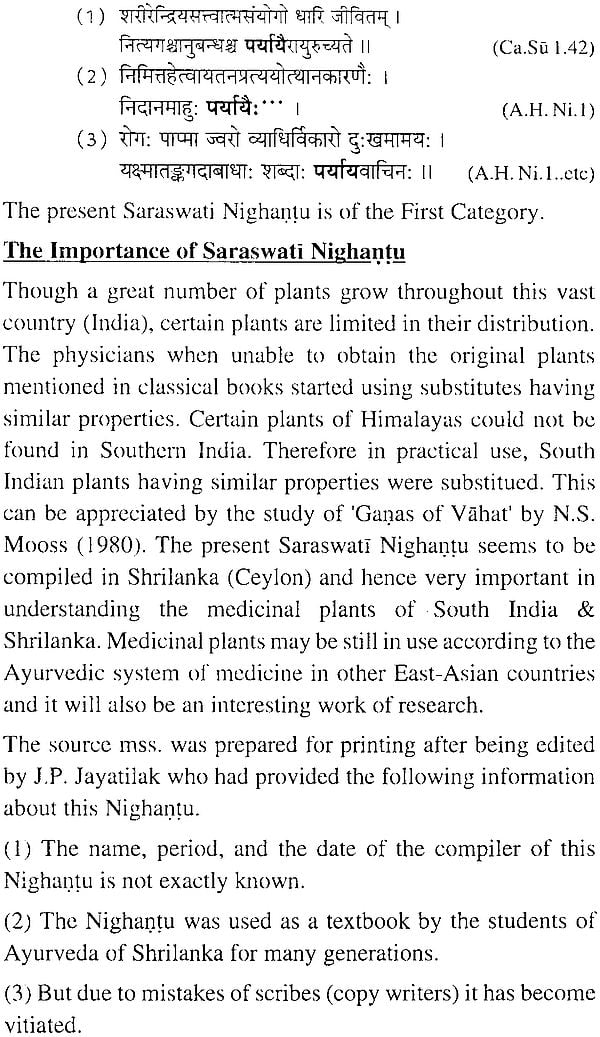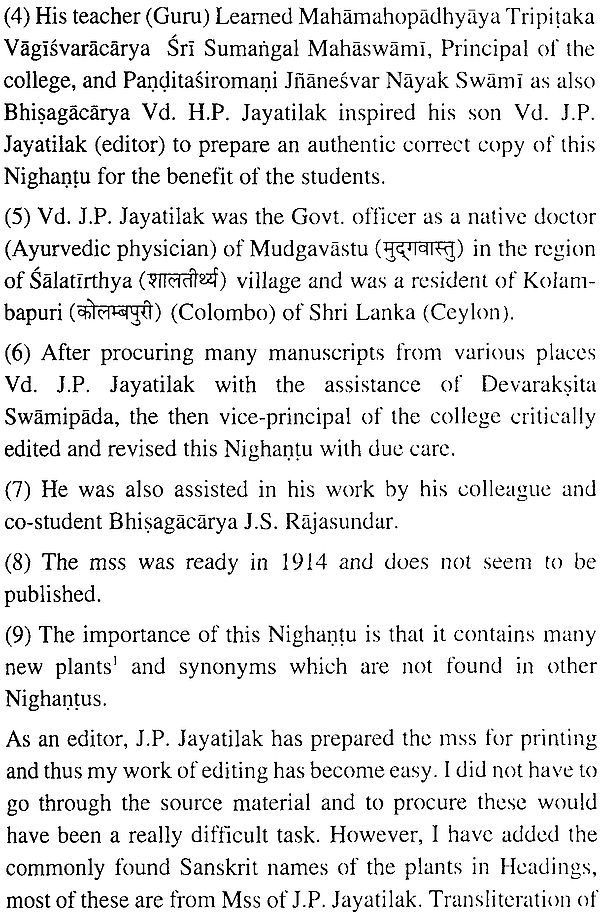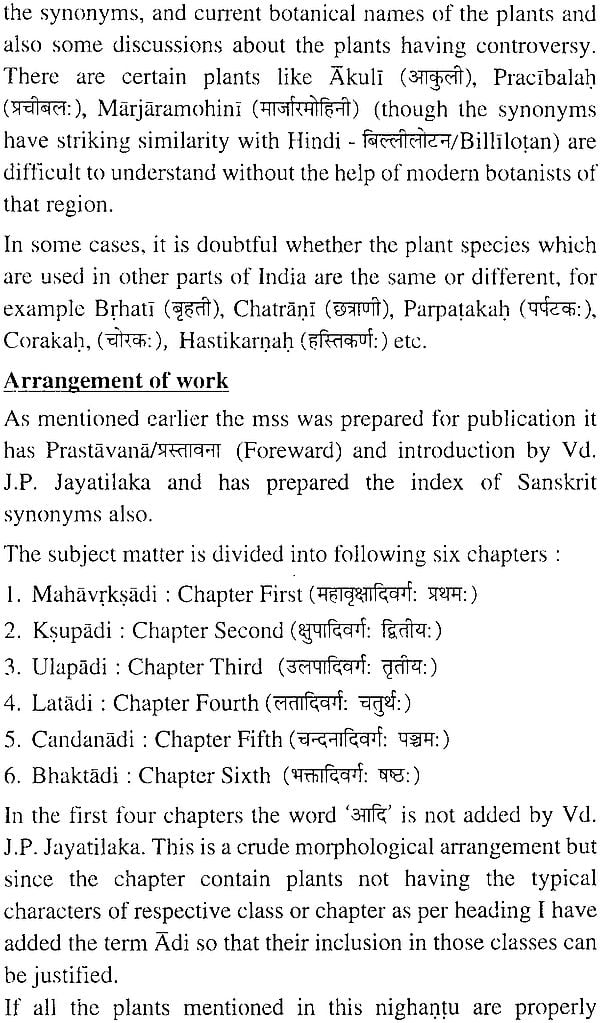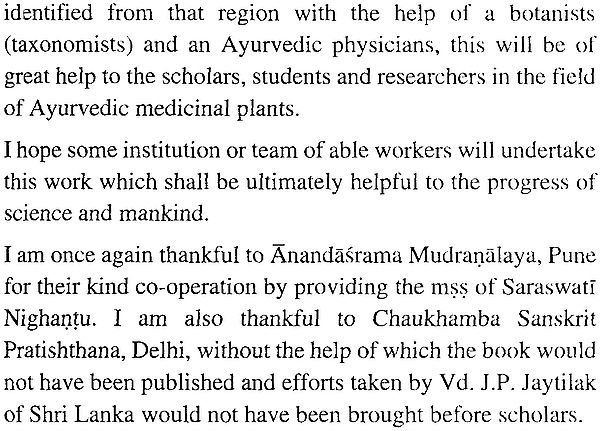 CONTENTS
| | |
| --- | --- |
| Preface | (iii) |
| Foreward by Vd. J.P. Jayatilak | (ix) |
| Introduction by Vd. J.P. Jayatilaka | (x) |
| Mahavrksadi - Chapter first | 1 |
| Ksupadi - Chapter Second | 29 |
| Ulapadi - Chapter Third | 41 |
| Latadi - Chapter Fourth | 65 |
| Candanadi - Chapter fifth | 83 |
| Bhaktadi - Chapter Sixth | 118 |
| Index of Plants & Drugs | 131 |
| Index of Botanical Names, Synonyms &Drugs etc. | 138 |
| Index of Sanskrit Synonyms | 159 |
Sample Pages