Description
Volume I
About the Book
The book presents `Abhinaya-Candrika' only Orissan text found exclusively devoted to Odissi Dance. In this work contemporary Odissi dance is compared with the text. For the first time this text sees the light of the day in its fully edited form. Odissi dance had crossed international borders since the mid fifties, this key book though referred by the exponents in all the practical applications, it was not available as a handbook to the dancers. This book was a long awaited dream to the Odissi practitioners and the teachers. Here a long felt need of the scholars and aficonados of the Odissi dance is met with. Like all the age old forms of art Odissi dance has its own share of ambiguities and area of obscurity. Here an humble attempt is made to explore, unveil and define the theories, terms and their contexts through the text 'Abhinaya-Candrika ' and the practicing form as it is seen today.
About the Author
Dr. Maya Das started her profession as a performer of both Odissi and Bharatanatyam dances. As a dancer she felt the dearth of resource books and the classical texts in the field of Odissi dance especially. She is a Sanskrit scholar: this knowledge helped her to synthesize the literary traditions, with an extensive review of the source book Abhinaya-Candrika and critically editing it for the benefit of the dancers and scholars. Dance and its literary sources are traced to common roots in all other dance forms of India, demonstrating the inter-dependence of the contemporary Odissi dance with source book Abhinaya-Candrika.
Beginning with a brief historical survey of the dance in Orissa the author discusses the designation of the Odissi in the panorama of the Indian dance scene. The core of the study presents a new classification based on the Abhinaya-Candrika. This provides practical categorization more linked to the present day from. The new classification is used to discuss regional and chronological variations among classical dances of India.
There are over forty illustrations, fifteen comparative tables, glossary, technical word index add substantially to the value of the authoritative text.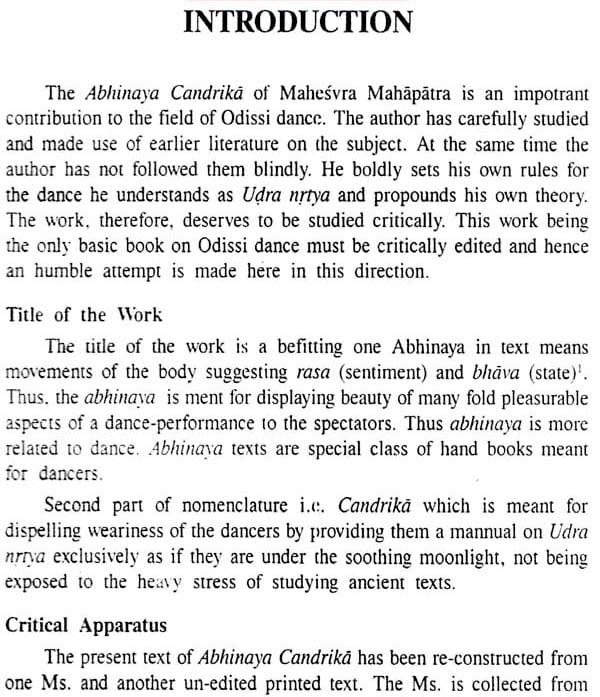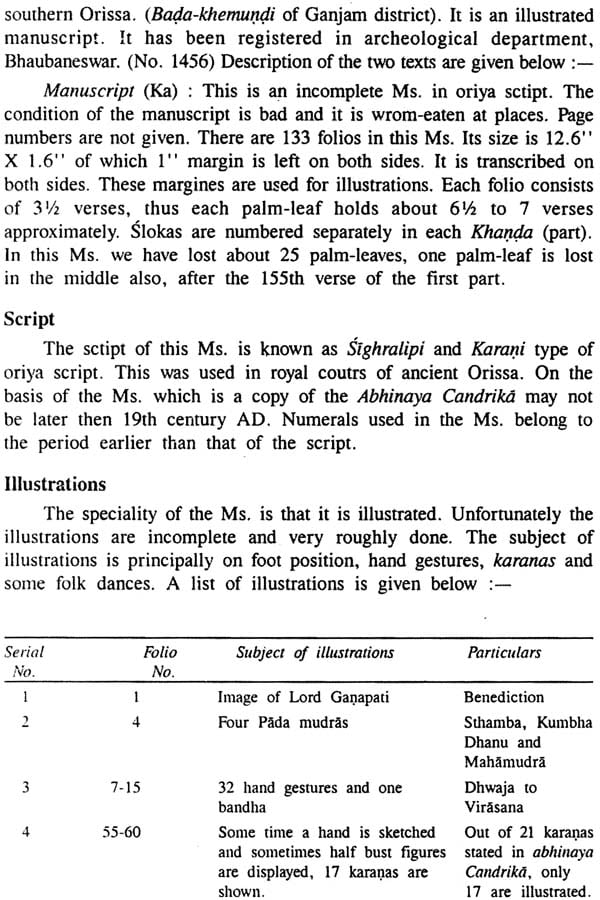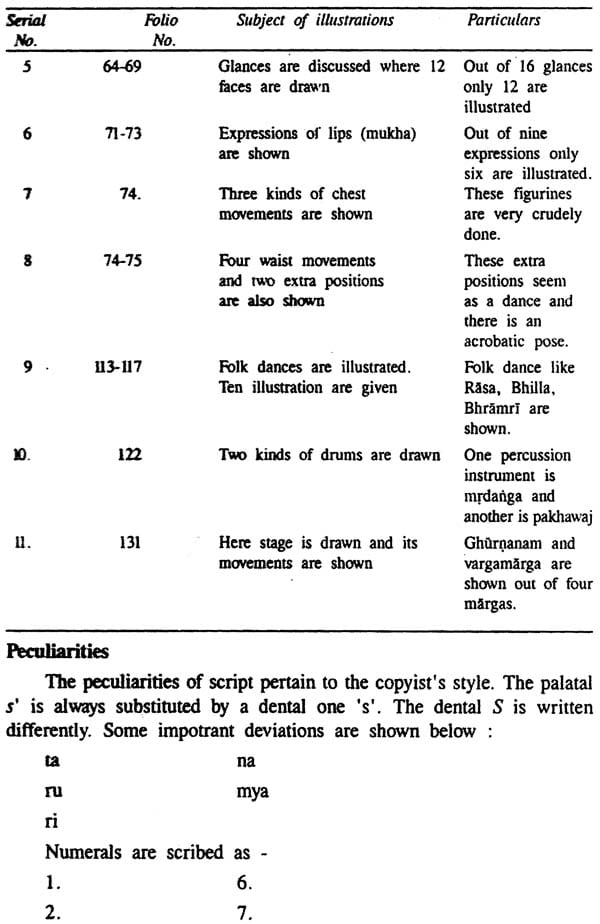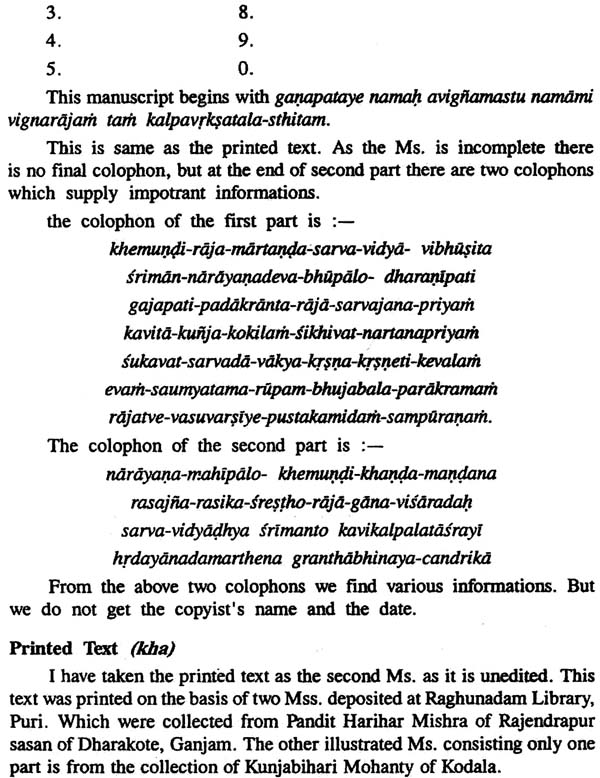 Contents
| | | |
| --- | --- | --- |
| 1 | Introduction | i-xvi |
| i | Author | |
| ii | Manuscript Materials | |
| iii | A Brief synopsis of contents | |
| 2 | Visayunukramanika | xvii-xviii |
| 3 | Text of Abhinaya Candrika | 1-100 |
| 4 | Index of Slokas | 101-132 |
| 5 | Sources and References | 133-135 |
Volume II
Foreword
Of late there has been a growing interest in books highlighting various aspects of Indian culture-music, dance, costume, jewellery, paintings, etc. Generally these books are written for popular reading without adequate research. It requires painstaking efforts to bring out a book on Classical dance forms. Dv Maya Das's book on Abhinaya-Candrik4 and Odissi Dance comes as a breath of fresh air, this is a product of diligent study of dance texts and careful research. The dance which had suffered setbacks till the middle of 20th Century has been revived to its full bloom again. This edited text of Abhinaya-Candrika with its thorough study of the Odra Noy with contemporary Odissi dance is a welcome volume.
Any attempt at re-constructing a history of the Classical dance in India would rely on dance texts and commentaries from Bharata's Natyasastra to the regional works on dance. In this work a study is made to delve deep into the well preserved practicing traditions of preceptors and dancers. In this book continuous cross reference to sculptural material has been made to establish regional patterns of Odissi dance and also its chronological sequences. A study of Classical dance form - Odissi dance - calls for a multi-disciplinary approach. The author has successfully combined these skills with rigorous training and an artist's sensitivity and insight.
This is a pioneering research work for which she has been awarded Ph. D on Odissi dance. I commend this well-documented, well-edited and superbly illustrated work to all scholars and lovers of Odissi dance.
Preface
Abhinaya-Candriloa is ascribed to Maheivara MahApAtra, the only available work on ream nrtya. Though it is inspired by earlier Sanskrit works especially Npadet,stra, Abhinayackupan.a and Sarivitarainakara, it contains individual traits bearing regional character. Odissi dance has crossed boundaries of Nation as Classical dance, Its literary sources arc yet to be probed scientifically.
The present study is the result of ten years of labour. because of its nature which has received inadequate attention in Orissa. The Gurus and masters are hereditary repositories carrying authentic traditions and techniques of dance, could only provide inadequate answers to the questions of the present day. Earlier theoreticians came up with new texts in the form of manuscripts to fill in the gaps and changes of the new techniques from time to time. Though there are many studies nation-wide on the ancient texts, the regional texts in Orissa have not been explored. This impelled me to conduct research on the texts of Abhinaya-Candrika and other Orissan texts. Though I approached the subject from the practical side at first as without this practical background the task would have been difficult to reach. Chief purpose of my study is to bring to light the edited text of Candrika and its discussions vividly before present day dancers.
The present study may be the provider of ground work to further studies which should be done in detail. As there are many texts on dance which should be studied by the dancers, the transliteration , translation and interpretation needs more collaboration of many researchers. The study of this nature cannot be undertaken without help and guidance from many people. I unhesitatingly acknowledge my indebtedness to them.
Introduction
Introductory Indian classical dances today embody a sense of ecstasy and poetry. Classical dances portray aesthetic geometric patterns on the other. This kind of perfection is derived through expressiveness of the dancer and of firmly controlled practice. These Indian classical dances arc the products of lingering research by eminent maestreos and performers. They drew their basic elements from the already existing dance forms and sorrounding environment. They created a different era in the art where the communication was only enjoyment that too of the ethereal work!. The dance that stands as it is today imbibes its characteristics from literature, traditions, religious ceremonies and other most common activities of human and animal life. Thus the Indian classicial dance can be defined as "Visual sculptural poetry enacted to enliven the men's innermost latent spiritual emotions". This kind of emotional extravaganza was analysed by the $reat rhetoricians of ancient India as 'Rasa' This word elevates the Indian dancing to a spiritual level from the normal recreational level. Thus we can find akinshipment of this exquisite Indian classicial dancing with Hatha Yoga of sages.
Odissi dance was recognised as an Indian Classicial dance in the year 1972 after that it crossed international borders. The basic text that made the herculean task possible is Abhinaya Candrika. This text needs immediate critical editions and translations. Here an humble attempt is made with uptodate comparison with the relevant odissi dance as understood by the dancers today.
Genesis and Growth
History of dance can be traced to the animals. Here we trace the antiquity of dancing to the mahenjadaro excavations, the earliest known human civilization, Here we sec a terracotta dancing figurine, the form of dancing she depicts is unknown, but it confirms the existence of dancing in ancient India. The oldest scripture Rg Veda' mentions dancing girl, here also we are unsure of the kind of dancing. Bharata, the father of Indian dancing, visualised and expressed the whole of India in the form of dance, music and drama. In his Natyasastra he laid basics to Indian dancing, He strengthened what was earlier done by his predecessors. However, any classicial dance in India today is based on Bharata's principles. In vAird,s of the late Rukrnini Devi Arundale bharatanatyam includes all forms of dances and dance-dramas which are in accordance with the gastras as laid down by the sage Bharata.
Bharatal rightly points out that the dance arises of from no specifice need, it is beautification in every sense. When we probe further for dance's origin and roots, it is the literature, sculpture, painting we take refuge in. The literery sources are more powerful and descriptive and they become the base and centre of our requirement and make our dances kistric or classical, We do not find any codified work on art in Vedic age. The first mentioned work on this art are natysasatras by Merlin and krsasva, reference is found in Astadhtyayi. Date of Anadhydyi is probably 500 B.G. Then came Bharata whose work is still indispensable. Treatises written after him show great respect to him, Though Bharata's work is primarily intended for dramatic arts, he discussed dance in full details. Later works written as dance texts devoted themselves more on the physical aspects. Than on the psychological and philosophical process. Bharata did a great effort to raise the visual arts to the level of sared Vedic literature.
Contents
| | | |
| --- | --- | --- |
| | Guru-Vakyamrtam | v |
| | Foreword | ix |
| | Preface | xi |
| | Editorial | xvii |
| | List of Abbreviations | 619 |
| | Introduction | xxi |
| Chapter I | Major Classifications of Dances | 1 |
| Chapter II | Abhinaya and Udra Nrtya | 23 |
| Chapter III | Special Characteristics of Udra Nritya | 41 |
| Chapter IV | Hand gestures | 79 |
| Chapter V | Accessories-Accompaniments | 109 |
| Chapter VI | Conemporary Odissi Dance | 137 |
| Chapter VII | Glossary | 151 |
| | Select Bibliography | 167 |
| | Index of Technical Terms | 173 |